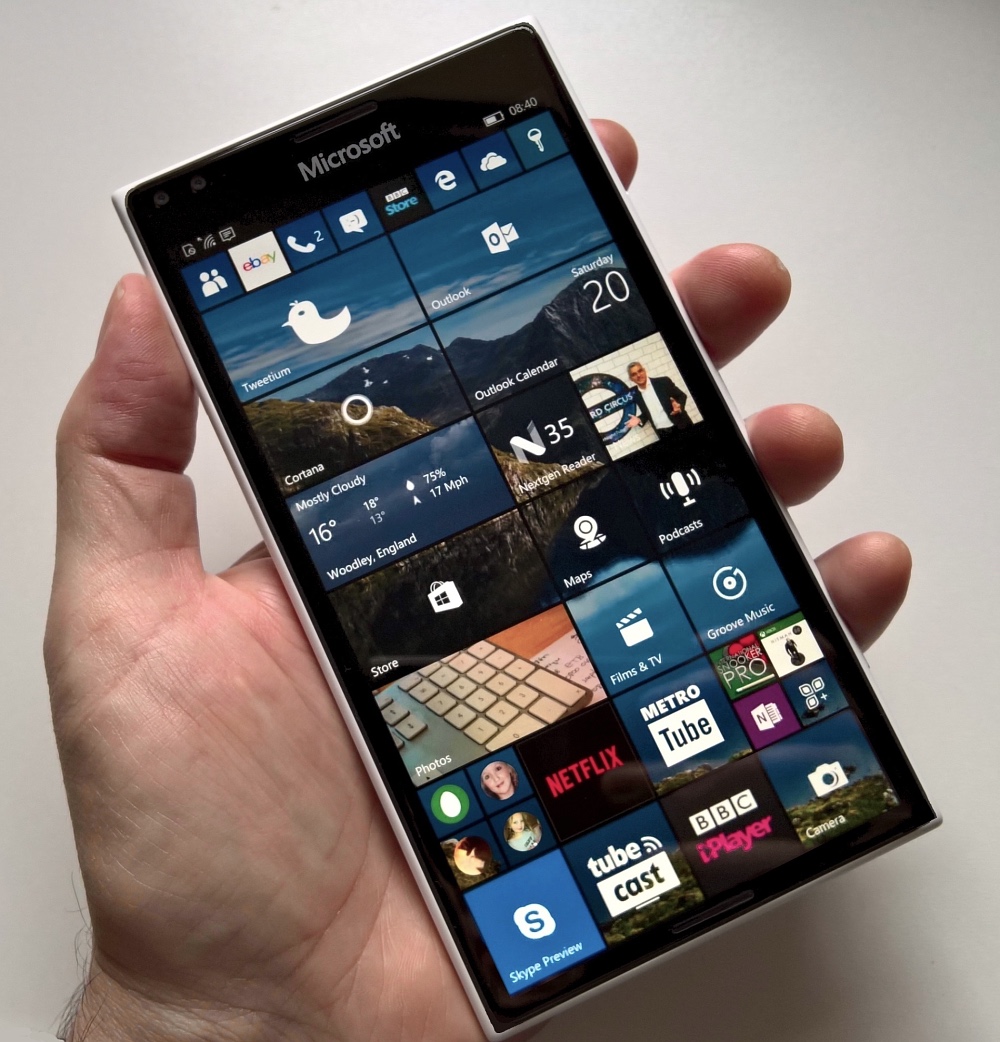 Here's my best guess then for the mythical Surface 1060 (yes, I'm predicting a name too!):
Aluminium unibody design, clean edges (as on the Surface hybrids), i.e. not too many 'bar of soap' curves. No user access to battery, folding kickstand in rear (less substantial than that in the other Surface phones, obviously). There's unlikely to be any hard core waterproofing, we're not talking a device that will be used in the wilds or when out jogging in the rain!


163 x 85 x 9mm, 230g - heavy and large, but not totally out of place in a 2017 mobile world, especially given the device's ambitions. Yes, it'll still be large compared to average consumer devices, but the Surface Phone/1060 will be in a market niche already, so it might as well have some optimised hardware that helps it stand out as 'different'.

6.5" QHD AMOLED display with virtual controls. Gorilla Glass 4 (5 having proved to be a flop due to the lack of scratch resistance). 6.5" sounds large even by 2016 standards, but the overall form factor will be similar to the 2014 Lumia 1520 yet with the removal of the capacitive controls making room for an extra half inch diagonal for the display.

Snapdragon 830 (or current equivalent) - we already have the 820 in the HP Elite X3 and things should have moved on by Spring 2017.

8GB RAM - this isn't just a geek dreaming here, RAM is the most critical part of much of any computer's day to day experience, in terms of speed. And with Continuum working better and with higher resolution screens and greater ambitions, you are going to need all the RAM you can get. 4GB, as on the Elite X3, will be borderline by 2017, so Microsoft will hopefully play safe with 8GB. We're now worlds away from those first Lumia Windows Phones(!)

64GB/128GB/256GB internal storage options, no microSD expansion - the latter exclusion sucks, but I think Microsoft will plump for the simpler, more foolproof single internal disk, especially in the business market. Any serious storage transfers will be via a dock and an external hard disk or similar.

The same 20MP high-spec cameras as in the Lumia 950 and 950 XL, including the OIS, triple LED flash, etc. There's little point in anything more being done in this direction, since Juha and team nailed it before they were made redundant, with the only real caveat being the ten second (background) image processing delays after taking a photo. With the faster processor and GPU, these delays should be down in the two second range, meaning that you can tap to immediately review a shot and not really have to wait at all. So no R&D needed for this aspect at all, just re-use the components.

8MP Front facing camera - nothing fancy here, selfies aren't exactly top priority in a 'Surface Phone's target demographic!

Twin front facing stereo speakers - the Elite X3 has done this, numerous other larger phones have done this (I'm a big fan) - given the large screen then there's going to be a degree of media watching, so why not please consumers with some decently directed sound? HP went for the Bang & Olufson components, maybe Microsoft can go for the JBL equivalent and put in some serious optimisations, London-style?

Fingerprint scanner on back and iris recognition on the front - as on the HP Elite X3, i.e. you can use either method to authenticate. And both really are needed, for different use cases and situations.

4800mAh Li-Ion battery, USB 3.1 spec, Type C high current (5V/3A) support. Charging from scratch takes around two hours.

Runs on 'Windows 10 Mobile Redstone 2', includes the usual Office and Outlook (etc.) software set

Optional clip-on keyboard case, used with the kickstand in the phone - offers a 80% size 5 row QWERTY keyboard. It snaps onto the phone's left side with magnets and NFC connection to initiate the Bluetooth keystroke (HID) input.

Optional desk dock for charging and Continuum

Optional hook-up to a virtualised corporate Win32 environment, as arranged by a company iT dept - similar to what HP has done with HP Workspace. Strictly for big companies though, it'll be expensive to set up!
That's my best guess anyway, all of the above is eminently 'doable'.
Of note is that the 'Win32' functions are all virtualised, i.e. a Surface Phone will run an ARM chipset, probably the Snapdragon 830, and so there's no compatibility with traditional 'Windows' applications, compiled for Intel chipsets. This is something which many have speculated on, but it's not grounded in anything likely. For starters, Win32 applications written for desktop sized displays are going to be unusable on a phone's screen, even in the 6" region. Instead, there will be all the UWP applications, not least Microsoft's own Office and, no doubt, hundreds of other main titles by early 2017.
HP has shown that what's usually needed in the Win32 space for road warriors is being able to access corporate data and, given that their on a VPN connection to a company server anyway, why not run any specialised Win 32 applications ON the (Intel) server and simply use the phone's Continuum facility and a larger local display to provide a window (sic) through onto the remote apps?
I do wonder how many other top end smartphones will be around running Windows 10 Mobile by 2017. HP's Elite X3 should be well established, with sales in the hundreds of thousands (if not millions), Acer's Jade Primo looks a little stillborn and under-committed by its manufactuer, but I'd bet on at least one more household name coming into this ecosystem this year. Dell is probably favourite to jump onboard here.
Comments welcome, would you buy the Surface 1060, as predicted above?