It all started with some crystal ball gazing from yours truly, here. I'd figured that, as it was Easter Thursday, that there would be no more builds of W10M, no more surprises. We'd only just had a whole raft of security updates for every branch of Windows 10 Mobile, so things felt pretty fresh as they were. The only thing I was expecting was the Creators Update (Redstone 2) hitting the Release Preview Insiders ring - and that, as I write this, still hasn't happened. It's still... imminent.
And then, as they heading out the door for the Easter holiday weekend, Microsoft threw the (big red) switch for a new build of Windows 10 Mobile for the Fast Insiders ring, along with an unintentionally cryptic comment or two in the Microsoft announcement blog post:
Today we are excited to be releasing Windows 10 Insider Preview Build 16176 for PC to Windows Insiders in the Fast ring. We're continuing work to refine OneCore with some code refactoring so that teams can start checking in new code...

We are also releasing Windows 10 Mobile Insider Preview Build 15204 to Insiders in the Fast ring. As we release new builds from our Development Branch for PC, we will also be doing the same for Windows 10 Mobile just like we have been in the past. However, Windows Insiders will likely notice some minor differences. The biggest difference being that the build number and branch won't match the builds we will be releasing for PC. This is a result of more work we're doing to converge code into OneCore – the heart of Windows across PC, tablet, phone, IoT, HoloLens, Xbox and more as we continue to develop new improvements for Windows 10 Mobile and our enterprise customers.
I'll come back to this shortly... In addition, there was confirmation in the post that the much-loved (originally 8.1-running) Lumia 735, 830, 930 and 1520 weren't on the official rollout list for the Creators Update. Shocking, eh? Well, maybe - again, see below.
All of this is food enough for thought as it is, but the paranoid and conspiracy theorists were provoked over the weekend, whipped to a frenzy by the reported disappearance from the Windows Store of the official Upgrade Advisor utility (the one that takes 8.1 phones to W10M) and other reports that even when this utility is used then no upgrade is found to Windows 10 Mobile, even for officially supported phones. Had Microsoft quietly removed the facility for the Lumia 640 and 640 XL, both of which are fully Creators Update-supported, to be upgraded from Windows Phone 8.1? After all, if there was a problem with such a relatively recent phone then the Windows Device Recovery Tool still takes them back temporarily to Windows Phone 8.1 and they might well be stuck there?
And all of this over what is supposed to be a quiet, holiday weekend.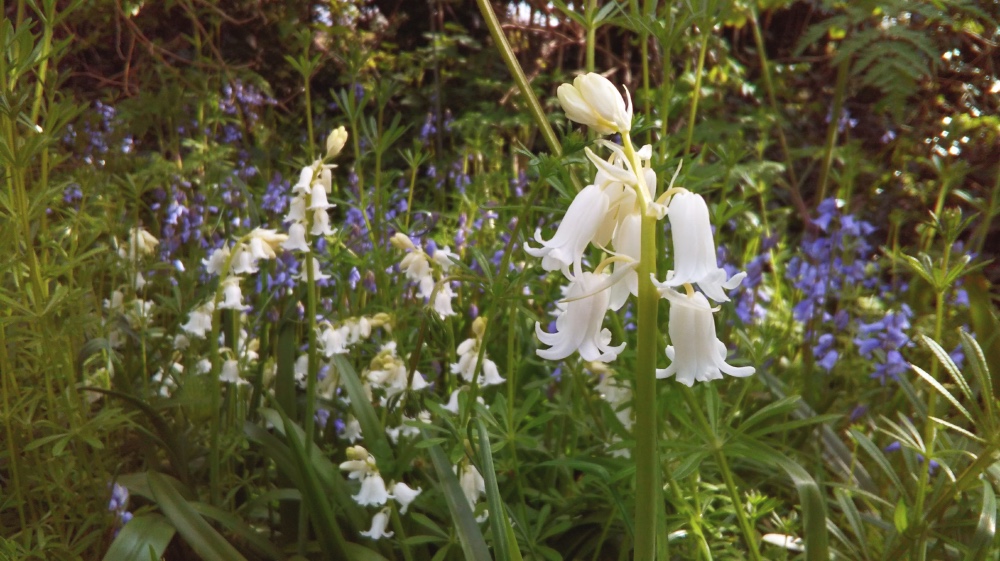 Now, I've been researching and the Upgrade Advisor utility is very definitely 'there' in the Store still. However, the second reports are correct in that the Windows 10 Mobile upgrade is indeed 'missing in action' - I've asked Microsoft for clarification here, but my strong suspicion is that this is simply an unfortunate server glitch - it's happened before. I'll keep monitoring the update situation using a few 'canary' phones and will report back in due course. [Update: I was right, it was a server glitch over the weekend and things are now back online. phew!]
One tier down in terms of age, if not chipset capability, we have the other question of what happens to the Lumia 735, 830, 930 and 1520. Now, these vary between two and three and a half years old, so there's a perfectly valid argument that Microsoft is under no obligation to offer anything over and above essential security updates to any of these. With the first two only having 1GB of RAM, there's also a good argument that these should stay on the W10M Anniversary Update - anything more is putting them on a kernel which is absolutely optimised for more RAM and a more powerful processor. (Yes, the Lumia 640/XL are in the same boat and won't be any faster, but Microsoft HAS to include these in its plans, whatever the fallout, because they fall within the two year contract/support window.)
The Lumia 930/Icon and 1520 are very different beasts though, and patently run Windows 10 Mobile (whatever the branch) a heck of a lot more smoothly than anything except the top of the line Lumia 950/x3 models. Yet:
they run the now very old Snapdragon 800 chipset, not part of the latest Microsoft optimisations
they use capacitive controls, deprecated since the appearance of the Lumia 640 devices
they use microUSB and not USB Type C
they lack Continuum support
Add in the age of the phones and you can see why Microsoft would omit them from the official Creators Update compatibility list. Now I'd argue that they should be on the list, since the Creators Update has a kernel which runs more smoothly on all hardware and thus these old phones would gain a performance boost, but I can at least see things from Microsoft's point of view as well. And hopefully you can now, as well.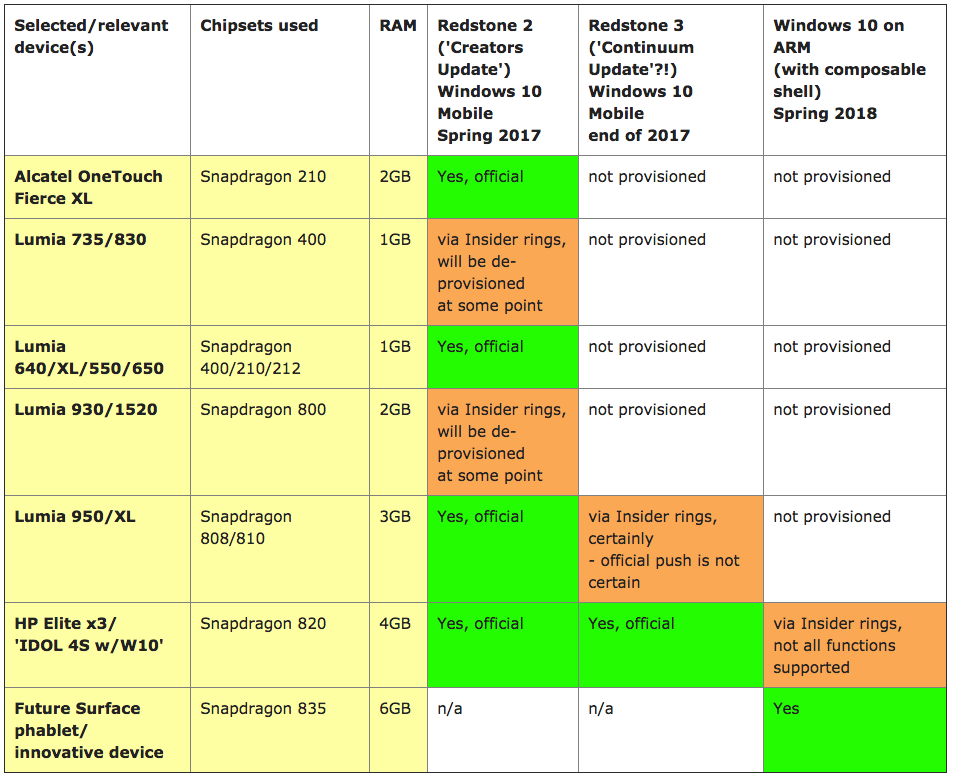 At the time of writing, Microsoft still has ALL of these phones allowed on the various Creators Update Insiders rings (e.g. Release Preview), so you can still upgrade a Lumia 735, 830, 930 or 1520 this way, up the Windows 10 branch 1703, i.e. Redstone 2/Creators Update (in fact, you can go through to 'Fast', though this isn't recommended), though do note that Dona Sarkar has warned that such an upgrade would leave the device potentially 'unsupported', implying that the provisioning of these phones, server-side, within the Insider programme, would be withdrawn.
The timescales for this aren't known, but I'd guess shortly after the release of the Creators Update for phones officially, i.e. the end of April, so anyone who's been putting off upgrading any of these four phones to Redstone 2 should do it now, trying the Slow ring and, if that doesn't work, grabbing the Creators Update 'Release Preview' when it finally pops online in the next week. Time really might be tight on this one, folks. Microsoft will pull the provisioning sooner rather than later for these older phones rather than 'risk' even enthusiasts ending up on Redstone 3, which really won't be at all tested on the Snapdragon 400 and 800 chipsets...
Which leaves the very first point that was freaking enthusiasts out - the apparent divergence of the build numbers for Mobile and Desktop. No, this isn't part of some master plan to give up on Mobile - as far as i can make out, it's just that there's some major under-the-hood reworking of Windows 10 Desktop to get it working on ARM chipsets and having Mobile (which is already on ARM) tagging along would just complicate things. Better to work on the re-engineering of Desktop separately, but making sure to compile any important fixes and enhancements (think security, Edge, apps, etc.) for Mobile too, adding to the existing Redstone 2 branch - I've been calling this interim phase for Mobile 'Redstone 2+', which I think gets across the right sense for where this fits it.
For anyone on the Fast ring (we're talking Lumia 950/XL, Elite x3, mainly), just install the builds as they come along and then, at some point in the future, Microsoft is hoping to reconcile the build numbers once they're happy that the Desktop side of things is working properly under ARM and Redstone 3.
At least that's how I see it. Ultimately, of course, Microsoft's plan is to have Windows 10 running on ARM on both 'Cloud books' and something new and mobile, something category-defining, i.e. the mythical Surface Phone/Phablet/mini-PC. I sincerely doubt that there will be any upgrade path for any current phone to Windows 10 on ARM at what will by then be 'Redstone 4'. Does that matter? I don't think it does - the Lumia 950/XL will be over two years old by then (in 2018) and - as I keep emphasising - existing phones AREN'T going to stop working, they ARE going to get security/critical updates, and they ARE going to get all the latest Store and UWP app updates.
It's not all doom and gloom, you know...