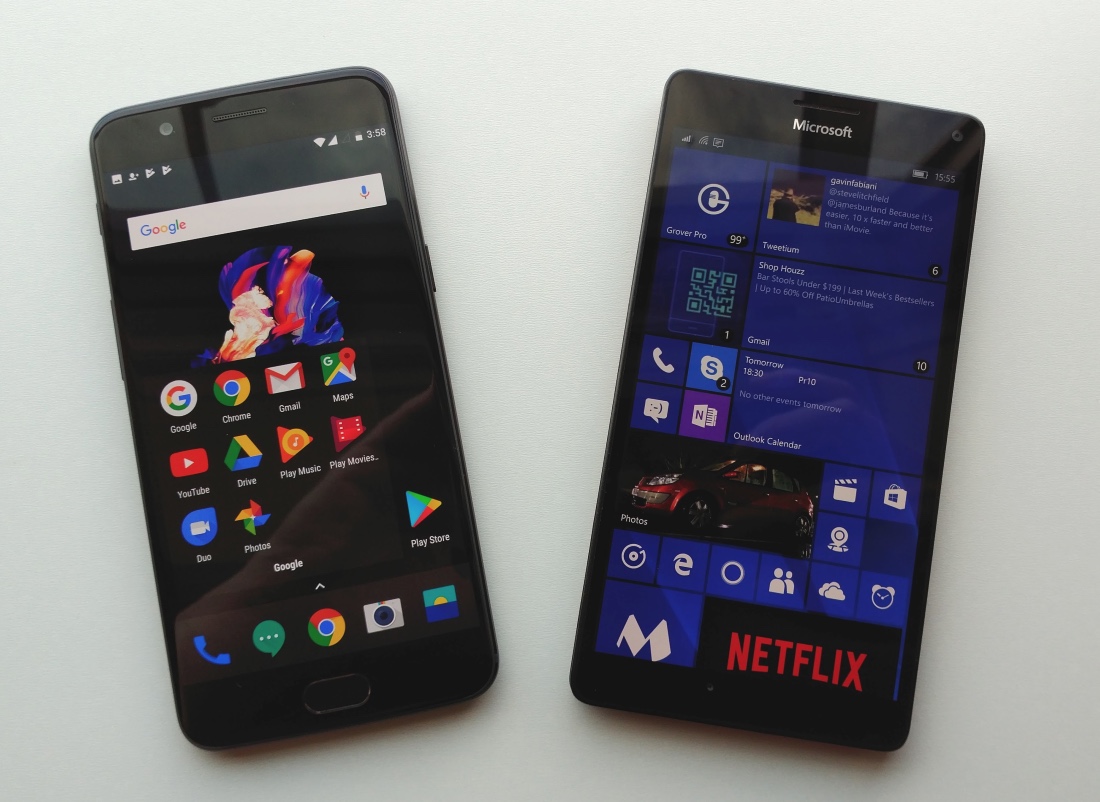 As usual, I've shaded in green an obvious 'win' for either device, I honestly have no idea which way this one's going to go (as I start to compile the feature)... Any row where a winner would be totally subjective is left uncoloured. Or, where both devices are utterly excellent but in different ways, I've given both a 'green'(!)
[By the way, if you're viewing this feature on a smaller-screened phone then the table may well cause you problems. Try viewing in landscape mode? Failing that, go view this on a laptop or tablet!]
OnePlus 5 (128GB version)
Microsoft Lumia 950 XL
Date first available
June 2017

November 2015 (can you believe that the 950 XL is now nearly 18 months old??)

Current price, availability
£499 inc VAT
£287, SIM-free, from Amazon UK, still available new if you're lucky, though prices rise and drop a lot due to availability from sellers. Maybe the price will rise as the phone gets rarer?
Dimensions, form factor, weight

154 x 74 x 7mm, aluminium frame, all sealed, 153g

152 x 78 x 8mm, plastic chassis and replaceable backs (plastic/leather/wood etc, from Mozo, as modelled here!), 165g

Durability
No specific durability metrics, no claimed waterproofing, definitely needs a case because of the curved and slippery metal.

No specific durability metrics, though the fact that the back comes off will help enormously for water damage, i.e. taking out battery and cards immediately, drying out the internals. Damage to the back or corners is trivial through replacement, but the screen's exposed, of course.
Operating system, interface
Android 7.1 plus (light) Oxygen OS skin, capacitive controls plus the option of virtual controls on screen

Windows 10 Mobile Creators Update, (dismissable) virtual controls, as needed
Display

5.5" AMOLED (1080p at 16:9), Gorilla Glass 5, decent visibility in all lighting conditions.

Screen area is approximately 83 cm2

5.7" AMOLED (1440p at 16:9 aspect ratio), Gorilla Glass 4, ClearBlack Display polarisers help with outdoor contrast, Glance screen available (in various colours) for always-on time, day and notification icons, plus some detailed info from a specified app.

Screen area is approximately 90 cm2


Connectivity

LTE

,

NFC,

Wi-Fi b/g/n/ac, integral wifi tethering, Bluetooth 5
LTE, NFC,

Wi-Fi b/g/n/ac, integral wifi tethering, Bluetooth 4.2. Continuum connectivity to use a wide range of first and third party UWP apps on external displays as secondary screen, independent of the phone display, this gets it the win here by a whisker, despite the older Bluetooth standard!



Processor, performance
Snapdragon 835 chipset, 8GB RAM, very fast indeed
Snapdragon 810 chipset, 3GB RAM, faster than it's ever been now on the Creators Update though still much slower for everything than on the Android flagship. Multi tasking and app resumption is excellent though, at least with all the modern UWP apps

Capacity

128GB internal storage, no expansion

32GB internal storage,

expandable via microSD

Imaging (stills)

Twin 1/2.8" rear cameras: regular unit is 16MP, f/1.7 with dual-pixel auto-focus, plus a (relative) 1.5x optical zoom unit at 20MP and f/2.6, with various multi-frame and digital zoom effects, all powered by the Snapdragon 835's ISP. A faux-depth-of-field 'Portrait' effect/mode is optionally effected using the twin cameras.

16MP front camera

20MP PureView f/1.9 1/2.4" BSI sensor, Phase Detection auto-focus, dedicated camera shutter button and launch key, genuine 1.5x lossless digital zoom (in 8MP oversampled mode), OIS. 'Rich Capture' produces customisable HDR shots and 'dynamic flash', with triple LED illumination. Outstanding shots in most light conditions, with focussing issues in low light and poor digital zoom as Achilles heels. Wins here by a whisker, though a fuller camera comparison feature is coming soon.

5MP front camera

Imaging (video)
4K,

digitally stabilised at 1080p only

, stereo audio capture with HAAC microphones, in theory gig-level, they sound great so far, though I'll be testing this out more thoroughly in due course.

4K,

optically (and optionally digitally) stabilised, with 'Best photo' 8MP grabbing built-in, plus Rich Recording and HAAC microphones for high quality, gig-level stereo capture. Wins here thanks to the OIS working at all resolutions.

Music and Multimedia
Bottom mounted mono speaker, pretty loud and of good quality, wins this by a nose. 3.5mm headphone jack, A2DP+APT-X+APT-X HD
Decent mono speaker, loud but lacking in bass and depth, though you can trade volume for fidelity in a simple tweak. 3.5mm headphone jack, A2DP+APT-X, so great headphone audio too, but it can't make up for the weedier speaker overall.
Navigation
Google Maps is now the gold standard in phone navigation, tied in with many other Google services and offering true real time navigation around traffic issues.

Windows 10 Maps is now pretty mature and impressive, though at least one rung down from Google Maps in terms of live traffic awareness and re-routing.


Cortana/Voice
Google Now is included (note not Google Assistant yet) and matches Cortana, though neither are really as mature as they should be by now, in my opinion.
Cortana is now mature and well integrated, and with a surprising degree of 'assistance'.
Battery, life

Sealed 3300mAh battery, plus USB Type C fast (4A) charging via proprietary Dash charge (twin circuit) system using supplied charger. Other Type C chargers charge at 2A, typically.

Removable 3300mAh battery, and the ability to change cells gets the win here, of course, the 950 XL easily gets through a day (on latest firmware), plus standard USB Type C ('Power Delivery', up to 3A) and Qi wireless charging built-in.

Cloud aids
Google Photos, once installed, does a great job of organising photos and syncing them across all signed-in phones and tablets. Plus backup space is free forever, with only a few caveats...
Windows Photos syncs across all signed-in devices, subject to your OneDrive tariff (stingy though, unless you have Office 365), should you have thousands of images in the system. Plus Windows 10 backs all your media, application data and settings to a separate backup folder system, tariff-free on OneDrive. This works superbly well on the whole and restores get you to 99% after a reset or device replacement.
Biometrics
Fingerprint sensor (on the front) works well, and very fast.

Iris recognition ('Windows Hello') works well unless you wear varifocals(!), but takes a few seconds in real world use. A fingerprint sensor is sorely missed.

Applications and ecosystem
The might of Google and Android's app ecosystem - everything is available and almost always in first party form.
Windows 10 Mobile now has just about every mainstream app covered. Often third party clients are involved, mind you, there are companies who hate Microsoft so much that they simply refuse to write for Windows, it seems. And 'long tail' niche/boutique apps are hard to find for real world companies and shops.
Upgrades and future
OnePlus has a chequered update history, but with the '5' it seems that they're moving into the big league in terms of long term support. A little bit of a gamble though...
Windows 10 Mobile will be updated through 2017, of course, as part of the global Windows 10 ecosystem. Production devices can expect updates every month, Insiders every few weeks. The 950 XL is part of the Insider program if needed, 'Redstone 3' (or 'Feature2', or whatever the mobile SKU is codenamed by then) is scheduled for H2, 2017 and I'd wager that the 950 XL will again be upgradeable, so updates should continue, at least at the security/core level, into 2018.

Verdict
Adding up the green 'wins' gives the new 'OnePlus 5' six to the Lumia 950 XL's five. A close run thing then, though the usual caveats apply about totally different ecosystems and going where the services and apps you need live. That the Lumia 950 XL is up with the 20-month-newer OnePlus 5 is actually somewhat remarkable and, not for the first time, I bemoan Microsoft's decision to kill production.
Of particular note is the use by the OnePlus 5 of the Snapdragon 835 chipset - this is going to be the core of new Microsoft Windows 10 mobile hardware, whether classed as phablet, mobile PC, mini-tablet - we just don't know, but given the potential of 'Windows 10 on ARM' (i.e. with Win32 emulation) then the 835 is a shoe-in for whatever comes down the road.
All of this shows, yet again, that the Lumia 950 XL remains competitive if you're not too worried about boutique applications - the camera is still class leading, the screen's excellent, and there are a ton of real USPs in 2017.
Comments welcome!