UPDATE, February 2018. Microsoft has now pulled the plug on the Anniversary Update branch being involved in the Insider programme, making most of this article redundant. Instead see our alternative tutorial.
___________
[original article:]
Launched originally in USA-only form as the 'IDOL 4S with Windows 10' on one carrier, the IDOL 4 Pro is the proper 'world' version, with the right LTE bands and available SIM-free in many countries. It's high specification in many ways, not least the Snapdragon 820 chipset and 4GB of RAM (though as ever with W10M, only 3.5GB is actually used), plus the utterly wonderful JBL-branded front stereo speakers, but a downgrade in terms of imaging.
Most of all though, the significance of the Alcatel IDOL 4 Pro in late 2017 is that it's a Windows 10 Mobile phone that you can still buy. Here it is in the UK Store, utterly buried!
Given that Microsoft stopped making Lumias well over a year ago, it's becoming harder and harder to buy or replace most Windows 10 Mobile phones. Not so the IDOL 4 Pro, which is why it's a good bet for snapping one up if you'd like to stay in the Windows 10 ecosystem for your phone use. See here for my most recent review part, written back in August, almost three months ago.
As I say though, support has been a bit poor, to say the least - Alcatel seemingly released the phone based on promises to Microsoft, but neither company is marketing it at all, you have to really, really hunt through the latter's web site to find and buy it (hint: it's downstairs in the cellar past the broken stairs and hidden in a toilet with a sign on the door saying 'Beware of the leopard'... HHGTG), and the only nod to the phone's existence in terms of the technical stuff is that the IDOL 4 Pro is supported by the Windows Device Recovery Tool (WDRT) and (nominally) included in the 'supported' list of devices for the Fall Creators Update (a.k.a. 'Redstone 3', or the 'feature2_rs3' branch for mobile).
Depressingly, that's as far as it goes, officially, since Microsoft hasn't even pushed the previous OS update (Redstone 2, the Creators Update, from Spring 2017) to users of the IDOL 4S in the USA or the IDOL 4 Pro in the rest of the world. So use WDRT on the IDOL 4 Pro or simply take a new unit out of the box and you're looking at the 'Anniversay Update', i.e. Windows 10 Mobile as it was in July 2016. 'Check for updates' and... nothing. [Update: someone in the comments below says that FCU is now being pushed to the USA 4S, so maybe the 4 Pro isn't far behind? Let's hope, for normobs not reading this site!]
Which is disappointing, since I can't believe it's that difficult to add a new phone to a provisoning database at Microsoft's end - I can only think that there are issues of testing resources, in that the companies are unwilling to push out an official update without lots of testing that something might go wrong.
Meaning that, at the end of the day, that bringing the Alcatel IDOL 4 Pro is up to you and I, via looping the phone through the Insiders programme - effectively shifting any risk to us, as part of the disclaimers when we sign a device up! Still, the end result is the same and, when established on the Fall Creators Update, the IDOL 4 Pro is good for another '27 months', right up to the end of 2019. And, should the IDOL 4 Pro be on the 'supported' list for the next OS branch (Redstone 4, feature2_rs4, etc.) in Spring 2018, which is likely, then add another six months, taking us into Spring 2020. Yes, another little Insiders programme juggle might be needed to jump to this branch, but that's easy enough at this stage.
Anyway, to help anyone picking up an Alcatel IDOL 4 Pro for the first time, perhaps replacing an old and ailing Lumia 930 (for example), I wanted to document how to bring the newer device bang up to date.
1. Verify the current OS branch
Go into Settings/System/About and then tap on 'More info'. You should see an OS version of '1607', i.e. 2016, July. Now step back to 'Update & Security' and 'Windows Update' and 'Check for updates'. It's possible (though unlikely) that a production update has been made available for your phone/sub-variant. Just possible, in which case take it and you can stop this tutorial as a result. But it's unlikely - I used WDRT on my IDOL 4 Pro yesterday and nothing official showed up past '1607'.
2. Join the Insiders programme
Having established that there's no official over the air update (despite the official 'supported' status for later branches - sigh...), you need to jog the device along yourself. Head for Settings/Update & Security/Windows Insider Programme and tap on 'Get started'. You'll be taken through a restart and then you get to choose an Insider ring.
3. Pick a ring
Or, as the dialogs call it, an 'Insider level'. Pick 'Slow' (this is important, the other rings probably won't work).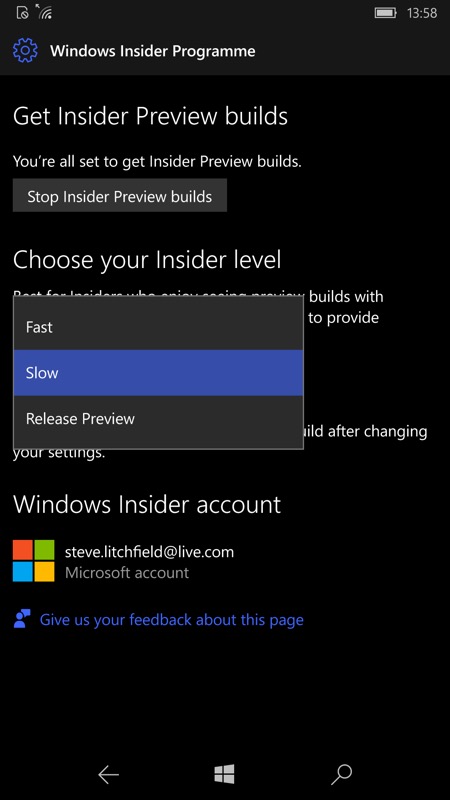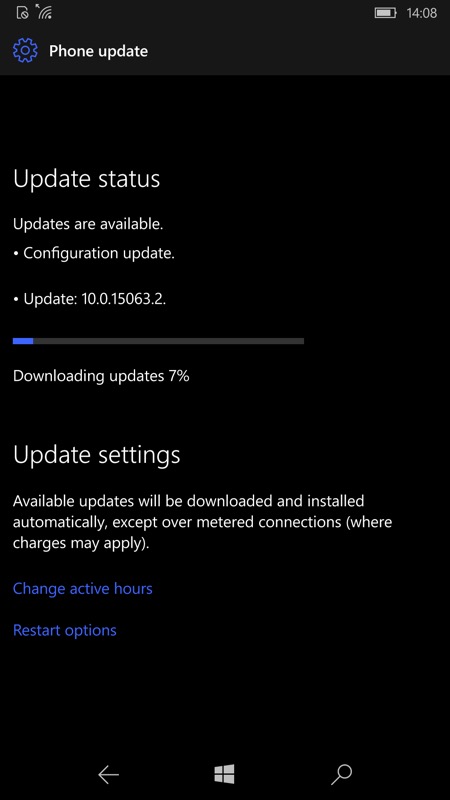 4. Grab the Creators Update
Having picked the Insider ring, go and check for updates again and one of the '15063' builds will come down the wire, i.e. you're then getting the 'Creators Update'. As usual, wait while the IDOL 4 Pro installs the update, spins its gears, etc.
5. Grab the Fall Creators Update
But there's more. Staying on the 'Slow' ring and now with the baseline of the Creators Update onboard, the IDOL 4 Pro will then see the '15254' builds, i.e. the so-called 'Fall Creators Update'. So check for updates again and this should start downloading and installing.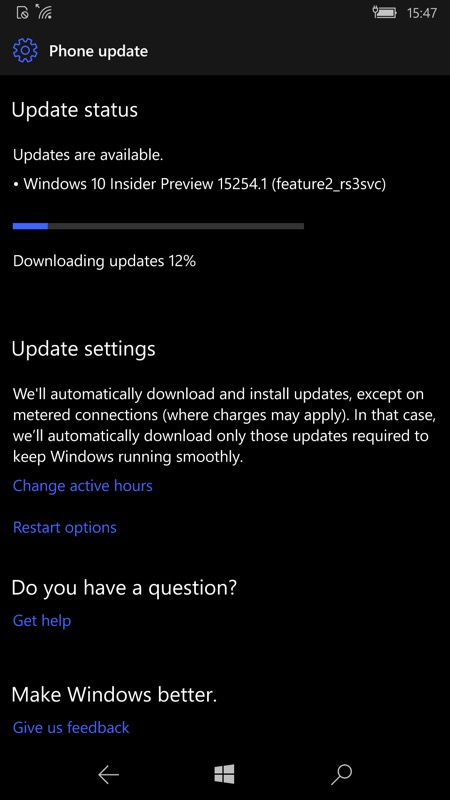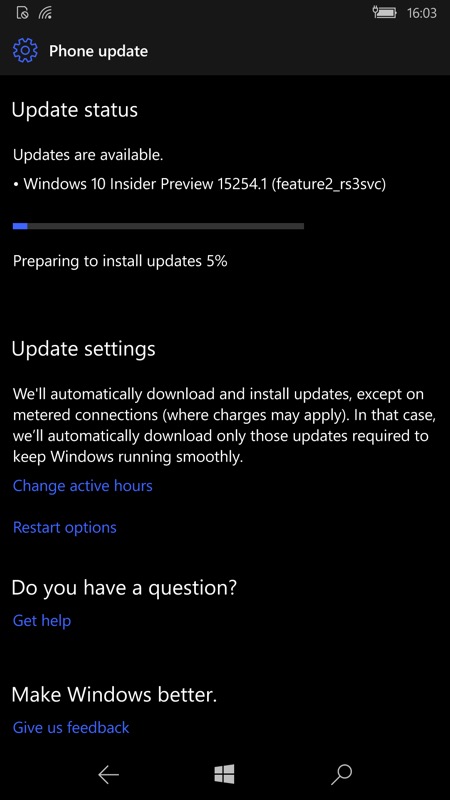 We've now taken the IDOL 4 Pro, effectively, from July 2016 to September 2017, i.e. 14 months on in terms of OS branches and builds, which is pretty cool.
6. Drop out!
But... where to go next? Well, no one's quite sure what will happen to the Insider rings now that the 'Redstone 3' (FCU/feature2_rs3) branch has rolled out to many smartphones on full production status. Yes, the IDOL 4 Pro should one day be involved in testing the next major branch but in the current climate we just don't know.
What we do know is that the production status smartphones are being updated every month without fail, part of Microsoft's core Windows 10 'Patch Tuesday' updates. Why is why, having brought the IDOL 4 Pro on this 14 month journey, it's probably a good bet to remove it from the Insiders programme and pick up one final update, the one that rolled out to all phones on the Fall Creators Update a few days ago. This build is higher numbered than any of the current Insider rings and should contain more fixes.
So, head for Settings/Update & Security/Windows Insider Programme again and this time tap on 'Stop Insider Preview Builds'. You'll then see the rather confusing screen shown below, left: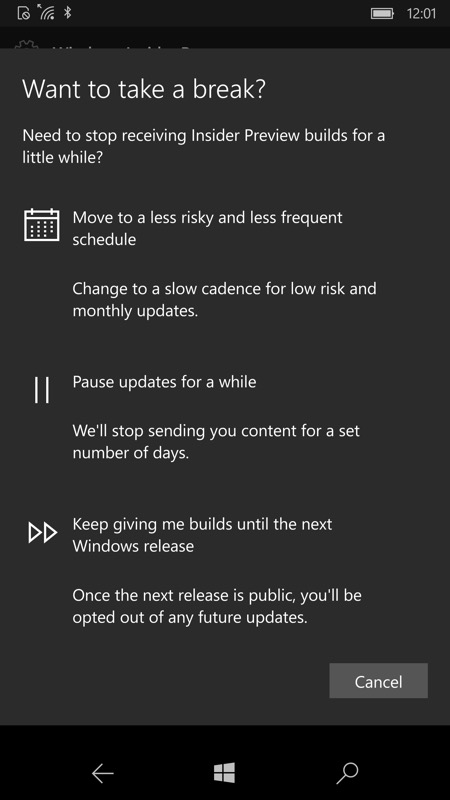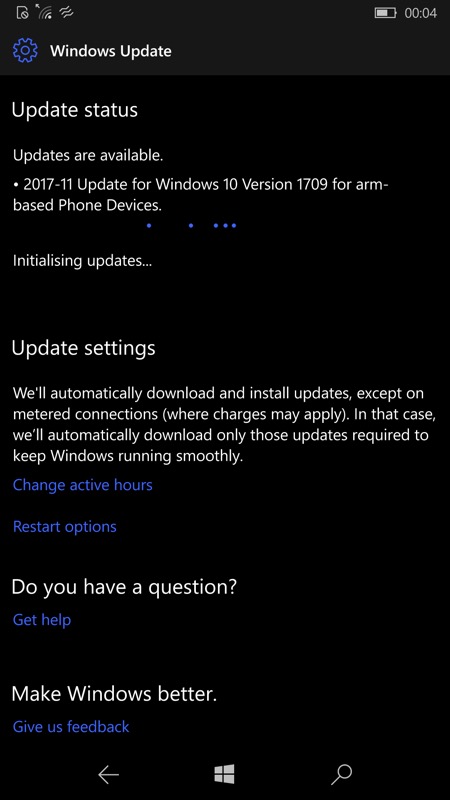 The third option is the one you want, so tap the double arrow icon and follow any restart directions.
7. Grab latest production build
Once the restart is done, go and check for updates (yet) again and you should see this week's production update - it's only a couple of minor builds on from the Insiders build shown on this page, but take it anyway. And your IDOL 4 Pro should then be fully up to date - and will stay that way for, as I say, around two more years, with monthly de rigeur updates from Microsoft.
___________________
Phew!
Please note that, as usual when updating Windows devices, it's best to leave them for a few hours after your last OS update, to allow file system indexing and background Store application installs/updates. You can't just leap in and expect fast performance. Patience is, as they say, a virtue...
Comments welcome if you're following along at home and have recently picked up an IDOL 4 Pro to keep your own (ahem) Windows 10 Mobile adventure going for another few years. How fast/slow/stable is the current Fall Creators Update for you on the phone? I've been making quite a few notes, so watch this space for an extra feature or three!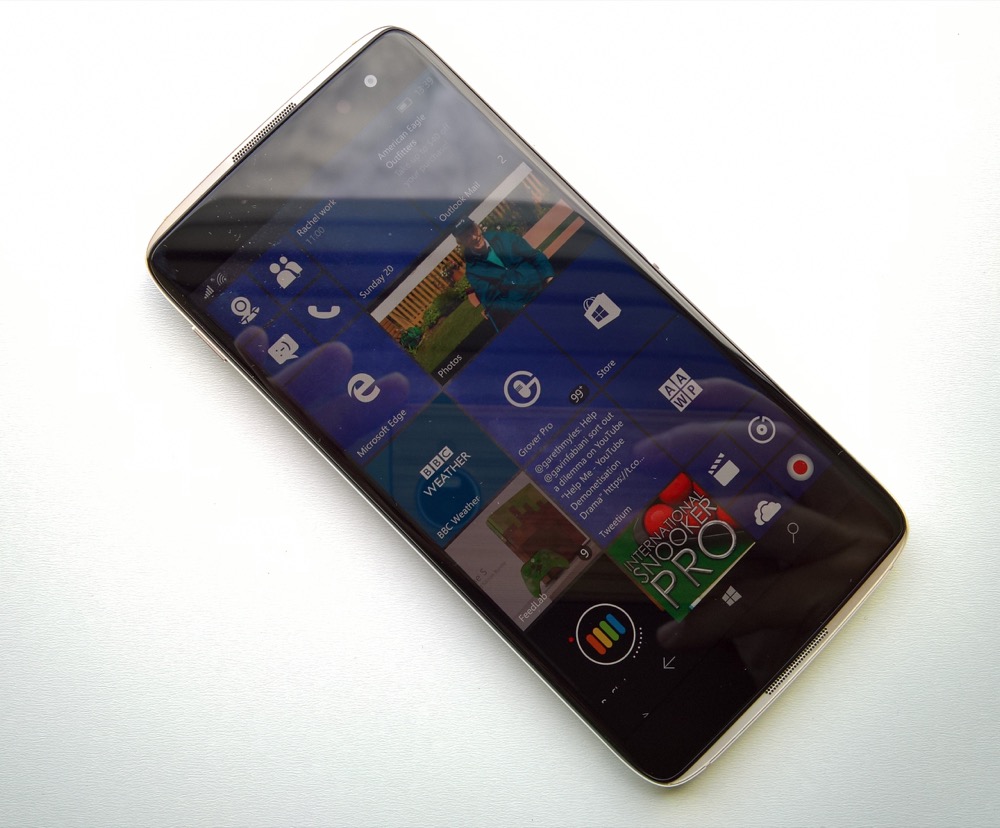 PS. If you do pick the IDOL 4 Pro up then you'll need a case. See my IDOL 4 Pro case round-up here.