It's something of a common misconception that the best branch/version of an OS to be 'on' is the latest. After all, newer is better, right?
Well, not really. In fact, rarely. The number of iPhones and Android handsets that have become slow and klunky after being advanced one major OS version too many are legion. And let's not forget, closer to home, the way Windows 10 Mobile itself runs slower on existing and older hardware than Windows Phone 8.1 did. So it's a common issue and cross-platform.
However, Windows 10 Mobile is better off than either iOS or Android in one very important way: Microsoft commits to issuing important patches and security fixes to all supported branches of Windows, even though its attention is very much on the latest branch, the one where the main development is happening - on the 'desktop', at least.
So, in the context of Windows 10 Mobile, let's say you have an old Lumia 830 that was upgraded to Windows 10 Mobile but that you haven't ever gone through the Insiders programme with it. As such, it'll still be running Windows 10 Mobile 'Anniversary Update' (AU, a.k.a. Redstone). Ahead of it in the timeline are 'Creators Update' (CU, a.k.a. Redstone 2) and 'Fall Creators Update' (FCU, a.k.a. Redstone 3), but that doesn't matter. When 'Patch Tuesday' rolls round each month - and until the end of 2018, at least - that old, relatively unloved Lumia 830 will still get an appropriate set of bug fixes and patches.
In other words, updates are issued separately for all supported branches of Windows 10, with the same issues fixed in the same modules, but set into an update package that's appropriate for the branch concerned. You'll have spotted the recent fixes for the Spectre vulnerability in all modern phone chipsets that rolled out recently, a perfect example of Microsoft's commitment - in this regard, anyway.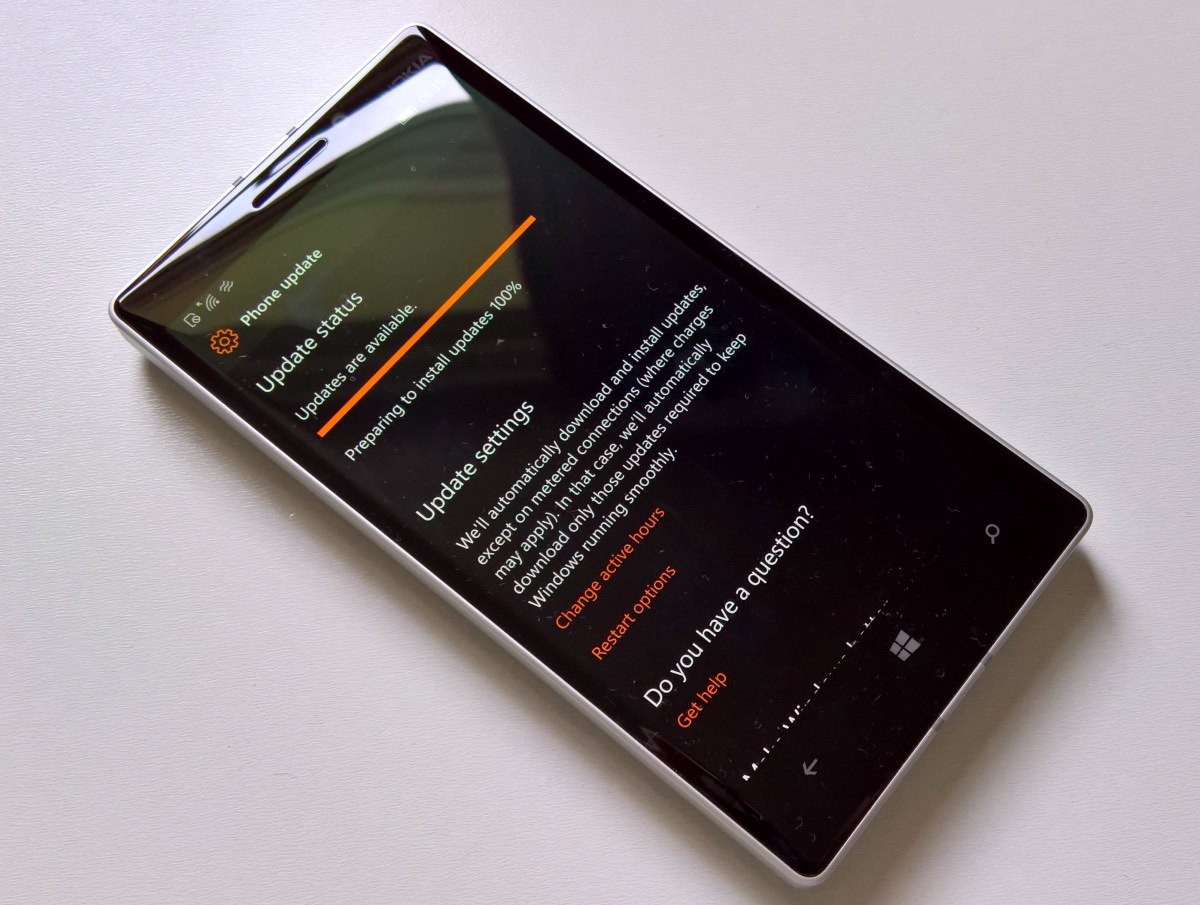 AU to CU
Now, there was quite a bit new for Windows 10 Mobile when going from the Anniversary Update to the Creators Update, in fact there was so much that I wrote an entire feature on the subject, here. Do read that piece, but in summary:
Faster operation

Faster, improved Edge browser
Apps for web sites

Settings hierarchy changes
Camera improvements. Windows 10 Camera for this OS release is faster to start up and has UI tweaks to streamline operation.

Glance screen can now be turned off when charging

Faster Windows Hello

Alarms sent by 3rd party alarm apps will now break through Cortana's Quiet Hours

You can now reset an application

You can now specify more recurrence options for Cortana Reminders, e.g. "Every Month" or "Every Year".

There's a new mono audio option in Ease of Access setting

Many Continuum improvements

You can now use Cortana to control music playback on more of your favorite music apps
Sync your settings using Azure Active Directory (AAD) Identity.
Improved legibility for UWP apps when your phone is set to 'High contrast' mode in 'Ease of Access'.

New Bluetooth APIs that enable GATT Server, Bluetooth LE Peripheral role and unpaired Bluetooth LE device connectivity

There's a new 'View 3D' application, mirroring the Paint 3D application included for Windows 10 Desktop - this lets users view/spin 3D graphics embedded in (e.g. Office) documents or on the web in Edge.

For enterprise users only, there's a new option to pause Windows 10 Mobile updates for up to 35 days.
So there's every reason why someone with a phone on AU should have made a big effort to get it onto CU, which is why I made a song and dance about it almost a year ago.
CU to FCU
However, the actual functionality differences from CU to FCU are much, much smaller, not least because the decision had then been made at Microsoft to split Windows 10 Mobile off into a different branch timeline, so that faster development could happen on the Desktop, with a much larger installed base.
In fact, the changelog for Windows 10 FCU is dominated by Intel x86/Desktop changes:
Windows Shell (x86) UI improvements
Microsoft Edge (x86) PUB reading and inking improvements, Fluent design tweaks, reliability tweaks
Better pen (x86, Inking) support
Emoji 5.0
Fluent Design System cosmetics in some parts of the UI (mostly x86)
So in terms of front end functionality, Fall Creators Update just brings in some more emoji and a little more eye candy in the UI. That's it. Whoopie doo.
Given then, as mentioned above, that the core kernel and security patches and fixes are being applied to all supported branches, there's no real penalty to staying on Redstone 2, a.k.a. Creators Update, a.k.a. branch 1703, builds around the 15063 base. (Gosh, Microsoft makes all this so confusing, name-wise!)
In other words, in plain English, if your Windows 10 Mobile phone is currently on CU then there's almost zero point in jumping through hoops to trick Microsoft's servers into dishing up FCU - you won't gain anything significant and you'll just be wasting time.
PS. This also applies as a response to those people getting hot under the collar because their (e.g.) Lumia 640 wasn't getting FCU pushed to it - the upgrade simply isn't a big deal when all the important security fixes are available to all branches!