It's always good to plan ahead. I should also say that I'm a in privileged position in that I own (or have been loaned) quite a number of smartphones across all OS over the last few years, as part of my reviewing jobs - but this does put me in a good place to assess what's good and bad in terms of recommending a replacement for, say, a classic and much-loved Lumia.
And this is timely with the selling out of Alcatel IDOL 4 Pro stocks because for the first time for years there's no Windows Phone or Windows 10 Mobile flagship to buy new, even if you want to*.
* ok, you can still pick up niche oddities and the Elite x3 here (at far too high a price) and there, but my point remains, in general. And the Wileyfox Pro, regardless of my fondness for it, is distinctly low end!
It's not just a question of degree, either, i.e. whether getting something expensive running Android will be faster or larger or have better battery life - there are genuine step change aspects which mean that one might be forced to another platform whether one likes it or not:
Biometric support for logins. Good examples of this are being able to log into banking applications with one tap of a fingerprint on a sensor, or being able to tap-to-pay at a terminal in a shop. Yes, Lumias have iris recognition and yes, the IDOL 4 Pro has a fingerprint sensor, but in both cases there's simply not the same degree of integration with applications and services, and by a wide margin.

Specific applications that can't be accessed via a browser. Snapchat comes to mind, but I'll bet there are many others, for more serious uses. When you need a particular application (or, hey, a game) and it simply doesn't exist in any form under Windows 10 Mobile then your hand is forced.
At which point, the question becomes, what to move to? A cynic might say 'Almost anything else', but I argue here that anyone steeped in Lumias, in particular, will have certain expectations of a replacement device:
Excellent camera, not too much artificial enhancement
High amplitude stereo microphones, for recording music, for example
High contrast screen that works well in daylight
Qi wireless charging
microSD expansion, for keeping hundreds of GB of media on hand and instantly swappable
3.5mm audio jack, for plugging in headphones and auxiliary systems (cars/hi-fi, etc.)
a proper 'back' control, letting you step back in an app and its interface
plugging it into (e.g.) a Windows computer should let you see all the phone's files and folders are allow two way transfer of files, documents, media, and so on.
and, finally, a nice-to-have, a replaceable battery (though as I've ranted before, these aren't trivial to source, so the facility is usually moot!)
Not all of these are givens, amazingly, in 2018's phone landscape. I'm going to rule out iPhones immediately, since:
they've never been expandable
they haven't had an audio jack for years
they still - in 2018 - can't shoot video with stereo audio
they don't have a reliable back control or gesture that works in all apps and panes
the way Apple hides the file system completely is anathema to someone brought up on the idea that smartphones are pocket computers and should be able to be treated as such in terms of files and folders
All of which means that Android is the way to go in terms of moving on with smartphones beyond the comfortable but increasingly restricted world of Windows Phone and Windows 10 Mobile, not least because it's utterly trivial to change the 'launcher', your primary interface with the phone, right down to using the first party 'Microsoft Launcher' and effectively getting quite a bit of the Microsoft feel and the Microsoft services. (See also, from last year, my detailed look at using Microsoft applications and services on Android.)
But which phones should you look out for? Which ones satisfy most of the expectations above and will be the best fit for you?
Tempting though it was to pick devices at different budget points, you've held off buying a replacement phone this long, so you'll probably have built up some savings or at least the momentum of trying to come in at or near the flagship level. Which is right, but it does mean that you'll have to pay even more attention to my recommendations, in case you should buy the wrong thing(!)
In order of suitability (in my opinion, for someone moving from a Lumia 1020, 930, 1520 or 950 XL - for example), look for:
1. Samsung Galaxy S9 range (standard and S9+)
I have to start here, not only can you get the S9 in two sizes (so suiting anyone coming from any size Windows phone) but Samsung follows a philosophy that everyone should like, that of throwing in everything but the kitchen sink in terms of functions. OK, so the Bixby Assistant button is one function too many, but the great cameras, the really very good stereo speakers, the card expansion, 3.5mm jack, Qi charging, fast fingerprint sensor, heart rate and oxygen saturation sensors (really), the brilliant display, all hit it out of the park for the S9 range.
In other words, get an S9 or S9+ and you won't be left a few days later wondering why a partcular feature or function is missing. See also my video guide to what to get rid of - and what to keep - I'll embed it here, for convenience:
Guide price: £700+ (new)
2. Samsung Galaxy Note 8
Slightly larger than the S9 range - and also slightly older (so no stereo speakers) - the Note 8 is one rung back in terms of recommendations, but you do get a very capable smartphone and one of comparable size to the old Lumia 1520, so maybe this is a natural fit for those owners. In addition to most of the gadgets from the S9 range, you also get a very capable inductive stylus included, for casual art and smart selection of Office stuff. Another great all rounder and one you won't be disappointed with.
Guide price: £550 (mint, second hand)
3. Nokia 8 128GB (2017)
Yes, yes, the Nokia name is back - and the 2017 Nokia 8 is possibly the one to go for, with flagship chipset, very decent components all round and, crucially 'Ozo' audio for its microphones, meaning that this is one of the very few Android smartphones that can compete with the Lumias when capturing live music. And, unlike the 2018 version of the Nokia 8, this retains the 3.5mm jack, giving you yet more audio possibilities.
Guide price: £300 (mint, second hand)
4. Google Pixel 2 XL
If you're going to switch platforms then you probably want to switch to the purest implementation of the new OS - which means Google's own smartphones. And, happily, the top of the line camera software (HDR+) in the Pixel 2 XL is arguably a match for that in at least the Lumia 950. Throw in good stereo speakers and you're halfway there. You do lose Qi, card expansion and the 3.5mm jack, plus the display's made by LG and distinctly second rate, so it's not all roses. But worth considering, especially if you prize updates and security going forwards.
Guide price: £500 (mint, second hand)
5. LG V30 range
LG seems to have multiple variants of this, depending on where you live, so do investigate exact specs, but the V30 range's excellence lies mainly with its imaging and its audio, two factors which have traditionally been Lumia strongpoints. Yes, the display's not the absolute best, yes, there's only a tinny mono speaker, but the DAC behind the 3.5mm jack is second to none in the phone world, for absolute wired quality, plus the dual camera is almost uniquely wide angle, so the V30 lets you take shots that simply wouldn't be possible on most other phones. And you get other Lumia favourite features like Qi charging and card expansion.
Guide price: £various, £400 to £600 new
6. Motorola Moto Z2 Play
With the original Nokia legacy still coming through even on the Lumia 950 range, from 2015, there's something of the gadget fan in us all - and the Moto Z range is particularly gadget-tastic. With magnet-heavy snap on backs, you just add whatever you need. The Hasselblad 'mod' offers 10x optical zoom and Xenon flash, while the JBL SoundBoost mods offer terribly loud and bassy stereo sound. And plenty of other options, from projectors to batteries. So... which Windows phone's functions do you want to emulate?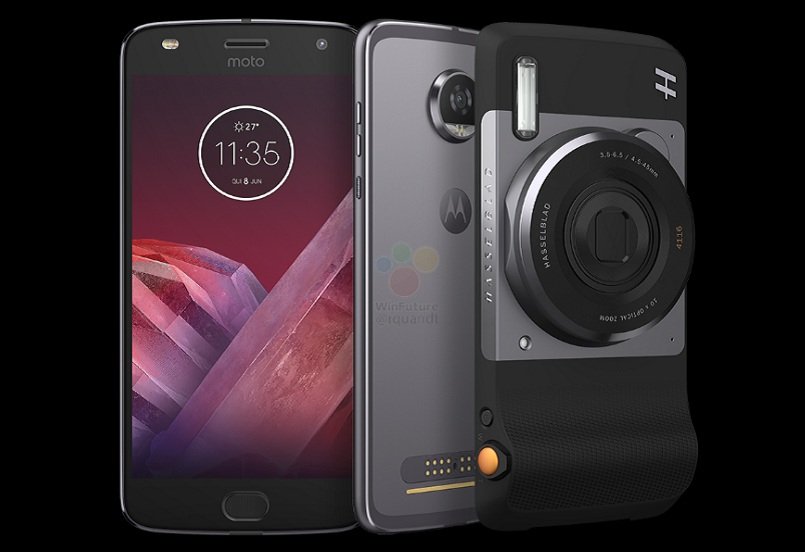 Guide price: £250 new, plus £70 per mod
7 Blackberry DTEK 60
I include this (the list was originally going to be for half a dozen) simply because it will seem awfully familiar - it's essentially the same hardware as the Alcatel IDOL 4 Pro, just customised a little for the Blackberry branding. So you get the thin and premium form factor, the loud JBL-tuned stereo speakers, and so on. In fact, hey, your existing IDOL 4 Pro case will fit just fine so you don't even have to go out and buy a new case!
Yes, the OS isn't the very latest Android variant, but it's kept up to date in terms of security by Blackberry.
Guide Price: from £250 new
_______
So there we go - plenty of suggestions - which would might you jump to, in a life after Lumias?