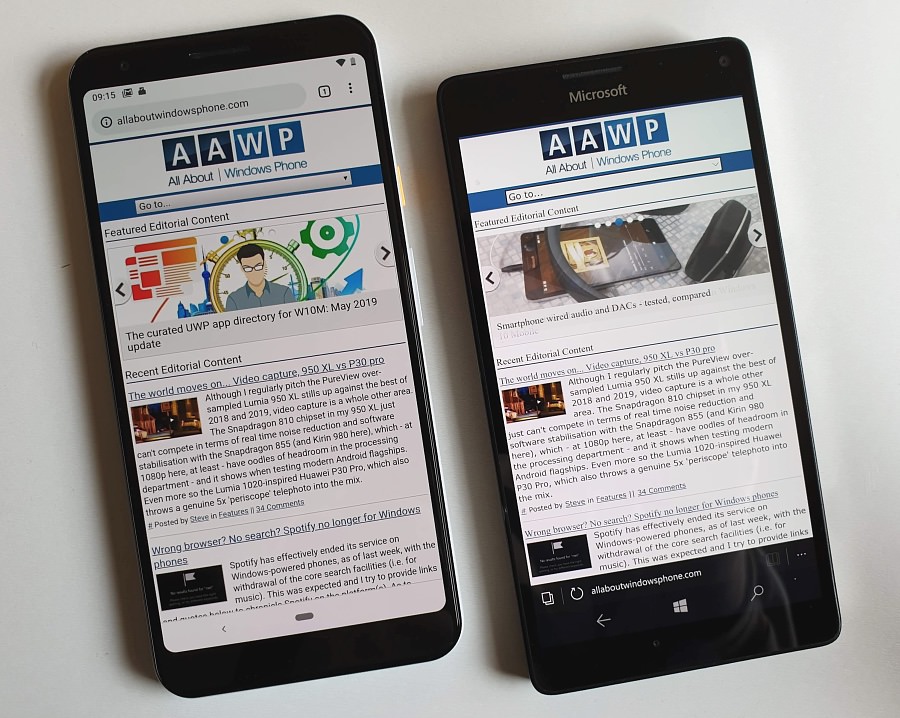 As usual, I've shaded in green an obvious 'win' for either device, I honestly have no idea which way this one's going to go (as I start to compile the feature)... Any row where a winner would be totally subjective is left uncoloured. Or, where both devices are utterly excellent but in different ways, I've given both a 'green'(!)
[By the way, if you're viewing this feature on a smaller-screened phone then the table may well cause you problems. Try viewing in landscape mode? Failing that, go view this on a laptop or tablet!]
Pixel 3a XL
Microsoft Lumia 950 XL
Date first available
May 2019

November 2015 (can you believe that the 950 XL is now three and a half years old??)

Current price, availability
£469 inc VAT - a very Lumia-esque price, this was roughly what the Lumia flagships cost back in the day. None of these £1000+ devices then!
Watch out for these in clearance or second hand channels at hugely varied prices. Suggest £200 max today!
Dimensions, form factor, weight

160 x 76 x 8mm, polycarbonate frame made in classic Lumia 'bucket' form, so that the screen pops out first, textured glass 'effect' on back, 167g.

152 x 78 x 8mm, plastic chassis and replaceable backs (plastic/leather/wood etc, from Mozo, as modelled here!), 165g

Durability
No official IP rating, but the SIM tray has a gasket and I suspect there's at least splash resistance here.

No specific durability metrics, though the fact that the back comes off will help enormously for water damage, i.e. taking out battery and cards immediately, drying out the internals. Damage to the back or corners is trivial through replacement, but the screen's exposed, of course.
Operating system, interface
Android 9.0 with the new Google 'swipe up' gestures from an over-sized 'pill'. Fully upgradeable to Android 10/Q in a few months, which will offer iOS-like full-screen gestures too.

Windows 10 Mobile, (dismissable) virtual controls, as needed
Display

6.0" AMOLED (1080p at 18:9 aspect ratio), Dragontrail Glass, excellent visibility in all lighting conditions, Glance 'always on' display, including display of currently playing ambient music.

Screen area is approximately 93 cm2

5.7" AMOLED (1440p at 16:9 aspect ratio), Gorilla Glass 4, ClearBlack Display polarisers help with good outdoor contrast, Glance screen available (in various colours) for always-on time, day and notification icons, plus some detailed info from a specified app.

Screen area is similar to the 3a XL's, 90 cm2


Connectivity

LTE

,

NFC,

Wi-Fi b/g/n/ac, integral wifi tethering, Bluetooth 5.0
LTE, NFC, Wi-Fi b/g/n/ac, integral wifi tethering, Bluetooth 4.2. Continuum connectivity to use a wide range of first and third party UWP apps on external displays as secondary screen (such as the NexDock 2), independent of the phone display, this gets it the win here by a whisker!

Processor, performance
Snapdragon 670 chipset, 4GB RAM, not the fastest smartphone in the world, but miles faster than the 950 at almost everything
Snapdragon 810 chipset, 3GB RAM, faster than it's ever been now on the Creators Update though still slower for almost everything than on the Android phone. Multi tasking and app resumption is excellent though, at least with all the modern UWP apps

Capacity

64GB internal storage

32GB internal storage, but

expandable via microSD to an extra 256GB

Imaging (stills)

12.2 MP, f/1.8, 1/2.55" sensor, OIS, dual pixel PDAF, dual LED flash, with HDR+ software providing multiple exposure combination in all light conditions to improve detail and reduce noise. Almost PureView take 2! Watch this space for a camera head to head!


8MP front camera

20MP PureView f/1.9 1/2.4" BSI sensor, Phase Detection auto-focus, dedicated camera shutter button and launch key, genuine 2x lossless digital zoom (in 8MP oversampled mode), OIS. 'Rich Capture' produces customisable HDR shots and 'dynamic flash', with triple LED illumination. Outstanding shots in most light conditions, with just focussing issues in low light as an Achilles heel.

5MP front camera

Imaging (video)
Up to 4K,

digitally stabilised

, stereo audio track, but with high noise floor (hiss)

Up to 4K,

optically (and optionally digitally) stabilised, plus Rich Recording and HAAC microphones for high quality, gig-level stereo capture.

Music and Multimedia

Bottom mounted main speaker of excellent quality, plus weak earpiece providing 'faux stereo'.

Average DAC and 3.5mm headphone jack, A2DP+APT-X HD.

Decent mono speaker, loud but lacking in bass and depth, though you can trade volume for fidelity in a simple tweak.

Average DAC and 3.5mm headphone jack, A2DP+APT-X, so good headphone audio too, plus a FM radio, but it can't make up for the weedier speaker overall.

Navigation
Google Maps is now the gold standard in phone navigation, tied in with many other Google services and offering true real time navigation around traffic issues.

Windows 10 Maps is now pretty mature and impressive, though at least one rung down from Google Maps in terms of live traffic awareness and re-routing.


Cortana/Voice
Google Assistant is built-in (and assigned to the extra left side button) and is now significantly more capable than Microsoft's Cortana.
Cortana is now mature and with a surprising degree of 'assistance', though it's not as far reaching as Google Assistant on the Pixel and some parts (e.g. music recognition) no longer work.
Battery, life
Sealed 3700mAh battery, USB Type C fast charging (up to 18W, i.e. 9V at 2A)
Removable 3300mAh battery, and the (now unique) ability to change cells gets the win here in my book, the 950 XL easily gets through a day (on latest firmware), plus USB Type C fast charging (up to 18W, i.e. 9V at 2A) and Qi wireless charging built-in.

Cloud aids
Google Photos, once installed, does a great job of organising photos and syncing them across all signed-in phones and tablets. Plus backup space is free forever, with only a few caveats...
Windows Photos syncs across all signed-in devices, subject to your OneDrive tariff (stingy, unless you have Office 365), should you have thousands of images in the system. Plus Windows 10 backs all your media, application data and settings to a separate backup folder system, tariff-free on OneDrive.
Biometrics
Fingerprint sensor (on the back) works well and very quickly.

Iris recognition ('Windows Hello') works well unless you wear varifocals(!), but takes a few seconds in real world use.

Payments
Fully compatible with Google Pay, accepted in most markets now.
Microsoft Wallet never rolled out worldwide, so the Lumia is left out of mobile payments.
Applications and ecosystem
The might of Google and Android's app ecosystem - everything is available and almost always in first party form.
Windows 10 Mobile now has just about every mainstream app covered, though third party clients are often involved, plus first party clients usually have reduced functions (e.g. Twitter). And 'long tail' niche/boutique apps are hard to find for real world companies and shops. Some apps and services are stopping support in the coming 12 months.
Upgrades and future
The single biggest USP of a Google Pixel device is the upgradability and support, in this case a guaranteed three years, taking us up to Android 12/S (probably) but certainly security updates through then.
Windows 10 Mobile will be updated through 2019, as part of the global Windows 10 ecosystem. Production devices can expect updates every month. From 2020 onwards, official OS support will be non-existent though.

Verdict
Adding up the green 'wins' gives a 10:6 win to the much newer Pixel 3a XL. Which is about as expected, for a 2019 smartphone compared to one from 2015 on an OS which is in its last year of support. But the interesting thing is that we now have a brand new phone that's fully secure, fully guaranteed/supported (for years), with a camera that essentially matches the Lumia's (article to come) and yet only costs £470 including VAT.
PS. There's also last year's Pixel 3 XL, which adds as faster chipset, Qi charging and higher storage, and this is now widely available second hand at the same sort of price. So it all depends on how you feel about buying 'used' rather than brand new?