Here's a typical example of a tweet to me last week:
Surely it's time to let Windows Phone die Steve? You're slowly turning into the Daily Express with their stories on Princess Diana.

— Daniel Cunningham (@Cunninghamster) June 22, 2019
Oh, very droll. But such queries are common, yet they miss an essential part of the phone-owning process. 90% of tech sites focus on the 'shiny, shiny' aspect - new phones, reviews, leaks, gossip, and so on. They rarely mention anything that's over a year old, whether hardware or software. But what about the smartphone that you bought a year ago? Or two or even three years ago?
I realise that Windows 10 Mobile has turned out to be an unusual case since Microsoft stopped making phones in 2016 (though the Wileyfox Pro sales carried on into 2019, of course), but here we have users/readers with smartphones from 2015 or before yet who are on the very latest Windows 10 Mobile builds and are very interested in additions to the UWP application scene or perhaps a service that has a scheduled retirement date. Plus there's always great interest in 'tweaking' articles, looking at how to get the best from older hardware and 'make do' software.
To this day, in 2019, I still get contacted, about once a month, by owners of Psion palmtop computers. Psion went under in about 2000, so we're talking users still interested in the platform and hardware twenty years after the last sale. Symbian OS, effectively what the Psion EPOC OS became, then dominated the phone world from 2002 to about 2009, with the last Symbian-running handset (the Nokia 808) launched in 2012. That's seven years ago, yet we still get comments on articles on All About Symbian each week, and I get contacted about once a week by a Symbian/S60 user with a question or looking for a particular phone, app or accessory.
Extrapolating from all this into the Windows Phone and Windows 10 Mobile world, and ignoring that Wileyfox outlier, the last Windows-running smartphone was really the Alcatel IDOL 4 Pro, from early 2017, so well over two years ago. A timescale that's long in terms of anyone looking at smartphone sales, but not unimaginable when talking about an installed base of users, of enthusiasts. Where else online might one read articles on new UWP applications, tutorials, 'pimping' features, and so on? [ok, ok, there might be other sites which cover Windows on phones, but we're hoping you agree that AAWP is the highest quality!]
Now, realistically, I accept that anyone keen enough on Windows Phone and Windows 10 Mobile to be reading this article is also likely to be a bit of a technophile, a bit geeky. Which means that you're also very much aware of iOS and Android and the multitude of hardware options available. Which is exactly why I do so many features looking at alternatives to Lumias/Elite x3/IDOL 4 Pro devices, i.e. which hardware on other platforms would be most suitable to move to, depending on your preferences (imaging, audio, size, etc.)
Why should you move at all? Well, you don't have to - I'll do a feature at the end of 2019 on what you can and can't do under Windows 10 Mobile after official support ends. But I'll bet that the lure of more applications, tap-to-pay, IoT integration, and new hardware gadgets all appeal to you to some extent - as they have to me. I've been running an Android smartphone side by side with a Windows phone for the last 18 months. In any case, it helps to stay informed and I hope that the features here on AAWP have done (and will carry on doing) just this.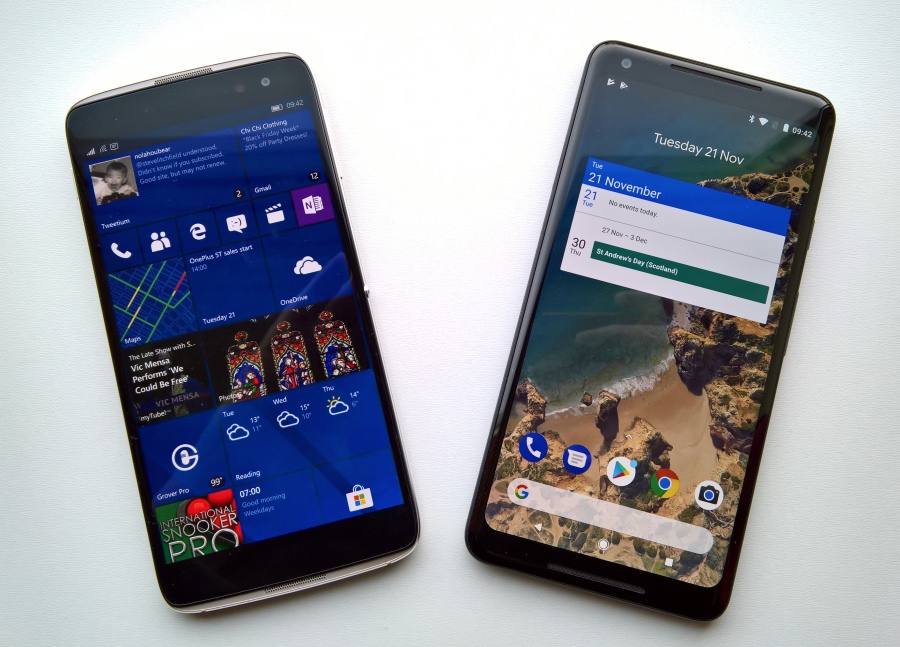 In short then, AAWP is here (at least for the time being!) to help out with:
comparison features of iOS and Android hardware and ecosystems with Windows phones to help future buying decisions
news of applications and services which are directly relevant to existing owners
reviews of major new applications (though these are starting to become less frequent now that developers are compiling their UWP applications against SDKs for branches beyond '1703', which is the last time everything matched up for Desktop and Mobile)
All of which I believe are valid reasons to exist and to write. That this site is irrelevant because the phones aren't sold anymore is a misconception - there's more to a community, to a user base, than simply buying new shiny toys.
PS. Another valid question might be what will happen to AAWP itself in 2020 and beyond? Rafe and I will chat about resources and intentions, of course, but you can help in various ways:
a) do please join the occasional guest writers if you have something to say/review/discuss.
b) you can engage with Rafe here on Twitter and Instagram, and myself here on Twitter.
c) please consider disabling your ad blocker for AAWP (I know, I know) and white listing the site.
d) you know where my PayPal tip jar is...(!)