Nico writes: Here's my battle between the last heirs of WP10's realm: Lumia 950 XL (and the smaller 950, of course) vs HP Elite X3 vs Alcatel IDOL 4 Pro: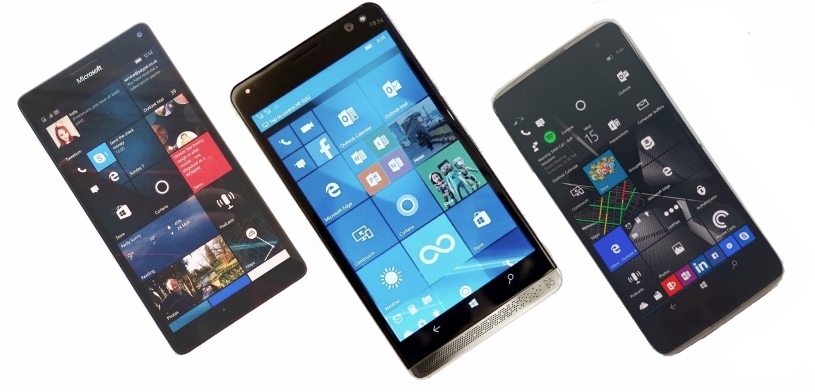 Hardware
HP Elite X3 and Alcatel IDOL 4 Pro (IDOL 4 S for the US market) are two smartphones that try to push the WP10 experience ahead of the last two Microsoft flagship devices, the Lumia 950 and 950 XL. They share the same CPU, a quad-core (2x2.15 GHz Kryo & 2x1.6 GHz Kryo) Qualcomm MSM8996 Snapdragon 820 with 14nm process (nano-meters, i.e. the distance between transistors inside the processor: the shorter, the better, so you can fit more transistors in it), assisted with the same 4GB RAM (yet both devices recognize only 3.5GB installed, an OS limit for Windows 10 Mobile) against 3GB of the 950/XL.
The Lumias do better when it comes to the number of cores. The Lumia 950 has a 6-Cores CPU and the Lumia 950 XL is an Octa-core. More cores result in better performance, but they are both at 20nm and mount older chipsets (Lumia 950 has a Qualcomm MSM8992 Snapdragon 808, Lumia 950 XL a Qualcomm MSM8994 Snapdragon 810).
Both the HP Elite X3 and Alcatel IDOL 4 Pro have unremoveable batteries, while the 950/XL give you more flexibility, with replaceable ones.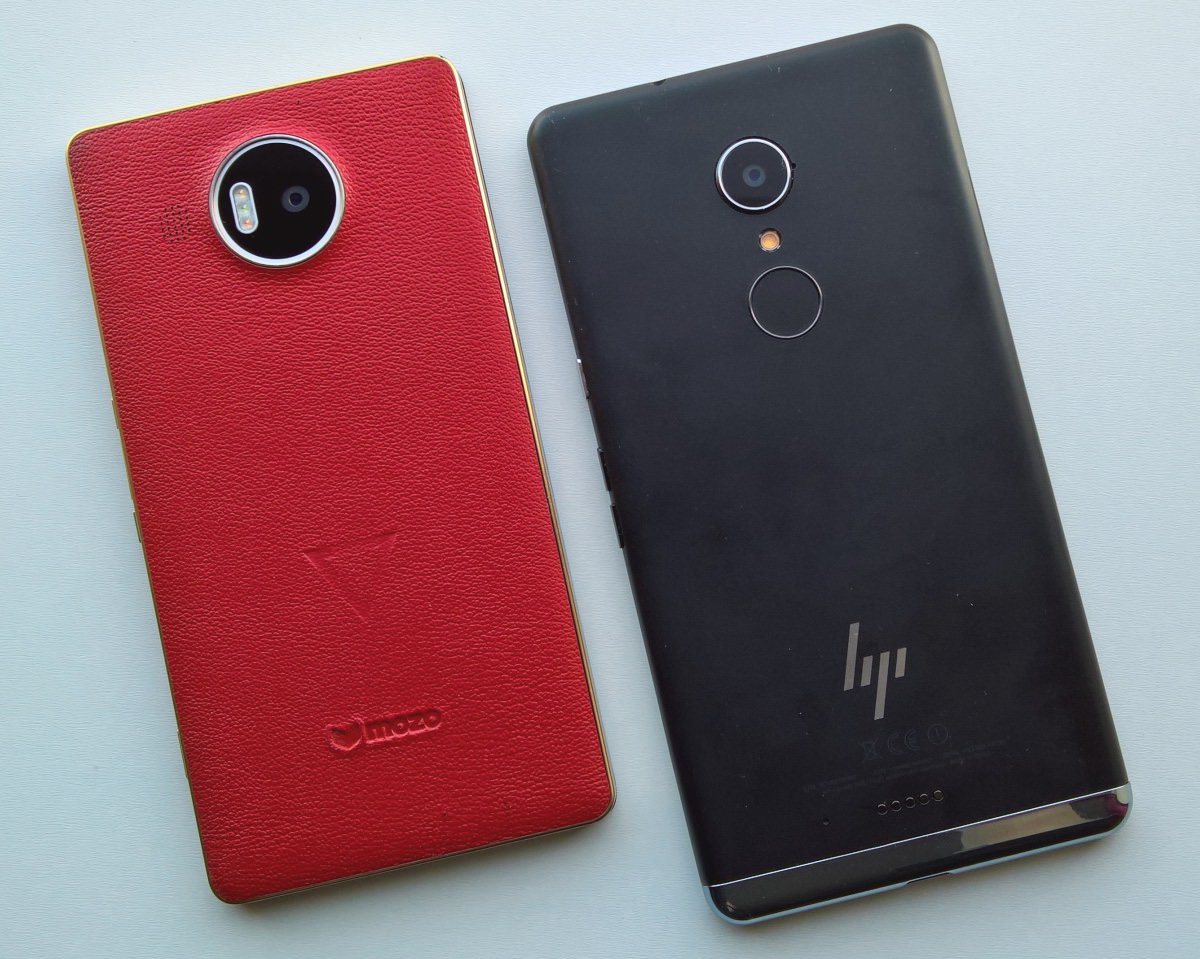 The HP Elite X3 has the best battery of the four devices (4150 mAh), followed by the Lumia 950 XL at 3340 mAh, while the IDOL 4 Pro and Lumia 950 have the same 3000 mAh. In day by day usage, however, I found the Lumias 950/XL suffer from poor battery life, struggling to reach tea-time, so the HP Elite X3's added capacity is a welcome bonus here.
As for the security/unlocking biometrics, all but the IDOL 4 Pro have the Iris scanner, but only the HP Elite X3 and IDOL 4 Pro have a (capacitive) fingerprint reader, while the 950/XL somewhat miss this.
All four devices have a USB-type C connector. All four have AMOLED displays. The biggest is in the HP Elite X3 (it's almost a phablet with 5.96" diagonal, versus 5.7" of Lumia 950 XL, and 5.5" of IDOL 4 Pro). The Lumia 950 has the smallest display, with only 5.2", but it boasts the best pixel density (564 PPI).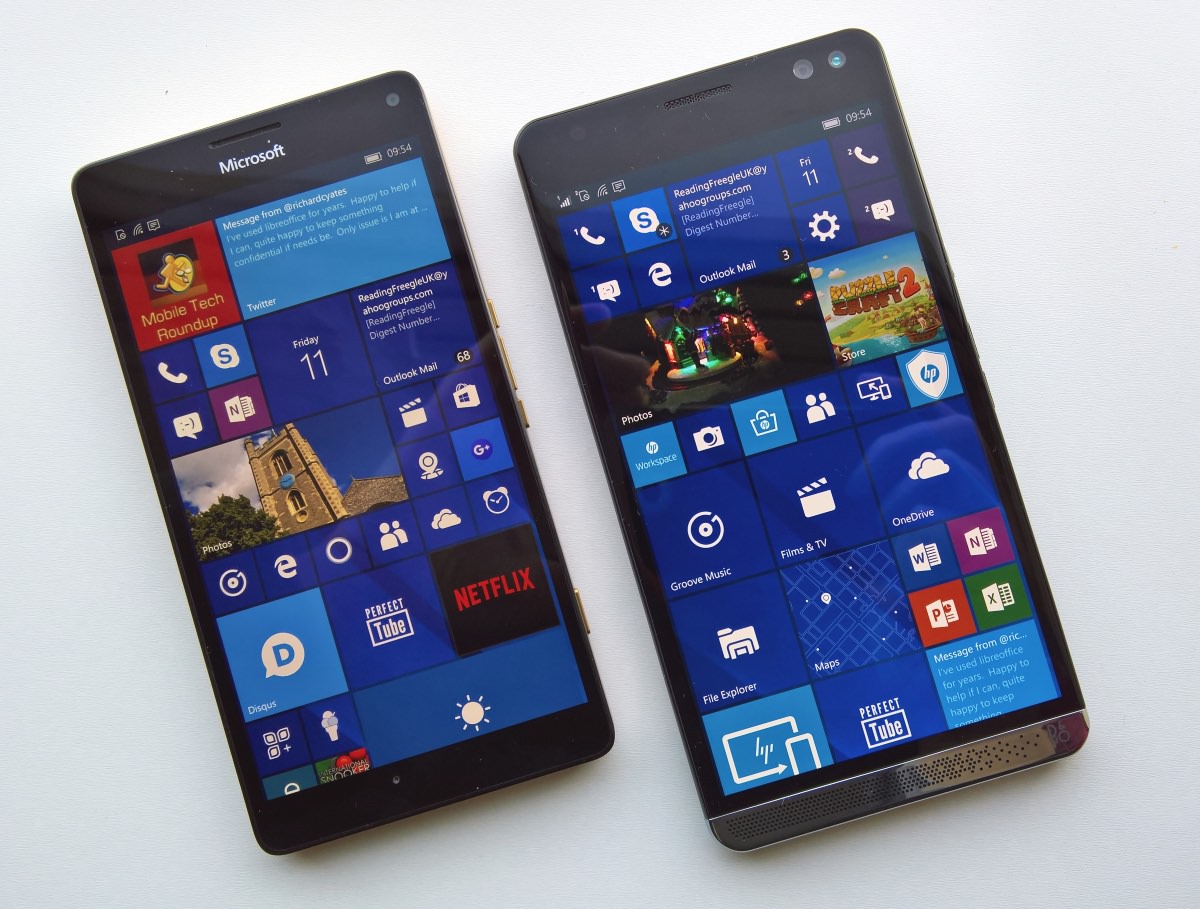 The HP Elite X3 and Alcatel IDOL 4 Pro have the same GPU, the Adreno 530, vs. the Adreno 418 for the Lumia 950 and Adreno 430 for Lumia 950 XL.
Hardware-wise, one would conclude that the HP Elite X3 and Alcatel IDOL 4 Pro have better specs than the Lumia 950/XL, despite being Quad-cores and despite their inferior cameras (the 20MP PureView with ZEISS optics, Optical Image Stabilization and tri-LED RGB flash of the Lumias 950/XL is still unrivalled, even by most smartphones in 2020, I contend!)
Software
But things change when you go down to the software implementation within Windows 10 Mobile. That's where HP and Alcatel look like a step down, and lose the competition with their two Lumia counterparts.
The OS is the same for all: Windows 10 Mobile branch 1709, build 10.0.15254.603 and one software solution is also common to all of them: Continuum, the system that makes your phone work like a Windows 10 PC. An innovative concept, but I wonder how many people have used it even once in their life, not to mention on a regular basis?
Amazingly, despite having AMOLED screens, HP Elite X3 and Alcate IDOL 4 Pro do not have Glance screen, while the two Lumias have, and even with the enhanced feature of showing colour graphics here! This is quite an embarassing omission for such high-end devices. Moreover, the Lumias 950/XL have the Nokia ClearBlack screen technology (though the competition have caught up, despite not using the same term, modern iPhone and Samsung screens are quite spectacular and, as I said above, the IDOL 4 Pro's display is also clearer in most conditions, in my humble opinion(!) - Steve).
The Alcatel IDOL 4 Pro has the function 'double tap to wake', located in 'Settings/Extras/TouchSettings', and allow you to enable this as well as super sensitive 'glove' mode. The HP Elite X3 initially provided the function through 'HP Display Tools', but you needed to open the app every time and leave it open if you want to perform the 'double tap to wake', as reviewed by Steve here, together with other HP-preinstalled apps.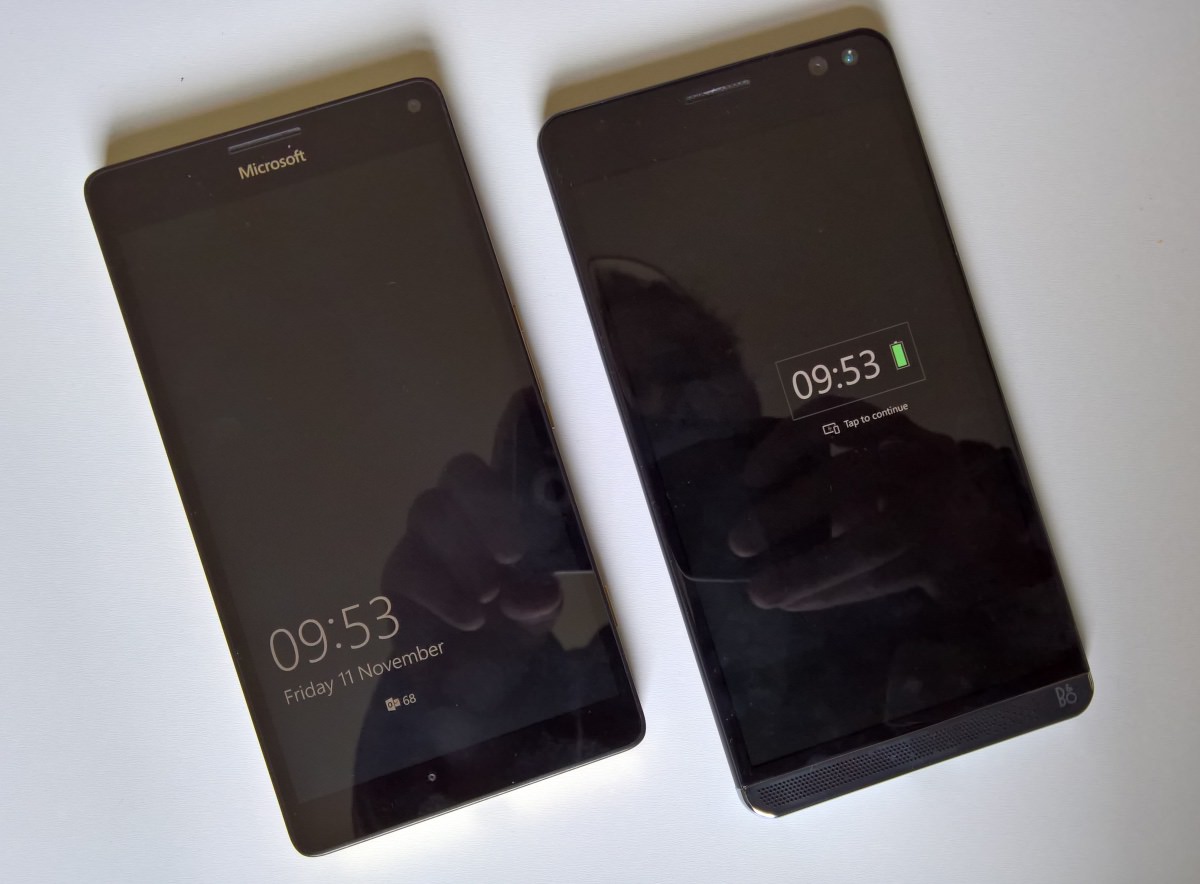 With OS version 1709, the function is embedded under 'Settings/Extras/Double Tap' (it looks like an app, 'Double Tap', HP Inc., size: 352KB in Menu: My Device, Installed apps), allowing you to set sensitivity and duration between taps. The function, however, is a mixed bag: sometimes double tap to wake works alright, sometimes you have to double tap many times to wake up the phone.
Another showstopper comes from the absence of many Lumia-Nokia apps. They simply do not work on the HP Elite X3 and Alcatel IDOL 4 Pro. You can install them from the Store, but they do not work at all. We are talking of Nokia-Lumia specific features and functional-apps, such as: Nokia Smart Cam, Mix Radio, Music Equaliser, Gadgets, Display: all these functions (located in Settings>Extras) are gone.
And after hearing all that, you would perhaps like to listen to some good FM radio music to cheer you up. No way. the HP Elite X3 and the Alcatel IDOL 4 Pro do not have a FM receiver!
Moreover, the Alcatel IDOL 4 Pro cannot be unlocked with the same software hack available for Lumias 950/XL, while the hack works fine on the HP Elite X3.
Thankfully, AAWP finally managed to persuade Microsoft to upgrade the IDOL 4 Pro to WP10's latest branches, CU and FCU, officially, so no hack is needed.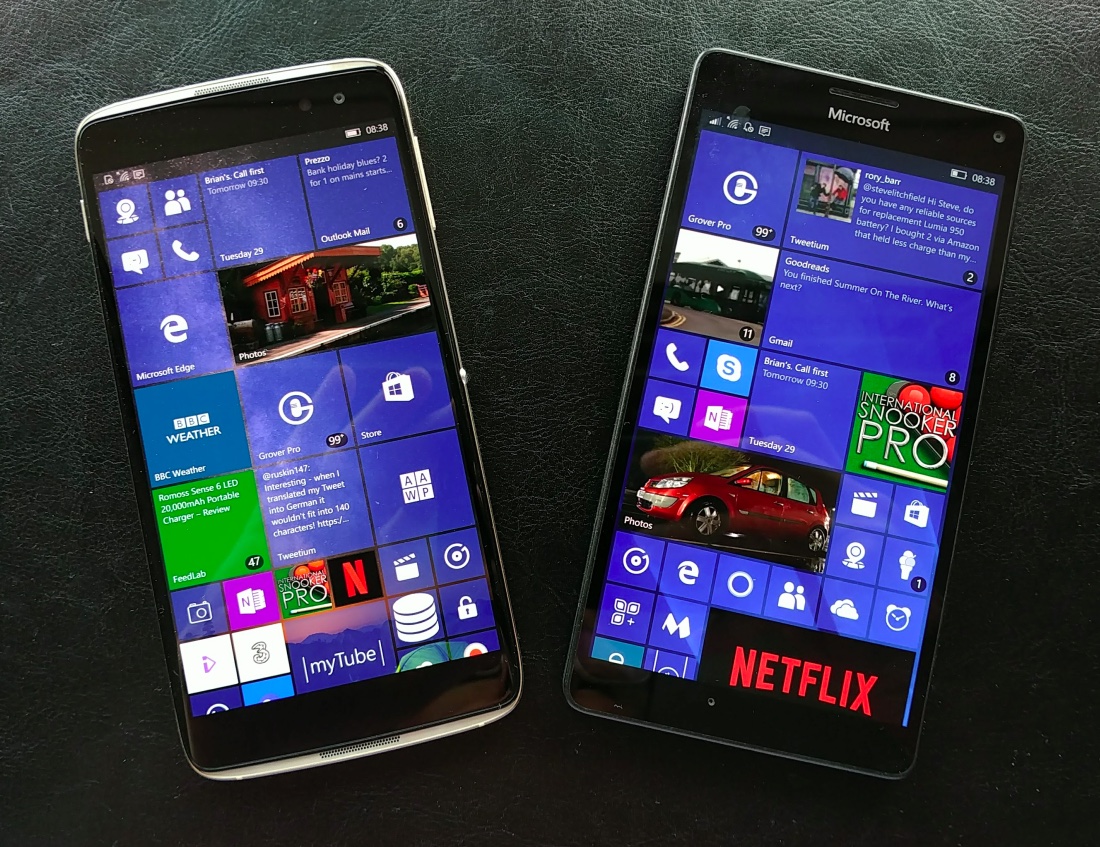 For the reasons above, I believe that Windows 10 Mobile is not able to unleash all its capabilities on these HP and Alcatel devices. They are beautiful smartphones, with brilliant displays and impressive ergonomics and design. Yet, they are not the best WP10 phones ever, since Lumias 950/XL offer a state-of-the art camera plus better apps optimization.
With 2020's latest high-end devices, phones like the Lumias 950/XL, HP Elite X3 and Alcatel IDOL 4 Pro, plus WP10 itself, have become an abandoned realm, but the gorgeous black-themed UI and its Start Screen with Live Tiles are still around in some quarters to remind us that it is still an unique OS experience.
For my money then, the Lumia 950 XL is, in my view, the ultimate WP10 device, the last true heir of the realm.
_______________
Thanks, Nico. What about you, AAWP readers?