Review:
HP Elite X3: part 2 - performance, Continuum and the Desk Dock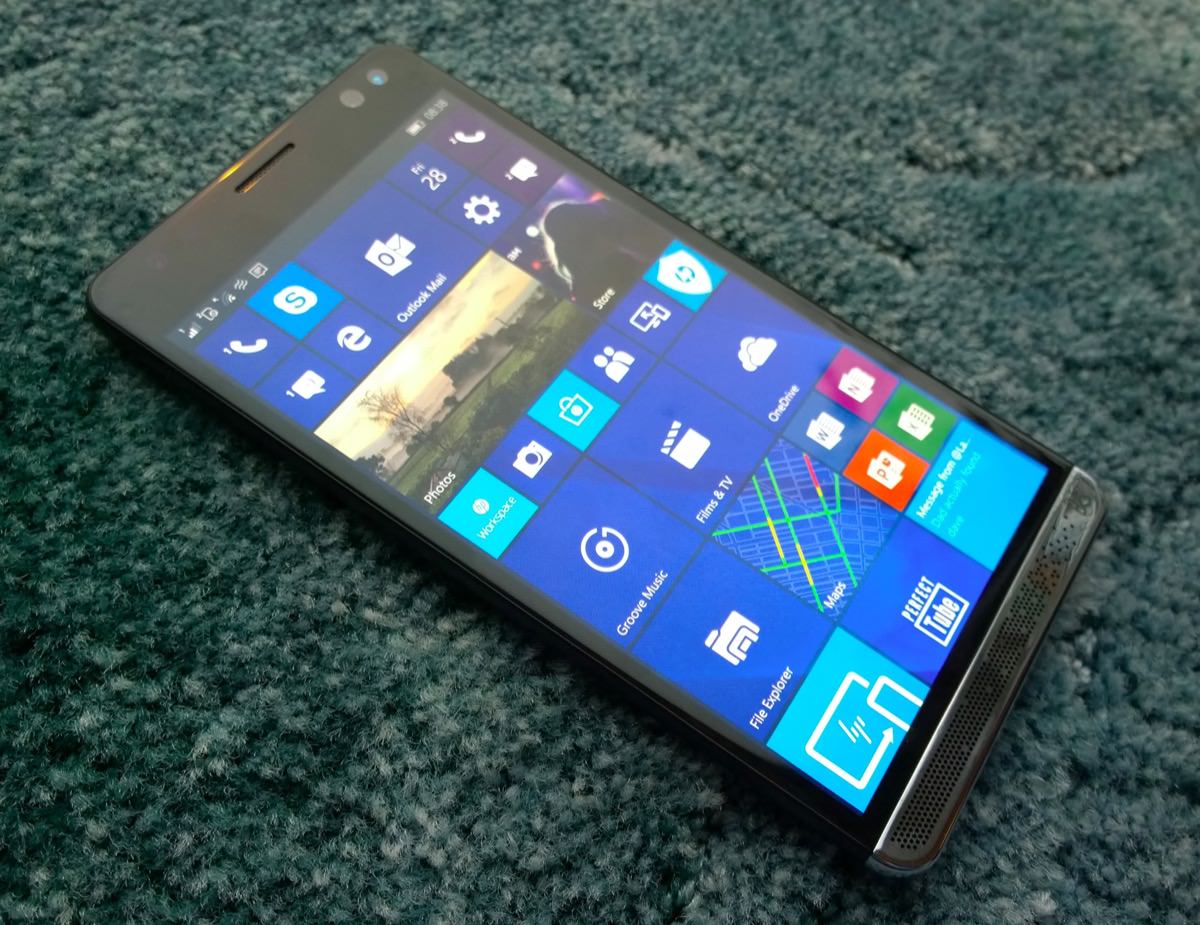 Performance
I should start with a few speed tests, seeing as the Snapdragon 820 chipset is supposed to be faster than the Snapdragon 810 chipset in (say) the Lumia 950 XL. It's also 30% less power hungry, potentially, which is a neat trick, though seems to be borne out in practice, though the Elite X3's monster 4150mAh battery helps a lot too. The Snapdragon 820 is built using Samsung's 14nm FinFET process, compared to the 20nm process used for the Snapdragon 810, and it's this that mainly gives the performance and power benefits.
By popular request, I've pitched the Elite X3 against the existing Lumia 950 XL, though there's a massive caveat in the stats below in that the Lumia 950 XL is, as readers will know from all my news stories, running the latest Redstone 2 'Fast' ring build of Windows 10 Mobile, while the HP Elite X3 is running the 'production' version of Redstone 1, a.k.a. the Windows 10 Mobile Anniversary Update. And, for obvious reasons, I can't advance the latter device to newer builds as I intend to report on official Elite X3 updates.
So, we're stuck with data points that don't seem to make sense at first, but which are explained away by the OS itself improving (I know, I know, shock horror!) Some notes:
As usual, I've concentrated mainly on real world operations, I don't believe that processor and GPU-bound benchmarking utilities tell a complete story - what matters is how fast the phones are when being used for real.
The timings also assume that each app wasn't previously open or 'tombstoned', i.e. we're looking at cold start timings on the whole.
I do include a typical benchmark figure at the bottom of the table.
In each case, I timed the operation several times and picked the fastest.
All applications were latest versions, updated in the Store, of course.
Benchmarking as at 30 Oct 2016
(all times in seconds where appropriate)

Lumia 950 XL
with RS2 Fast Ring
HP Elite X3
with RS1 production
Booting up to fully populated Start screen
38
41
Starting the Store to see all
front screen content
4
4
Opening up Outlook Calendar
1.5
3
Launching MSN News to fully populated
opening graphics
7
7
Opening OneDrive
5
6
Opening up Skype Preview UWP
i.e. signing in after boot
1.5
3
Opening up PerfectTube to a populated
Subscriptions pane
7
7
Opening up Cortana
to the 'look at the day' vertical panorama,
after boot
7
5
Open Windows 10 Camera
2
2
Planning a route
from Reading
to Aberdeen in Maps
12
14
Starting up Weather to the
full opening summary
3
6
In the Store, 'Check for updates'
19
23
Starting a new Excel sheet
with a template
3.5
5
Starting International Snooker Pro
to opening menu
17
20
Starting Perfect Flicker to opening menu
5
5
Starting Netflix to opening menu
9
9
Total time
141.5
160
Peacekeeper universal browser
benchmark:*

719
888
AnTuTu benchmark:*
31675
34188
GFXBench DX benchmark (ALU):*
1079/8442
1791/11880
Storage read/write ratings (MB/s):
156/986
312/1250
* I included these benchmarks for interest sake - they're not definitive by any means, in terms of comparing with other phones on other platforms, but still give a flavour of raw power. And, obviously, the higher the scores, the better.
So, looking at real world tasks in the Windows 10 Mobile interface, the Elite X3 seems at first glance to be over 10% slower than the Lumia 950 XL, which is not what you'd expect. However, look at the benchmark statistics - the Elite X3 (and its Snapdragon 820 chipset) is well over 10% faster than the Lumia 950 XL when it comes to calculations and intensive graphics operations. What this means is that Windows 10 Mobile itself has sped things up by around 20% in going from the Redstone 1 branch to the Redstone 2 branch. Which is great news for pessimists like me who usually claim that operating systems get slower as they get older and more advanced - W10M is bucking the trend here. And it means that when the X3 (and other production W10M-running handsets) get Redstone 2 (now apparently named the 'Creators Update') in the fullness of time, they'll get that 20% bump in UI performance.
In real life use, the Elite X3 feels faster than the older Lumias - I know this contradicts the timings above, but many of these are for starting applications for the first time after booting. In the real world, once applications are loaded and 'running', the X3 brings them back quickly, plus operations within many applications, including reading and writing from internal storage (think temporary files, cache) are definitely much faster. The extra half a Gigabyte of RAM probably helps too. The odd figure of 3.5GB free RAM on the Elite X3 is down to 4GB being the addressable limit for a 32-bit OS, but you apparently have to subtract some of this to use for other things, probably the GPU. I'd welcome comment from chipset experts who can clarify this.
HP extras
Windows 10 Mobile is just as it is on other handsets, of course, plus:
HP Device Hub app for support and diagnostics. The latter are superbly done - this should be a part of every Windows 10 Mobile device:


HP Display Tools, a utility to force the screen to dim to a 'Glance' mode, ostensibly for use with Continuum, so that the phone screen doesn't have to be on all the time if you're controlling Continuum with (e.g.) a keyboard and mouse. It's a nice touch and shows that HP have thought about Continuum a lot more than Microsoft did! Display Tools auto-launches when you connect up to any secondary display, though you can turn this off if you want. You can also run it manually at any time to put your Elite X3 into a portrait or landscape always-on Glance screen mode, with clock and battery status.


HP Workspace, a Continuum-only utility that propels you into a hosted session on HP's servers - if you have a subscription set up (see below, we had one kindly set up for test purposes by HP).



HP Picks - a shortcut through to a custom selection of applications in the standard Windows 10 Store (above, right).

HP AiO Printer Remote - as the name suggests, control and diagnostics on any compatible HP wireless printer.


Salesforce - a client for use with this enterprise system, though I couldn't test it for obvious reasons(!)

WinZip Universal - licensed by HP for this device. The idea is that ZIP files and other archives are commonly used in business to group files together. So this is needed when receiving ZIP files (etc.) by email or grabbing them from OneDrive or Dropbox, for example. The integration works very well and WinZip's icon appears automatically when you tap on a ZIP attachment.





HP 12C Financial Calculator - a Windows 10 implementation of the popular 'Reverse Polish' physical calculator (above, right).
With a business perspective in place - and partly explaining why HP went with Microsoft and Windows 10 Mobile in the first place - there's the usual Office UWP applications, Outlook for email and calendar, and so on. Put all of the above together and the Elite X3 really does feel like more of a pocket PC than a consumer smartphone. As I said in part 1 of this review, it's a serious tool. And only available in tough, industrial black.
________________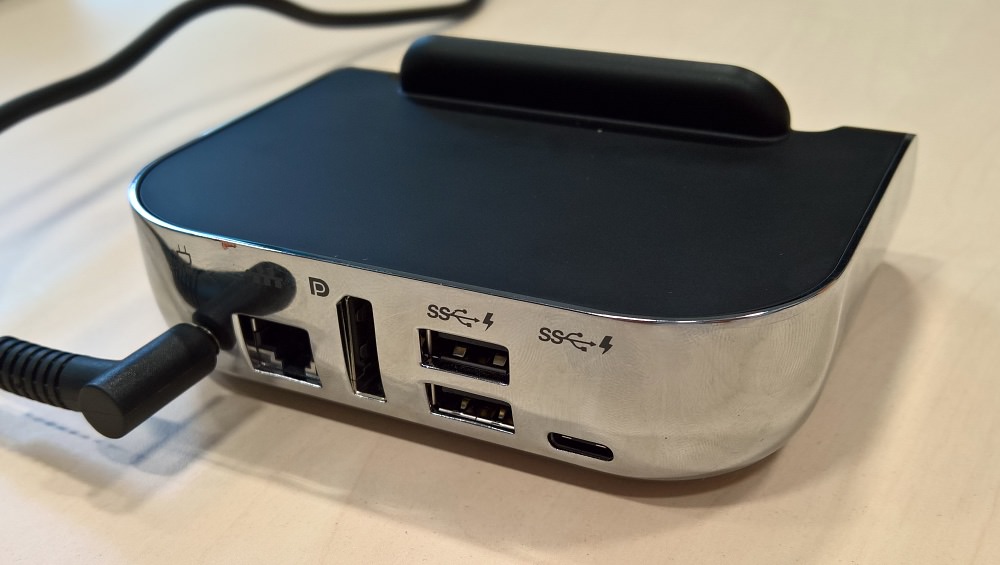 Continuum and the Desk Dock
The HP Desk Dock, supplied for review, is often bundled with the phone, though you can buy each separately if you so wish. This is analagous to Microsoft's Continuum Dock, except that the extra step of wiring in the phone to the dock via USB Type C has been eliminated. You just pop the Elite X3 on the dock, propped up at a handy angle, and you're connected.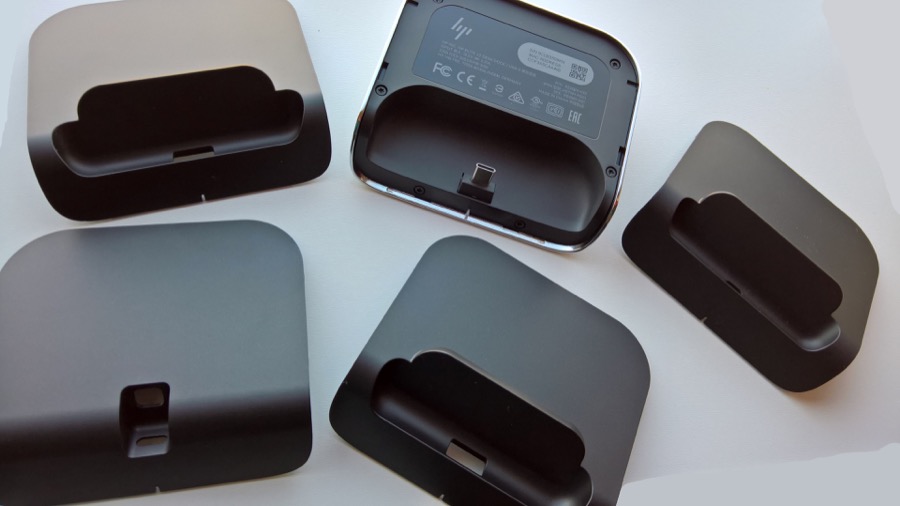 Included with the Elite X3 are a bunch of plastic inlays, each of which slots onto the main body of the Desk Dock and provides a snug fit whichever official case you have installed. At the moment, we don't have any of these cases for review, but it's handy to know that the Dock can adapt in the future. The idea is that the phone is always fully supported, mechanically, on its USB Type C connector - I'm always horrified by the iPhones at the Apple Store sitting there with all the stress of the weight of the phone on the tiny Lightning connector. USB Type C is more rugged anyway, but as this is a business tool, HP is playing this one safe and I welcome that.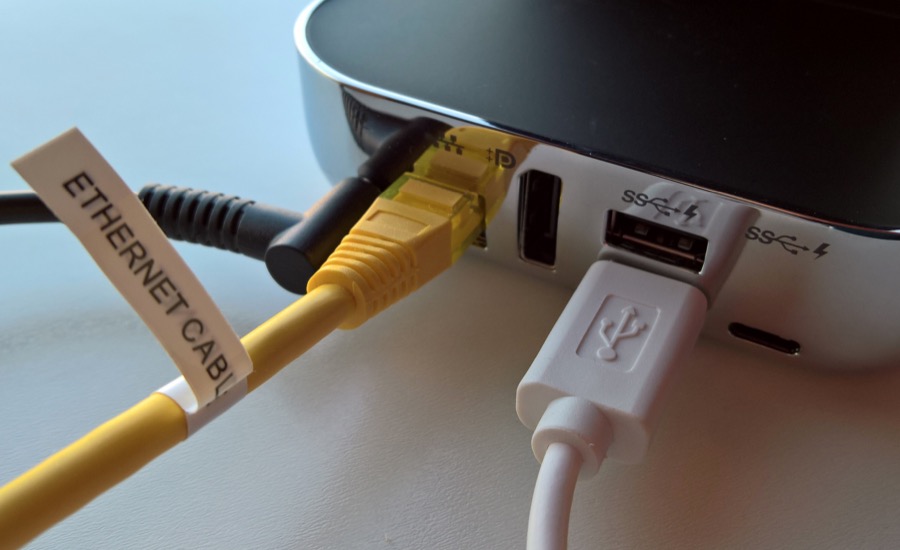 From left to right, above, there's:
DC power, i.e. the HP Desk Dock is powered, as you'd expect. The supplied power adapter is rated at 38W, which should be more than enough to cope with charging a couple of phones and powering (for example) an external hard disk.

an Ethernet jack, giving the Elite X3's Continuum connection full wired Internet while docked, which comes in handy when using Workspace and needing maximum bandwidth. You can also just use the phone's own Wi-fi connection, of course. Note that the Ethernet bandwidth doesn't seem to find its way back into the phone per se, I did a speed test on the phone UI with and without the Ethernet connection and the results were the same. So presumably the Ethernet conection is wired to only come into play when the Desk Dock is wired up in a Continuum mode? A little odd, and more testing is certainly needed here.

DisplayPort, for hooking up to a suitable desktop monitor. Yes, most domestic TVs and monitors will major on HDMI, but adapters are trivial to source if needed.

Two USB Type A ports, ostensibly for wired mouse and keyboard, though you can also plug in a USB 3 hard disk or similar, to access extra storage.

a USB Type C jack, for daisy chaining to another compatible device, to charge it or to mount/communicate with it - again think accessory or storage. Note that you can't power the HP Desk Dock from this jack, unlike the Microsoft Display Dock, whose only power source is USB Type C. Note also that you can't plug in a smartphone, e.g. a Lumia 950, into this port - this isn't wired to support Continuum extension.
The port loadout is quite different from Microsoft's and the two docks can almost be thought of as complementary, i.e. you might pick the one that suits your productivity needs best, though in practice Lumia owners will go for the more consumer-friendly Microsoft Display Dock and HP Elite X3 owners will plump for the custom-made Desk Dock here, if only for the ease of docking.
Once docked, it's Continuum as we've grown to know it, improving by small increments over interminably long periods of time(!) The Anniversary Update was a step forward, with applications that were 'running' in the task bar still there after undocking and re-docking (e.g. to take a call), but the blue 'active' line beneath each is missing, i.e. each app has been tombstoned and then has to be brought back by clicking its task bar icon.
It's still a far cry from a normal Windows experience. Until Microsoft (and HP) work out a way to remember what you were doing when you undocked - and then to restore that screen and applications to the 'Alt-tab' list when you dock the Continuum-compatible phone again - it's tough to really believe that this could replace a day-to-day laptop or PC. But Redstone 2 will apparently bring many more improvements to Continuum, including a custom Start screen and multiple application windows, so let's stay optimistic. The Elite X3 is a long term play by HP and this solution will still be around and benefitting when Redstone 2 hits production devices in March 2017.
We've been reporting on more and more UWP apps appearing on AAWP and there are relatively few major titles which don't work with Continuum, i.e. using the Deck Dock here to hook the Elite X3 up to a secondary display. Which means fewer and fewer greyed out icons on the current Start screen, as seen on your Continuum display.
And that's normally where a Continuum-capable phone would end - typically Edge browsing, Outlook and perhaps some social applications or Maps. Nothing too outrageous and all UWP apps, just as would run on your phone or laptop/PC.
But there's more. There's HP Workspace, which I'll cover in the next Elite X3 review part (3) in a day or so.
Reviewed by Rafe Blandford, Steve Litchfield at