As a reminder, although it was first mooted by Microsoft in 2018, we covered the launch of Your Phone to the mainstream at the Samsung Note 10 event in August 2019, highlighting the work done in Samsung's Android flagship to work with Windows, with an accompanying review of progress so far (calls, contacts, messages, photos, notifications) and separate announcement of Android app integration, with availability a month later, in September 2020.
Essentially, 'Your Phone' is Windows software (in the Store, as I say, but pushed heavily as part of Windows setup) that talks to counterpart software in your phone to deliver (depending on phone):
Phone/OS
Needed on the phone
Your Phone functionality
Android 10 on Samsung S9 series onwards
(essentially anything decent released by Samsung in the last 3 years)
Nothing, 'Link to Windows' is built-in

Make and receive calls from your PC
Receive and manage your phone's notifications
Access your phone's apps from your PC
Read and reply to your text messages from your PC and use your keyboard
Instant access to your most recent photos
Drag files between your PC and phone

Android 7 or above on any other Android phone
'Your Phone Companion - Link to Windows' is in the Play Store and needs to be sought and installed

Make and receive calls from your PC
Receive and manage your phone's notifications
Read and reply to your text messages from your PC and use your keyboard
Instant access to your most recent photos
Drag files between your PC and phone

iPhone/iOS

'Continue on PC' is in the iOS App Store and needs to be sought and installed.

Thereafter, you share to this app from the standard Share sheet

Continue working on phone-sourced web URLs in Edge on Windows
Keep track of URLs in Edge on iOS (if installed)
As you can see, the iPhone and iOS are excluded from the meat and potatoes of Your Phone because there's not enough under the hood access allowed by iOS. It could be argued that an iPhone user might have a Mac for a desktop/laptop, mind you, so in practice an iPhone owner wouldn't expect to have much interoperability with Windows 10.
Note that there's also a super-tier of Samsung flagships with extra 'Your Phone' functionality, in that the very latest flagships can work with the latest Windows builds to offer multiple concurrent Android applications running in the UI on your desktop. However, this is currently reportedly rather buggy and unstable, plus I don't currently have any hardware new enough to try it. See here for compatibility and requirements. I'll come back to this with a review Galaxy S21 series device in a month's time, hopefully. For the moment, my trusty Samsung Galaxy S9+ runs the top-right set of functions above just perfectly, so I'm basing my thoughts here on that.
First of all, a walkthrough refresher, with the new app functionality in place: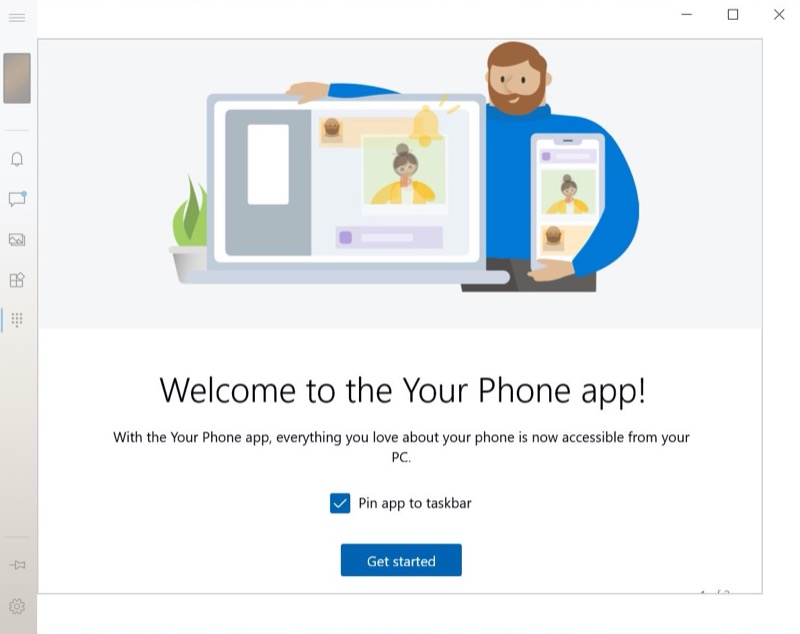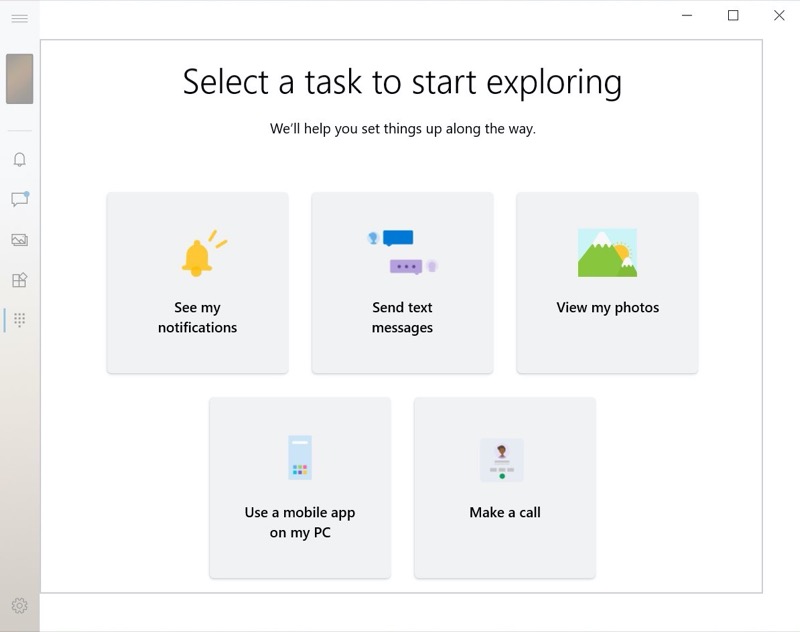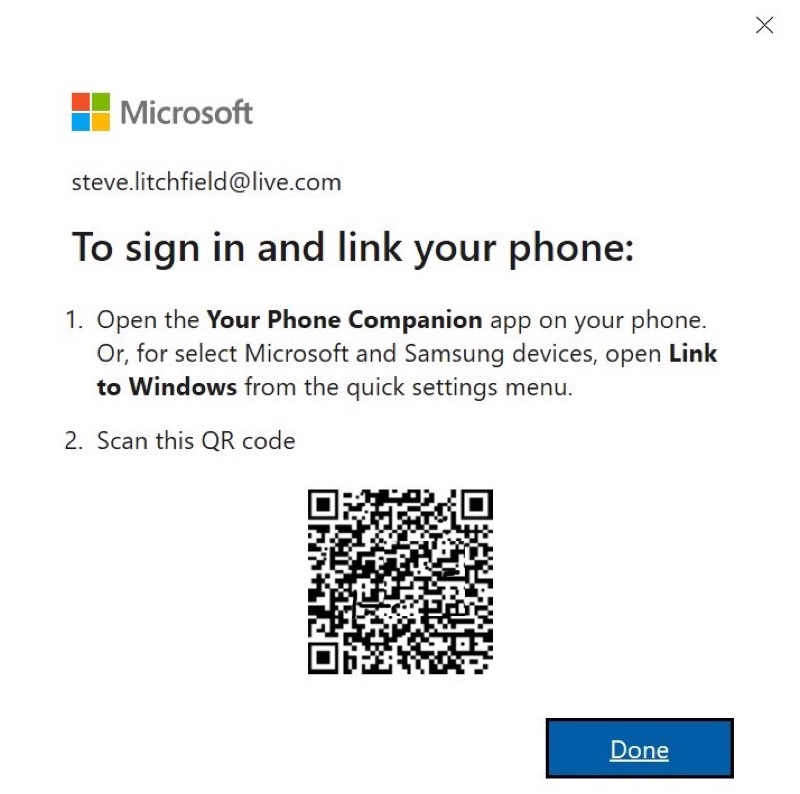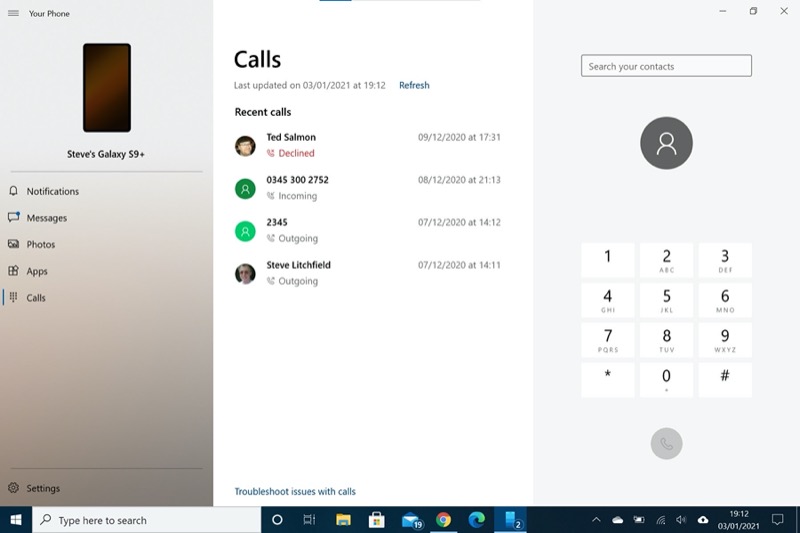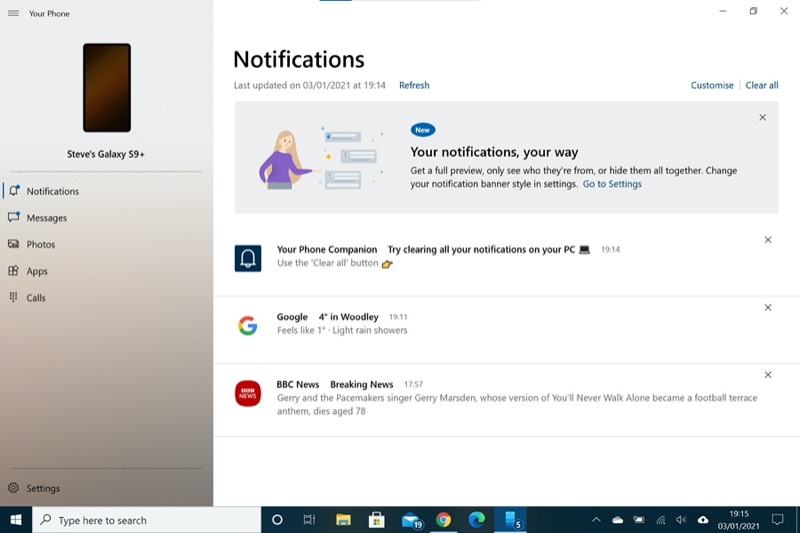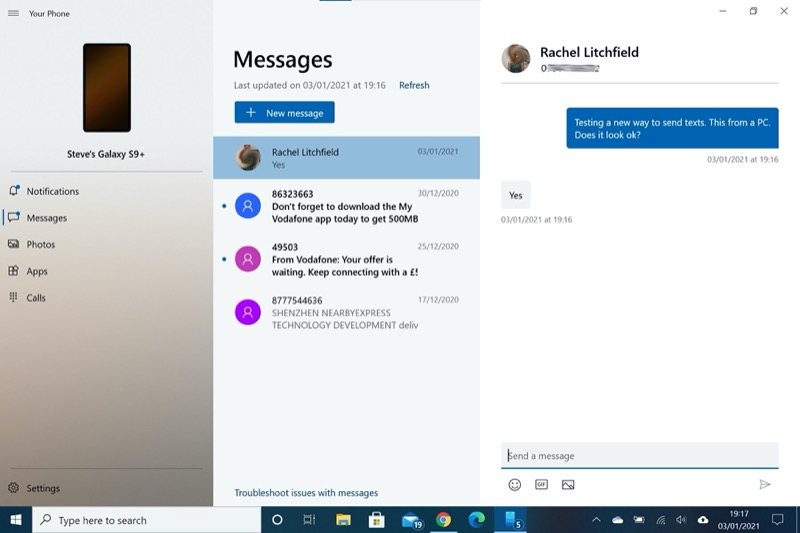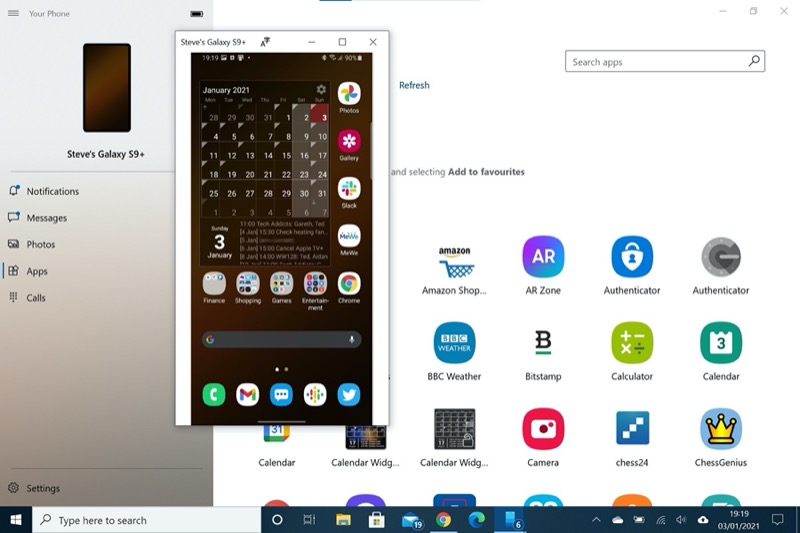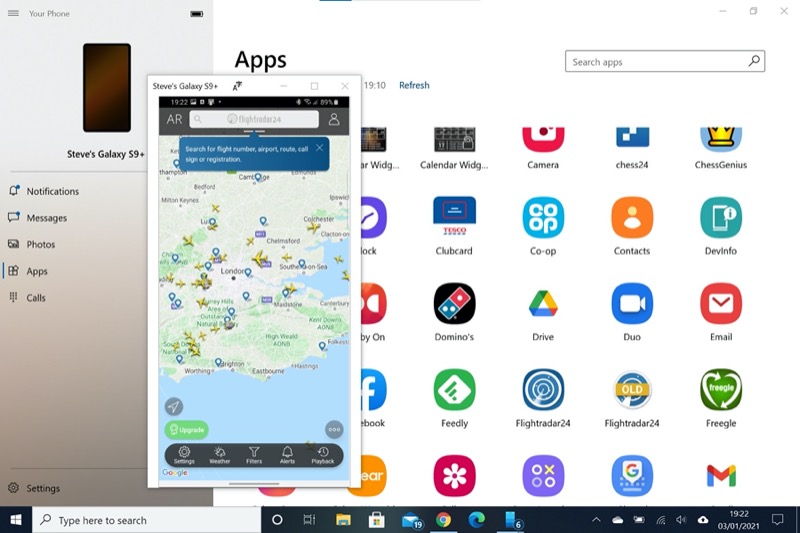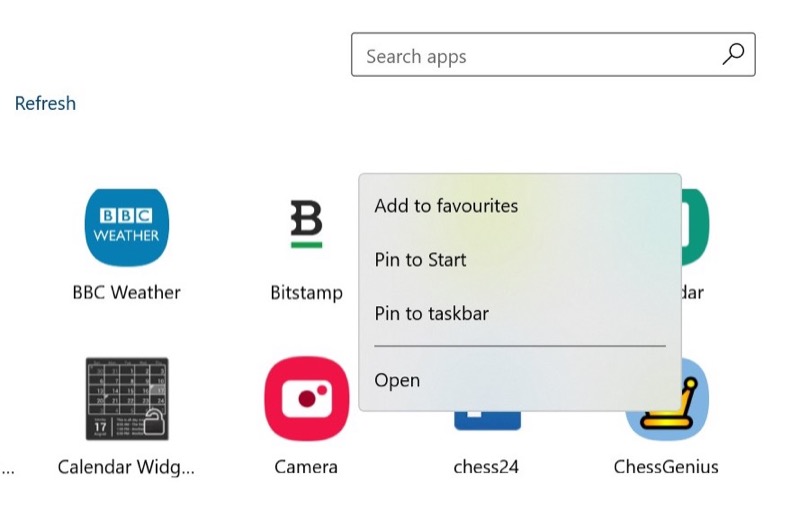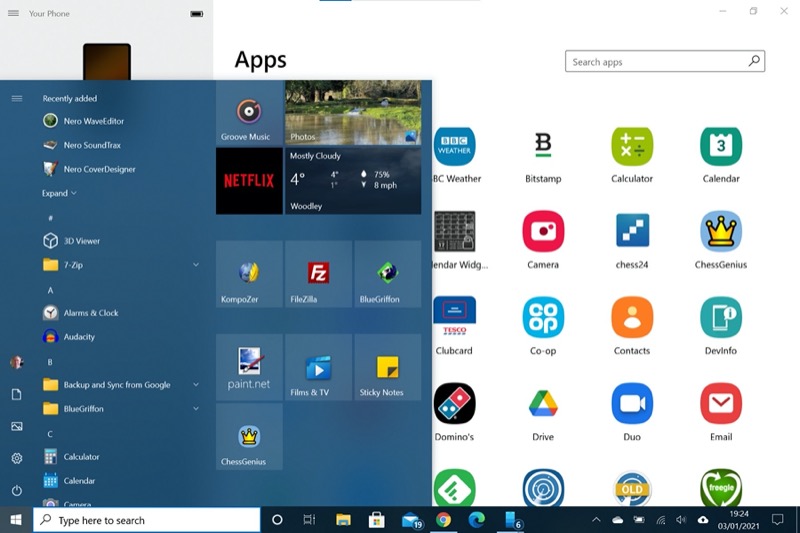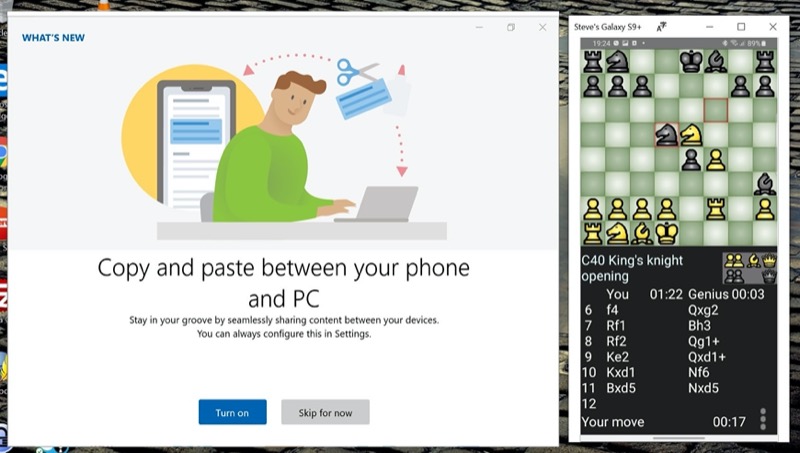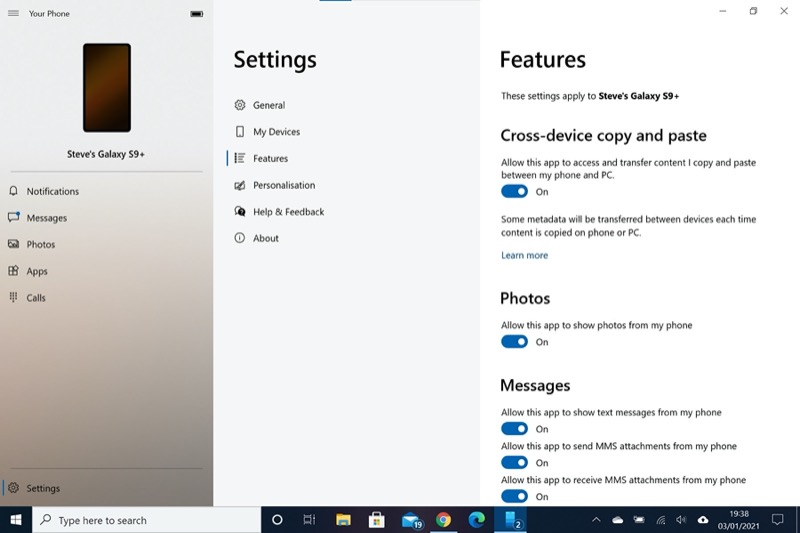 So that's where we're at with 'Your Phone' right now. It mostly works, mostly quick enough, as long as you keep your compatible smartphone unlocked and powered on. And it really is very cool to see a virtual Android interface in the middle of a Windows desktop. But is it all enough?
Sitting working at a Windows laptop, the use case for all this is that when something happens - a notification of an eBay purchase, a DM from your editor, a Whatsapp message from your partner, and so on - you get to see a pop-up and dismiss it without needing to remove your hands from your keyboard/trackpad or your eyes from the main screen. And if whatever is happening - a message, a call - is really important then in many cases you can deal with it within the Your Phone interface, with large display and full input facilities. Saving picking up the phone and probably replying using the small phone screen.
If the notification is for an app like Twitter or Whatsapp then the idea is that you'd call on this app via the floating windows. But I'd point out that the app streaming function only works with a fairly small percentage of Android handsets. Admittedly we're only looking at professionals here, so perhaps the chances of them using a Samsung flagship are higher than you'd think? But although app streaming is cool (and will get better when the multi-app capability is finally fixed later this year), I also feel it's not the core of Your Phone.
The thing is that we're all different in terms of the web services we use, the Windows apps we depend on, the smartphone apps we love to communicate with, and there are millions of permutations. Microsoft's 'Your Phone' is certainly a very handy tool and its core functions work on almost every current Android smartphone, which is excellent. Turn on Bluetooth and you're golden, etc.
But is the time saved using the system worth the (real world, I timed it) 30 minutes of set-up and general fiddling around (permissions, installs, etc.) to get it all working in the first place? The jury's out on that. You could even argue that it's good to take your eyes and hands away from your computer regularly, so an interruption might be a good thing - take the call or reply to the message while standing up and walking around, etc, get the blood circulating?
And although it's cool to see Android apps like Twitter, Whatsapp, and Facebook running in a window, surely it's far quicker and more convenient to just have these open in tabs in your native Chrome or Edge browser under Windows? So it all comes down to how you want to handle notifications and messaging interruptions in your day - and/or how focussed you need to be when you're working!
Comments welcome - have you used Your Phone, how did you get on, and did you end up keeping it?
PS. In part 2 of this feature I'm going to pitch Your Phone against Samsung DeX for Windows Desktop, for which there's huge functional overlap - what are their pros and cons, and are there any differences in use case?