The bigger concern for HTC will be the relatively low revenue figures, which were below analyst estimates. Typically, the fourth quarter provides mobile phone manufacturers with their best revenue numbers, but in the case of HTC the revenue figures for Q4 were below those for both Q2 and Q3, despite the launch of several new devices, including the HTC One Max.
The results also mean that HTC's results for 2013 as a whole, once fully reported, will show a significant loss for the first time since the company went public in 2002, primarily a result of weaker than expected sales of the HTC One and related devices, and the fierce competition in the Android smartphone space.
Sales of Windows Phone devices has contributed little to HTC's bottom line in the last two quarters with devices sales trailing off in the absence of new Windows Phone product releases.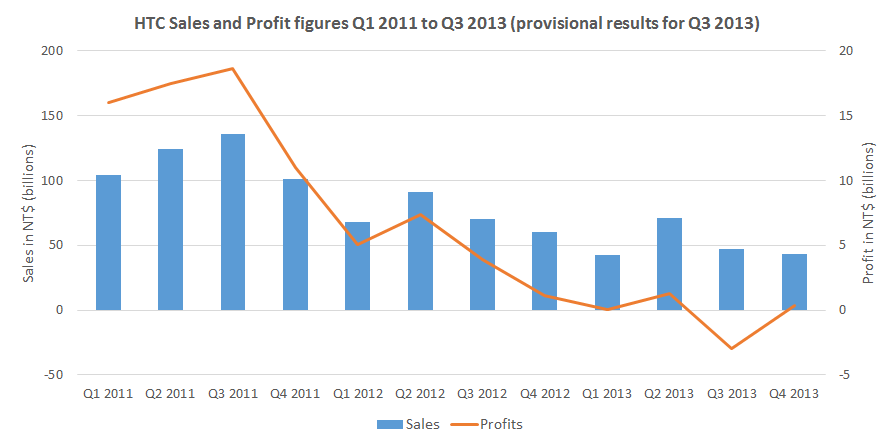 HTC, as we noted in our story on the company's Q2 2013 results, faces fierce competition in both Android and Windows Phone smartphone business:
The crux of the problem is that HTC is facing off against two giants, Nokia and Samsung, in the Windows Phone and Android ecosystems respectively, both of which have much bigger marketing budgets, better economies of scale, and more sales channels than HTC. In order to counter act this HTC must either out-innovate or be more nimble than its larger rivals. An easy proposition to suggest, but one that is much harder to implement.
Little has changed since our Q3 story with regards to HTC and Windows Phone, except that it now seems certain there will not be a Windows Phone version of the HTC One. There are now no suggestions that HTC is working on a Windows Phone device and our own sources indicates HTC currently has no plans to release additional Windows Phone devices.
That does not rule HTC out of the Windows Phone world altogether, but as we noted earlier this year the industry dynamics around Windows Phone has changed, with a direct impact on HTC:
Microsoft, even in the light of its acquisition of Nokia's devices business, will want to do everything it can to encourage manufacturers to continue with, or adopt, Windows Phone. That could include direct financial help or a reduction in the Windows Phone licensing fee. HTC, which has a longer working relationship with Microsoft than any other manufacturer, would be a logical recipient of any such help.

It is difficult to assess the additive cost to HTC making Windows Phone devices. Some work, such as material research and testing, component supply, and establishment and maintenance of sales channels can be shared. However, other costs, such as design, testing, and integration, will apply to every phone produced by HTC. Moreover, supporting an extra operating system inevitably results in some duplication of work. As a result, the cost of producing a Windows Phone device will be higher than adding an extra Android device to HTC's line up.
Recent chatter has suggested that Microsoft is considering offering manufacturers a free-to-license version of Windows Phone as a way to encourage adoption. However, the discussions around this are thought to be at an early stage and will have no immediate impact on HTC's plans. Thus, our assessment is that it is unlikely that HTC will release a new Windows Phone device in the immediate future.