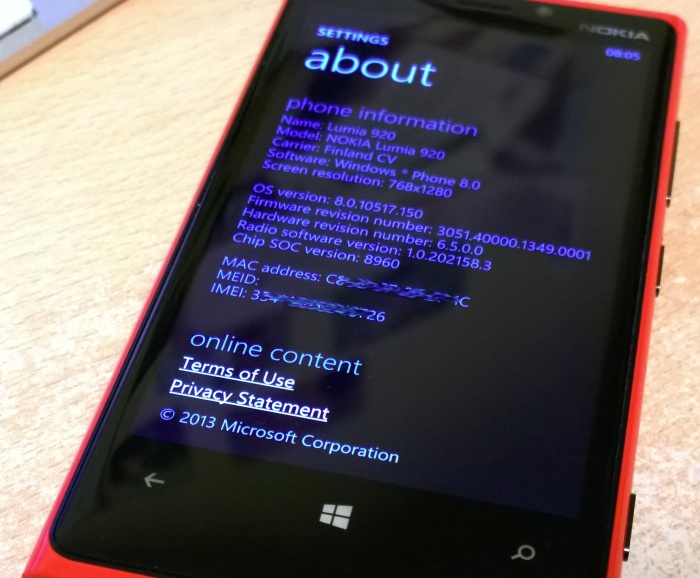 As with the 1020 and 925, the Lumia Black software update, which ships on top of the Windows Phone 8 Update 3 (GDR3) software update, includes enhancements for camera performance, an updated version of Glance Screen, and enablers for a number of new Nokia apps.
The camera performance enhancement include multiple updates to the image processing algorithms (e.g. tone mapping and noise reduction) and the ability to use the camera under a pin-protected lockscreen. The updated version of Nokia's Glance Screen functionality now supports additional colours in night mode (blue and greem, complementing the existing red) and adds support for showing the same notifications icons that are visible on the lock screen (e.g. number of new emails, new text messages, and so on).
The Nokia apps enabled by Lumia Black include Nokia Beamer (share your Lumia screen with any Internet connected device), Nokia Story Teller (alternative photo viewer), Nokia Video Director (Lumia 2520 companion app), Nokia Share (share photos to Lumia 2520 tablet), and an updated version of Nokia Play To (adds slideshow capability). These apps are all available in the Nokia Store to compatible Black devices.
The updates that are included as part of Windows Phone Update 3 (GDR3) include the addition of a rotation lock setting (prevent auto-screen rotation), an updated app switcher ('close' apps from app switcher), a new Driving Mode (reduces distractions when driving), additional custom ringtones settings (for instant messages, emails, voicemails, and reminders), updated storage settings (easier reclamation of space used by temporary files), and more.
See also our definitive guide to what's in Lumia Black and GDR3.
For more information on the exact availability for your Lumia 820 or 920, go to http://www.nokia.com/global/support/software-update/wp8-software-update/.
Your Nokia Lumia smartphone automatically checks for updates every week, and will notify you when it finds one. Otherwise, you can go to Settings -> Phone update and check for yourself. If Lumia Black is ready for your phone, you'll be able to download and install it straight from that screen.
The update takes around 30 minutes to install and expect a couple of enforced reboots towards the end. It'sd also a good idea to make sure the battery is charged up sufficiently beforehand.
Of extra interest is that you'll gain up to 3GB of flash disk space from your device, depending on how you've been using it - presumably there's some reclamation of lost space from Nokia Amber (a known temporary files bug), plus the operating system's own cache and temporary files will have been deleted as part of the update.
Comments welcome. Has Lumia Black reached your Lumia 820 or 920 yet?