Windows Phone Update 3 is expected to start being delivered to consumers "in the coming weeks" and the update process will "continue over several months". Microsoft says the specific timing of the update depends "on a number of factors including your carrier and phone model".
In addition to the consumer roll out of the update Microsoft is also fulfilling the promise it made at the launch of Windows Phone 8 to make updates available to developers ahead of the formal consumer release. From tomorrow, it will be possible for developers and other power users to download Windows Phone 8 Update 3, through the Windows Phone Preview Program for Developers. The program, which is intended to allows developers to easily test their apps on the version of the platform, is only open to registered developers (those with a Dev Center account, an App Studio account, or a dev unlocked phone).
Update: The app that facillitates the download of the Developer Preview updates is now available from the Windows Phone Store. See the Preview for Developers app page.

More details are available in this flow story.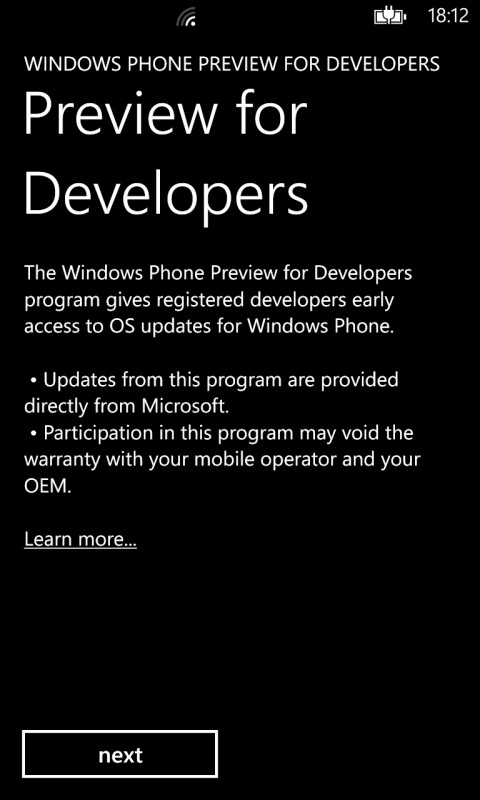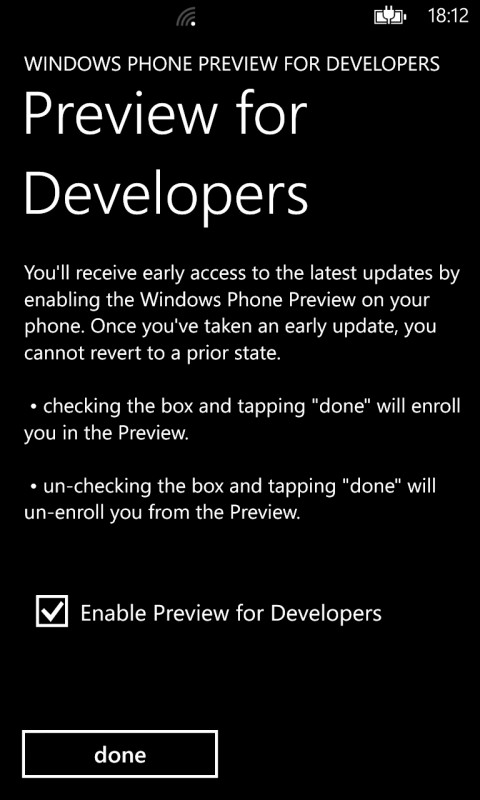 Nokia, and, possibly, other manufacturers, will be delivering additional updates on top of Windows Phone 8 Update 3 (GDR3). However, the details of these updates have not yet been announced. Todays news deals only with Microsoft's standard platform updates, which will be available to all Windows Phone 8 devices.

Higher resolution screen support
The introduction of 1080p (1080x1920) support in Windows Phone 8 Update 3 is primairly designed to "pave the way" for future Windows Phone devices with 5 and 6 inch touch screens, such as the rumoured Nokia Lumia 1520. However, it is also possible that manufacturers may choose to use higher resolution screens on devices in the 4 to 5 inch range.
Support for higher resolution screens arrives in tandem with software updates for the Start screen and other key built in Windows Phone apps (email, People, Photos, and Music and Videos) that ensure they are carefully scaled to make the best use of screen space of 6 inch screens.
For example, the Start screen will add a third column of standard size Live Tiles. This will give a theoretical maximum of six Live Tiles across the screen, in place of the current four (using small size Live Tiles). Microsoft describe this as way of being able to "pin even more of the people, info and apps that matter to you" to the Start screen.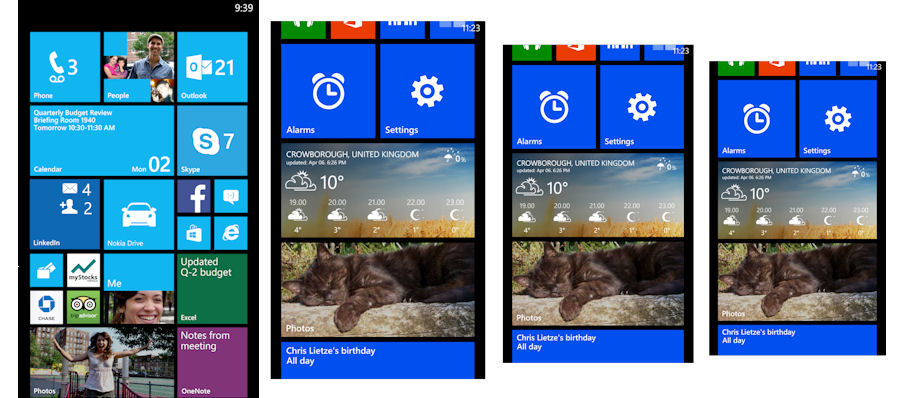 Relative size of Windows Phone Start screen on 5", 4.7" (Lumia 625), 4" (Lumia 520), and 3.7" (Lumia 620) displays. Note that the size of a standard Live Tile is similar on the 5" displat and 3.7" display, despite the added third column.

Updated hardware support (Snapdragon 800)
The other major hardware support change in Windows Phone 8 Update 3 is support for Qualcomm's 8974 quad-core processor (also known by the brand name Snapdragon 800). This represents a major performance upgrade for Windows Phone, and will go a long way to putting in on a par, in terms of specifications, with other smartphone platforms.
Microsoft says that the added performance "should make our already fluidly operating perform even better". In practical terms a faster SoC (processors) is likely partly the result of the extra power needed to drive the higher resolution 1080p screens. In its standard configuration Qualcomm's 8974 supports up to 2.3 GHz quad-core Krait 400 processor and includes with a Adreno 330 GPU.
We expect to see Windows Phone 8 devices continue to be released using the older processor family (Snapdragon S4 / Snapdragon 400) and the newer Snapdragon 800, with a dividing line somewhere in the upper mid tier.

Driving Mode
One of the major software feature addition in Windows Phone Update 3 is Driving Mode, which is designed to reduce distractions when in a car or other vehicle. Driving Mode is automatically triggered when the phone is connected to a pre-defined Bluetooth accessory (e.g. car kit).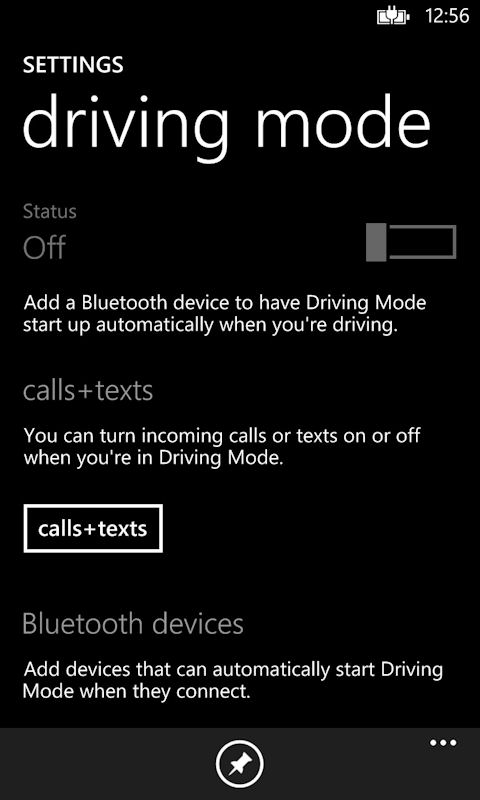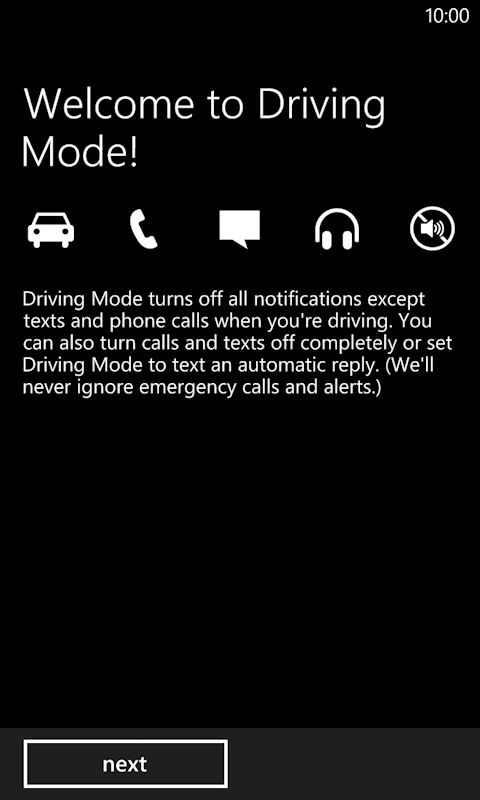 The Windows Phone Blog post describing Driving Mode notes that it is "designed to limit notifications on the lock screen—including texts, calls, and quick status alerts—until you're safely parked".
Driving Mode can also be configured to send automatic replies to people who call or text you while driving, so that you can let them know you are "behind the wheel" and will get back to them as soon as possible.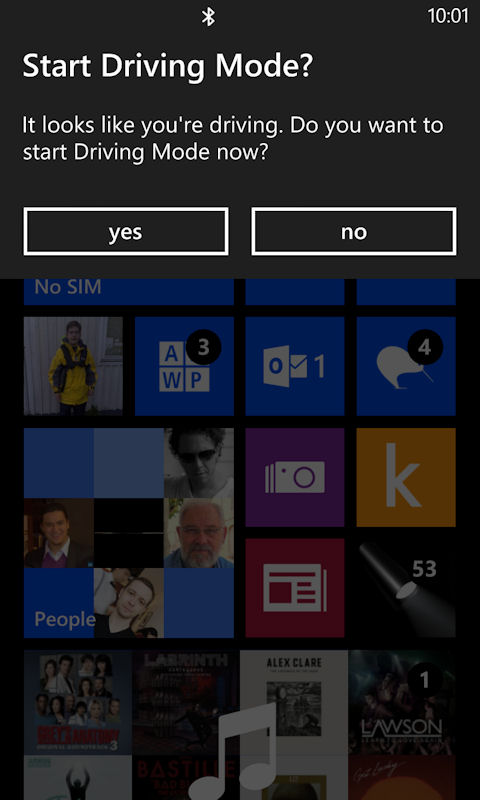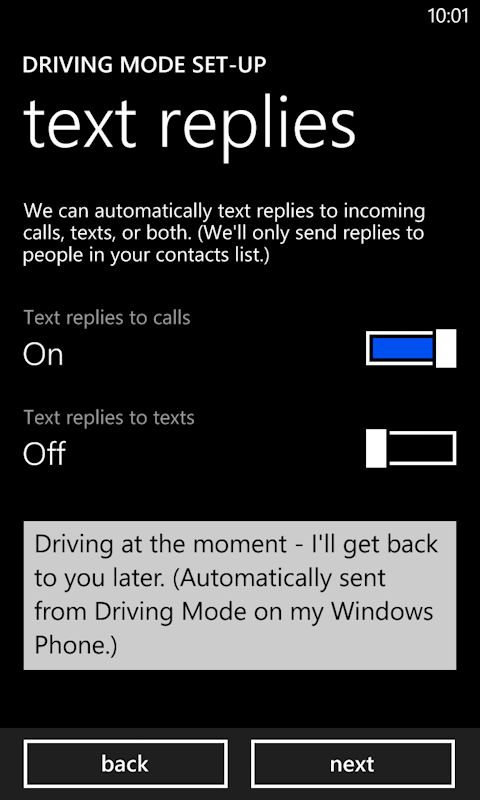 Accessibility features
A major part of the Windows Phone 8 Update 3 feature list is around improved accessibility features, an area where Windows Phone has previously lagged behind its competitors. Mobile Accessibility for Windows Phone 8 is described as not being a "single feature", but rather a "suite of apps designed to make Windows Phone easier to see, hear, and use".
A screen reader is included in Windows Phone 8 for the first time, which is described as making it "easier for blind and visually impaired users to manage calls and contacts, send texts and emails, browse the web, make Skype and Lync calls, and hear notifications like alarms, calendar events, and low-battery warnings".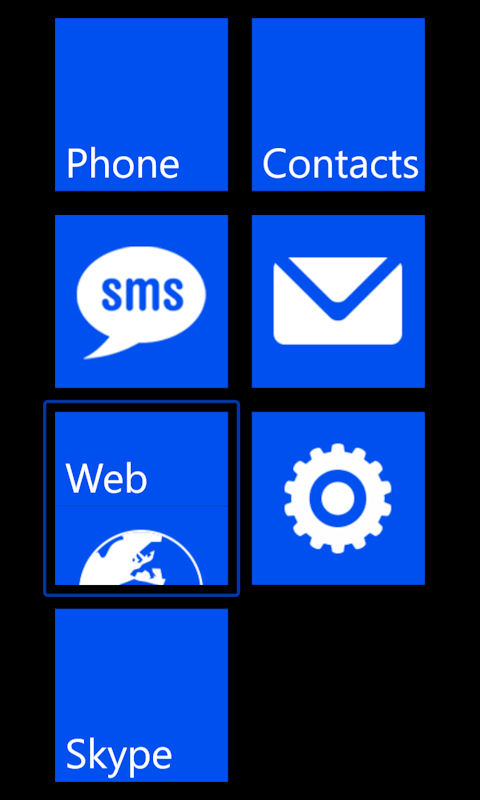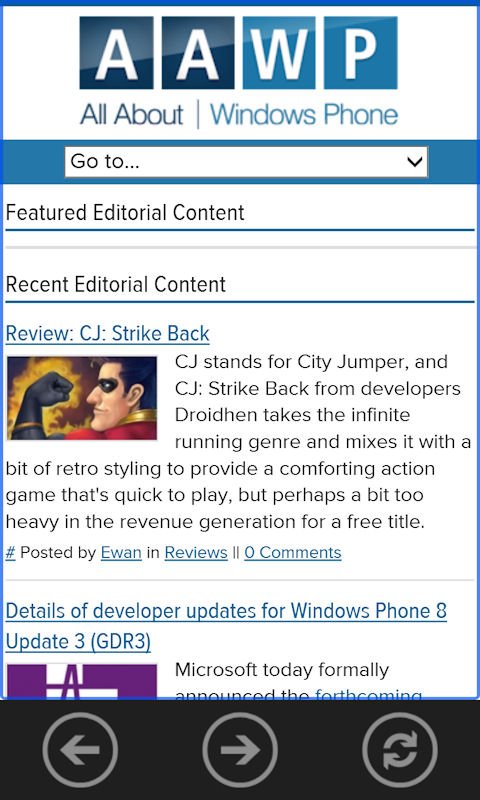 The current implementation of Mobile Accessibility has an activation switch in the ease of access Settings module. Mobile Accessibility mode can only be switched to on after downloading the Mobile Accessibility app. It is this app that provides access to key functions and tasks (i.e. it is an accessibility app, rather than a complete accessibility layer for the platform). The Mobile Accessibility switch in the Settings app is required to activate integration with phone calls and other system events.

Other Updates
Windows Phone 8 Update 3 also includes a number of other smaller updates. Although the updates can be described as minor a number of them will have a significant impact on the overall user experience.
Custom ringtones can now be set for more events, including instant messages, emails, voicemails, and reminders. Previously it was only possible to customise the ringing tone. It is also now possible to assign custom ringtones to contacts for text messages (i.e. get alerted to important incoming texts, without needing to see the phone).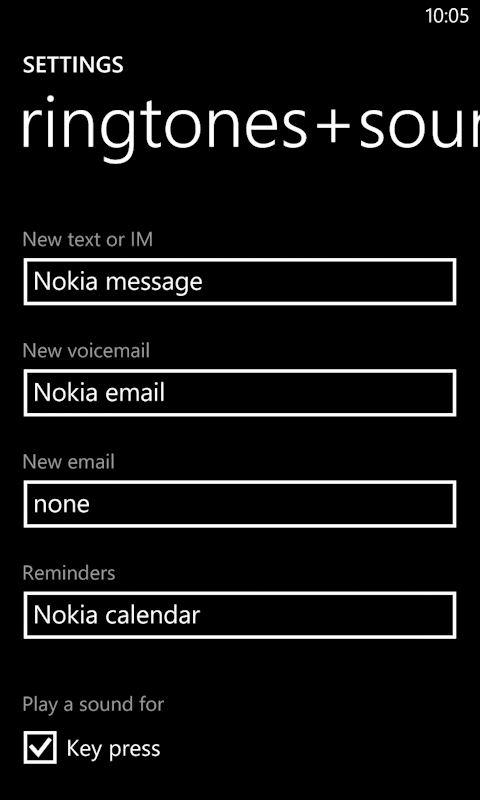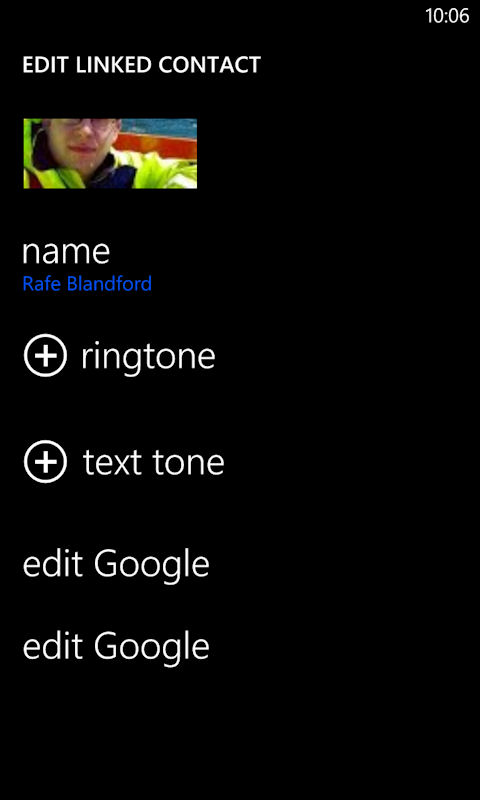 New storage settings make it easier to free space on your phone and manage temporary files. A category view enables you to see what is taking up space at a glance. Each category also has a shortcut to a related page or hub for managing those files (e.g. Photos hub for photos). This new feature is Microsoft's equivalent of Nokia's storage check settings module.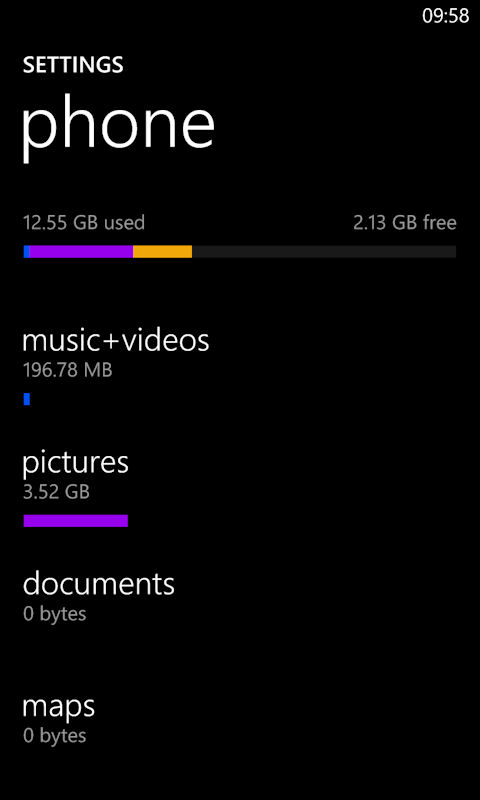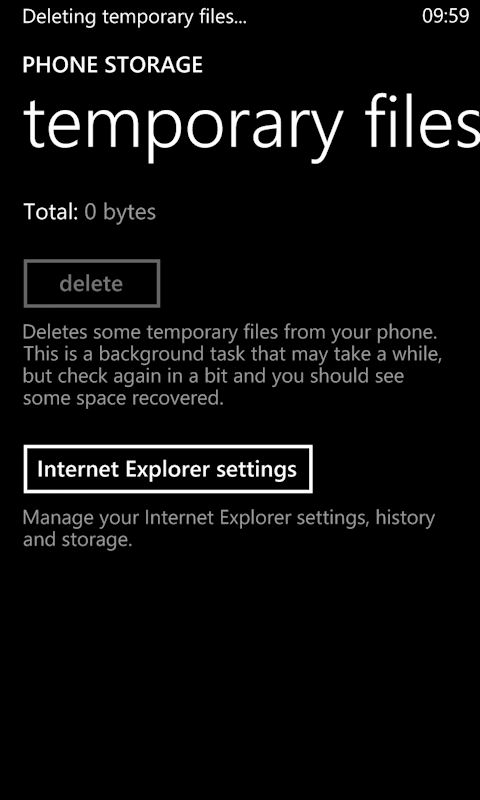 A new setting has been added to control automatic screen rotation. This makes it possible to lock the screen is a specific rotation state.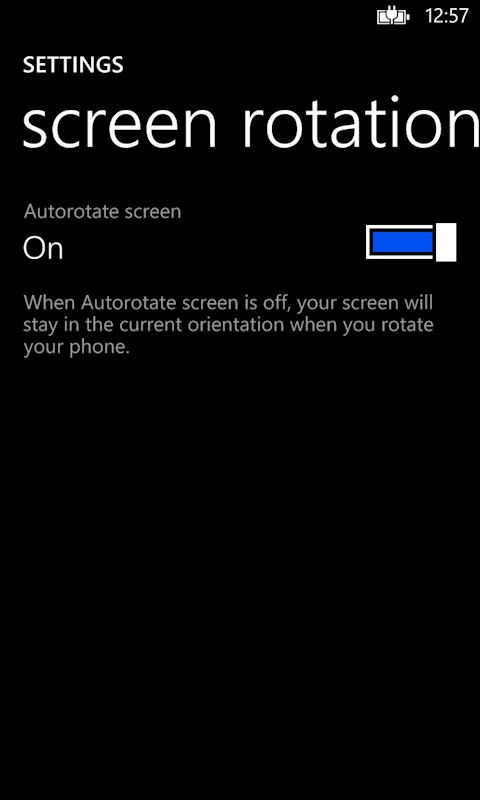 The app switcher (appears with a press and hold of back button) now makes it easier to close apps. An close button (x) is shown in the top right of each app panel in the app switcher.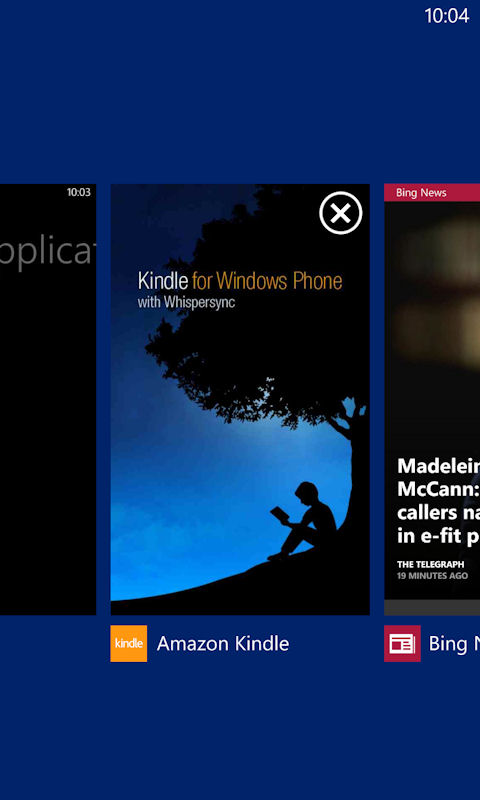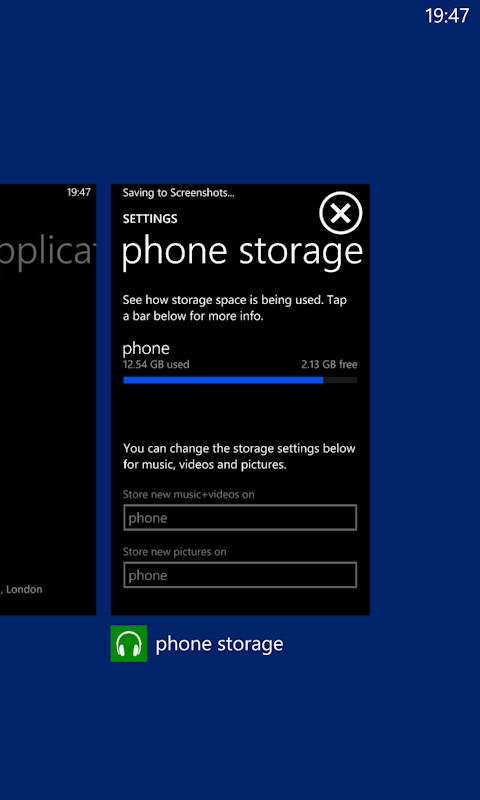 When setting up a Windows Phone device for the fist time it will now be possible to set up a WiFi connection on first start-up. This allows WiFi to be used when restoring a Windows Phone backup, potentially saving the use of a large amount of cellular data. It also allows phones to be more easily set up when no SIM card is present or there is no cellular signal.
The connection quality for Bluetooth accessories has been improved. Windows Phone should now also work with a greater range of Bluetooth accessories (e.g. car systems). A new switch in the Bluetooth Settings app module offers a toggle to all you to "connect in a different way to use Speech with Bluetooth in my car".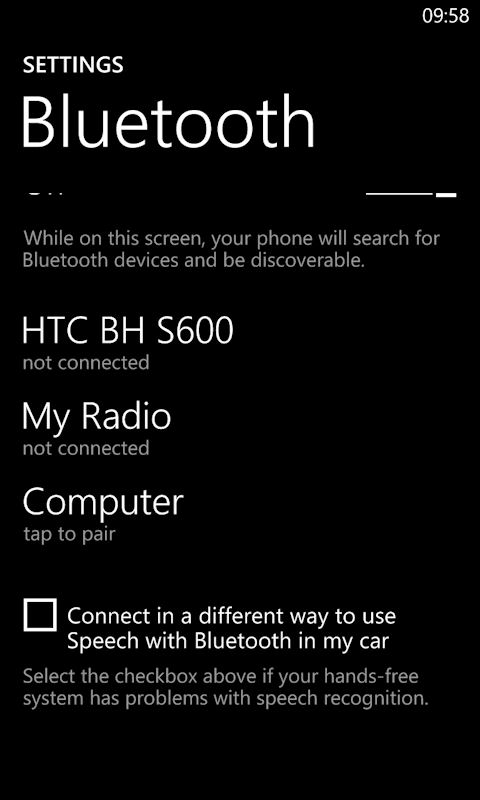 The Internet Sharing feature has been improved when used with a Windows Phone 8.1 PC or tablet. If he two devices have been paired over Bluetooth tapping on the network name will automatically connect the Windows device to the Windows Phone powered WiFi hotspot (i.e. no need to enter a password or activate Internet Sharing). This is effectively Internet Sharing triggered remotely via a Bluetooth connection.