Windows Phone 8 will include support for multi-core processors, additional screen resolutions, NFC connectivity, device encryption and MicroSD cards. On the software side, the Start screen is refreshed, with more flexible tiles and greater customisation; Internet Explorer is updated to version 10, offering improved performance and better HTML 5 support; a new Wallet hub enables mobile payments; integration of Nokia map technology brings improved location and navigation functionality; and enterprise support is strengthened with encryption, Line Of Business (LOB) app deployments and improved device management.
Windows Phone 8 also introduces native code support, which is expected to enable improved performance, bring first class gaming experiences to Windows Phone 8, and allow for easier sharing and porting of code with other platforms.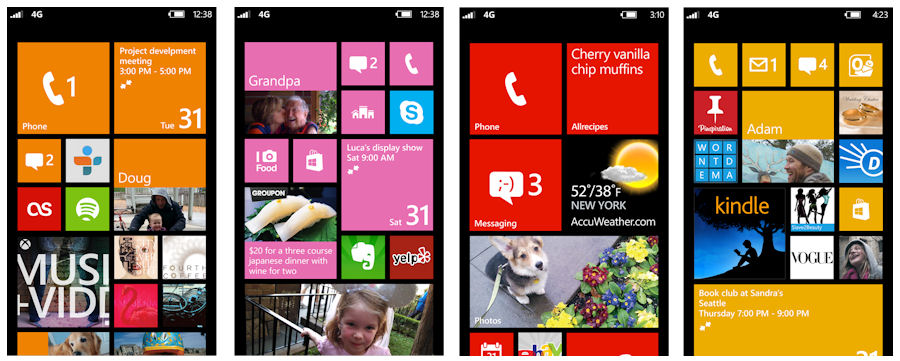 Examples of the new look Windows Phone Start screen
Windows Phone 8 will launch with four hardware partners: Nokia, Huawei, Samsung and HTC. The SDK (software developer kit) will be available later this summer, with devices to follow later in the year.
Windows Phone 7 and 7.5 devices will not be upgradeable to Windows Phone 8 due to the hardware requirements of the updated platform. However, an update, to Windows Phone 7.8, will be available and is expected to bring some of the new software features to existing devices.
Today's presentation, the key points of which are summarised below, focused on platform features that Microsoft felt it was important to share with their partners (developers) ahead of general availability. Additional consumer features, user experiences and additional details on announced features will be disclosed closer to the launch of Windows Phone 8 devices.

A common core and updated hardware support
The most far reaching announcement of today is that Windows Phone will share a common core with Windows 8. It means the two platforms will share common networking, security, media and web browser technology, device drivers, and a common file system.
The common core, along with additional software work, means Windows Phone 8 has greatly improved hardware support. This includes:
Multi-core processor support - initially, this is likely to be used for dual core devices, but support for quad-core, and beyond, processors is also included. The Windows NT kernel is fully multi-core-optimised, as is the rest of the core Windows technology. This should give Windows Phone a competitive advantage in performance and battery life over its competitors, whose multi-core support is less mature.

Additional screen resolutions - 1280x768 and 1280x720 (i.e. 720p), in addition to the existing 480x800. Existing apps will not need to be updated, with the system automatically scaling them. However, developers will be encouraged to optimise assets (e.g. graphics) for the new resolutions, in order to provide the best possible user experience.

MicroSD card - support for external, removable storage. This will allow for easier transfers of media and other files to other devices.

NFC - which will be used for accessing data and information from NFC tags, initiating connections with other devices (for information sharing, game set up and more), and enabling mobile payments.

Software update and global availability
Windows Phone 8 will switch from the PC based software updates of Windows Phone 7.5 to a model of over the air updates. This means it will no longer be necessary to have access to a PC to keep your phone's software up to date. Together with MicroSD card support it means Windows Phone will be able to operate without a PC to a much fuller extent than was previously possible.
In addition, all Windows Phone devices will be supported for at least 18 months after the device launch date. That's still not the length of a typical operator contracts, but does provide an incentive for those wanting a software update guarantee. Microsoft is also planning to roll out a program that will give early adopters access to software updates in advance of general availability. It's unclear exactly how this will work, but it may provide a way for users to be freed from operator limitations on software update deliveries.
Windows Phone 8 will support 50 languages, more than double the current amount, and Marketplace availability will be tripled from 60+ countries to 180+ countries.

Internet Explorer 10
Internet Explorer 10 on Windows Phone shares the same browsing engine as Internet Explorer 10 for Windows 8 PCs and tablets. Also included is the anti-phishing/protection from malicious sites technology that is being branded as 'Smart screen'.
The new version of Internet Explorer brings improved Javascript performance (4x faster than Windows Phone 7.5) and improved HTML 5 support (twice as "good" as Windows Phone 7.5, according to Microsoft). It showed a benchmark that suggested Javascript performance on Windows Phone 8 would be better than that on the iPhone (iOS 6 Beta) and Samsung Galaxy S3 (Android 4).
Internet Explorer 10, in the form of a browser control, is also touted as enabling HTML 5 and Javascript-based development on Windows Phone 8. This is not a full web technologies runtime (the web control comes with a significant overhead), but may encourage web developers to create apps for the platform.

Nokia mapping technology (Nokia Where platform)
The Nokia Where platform will be integrated into Windows Phone 8. As a result, more detailed maps with better, and more accurate, coverage will be available to all Windows Phone users. The partnership with Nokia will also provide support for offline maps and turn-by-turn directions in more than 70 countries.
It is still unclear how the mapping, navigation and location functionality will be branded in Windows Phone 8.

Wallet
The new Wallet hub was one of the most extensively demoed features today (in part because its success greatly depends on third party integration). The Wallet hub can be used to keep track of debit and credit cards, retailer loyalty cards, boarding cards and other membership cards.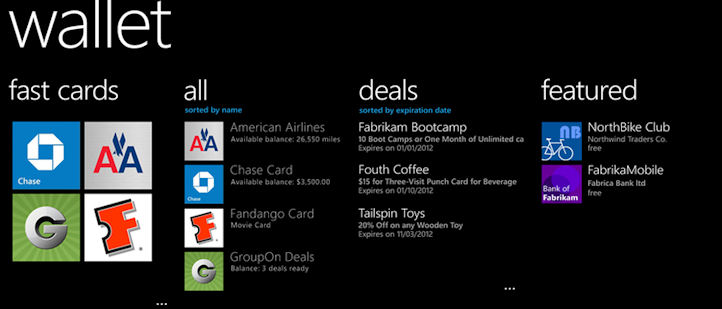 There's also support for secure payments, enabled via NFC and a secure element on the SIM, although this will require operator support. Microsoft announced Orange as a launch partner for secure NFC, and said additional partners would be announced in the future. Microsoft has opted to place the secure element on the SIM, which is then linked to the NFC chipset via SWP (Simple Wire Protocol). This is the operator friendly approach (as opposed to embedding it in the hardware), which should help drive adoption, and is also, arguably, better for consumers, since it allows them to move the secure element (i.e. the equivalent to the chip part of your credit card) to a new device.
Wallet hub also includes coupon/voucher support. Vouchers can be offered by third party apps, provided in search results and/or shared via NFC and messaging technologies, with the Wallet hub acting as a central storage and interaction point.

Start screen
The most visually impressive software update revealed today is the refreshed Start screen. Windows Phone 8 allows for greater flexibility and customisation, which Microsoft described as "making your device even more personal".
The Start screen grid now stretches right across the screen (no more gutter); tiles now come in four sizes: small, medium and large; and additional highlight (theme) colours are available.
Users can switch a tile between any of these sizes to reflect their importance. What's displayed on the tile will depends on its size, with developers able to provide a different implementation for each tile size. New tile experiences will also be available, thanks to improved API support. For example, the Messaging tile, at the large size, will scroll through a list of new messages, where as at medium and small sizes, it will display a count of new messages.
Enterprise enhancements
With the new release, Windows Phone 8 emerges as a strong enterprise platform, one that draws on Microsoft's heritage and services in this area and that will compete head on with RIM. The shared Windows core brings with it a new security model including Secure Boot and Bitlocker Encryption. This means the entire device, including both operating system and data files, can be encrypted. There's also support for UEFI (United Extensible Firmware Interface) secure boot protocol and improved app "sand boxing" providing multiple layers of security.
Remote device management has also been improved, with the ability to integrate into existing software management solutions (presumably Microsoft technologies) allowing companies to use the same tools they current use to manage Windows PCs. Security policies now offer greater control over a larger number of device features, enabling enterprises to tailor device security to their own standards.
The new Company Hub features provides companies with the ability to create a custom Windows Phone Hub for distributing line of business (LOB) apps, alerts and other corporate information. Microsoft will be providing templates and guidance to make it as easy as possible for companies to create their own branded experience of Windows Phone.

Developers and apps
The advent of a common Windows core on Windows Phone 8 has a big impact on developers. On Windows Phone 8, a move from the .NET Compact Framework (as on Windows Phone 7) to a Core CLR means that managed code will run in the same way as it does on Windows 8. There's a shared native API set (graphics, audio, media, file system, networking, input, commerce, base types and sensors) and it will also be possible for developers to create their own shared C++ components.
Windows Phone 8 introduces full native C and C++ code support to the platform, which will make it easier to share code between platforms and port code from other platforms to Windows Phone code. This has a particular benefit for games. For example, Microsoft announced that the gaming middleware engines Havok Vision Engine, Autodesk Scaleform, Audiokinetic Wwise, and Firelight FMOD, as well as native DirectX-based development, will be supported by Windows Phone 8. This will make Windows Phone 8 a first class gaming platform and make it much easier for game developers to port from other platforms and share games between Windows 8, Xbox and Windows Phone.
In effect, there will be three development options on Windows Phone 8: XAML with C#/VB code, native C++/C code and HTML 5 (through the previously described browser control).
After being submitted to the Marketplace for publication, apps will be put through a "compile in the cloud" process that will compile apps into machine code, which should give a significant performance improvements. All existing Windows Phone 7.5 applications will run on Windows Phone 8 and they will all be put through "compile in the cloud", which should improve app performance, most notably start up time.
Microsoft showed a demo of in-app payments and noted that it will be possible for app makers to "sell virtual and digital goods" within their apps. In addition, Windows Phone is expected to bring a whole raft of new developer APIs and functionality, but only a few highlights were announced today. More details are expected when the Windows Phone SDK is released later in the summer, along with Visual Studio 11-based developer tools.
Three areas that Microsoft did touch upon were Speech APIs, improvements for running location based apps in the background, and VoIP integration. Windows Phone Speech APIs will be opened up to third party apps. In addition to the current open app functionality, it will be possible for developers to offer voice control functionality within an app. In a demo, Microsoft showed the Audible app performing a search, starting and pausing play back and jumping to the next chapter.
Apps with navigation and location tracking features will be able to run in the background (e.g. turn-by-turn instructions, exercise trackers), suggesting there will be significant improvements to the ways Windows Phone handles multi-tasking for certain use cases.
In the same vein, VoIP apps (e.g. Skype) will be able to run in the background; they will also be able to integrate with the built in phone experience, essentially meaning, as far as users are concerned, there will be no difference between a standard cellular call and a VoIP call. Microsoft demoed this functionality using Skype, but noted that it would be open to all third party developers. Both the VoIP and location use cases are likely a taster for more general improvements in the multi-tasking implementation.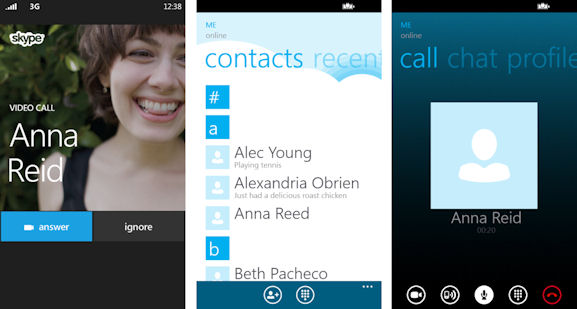 Skype as an example of integrated VoIP functionality