Microsoft's Windows Phone 8 Update 3 (also known as GDR3) is the third major update for Windows Phone 8, following on from the GDR1 (Portico) update in early 2013 and GDR2 in mid 2013. Windows Phone 8 Update 3 is expected to be the last update for the Windows Phone 8 platform before the release of Windows Phone 8.1, the next major release of Microsoft's mobile platform. In terms of new features, Windows Phone 8 Update 3 is a relatively small update, but it does add a number of important enablers, some of which Nokia has used in its Lumia Black update to add new features.
Windows Phone 8 Update 3 takes the OS version number up to 8.0.10517.x (this can be seen in the "about" module of the Settings app). Microsoft has published its own change log for Windows Phone 8 Update 3, but it is relatively brief, and neglects to mention some of the more interesting minor parts of the update. Below we list, in detail, all the known additions, changes, and improvements that are part of both the Windows Phone 8 Update 3 and the Nokia specific Lumia Black updates.
This article is divided into the following sections:
Microsoft's Windows Phone 8 Update 3 in detail
One of the major feature additions in Windows Phone Update 3 is Driving Mode, which is implemented as a new module in the standard Settings app, and aims to reduce distractions when in a car or other vehicle by automatically rejecting / silencing incoming calls and messages. Driving Mode is automatically triggered when the phone is connected to a pre-defined Bluetooth accessory (e.g. car kit). It can also be configured to send automatic replies to people who call or text you while driving, so that you can let them know you are "behind the wheel" and will get back to them as soon as possible.
The second major feature addition is support for control of automatic screen rotation. Another new module, screen rotation, is added to Windows Phone's standard Settings app. This can be used to turn automatic screen rotation on or off. This makes it possible to lock the screen is a specific rotation state (i.e. portrait mode or landscape mode). This can be useful when consuming certain types of content (e.g. watching a video or reading an eBook). The setting can be a little fiddly to access in a hurry, but a number of third party apps, including Screen Lock, allow you to pin a shortcut Live Tile for the screen rotation setting to the Start screen.
The ringtones+sounds module in the Settings app is updated, making it possible to set a custom sound for new text or IM messages, new voicemails, new emails, and reminders. Previously, it was only possible to set a custom sound for incoming calls (ringtone). It is also now possible to set a custom text alert sound on a contact-by-contact basis (i.e. a unique text alert sound for a given person). Previously, this was only possible for incoming calls. You can add your own sound files to the custom ringtone listing by placing them in the Ringtones folder, as described in this guide.
After updating to Windows Phone 8 Update 3, the standard app switcher, which appears when you press and hold the back button on any Windows Phone device, now has a close button (x) in the top right corner of each app panel in the switcher. In addition, to aid identification, the app icon and name are show at the bottom of each app panel. Previously, Windows Phone's app switcher showed only an app panel (representative screenshot), with no way to close the app. As before, tapping on any of the app panels brings that app to the foreground (technically it triggers a fast resume of the given app).
This change gives users a greater degree of control over the apps that are shown in the app switcher, but it's worth noting that, because of the way Windows Phone's system architecture works, there's no real benefit to 'closing' an app from a memory or battery point of view.
An updated version of the storage Settings module makes it easier to free space on your phone and manage temporary files. A category view enables you to see what is taking up space at a glance. Each category also has a shortcut to a related page or hub for managing those files (e.g. Photos hub for photos). This new feature is Microsoft's equivalent of Nokia's storage check settings module.
When setting up a Windows Phone device for the first time, it will now be possible to set up a WiFi connection on first start-up. This allows WiFi to be used when restoring a Windows Phone backup, potentially saving the use of a large amount of cellular data. It also allows phones to be more easily set up when no SIM card is present, or when there is no cellular signal. This improvement also applies if you reset a phone.
The connection quality for Bluetooth accessories has been improved. Windows Phone should now also work with a greater range of Bluetooth accessories (e.g. car systems). A new switch in the Bluetooth Settings app module offers a toggle to allow you to "connect in a different way to use Speech with Bluetooth in my car". This will switch the type of Bluetooth profile (and configuration) used when interacting with a car and should increase the number of in-car Bluetooth systems that are fully compatible with Windows Phone.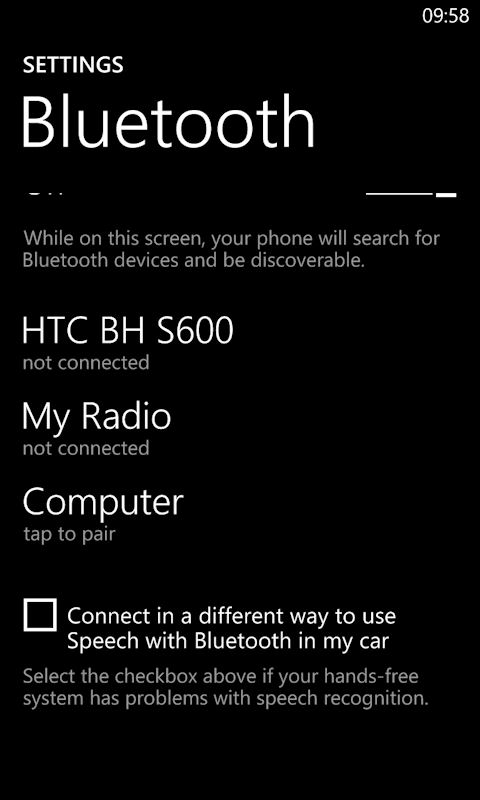 Windows Phone's Internet Sharing feature has been improved when used with a Windows 8.1 PC or tablet (e.g. Microsoft Surface or Lumia 2520). If the two devices have been paired over Bluetooth then tapping on the network name will automatically connect the Windows device to the Windows Phone-powered WiFi hotspot (i.e. no need to enter a password or activate Internet Sharing). This is effectively Internet Sharing triggered remotely via a Bluetooth connection.
Windows Phone 8 Update 3 includes enablers that allow for improved accessibility features. Currently this is utilised by the Mobile Accessibility app, which provides a screen reader and related features that aims to make it easier for blind and visually impaired users to manage calls and contacts, send texts and emails, browse the web, make Skype and Lync calls, and hear notifications like alarms, calendar events, and low-battery warnings. It's nowhere near as good as having the feature built into the platform, but it is a small improvement over the platform's previously very limited accessibility support.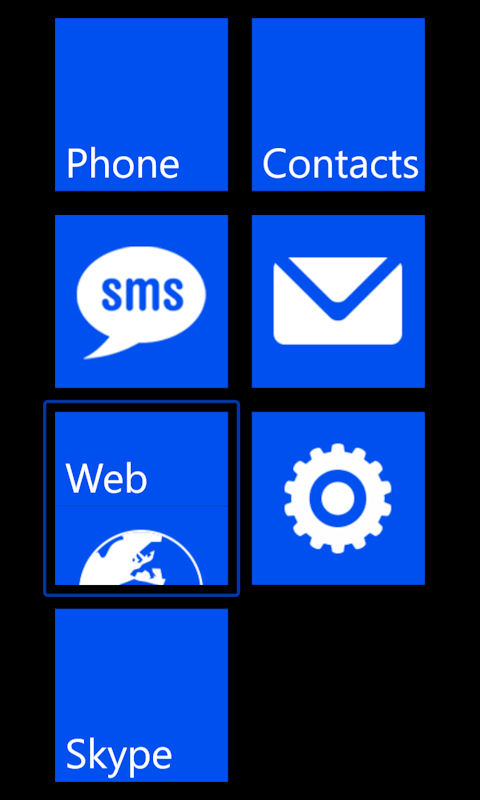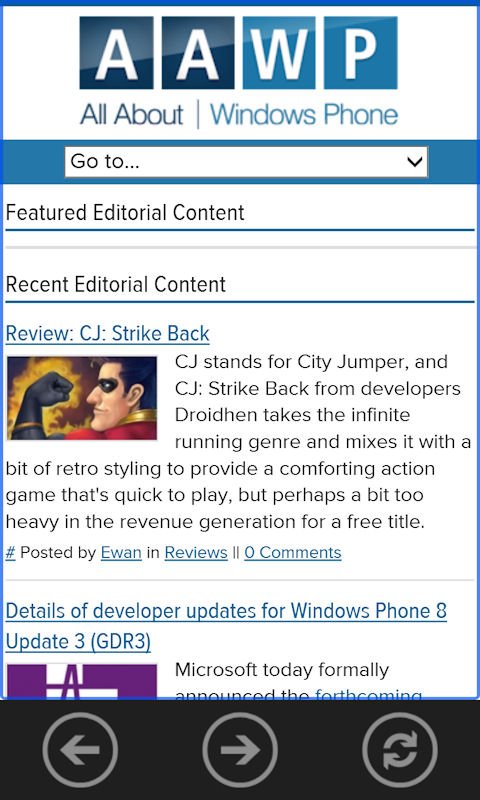 Windows Phone 8 Update 3 includes support for new hardware, including 1080p screen resolution and new Qualcomm processors (Snapdragon 800 and 400). These updates do not have an impact on existing devices, but rather are preparation for future Windows Phone devices. The first device to use the new resolution is the Lumia 1520, which also runs on the Snapdragon 800 processor. The Lumia 1320 also take advantage of the new processor support, but uses the Snapdragon 400. The two processors are set to become the new standard for Windows Phone devices in 2014.
Support for higher resolution screens arrives in tandem with software updates for the Start screen and other key built in Windows Phone apps (Email, People, Photos, Office, and Music and Videos) that ensure they are carefully scaled to make the best use of screen space on larger screens. For example, the Start screen will add a third column of standard size Live Tiles. This will give a theoretical maximum of six Live Tiles across the screen, in place of the current four (using small size Live Tiles). It is also possible for third party apps to be optimised for different screen resolutions and sizes.
Manufacturer specific updates
Each of the main Windows Phone manufacturers (Nokia, Samsung, and HTC) are delivering updates on top of the Windows Phone 8 update.
Samsung has not released a specific set of updates that it is including with Windows Phone Update 3, but it has updated a number of its exclusive apps that may have improvements related to Windows Phone 8 Update 3. Samsung is also thought to have included some Qualcomm chipset optimisations with its software update that improve performance and power management.
Similarly, neither HTC or Huawei has released any specific information about the updates it has included on top of GDR2, but they are thought to be minor.
By contrast, Nokia's Windows Phone 8 Update 3 update, which has been codenamed "Black" is substantial, adding more functionality than the Microsoft update itself. We cover the Lumia Black update in its own section below.

Nokia Lumia Black update in detail
The Lumia Black update brings the latest generation of Nokia's imaging algorithms to existing Lumia devices. Improvements include a new oversampling algorithm (Lumia 1020 and 1520), updated colour profiles and tone mapping (all devices) and more. Our own before and after tests show that the biggest improvement is found on the Lumia 1020, but the benefits should be apparent across all Lumia devices. In short, performance for both still photo and video capture has been significantly improved. Indeed, as a result of the Lumia Black update, Steve Litchfield says the Lumia 1020 imaging capabilities are "nigh on perfect".
Nokia Camera, which combines the previous Nokia Pro Camera and Smart Camera apps, is now available for all devices. It was previously only available for devices with a PureView branded camera (though it was available in Beta for other devices). On devices with 512MB of RAM, the smart sequence mode will capture burst mode images with fewer frames and at a lower resolution than on devices with 1GB or more of RAM.
An under-the-hood update now means that Nokia Camera can be started from under a pin-protected lockscreen by pressing and holding the camera capture button. Previously, this was only supported by the built-in Windows Phone Camera app.

When running on Lumia Black, Nokia Camera, on the Lumia 1020 and 1520, has support for raw DNG capture. The DNG format gives access to unprocessed data directly from the sensor, essentially allowing you to process the photo yourself, side stepping Nokia's automatic processing that occurs when an image is saved as a JPG file.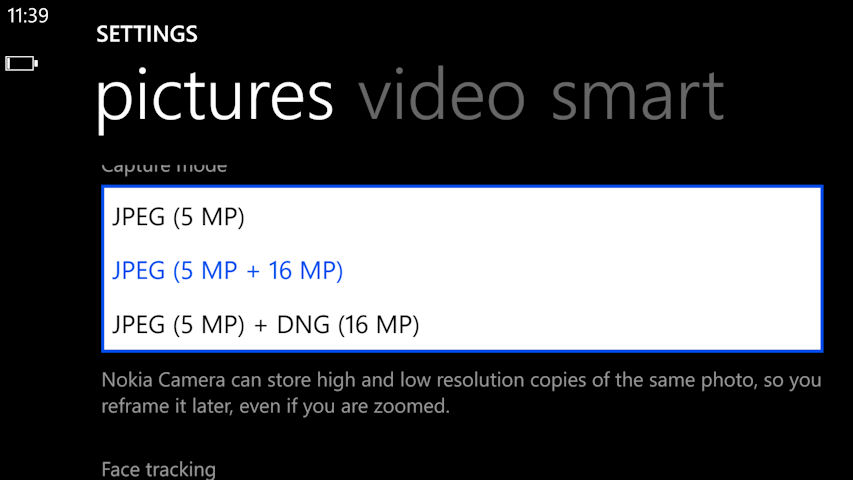 The feature set of Nokia Glance Screen, which shows information on the screen when the phone is locked, has been updated with Lumia Black. Glance Screen will now show the same notification icons as the lock screen (e.g. for missed calls, new messages, and more). You can choose which notification icons are displayed from the lock screen module in the Settings app. It is now also possible to choose from the colours red, green, and blue for Glance Screen's night mode.
Also enabled by the Black update is the new Nokia Beamer app, a more sophisticated variant of the existing Nokia Photo Beamer app. Essentially, it turns your phone into a virtual projector, allowing you to share your phone's screen with any Internet (HTML5) connected device. The obvious use case is sharing photos or Office documents, but it can also be used to demo an app, or offer a quick tutorial.
When you first start the app you can opt to share to a screen nearby (scan QR code on remote screen to start sharing) or remotely (send sharing link via email or text). You can opt to have the screen sharing update automatically or when you shake the host device. In the case of the former, the update rate will be up to 4 or 5 frames per second, depending on the speed and quality of your data connection. Nokia Beamer is only available for Lumia devices with 1GB or more of RAM.
Nokia Story Teller, which was first seen on the Lumia 1520, is now, thanks to the Black update, also available for other Lumia devices. It provides an alternative photo viewer to the built in Photo Hub, arranging photos automatically by date and place. Nokia says this temporal and location centric organisation makes it easier to "tell the stories behind your pictures". Less prosaically, it provides an easy way to show where your photos were taken by integrating maps from HERE and making use of the geotags (location information) embedded in the EXIF data of captured photos.
Nokia Story Teller is still currently labelled as a beta in the Windows Phone Store, but is expected to drop this designation in a upcoming app update. Our experience suggests the app can struggle in performance terms if you have a lot of apps stored on the phone, but it's still a useful addition to the Nokia camera-related app line up.
Another new app from Nokia is App Folder, which allows you to group apps and settings into folders that are displayed as a Live Tile on the Start screen (i.e. customisable app shortcut lists). The app offers a way to further organise and personalise your Start screen and is similar to an app of the same name released by Samsung last year. It's worth noting that Nokia's App Folder app does not require Lumia Black, but was released at the same time that the main roll out of the update commenced and we are therefore including it in this round up.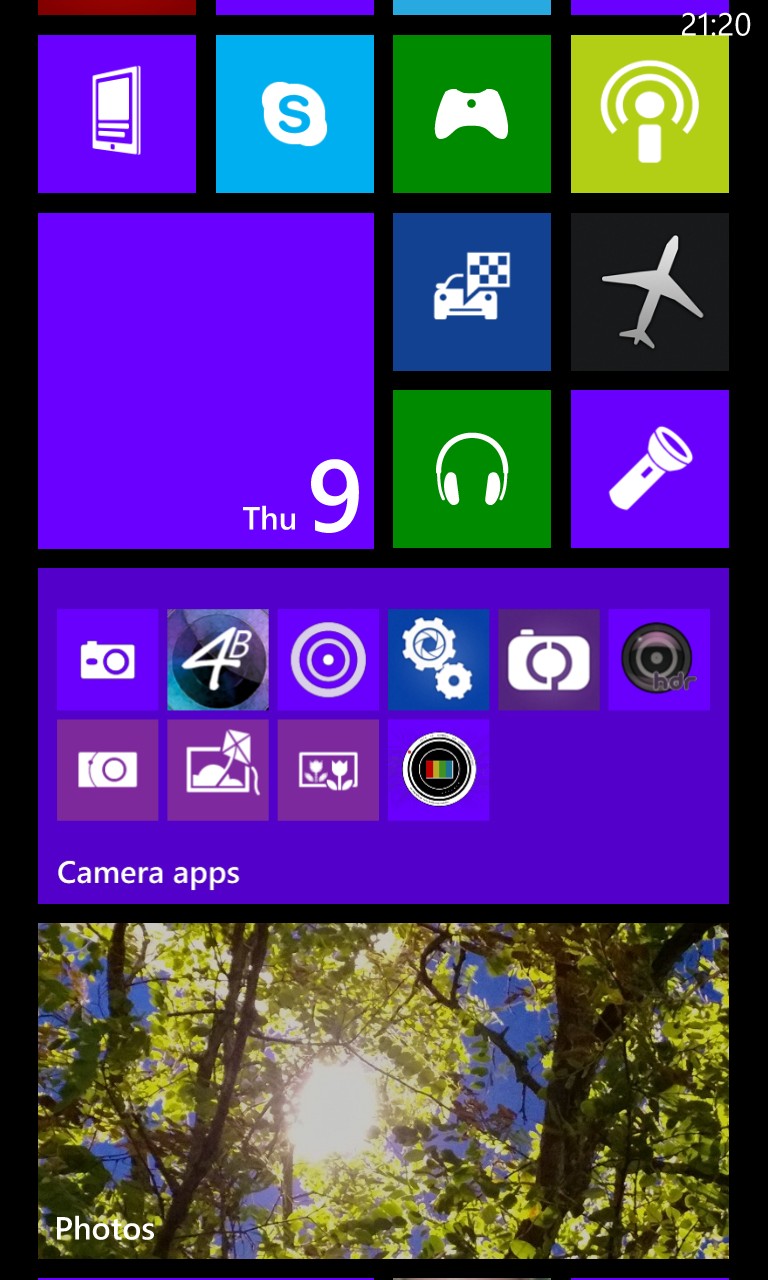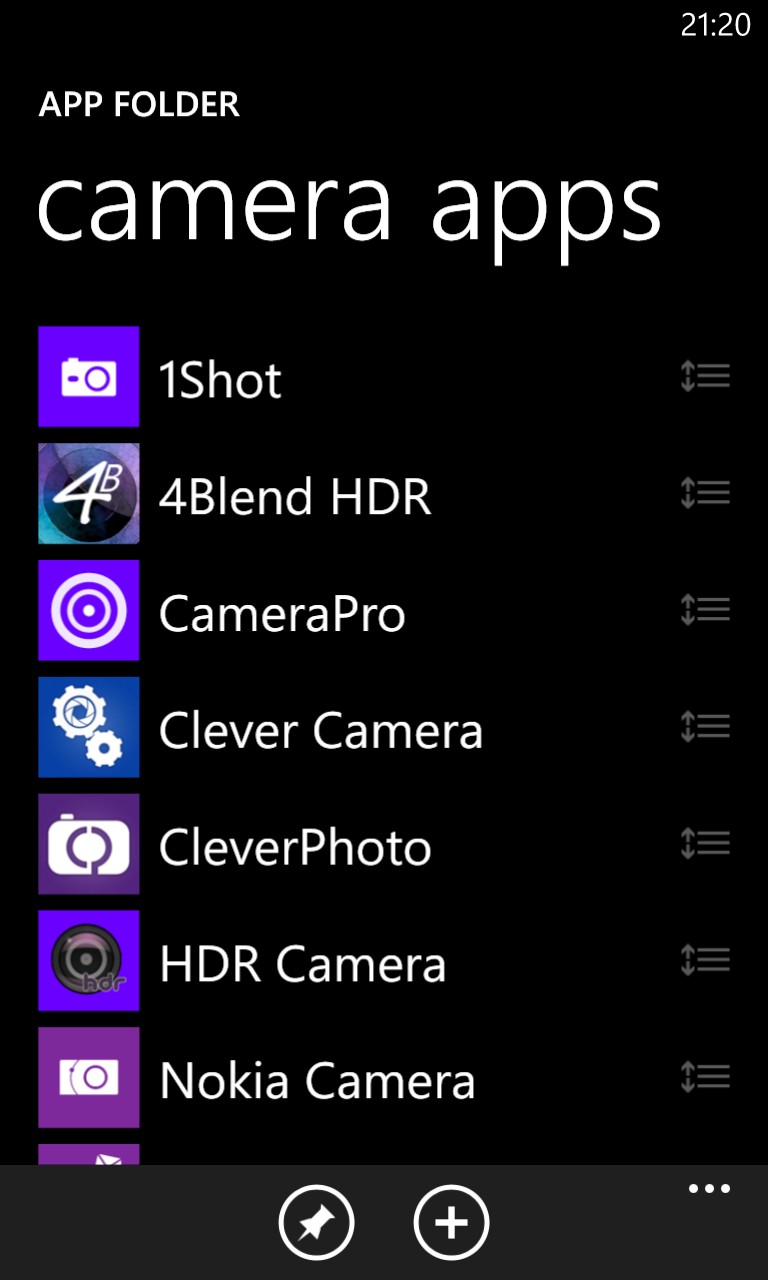 Nokia Refocus, which combines a burst of shots into a single refocusable photo, is now available for more devices. One of Nokia's computational photography apps, it provides a fun way of capturing a photo in a different way and is ideal for social sharing. Nokia Refocus is only available for Lumia devices with 1GB or more of RAM.
The Lumia Black update also provides enablers for two Nokia exclusive apps that are used in conjunction with the Nokia Lumia 2520 (Windows RT tablet). Nokia Share provides a way to share photos from your phone to your tablet. Nokia Video Director provides a way to start a video project on your Lumia phone before transferring the project and associated video files to the Lumia 2520. Nokia refers to both Nokia Video Director and Nokia Share as companion apps for the Lumia 2520.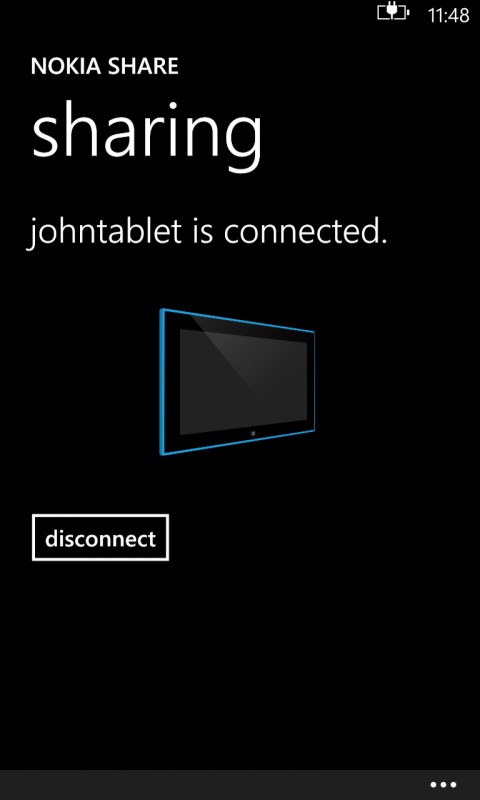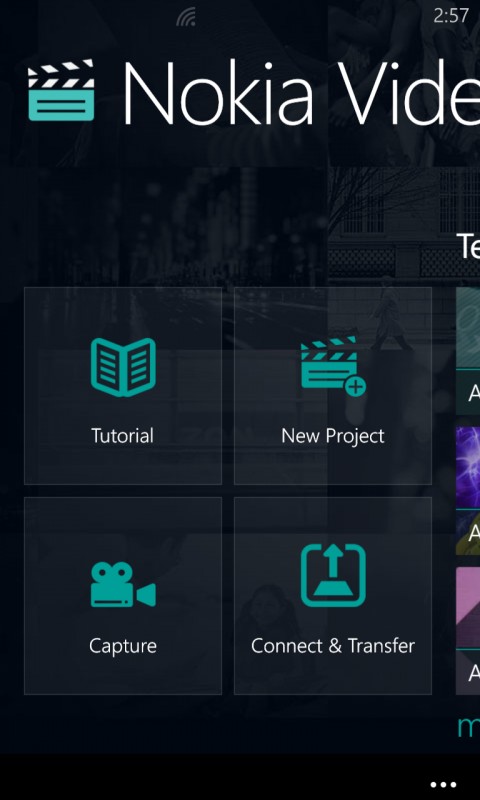 Support for Bluetooth LE (also known as Bluetooth SMART) was added to Windows Phone in the GDR2 update, but was not available for Nokia devices with 1GB (or more) of RAM. With the Lumia Black update, support for the low power Bluetooth connectivity standard is added to the Lumia 820, 920, 925, and 1020. Bluetooth LE is used for connecting accessories to the phone (e.g. step counter, heart rate monitor, smartwatch). There are currently relatively few apps that support Bluetooth LE accessories, but this is something we expect to change in the next few months. Nokia is likely to announce its first Bluetooth LE accessories at MWC in late February.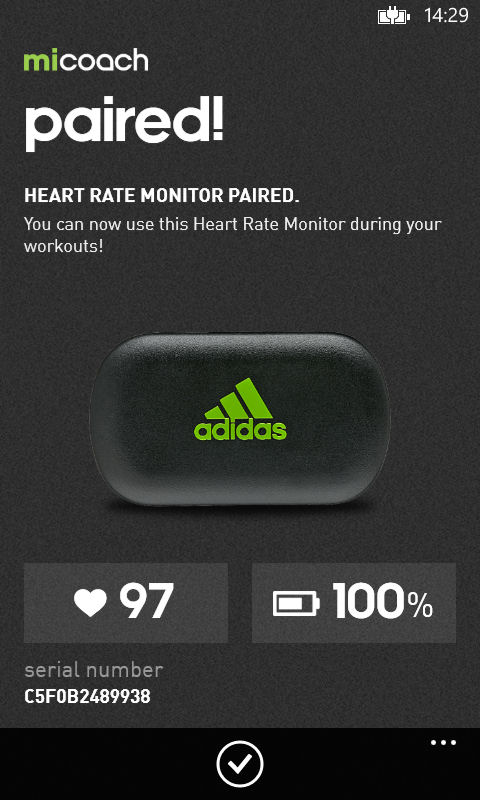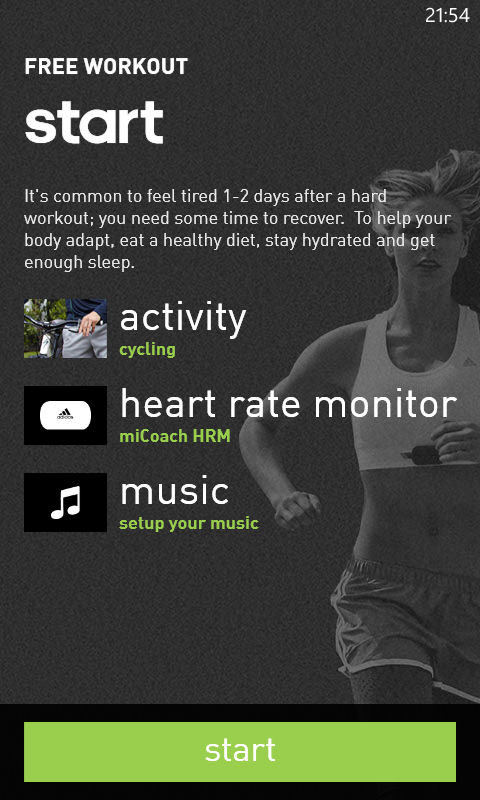 Lumia Black update feature availability by device
As noted above, not all the features of the Lumia Black update are available on all devices. The table below summarises feature availability by device. As you would expect, it is the lower cost devices that miss out on certain features, or which have a reduced experience. The differences are relatively minor, and are all related to hardware capability, rather than being restricted in software.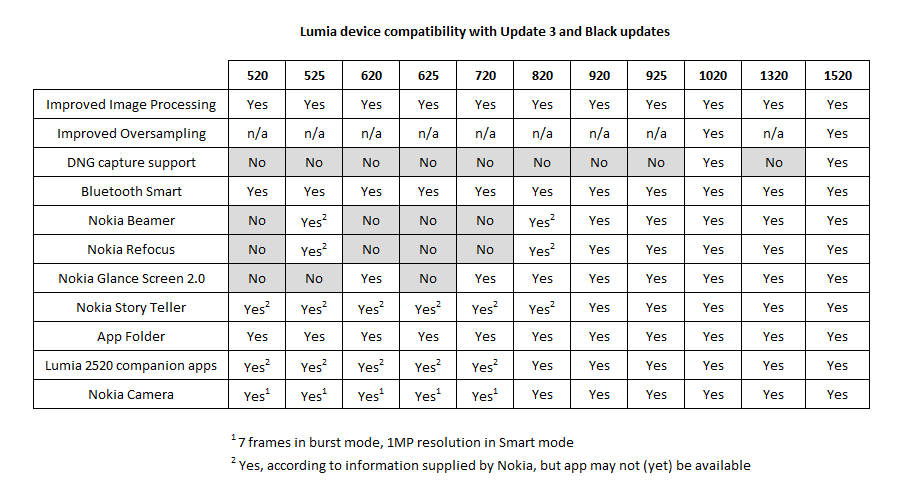 Some of the updates listed above require the installation of new apps or the latest version of an existing app. The QR codes shown below are shortcuts to the respective apps in the Windows Phone Store. They can be scanned by a Windows Phone device using the Bing Vision (eye) feature of the Bing (search) app.
| | | |
| --- | --- | --- |
| Nokia Beamer: | Nokia Story Teller: | App Folder: |
| glance: | Nokia Camera: | Nokia Refocus: |
| Nokia Play To: | Nokia Video Director: | Nokia Share: |
Availability
Windows Phone 8 Update 3 is now rolling out. The availability of the update varies from device to device and from country to country. Most Samsung and HTC Windows Phone devices have now received the update. However, some updates are still waiting for operator approval.
Nokia has now started rolling out the Lumia Black update, which ships on top of Microsoft's Windows Phone 8 Update 3. Nokia has announced the roll out has started for the Lumia 1020 and 925 and that other devices will receive the update in the "coming weeks". Nokia is providing a full availability list for Lumia Black here, which will be updated as the software becomes available for more devices. The list is divided into countries and sub divided into device and operator variants. The country variant is the generic (SIM-free) product for the country in question (i.e. devices without operator lock and/or branding).
Each variant will show one of three status messages: "available", which means the update is ready for download, "coming soon", which means the update has been approved and will shortly become available, and "waiting for approval", which means the update is undergoing check with Nokia and/or operators.
Once the update is available, you will be automatically notified that the update is ready for download. This notification process relies on the device carrying out a periodic check for new updates. You can manually force an update check from Settings -> Phone update.