The Verge describes the ATIV SE in design terms as being "similar to Samsung's Galaxy S4 handset, with the same 5-inch 1080p display and 13 megapixel camera".
The evidence for this was also seen in an earlier leaked render of the Samsung handset, as we described in an earlier flow story:
Samsung's re-use of the Galaxy S4 design in the ATIV SE, echoes a similar pattern from the Galaxy S3 and the ATIV S. However, both set of Windows Phone device do have design tweaks. The most noticeable of these are the navigation key controls, consisting of capacitive search and back keys and a physical button Windows key.

The positioning of the volume controls, front facing camera, and front facing sensors is also common between the two devices, but it is notable that the ATIV SE has dropped the camera capture key. Until recently, this was a hardware element that was required by Microsoft, but has since been dropped as part of a wider relaxation of hardware and design requirements for Windows Phone devices.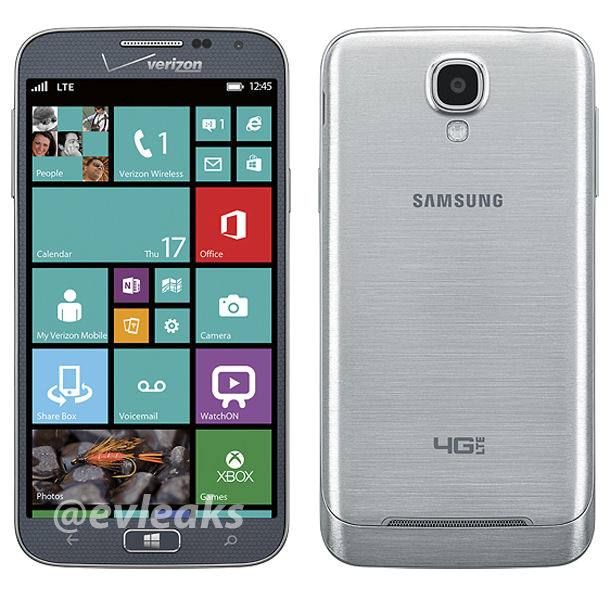 Image source: @evleaks

The leaked render does appear to show Windows Phone 8.1 running on the handset, but it is likely that Samsung has opted to launch the device with Windows Phone 8.0 in order to meet a Verizon imposed launch date. Some rumours have also suggested that the Windows Phone 8.1 launch is running a few weeks behind schedule. While there has been no comment from Microsoft or its partners on such a delay the arrival of Samsung's latest Windows Phone device running the "old" version of the platform does provide strong supporting evidence for such a delay.