Samsung's re-use of the Galaxy S4 design in the ATIV SE, echoes a similar pattern from the Galaxy S3 and the ATIV S. However, both set of Windows Phone device do have design tweaks. The most noticeable of these are the navigation key controls, consisting of capacitive search and back keys and a physical button Windows key.
The positioning of the volume controls, front facing camera, and front facing sensors is also common between the two devices, but it is notable that the ATIV SE has dropped the camera capture key. Until recently, this was a hardware element that was required by Microsoft, but has since been dropped as part of a wider relaxation of hardware and design requirements for Windows Phone devices.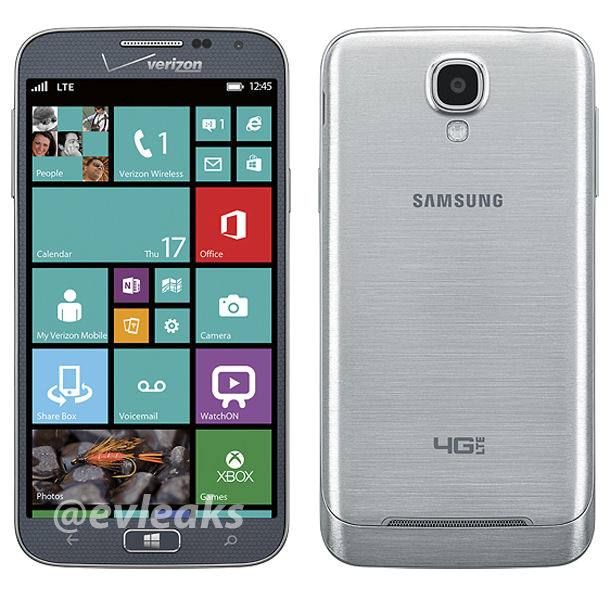 The screen of the ATIV SE is shown as having three standard size Live Tiles across the screen, suggesting a physical screen size of 5.0 or more inches. Also of interest is the presence of a WatchON Live Tile, a Samsung app that aims to provide a remote control for entertainment the home (combination of on-demand video services and remote control of devices via IR blaster).

The Samsung ATIV SE is the same handset that we covered earlier as the Samsung "Huron" (SMW750V). As we noted then, while the device is siad to be exclusive to Verizon it is probable that Samsung will also release a global variant of the device. This would be equivalent to the release of the Samsung ATIV S and the Samsung ATIV Odyssey last year.
As a high end Windows Phone 8.1 device, we would expect the Samsung ATIV S to be built around the Snapdragon 800 SoC, with 2GB RAM, and at least 16GB of internal memory.