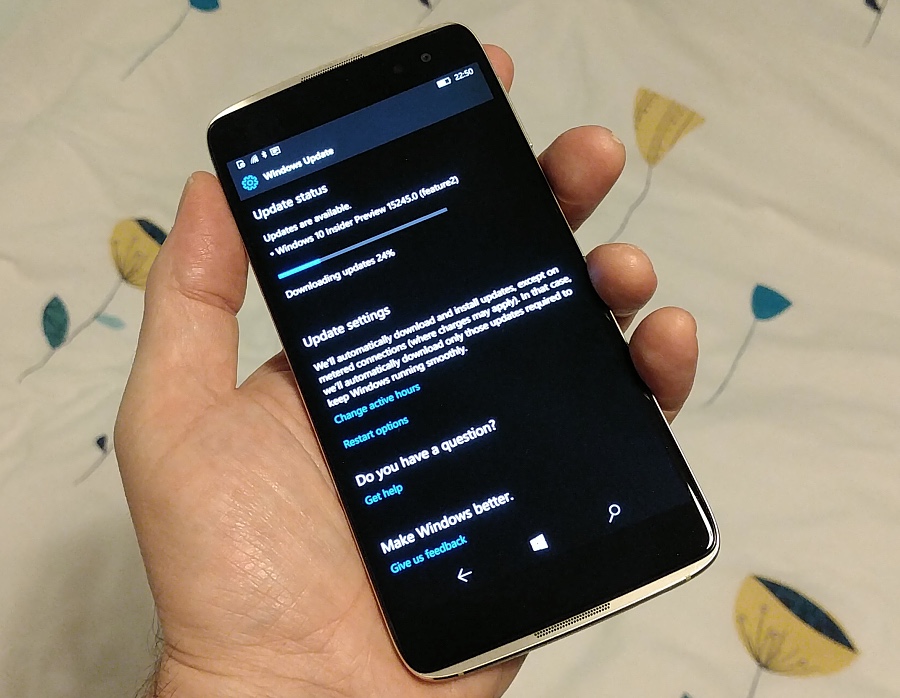 For 'feature2', think 'RS2+', i.e. 'Redstone 2 Plus'. As before, the Fast Insiders ring for Windows 10 Mobile is becoming less the 'unstable, early access' ring and more the 'more bugs fixed than any other' ring. There's clearly still effort going into keeping the core of Windows 10 Mobile up to date, in parallel with the internals of the Desktop SKU, and fixing reported issues.

From Microsoft:
We are releasing Windows 10 Mobile Insider Preview Build 15245 to Insiders in the Fast ring.

General changes, improvements, and fixes for Mobile

This build also includes all the improvements from KB4034674.
We fixed an issue where the MTP service would sometimes crash when you disconnected your phone while a file transfer is in progress.
We fixed a spin loop that was occasionally triggered by deleting a VPN profile.
We fixed an issue where apps which call into the firewall (such as Microsoft Edge) have the potential of becoming deadlocked and the app hangs until you reboot your phone.
We fixed an issue in the routing engine used by apps like Maps where the initial direction was always set to North which could result in unnecessary route segments.
We fixed an issue where Silverlight apps that use GPS would either not start or crash.
We fixed an issue where a non-default Messaging app (e.g. Skype) would crash with an Access Denied error when changing Download messages settings.
We fixed an issue where the new Privacy Consent popup would block loading of apps which used the activity detection and pedometer sensors.
We fixed an issue where turning on/off Reset Protection could cause the phone to reboot.
Nothing earth shattering then, but all worth having fixed? I should emphasise that, in addition, there are always additional small under-the-hood UAP improvements and fixes which are even too low-level to report in the Microsoft post.
Anyone with an existing phone that's officially deemed Windows 10 Mobile CU-compatible by Microsoft can join in the fun - in theory. In each case:
Head into Settings/Update & Security/Windows Insider Programme.
Join the Insiders programme and choose the 'Fast' level in the pick list.
Within a few hours your phone should be seeing the build mentioned above and you'll be running the Creators Update and beyond...
Note that the popular Lumia 930 and 1520 haven't yet been 'provisioned' for this branch of Windows 10 Mobile. I tried - setting the Insider level to 'Fast' doesn't show up any of the recent 152xx builds. Do ping me if this changes, but I'm prepared at this point to say that these 2014/2015 phones may have reached their plateau on the Creators Update Release Preview ring, which will see critical updates through 2017 and then... no more after that.
PS. See also my feature Windows 10 Mobile and the Future: towards Autumn 2018.
PPS. There's also my feature on upgrade paths for the various classes of existing W10M handsets and the wider grid covering older devices, even though most of these won't be able to take advantage of this (RS2+), even with the Insider programme.
PPPS. This build seems to have changed the fingerprint sensor behaviour for Windows Hello for the Elite x3 and Alcatel IDOL 4 Pro, I'm investigating!