Here's the full official changelog for v3.5 over v3.4, covered here:
Seeking forward in long videos is now significantly faster! When you jump to the 30 minute mark in a video, playback will resume in less than 10 seconds on the average connection. This has been a problem in myTube for a very long time, and the solution was fairly complicated to implement, but I'm happy I've finally been able to work this out for you guys!
There have been lots of tiny design changes throughout the app. For instance, the notification you clicked on to bring this message up has been completely changed. Comments have been redesigned as well, and there are many other subtle changes to make things look a little cleaner.
This update fixes a bug where videos weren't being added to your watch history, as well a bug where videos couldn't be removed from watch later. This update also fixes a bug where the video player UI would sometimes go into a false "buffering" state even though the video was playing.
It's now possible to create offline playlists for your saved videos! Just click "Add to" on any of your saved playlists and click "New" to make a new playlist; you'll have the option to make it an offline playlist. Then you can add any of your saved videos to that playlist :)
A new acceleration curve has been added when seeking using touch. This should make it easier to seek to precise timestamps in long videos using touch.
The system media controls that appear when you press the volume button now linger after a video/audio has ended. So if the song you were listening to in the background ended, you can just bring up the controls and hit play to repeat the song, no need to re-open the app anymore.
Here are screens of v3.5 in action: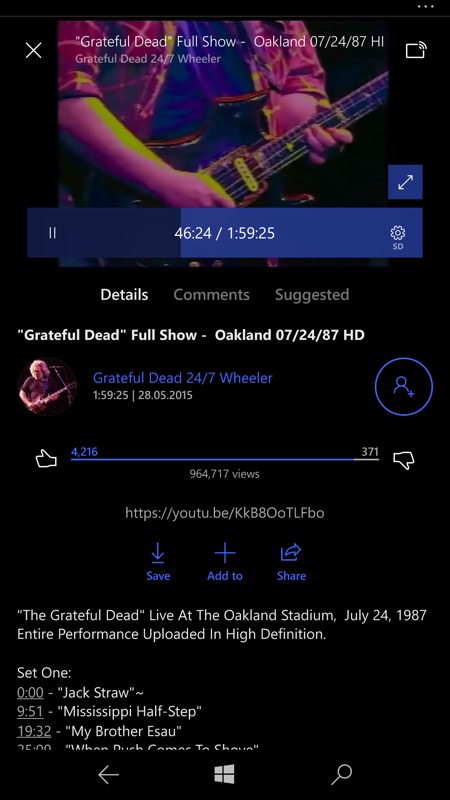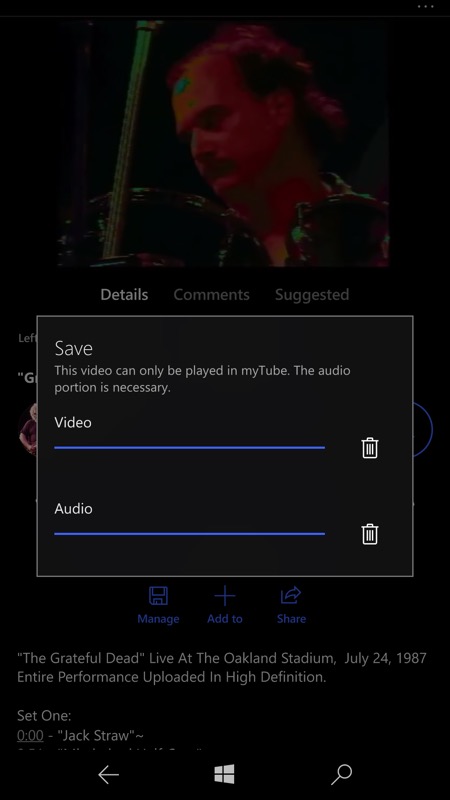 In addition, the developer has news of the upcoming myTube v4.0:
I've had a small tradition with myTube's development process since 2014. When myTube reached version 1.5 nearly 5 years ago, I started working on myTube 2.0. Then when version 2.5 came, I started work on myTube 3.0. Today we hit version 3.5, and the tradition will continue with myTube 4.0 in 2019!

While 2.0 and 3.0 were completely rebuilt from scratch, that won't be the case for 4.0. Instead, I'll be taking the current app and overhauling it from the inside out. Hopefully that means development won't take a whole year this time, but no promises haha. At the very least, you can expect 4.0 to be available in beta by early March!

There's a lot of stuff I have planned that I want to tell you guys about, but I won't spoil the surprises until later. As with 3.0, I'll be keeping you up to date on 4.0's development progress with occasional messages :)
Good stuff. This is all for Windows 10 PCs and Windows 10 Mobile-running phones, of course, you can buy it here in the Store (it's only a dollar or local equivalent). Yes, it's a blow to not have an official YouTube client from Google for the Windows 10 platform, but hopefully all users will find this (or one of the other top titles like Awesome Tube or Perfect Tube) quickly in the Store, making any omission somewhat moot.