Here's the official changelog for the PWA since we last covered Twitter PWA here, (note that not all items are relevant to the PWA under Windows 10 Mobile and the Edge 'engine'):
New

Direct Messages

(widescreen only): The Emoji Picker is now available when you're writing a DM on your computer or tablet! Click the emoji icon to pop it open and express yourself 😜

Updated

Images

: We are smarter about which image to show in the timeline based on the pixel density of the person's screen. The result is a faster experience on newer phones with high pixel density.


Image Cropper

: We've adjusted the zoom behavior when adjusting an uploaded image. It feels much more natural now.


Accessibility

: The way a screen reader identified the emoji icon that pops open the emoji picker was vaguely labeled ('Button'). It's label has been improved and its purpose is now very clear ('Add Emoji').

Fixed

Internationalization

: Fixed the ordering of social proof phrases (e.g. "@Twitter Retweeted") in languages that read right to left.

Stability

: Adjusted the app reload logic to prevent the infinite reloads that some people were experiencing.

Scrolling

: A bug snuck in that allowed pull-to-refresh to work in places that it shouldn't have. Pull-to-refresh is again properly contained.

Direct Messages

: When sharing a tweet through DMs we weren't auto-focusing the message text box, which made adding a message require some clicking. Focus should be automatic now.
Although not everything above is applicable to Edge under Windows 10 Mobile, I still found stuff to screenshot: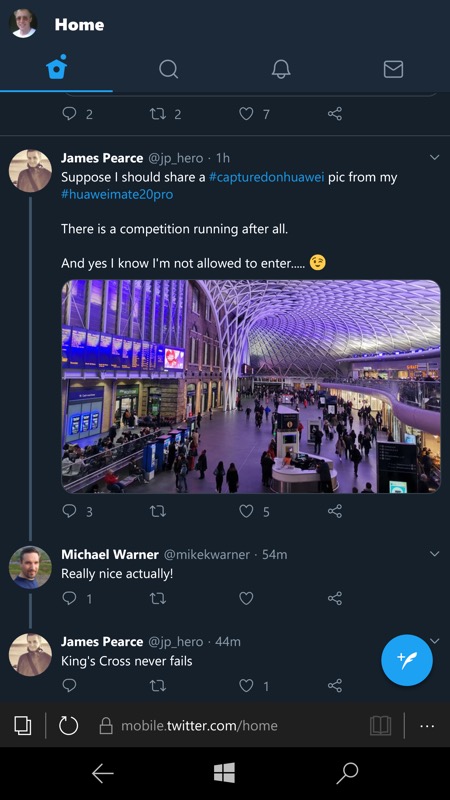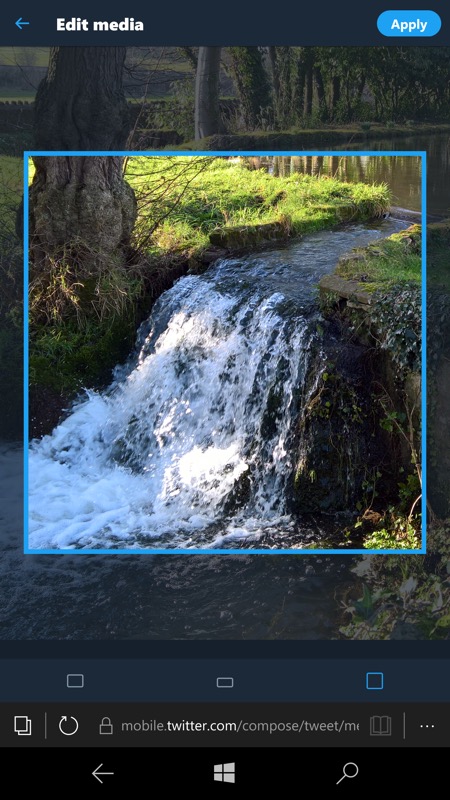 You can grab or update the Twitter PWA-ified UWP client here in the Store. Note that the changelog above is all server-side, so if you're up to date in the Microsoft Store then all that's needed is to stop the application and relaunch it, etc.
Enjoy night mode, enjoy the 280 character compatibility and tweetstorm feature, enjoy the layout, text size options, and search functionality, this application now trumps third party options like Tweetium UWP because of recent Twitter changes which knocked push notifications on the head.