Here's the official changelog for the PWA since we last covered Twitter PWA here, (note that not all items are relevant to the PWA under Windows 10 Mobile and the Edge 'engine'):
New

Timeline: The chronological timeline switch is now on for web! Click the ✨ at the top of your timeline to get your tweets in chronological order (or switch to the algorithmic timeline). We will eventually switch you back to the algorithmic tweets after a while, but if you keep switching we'll wait longer before changing it back.
Navigation (widescreen): We changed the icon for Explore from a 🔍 into a #⃣. When in widescreen mode, there's a search field on the screen, and having one 🔍 for Explore and another 🔍 for search was confusing. 🔍

Updated

Internationalization: Enabled our beta language support for Irish, Galician, Basque and Urdu.
Emoji: DM Groups and List titles now use Twemoji rather than native OS emoji for more reliable rendering

Fixed

App: There was a somewhat rare, almost impossible to reproduce, situation with UTF-8 character encoding that was causing the app to crash when loading. All files are now serving with proper encoding. Sorry Peru 😬
Events: Events that are not found show a not found error instead of the generic 'Try Again'
DMs: The thing where the text input wouldn't have focus when entering a DM conversation is better
Internationalization: Corrected the display of numbers and Tweet action icons (e.g. "55 Retweets") in languages that read right to left.
Accessibility: The screen reader reads the Tweet when navigating the timeline with J/K keyboard shortcuts. Including the number of Replies, Likes, and Retweets. Ratios for everyone!
Accessibility: Social proof (e.g. "@Twitter Retweeted") now reads properly with screen readers
Accessibility: Improved handling of screen magnification
Accessibility: Added an aria label to the 'promoted' marker so the screen reader can tell when the Tweet is an ad
Here's the new Twitter PWA in action: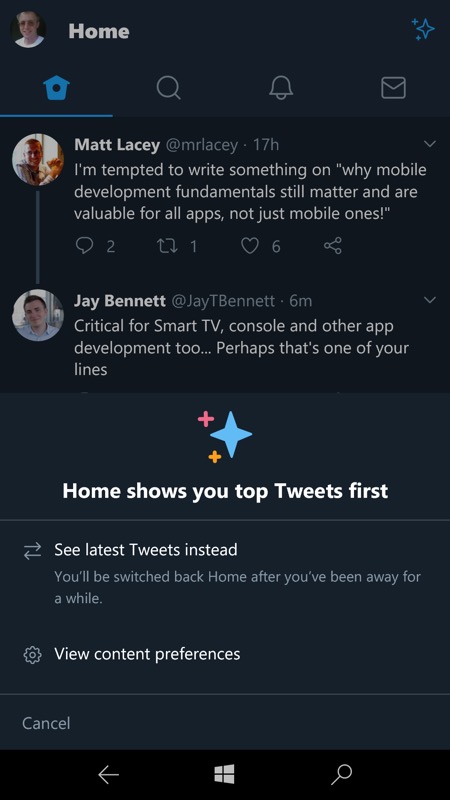 You can grab or update the Twitter PWA-ified UWP client here in the Store. Note that the changelog above is all server-side, so if you're up to date in the Microsoft Store then all that's needed is to stop the application and relaunch it, etc.
Enjoy the mode toggling, enjoy night mode, enjoy the 280 character compatibility and tweetstorm feature, enjoy the layout, text size options, and search functionality, this application now trumps third party options like Tweetium UWP because of recent Twitter changes which knocked push notifications on the head.