From the official release notes:
New

Multiple Accounts: Users can now quickly switch between multiple accounts and view notification counts for all logged in accounts. Our Help Center has instructions on how to get it set up.
Quote Tweet: You can now add images and GIFs when quoting a tweet. Previously, if you wanted to Retweet with a comment you could only use text.
Moment Maker: You can now access and create moments from your profile's Moments page.

Updated

Media Gallery: When opening the photo gallery, photos will now show up immediately, and the full-resolution will load after. This should make it feel much more responsive, especially on slower, cellular connections. Users of data saver will now not load the full-resolution, allowing them to view the uncropped version or zoom on it without consuming additional data.
Events: Added "Up Next" functionality on Event pages, now videos associated with the Event will play one after each other.
PWA: Improved the resolution of the PWA app icon, made it look better on certain Android devices.
Codebase: Reworked how linking is handled throughout the app, done through a team-wide Hackday. This change is largely invisible, but should improve the responsiveness of certain links.
Security: We've updated our Two-Factor Auth to use FIDO2 WebAuthn protocol, which allows support for more browsers and authenticators while also retaining all of the phishing resistant capabilities security key-based 2FA provides. Only hardware keys are currently supported, with additional support coming later.

Fixed

Direct Messages: Fixed an issue where high resolution photos would always fail to send in DMs
A few screens of Twitter's new PWA in action: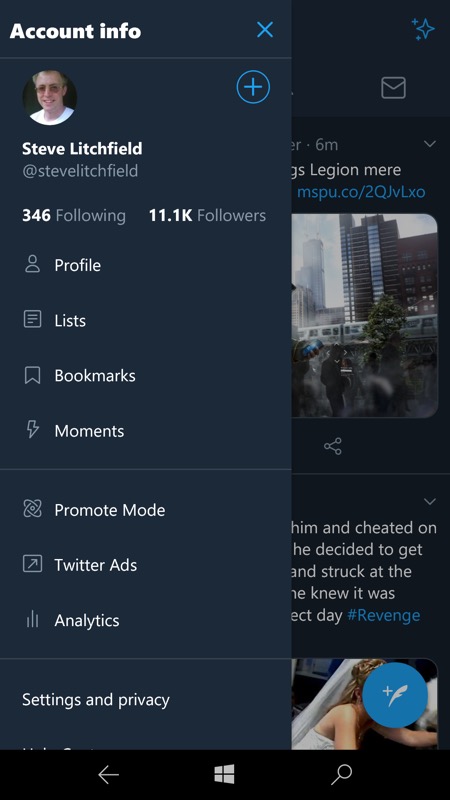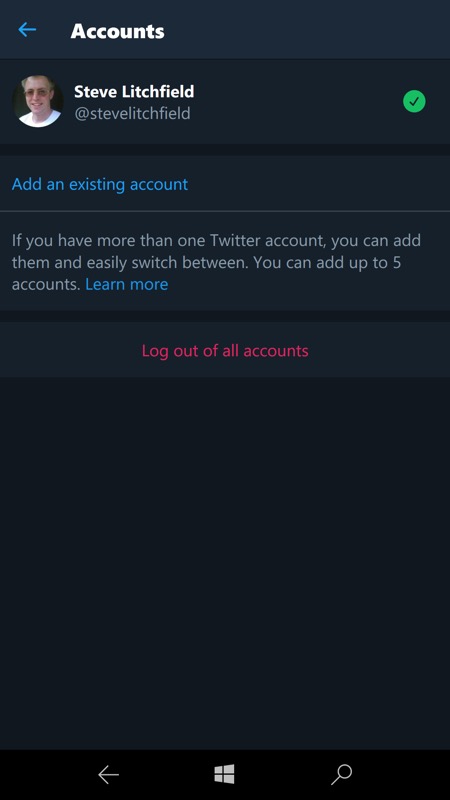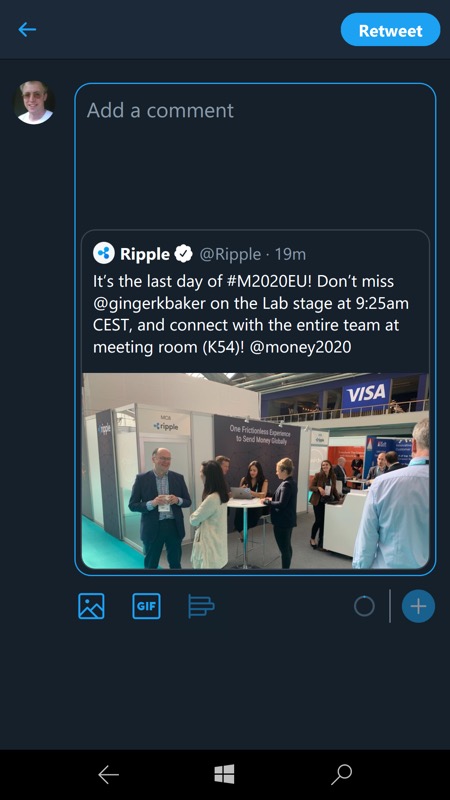 No, there's still no DM 'push', and I'm not sure this will ever be possible under Windows 10 Mobile. But hey, once you're in the PWA it's becoming a fuller and fuller Twitter experience.
You can grab or update the Twitter PWA-ified UWP client here in the Store.
Enjoy the multiple account support, enjoy mode toggling, enjoy night mode, enjoy the 280 character compatibility and tweetstorm feature, enjoy the layout, text size options, and search functionality, this application now trumps third party options like Tweetium UWP because of recent Twitter changes which knocked push notifications on the head.
PS. See also my general round-up of ways to access Twitter under Windows 10 Mobile.