From the official release notes:
Today, we are starting to roll out a new Twitter.com – a refreshed and updated website that is faster, easier to navigate and more personalized. The site has an updated look and feel that is more consistent with the Twitter you see on other devices, making it easier to access some of your favorite features, and with more options to make it your own.

More of What's Happening

: We've brought over Explore to bring you the same great content found in our apps; expect more live video and local moments personalized for wherever you are in the world. Get context with profile information within conversations and check out your Top Trends in any view so you never miss what's happening.

Easy access to your favorite features: Bookmarks, Lists, and your Profile are right up front and have their own spot on the side navigation, making it easier and faster to jump between different tabs.

Direct Messages: Direct Messages have been expanded so you can see your conversations and send messages all from the same view. Now there's less hassle switching between screens to send a message.

Account switching: Whether you have one profile or a few, now you're also able to switch between accounts faster, directly from the side navigation; your stan, foodie and cat meme accounts thank you. Learn more

Make Twitter Yours: The love is real for dark mode themes Dim and Lights Out. You've asked for even more ways to personalize Twitter so we're bringing you different themes and color options, along with two options for dark mode.

Plus:

Search

: We've added search filters to the search results page so that you can filter results to only be from people you follow, and/or from nearby locations.

Tweet

: You can now "Retweet with comment" on a tweet you've already retweeted. More chances to show your favorites even more love.

Tweet

: The app should now refresh less often when you are in the middle of composing a Tweet.

Navigation

: Moving to or from certain pages should now have less flickering visually.

Navigation

: Most action or overflow menus now include icons alongside each item.

Media

: Media in DMs now looks more like media in Tweets

DMs

: Failed DM messages can now be deleted or retried.

Profiles

: Suspended or otherwise unavailable users will no longer crash certain screens and can now be de-selected as a recipient when replying to a conversation they were in.

Profiles

: Updating your bio when it contains a URL is now much easier and if you have a profile URL, it won't disappear every time you update your profile, and now you have a little more room to type in your bio.

Media

: Opening the gallery with data saver on should now more reliably load a larger photo.

DMs

: Trying to create an unnamed DM group with a set of users you already have a conversation with should now correctly take you to the existing conversation instead.
In short, Twitter on all platforms is getting closer to what the Twitter PWA has been offering for a while, and the latter is getting more functions, closer to what's available elsewhere. So a coming together, Twitter's aim is to keep simplifying its codebase and I heartily approve. True, the PWA experience on today's older Lumias is getting a little slower, but you can't make an omelette without breaking eggs, as they say...
Some screens of the new PWA in action: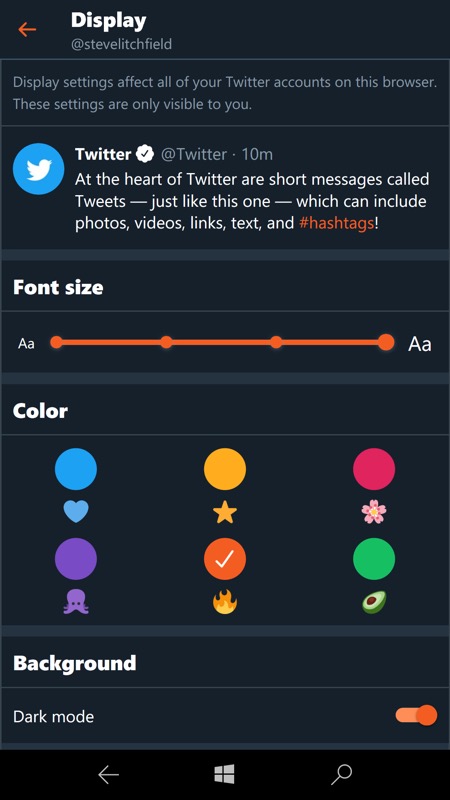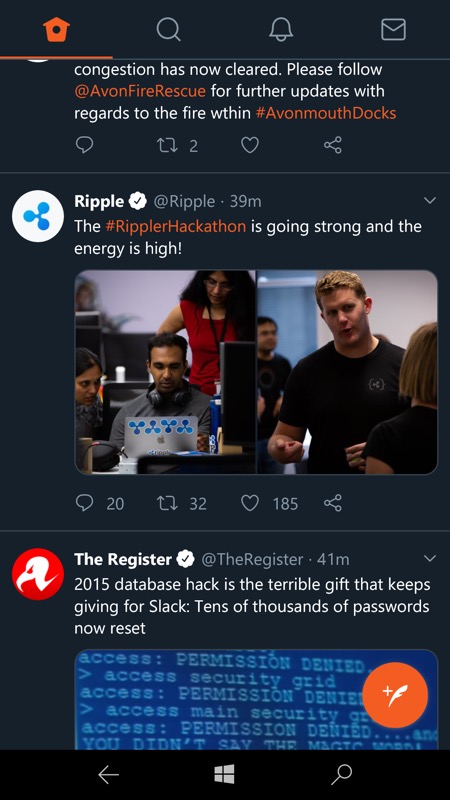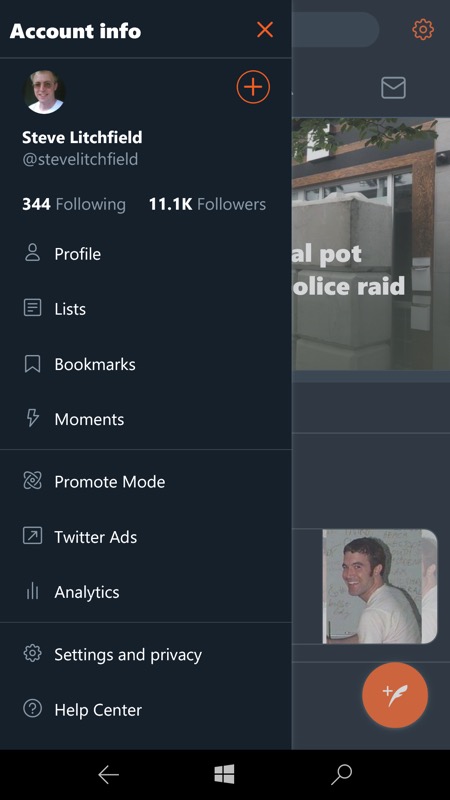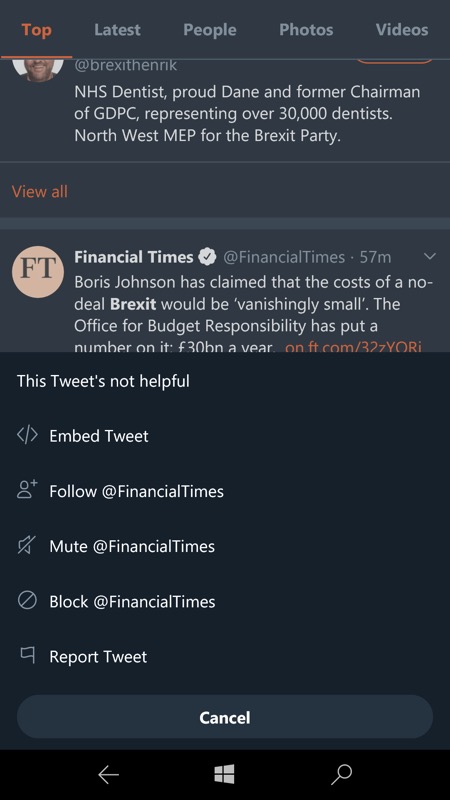 No, there's still no DM 'push', and I'm not sure this will ever be possible under Windows 10 Mobile. But hey, once you're in the PWA it's becoming a fuller and fuller Twitter experience.
You can grab or update the Twitter PWA-ified UWP client here in the Store. If you already have this installed then you get all the new changes automatically, since they're happening server-side.
Enjoy the multiple account support, enjoy mode toggling, enjoy night mode, enjoy the 280 character compatibility and tweetstorm feature, enjoy the layout, text size options, and search functionality, this application now trumps third party options like Tweetium UWP because of recent Twitter changes which knocked push notifications on the head.
PS. See also my general round-up of ways to access Twitter under Windows 10 Mobile.