Collated and summarised from the official release notes, filtered for things that apply for Edge and Windows 10 Mobile:
New

Accessibility: When you Tweet you can now add alt text to any GIF just like images. Just make sure you have the "compose image descriptions" setting turned on in your accessibility settings. All these improvements are steps along the way to making Composing Tweets with alt text possible for everyone. We're excited to enable this setting as the default for everyone soon!
Profiles: When viewing tweets on a user's profile, replies will now be displayed as conversations so you can see what the user was replying to without having to click through.
Lists: Added a richer list header and viewing experience to show more information about the list you are viewing and make some of the information easier to access.
Accessibility: High contrast mode is now available. This increases the contrast between colors and elements on the site. It's located in Settings -> Accessibility.
Topics: Users in certain locales can now follow topics on the site, they can also be managed from your profile. Users can also view other public users' followed topics.
Developer Experience: We completed a lot of internal work to help make development on the site quicker, and allow us to share code across Twitter sites. Thanks to our infrastructure engineers for their effort on this milestone!

Updated

Profiles: When adding a user to a list from their profile, you can now create a new list to add them to at the same time.
Compose: We have rewritten much of our media uploading process to help get your images and videos out to the world faster when tweeting. This should be especially noticeable for users with high-latency, or slower connections.
Compose: The gif picker was really slow, and prone to crashing the app. We gave it some TLC and now it's ready to help you find the perfect reaction in record time.
Media: Can't quite see who that is in an account's avatar? Now you can zoom on avatars with your touch device to get a more detailed view.
Media: You can now swipe up or down to dismiss the media gallery when viewing images on any touch device.
DMs: Direct message text that is sent alongside attachments should now visually appear as a single message to readers.
Gallery: You can now swipe to dismiss photos on mobile! On desktop, we updated the gallery experience to be more immersive and you can exit the modal by clicking in the empty space around the media.
Trends: See a trend that's not quite right? Use the dropdown menu next to it to give us feedback and help report issues.
Events: Videos from events can now be docked to the page when you leave so that you can continue watching as you browse the rest of Twitter.
Gifs: Streamlined the GIF Search flow by removing the intermediate "Add GIF" confirmation screen and allowing users to search as they type. Give the gift of GIFs even faster!
All good stuff and, in this case, implemented with no need to even head into the Microsoft Store to update the UWP app.
Here's the new version of Twitter in action on my Lumia 950 XL: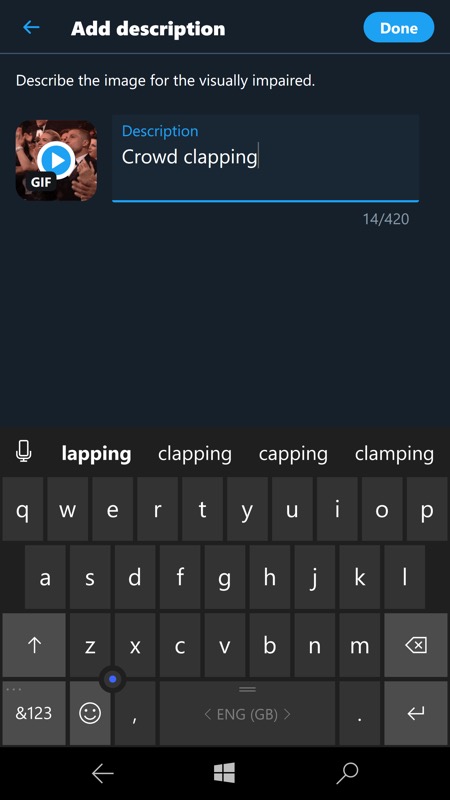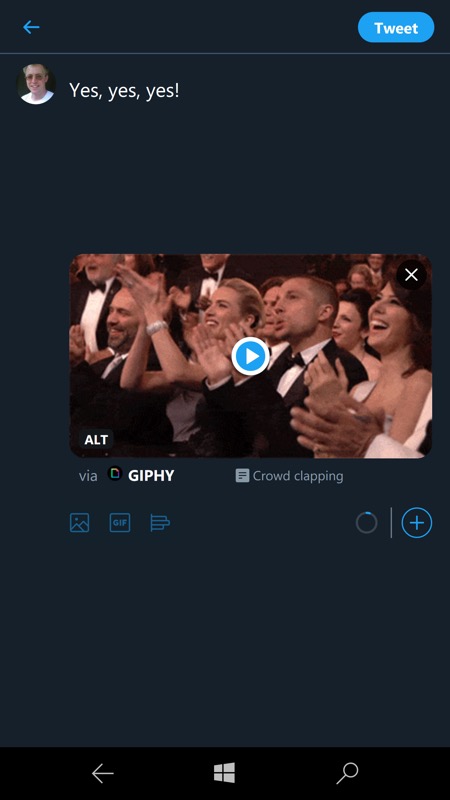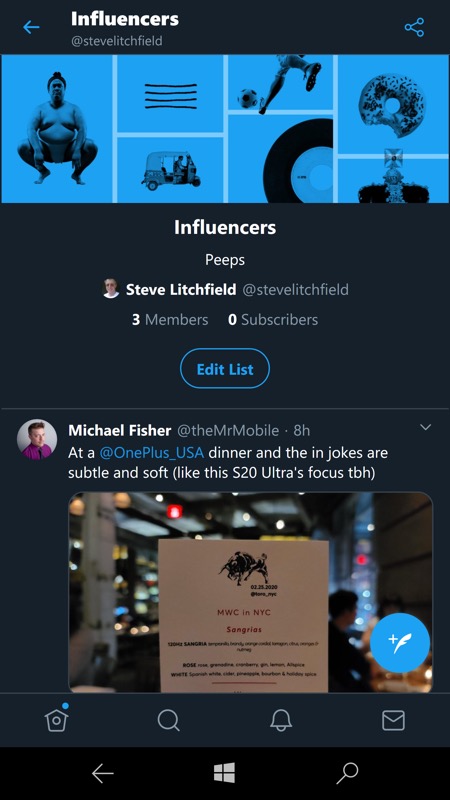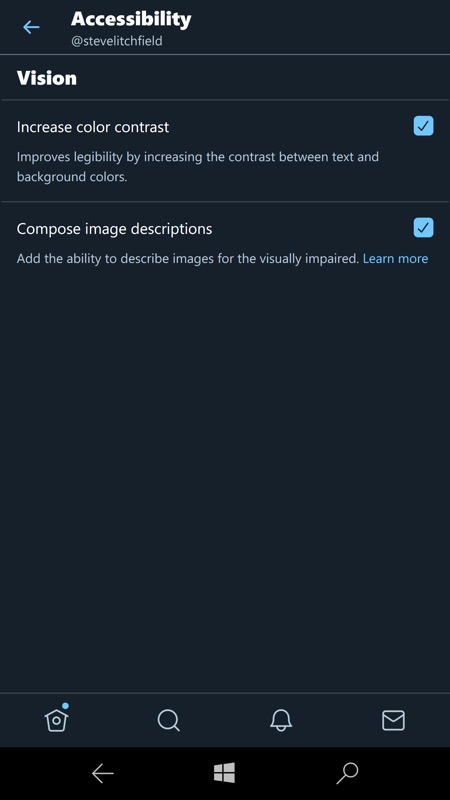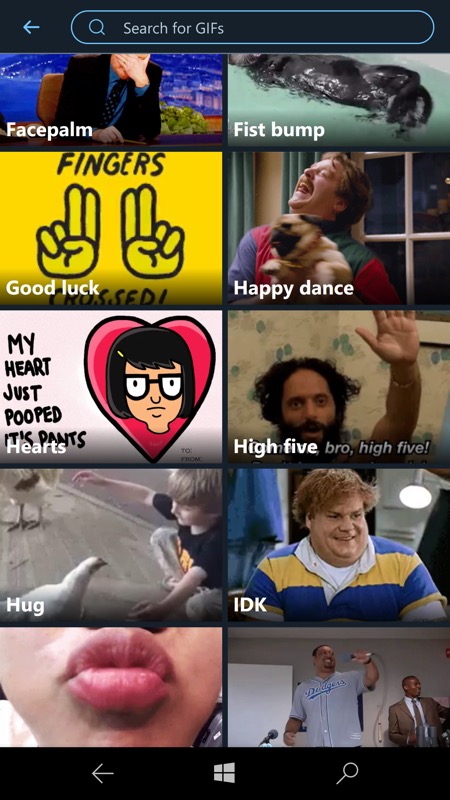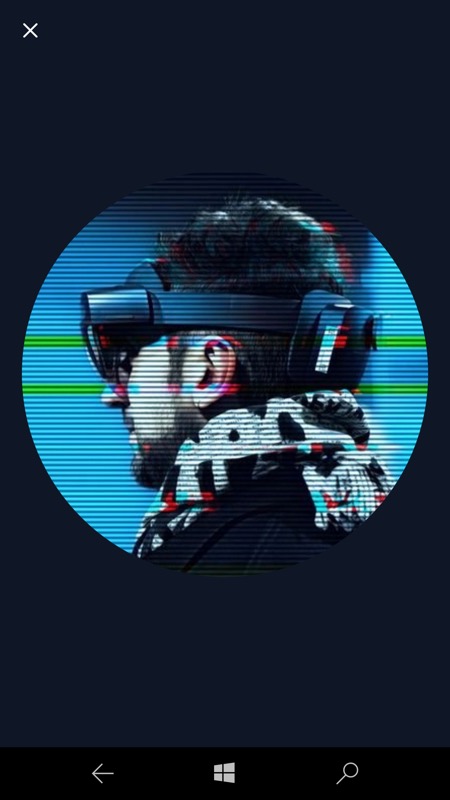 No, there's still no DM 'push', and I'm not sure this will ever be possible under Windows 10 Mobile. But hey, once you're in the PWA it's becoming a fuller and fuller Twitter experience.
You can grab or update the Twitter PWA-ified UWP client here in the Store.
As a reminder, this application now trumps third party options like Tweetium UWP because of recent Twitter changes which knocked push notifications on the head.
PS. See also my (older) general round-up of ways to access Twitter under Windows 10 Mobile.