Review:
Nokia Lumia 1020 camera - photo capture
In our initial Lumia 1020 review part, Ewan looked at the device as a smartphone, but here I'm going to look (as promised) specifically at its photography functions. Is the Lumia 1020 the best thing since sliced bread in this department? Quite probably - but that doesn't mean it's perfect or that there aren't a fair number of caveats and things to be aware of before opening your wallet for this latest flagship device. In the next review part I'll look at the video capture options and performance.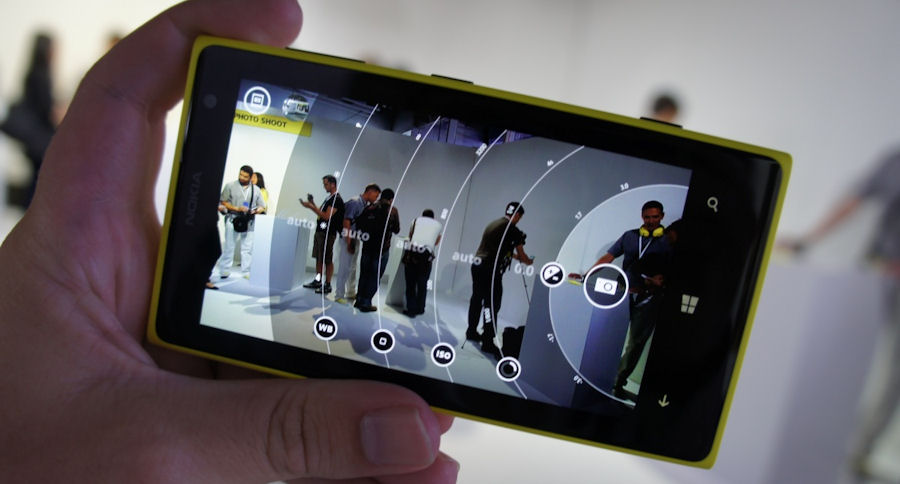 Introduction
As quoted from the first review part, the camera here is the central unique selling point of the Lumia 1020. The 1/1.5" 41MP BSI sensor, allied to some genuinely innovative zooming and framing software (of which more below), is a generation ahead of anything else in the phone camera world (aside from its sister on the older Symbian platform, the effectively obsolete Nokia 808, which has a bigger sensor but significantly less flexible interface and composition software).
The extra sensor size means potentially higher detail in good light and lower noise in low light, while the Xenon flash ensures great 'people' shots indoors and in the evenings. All the while, with the flexibility to shoot a scene first without thinking too hard about subject and then reframe or zoom in later on, after the fact, yet while maintaining optimum quality.
Both stills and video capture benefit from the presence of second generation Optical Image Stabilisation, involving ball bearing mounts and tiny actuators, still in a barrel shift configuration and with full 3-axis response (unlike the limited OIS implemented by other camera phone manufacturers). Once you've had OIS in a camera or camera phone, it's hard to go back, to be honest. And, whether you're a novice or a power user, it's a huge weight off one's mind not to have to worry about camera 'shake' being introduced when taking a photo.
Engineering miracle
It won't have escaped your notice that we've already done a couple of real world photo shootouts involving the Lumia 1020, most tellingly here, with the device pitched against the camera hybrid Galaxy S4 Zoom, the older sister device, the Nokia 808 and a reference 1/3"-sensored traditional device, in this case the Lumia 925 (standing in for the iPhone et al). Although receiving some criticism for over-sharpening and over-saturated colours, the Lumia 1020 still managed to draw level with the 808, despite having a sensor that's 50% smaller in terms of area, and beat the S4 Zoom into the bargain, despite the latter's huge optics and compromises. Crucially, the Lumia 1020 was a country mile (heck, make that two miles) ahead of the Lumia 925 and, by proxy, ahead of the regular smartphone competition.
Leaving aside the caveats below, it's something of an engineering miracle that Nokia has pulled off here. It has taken the Nokia 808's class-leading camera, shrunk its depth to the point where you almost don't notice the camera 'hump' at all, yet retained the same PureView principles and functionality, plus you get OIS into the bargain.
The way the body of the 1020 curves into the protruding circular camera island is quite beautifully done and you can tell, when you hold the device for the first time, that this is industrial design done right. Unlike the mechanically cumbersome Galaxy S4 Zoom, this is sleek, slim and relatively robust. It's easy to see the Lumia 1020 fulfilling the role of a general purpose smartphone yet with an astonishingly good camera for those ad-hoc moments when you need one.
Photo samples
Here are some samples, with comments, taken with the 1020 in the last few days - click each to download the 5MP (or thereabouts) JPG file for further examination:
Shooting up a tree, masses of detail (though see below), plus a gorgeous sunlight shot...

Optimised for zoom
The single most impressive thing about the Lumia 1020's predecessor, the Nokia 808 (on Symbian), was its ultra 'pure' 5 megapixel images - if you used the PureView 'zoom' on the 808, you started to lose that 'pureness'. The Lumia 1020 seems, as will be evident from the Nokia Pro Camera software in real world use, much more geared to keeping as much detail as possible even when zoomed in to the maximum (3x). As a result, you can get results like this - here's a scene, shot in Reading, UK: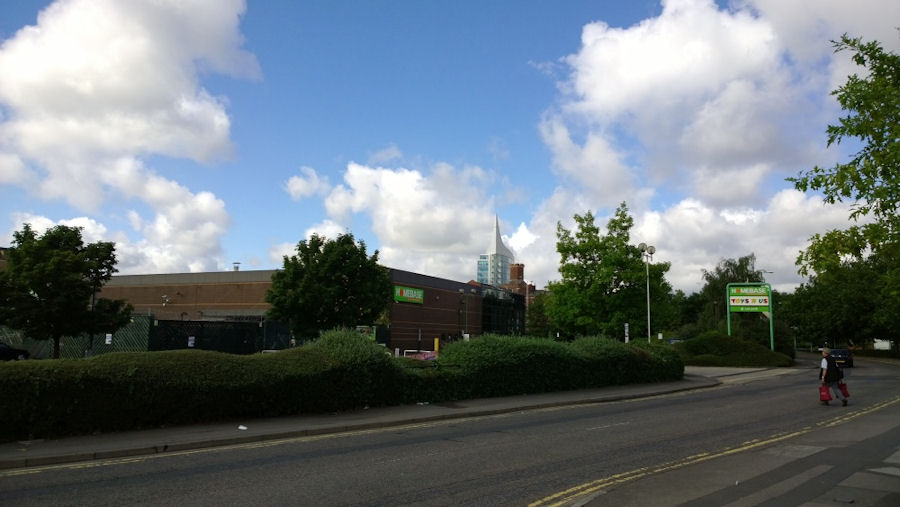 See that cool 'Blade' in the distance? Using the built-in PureView zoom (and with a bit of re-framing on the phone using the supplied facility, as well), we can save or share this image: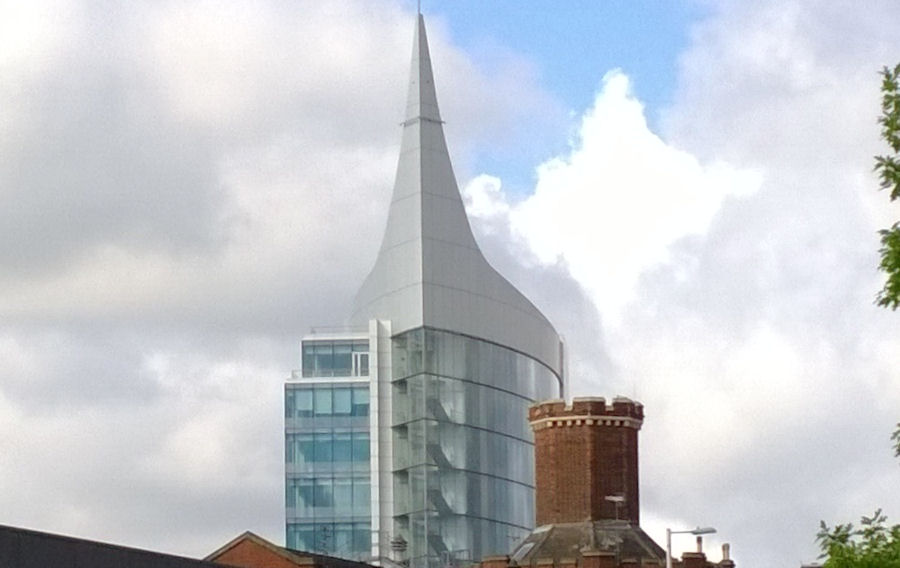 That's more than impressive in anyone's book (for a device with no traditional zooming optics) and will be a huge boon at events, where someone is perhaps seated in the 20th row, yet is able to pull out images that look like they were in the very front.
We've commented several times in our comparison articles about the heavy image processing being done on the Lumia 1020's images - this isn't, to adapt the familiar term, "your mother's PureView oversampling". Images from the older 808 were kept utterly neutral - if the user wanted to sharpen them artificially later, to make them look better 'in overview' then that was their perogative. In contrast, the 1020's images are sharpened at the point of oversampling/downsampling, and no, you can't adjust this in any way whatsoever, at least not for the current framing.
For example, take the tree photo above. To make things clear, here's the overview, sized for your screen resolution here: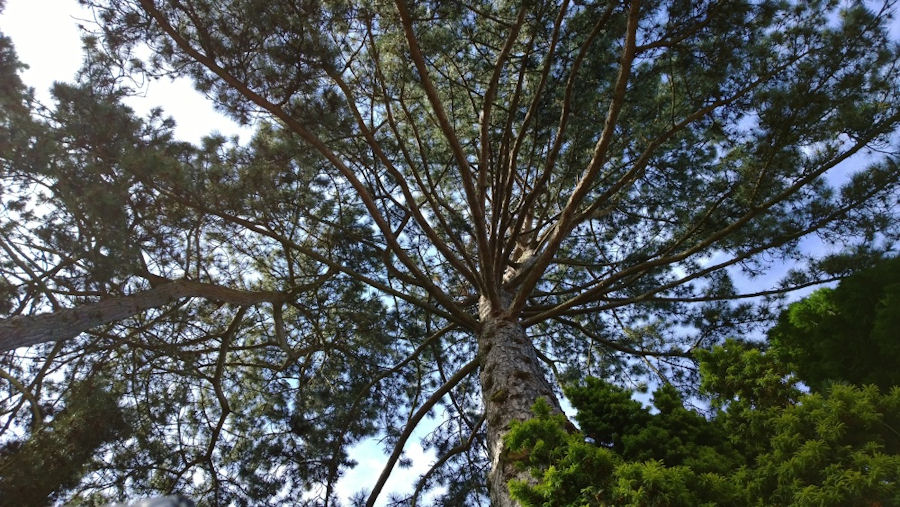 Terrifically clear, isn't it? Now, let's look closer, at the individual pixels that make up parts of the image: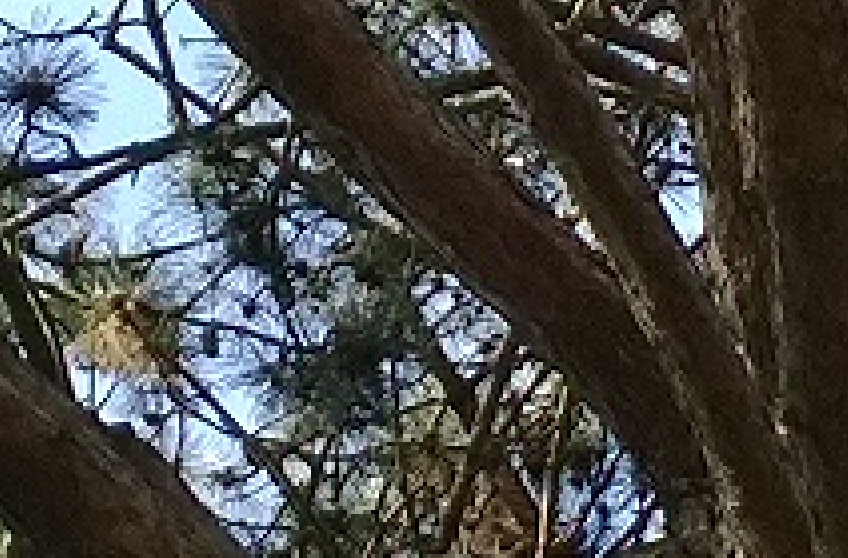 Photo purists will throw up their hands in horror at the edge enhancement on the diagonals in particular, and the sharpening that's being applied here, in the name of improving clarity for casual users, but things aren't quite as bad as they might seem. Let me explain...
In a traditional phone camera, you shoot an image like the one above and you get, roughly, a similar amount of sharpening. Think Galaxy S4 or iPhone, the effect will be comparable - the manufacturers simply don't expect any normal users to peek anywhere near the raw pixels and so optimise things to look great when the image is shown on perhaps a large 26" computer monitor or HD TV.
Which is fair enough, but the problem comes when you later try to crop in on a particular detail, effectively magnifying the artefacts at the pixel level to the point at which you can see them - the photo becomes 'blocky'. On the Lumia 1020, this problem is resolved by virtue of the unique 'dual capture' system. What happens at the point of capture is that a 34MP or 38MP (typically, depending on aspect ratio chosen) photo is taken using the full range of the large 1/1.5" sensor and then this is both saved and downsampled (and sharpened) using an adaptive pixel combination algorithm, to produce (and also save) a 5 megapixel 'sharing' version.
This latter is subject to the same pixellation as any other sharpened 5MP image if you look closely (as demonstrated above), but then comes the Lumia 1020's unique trick. Choose to 'Open in Pro Camera' from the Photos gallery and there's a 'reframe' tool. Use this and you're effectively working with the full resolution 34/38MP image as if it were a 'live' view again, i.e. as if you were standing in front of the scene. Zoom in as needed in the 'reframe' view and then hit the 'save' icon and you have a very different version of the same original scene, at anything from 5MP downwards (depending on how far you PureView 'zoom' in. Here I've zoomed in quite a lot, since I wanted to make a point and seeing as the output medium is a web page, so anything over 1000 pixels wide is wasted(!):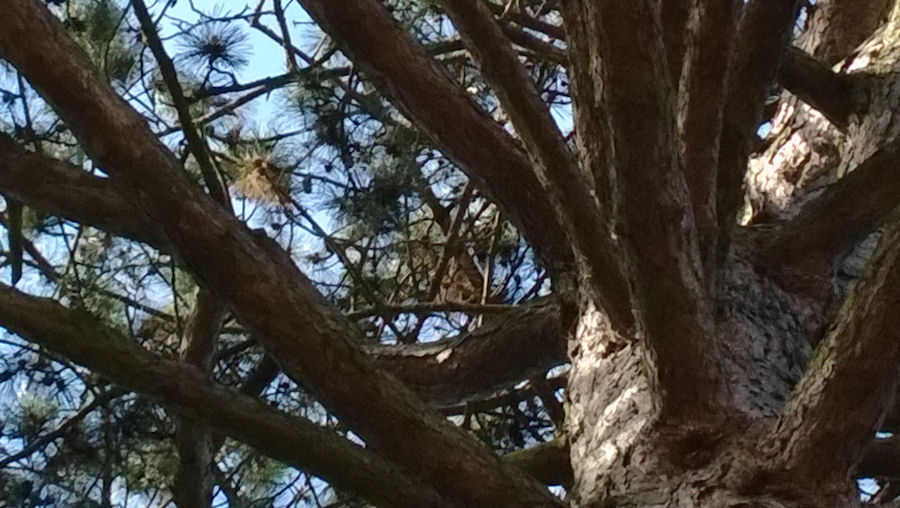 This already looks much smoother, doesn't it, since it was re-sampled from the underlying dual capture 34MP version of the original image. To prove that artefacts and pixellation are much reduced using this system, here's a side by side comparison of part of the image as 'digital zoomed' on a typical 2013 smartphone and as 'PureView zoomed' (i.e. reinterpreted from the underlying raw 34MP original, as above). You'll realise which is which immediately!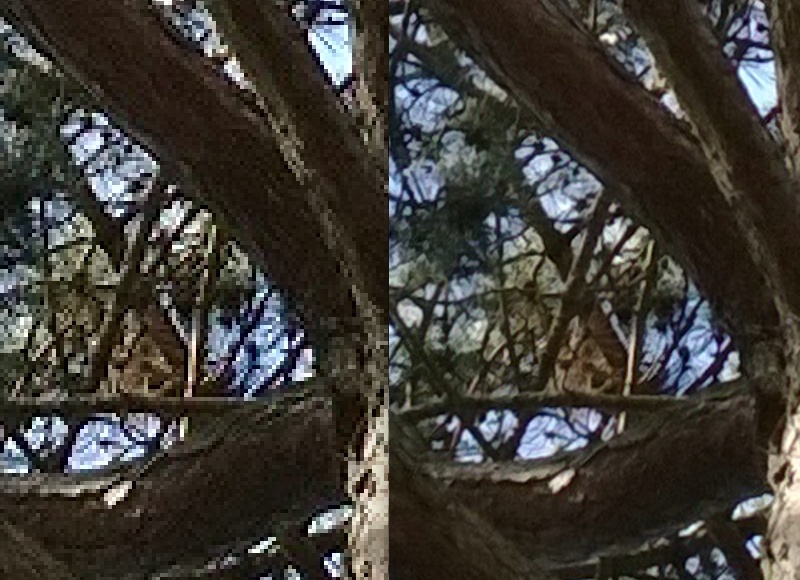 Now, the Nokia 808 could do this - also on the phone hardware - in 2012, but only at capture time, whereas with this 'zoom reinvented' system on the Lumia 1020, you can reframe, re-zoom, rotate, pan and generally do what you want to the original scene, maintaining maximum quality down to the 1:1 pixel level on the sensor, at any time afterwards*.
* It's possible to mimic this behaviour on the older Nokia 808, but only after a fashion.
So, what does all this mean for you, as a user? It means that you can zoom in while taking a shot (using your finger to swipe up or down on the viewfinder is the easiest way - exactly as on the 808, again), giving genuinely useable 3x zoom to get 'closer' to your subject yet with little loss in image quality and with the flexibility to 'undo' the zoom later from the dual captured full resolution 'master'.
The 3x limit at capture time ensures that you a) don't go beyond 1:1 pixel use on the sensor and b) still retain 5MP of resolution, for a decently sized sharing image. If you later decide to 'reframe', you can then zoom in further - much further - with the effective output resolution shrinking accordingly. However, as we saw above in the 'Blade' example, even extreme zooms can be very impressive and yet still output at a megapixel or more - still easily big enough for social sharing sites like Facebook and Twitter.
Reframing demo
Although you can only have one 'shared' version of your 'live photo' at any one time, i.e. your current preferred reframing, it's easy enough to pluck out multiple details and crops, using the SkyDrive auto-upload as you go (or simply sharing/emailing as you go). Here's a brief demo of this and the reframing system in action, lifted from my Phones Show 206:
Nokia Pro Camera
Much has been written over the intuitive interface of this newest camera interface from Nokia. Icons for white balance, focus, ISO, shutter speed and exposure sit at the top of the screen and tapping any pops it out as a thumb-friendly rotational control - or you can swipe left from the shutter icon to pop all of them out at once, giving a somewhat over the top but visually impressive effect.
As usual, for most users, I'd suggest going with everything on 'auto' unless you've got a really good reason for changing something. This isn't because you or I are lazy, but rather because the 'auto' defaults are generally excellent, Nokia has put a lot of work into optimising the settings and algorithms and in the majority of cases 'auto' will produce the best results. For anyone wanting to get creative, of course, some of the settings controls are worth exploring, with exposure useful for playing with extremes of lighting (silhouettes, sunsets, and so on) and with shutter speed useful for really creative shots where you're trying to freeze ultra fast subjects in daylight or to slow down a subject, e.g. water. Watch this space for a detailed tutorial on getting more from the Lumia 1020's camera controls, which essentially mimic the settings you have at hand in a typical DSLR.
Top left of the main interface are two icons, one to go to the regular Photos gallery (which, thank goodness, has now been fixed to actually display full detail in JPG photos) and one to bring up the last captured shot for 'reframing'. Top right is a regular '...' icon giving a Windows Phone 8 menu, offering to switch to the front camera (note that none of the Pro Camera settings apply for this), and offering self timer and bracketing functions. There's also a settings menu, offering a framing grid, letting you change the aspect ratio and - yes - to turn the 'dual capture' system off (though, again, see the note on speed below, there's little to gain by doing so).
There's also a standard 'lenses' shortcut icon, which appears in the bottom right hand corner. This lets you switch to Smart Cam, Cinemagraph and so on, each effectively its own standalone application.
Of special note, and promoted in Nokia's marketing material, is the way the viewfinder tries to reflect the current settings in use. Now, of course, the actual passage of photons into the sensor at capture time can't be predicted perfectly, and there's every chance your subject may change slightly (or a lot), but it's useful for getting a rough idea of what your photo will end up looking like. Subtleties like changing ISO and shutter speed are hard to preview, of course, because of their real time nature, but for white balance and exposure, it can be very useful for novices to get a rough idea of what changing a setting will do.
To help newcomers to the Lumia 1020's camera further, there's an excellent tutorial mode, taking you through each setting in turn, with an interactive gallery of possible outcomes for each 'turn' of the virtual dial for each setting.
Potential issues
After a week taking photos on the Lumia 1020, a few potential problems did start to rear up. Here's my rundown, along with my assessment of whether they can be fixed.
Initial startup time - Nokia Pro Camera (the default and best option) takes around four seconds to crank itself into action. This is too long and often frustrating when you're trying to capture a moment ("Hold it, I'm almost ready, hold the pose...." etc.) I'm sure Nokia can optimise the code to bring this time down - two seconds should be a target. You can bring down the startup time by leaving Nokia Pro Camera running and not closing it with the 'back' control - it then switches back in around a second, which is useful to know. More extensive tests over the next few months will hopefully reveal the impact on battery life of this technique.

Shot to shot time is also around four seconds, which is also too long. This is mainly down to the time taken to oversample the full 34MP/38MP image in the 1020's processor, plus an extra second to save the full resolution JPG (around 10 to 20MB) to disk. You can turn the dual capture system off in 'Settings', but the shot to shot time is still three seconds, since behind the scenes it's still capturing the full resolution image, you only regain the 'save' time, so there's little benefit in doing this. If you really want shot to shot speed, your options are to start the default Windows Phone Camera application instead, which gives one second shot to shot times, at the expense of a lower grade JPG photo - it's still a good photo, but there's not the same degree of oversampling and, of course, there's no lossless zoom or reframing available. Shot to shot times do directly impact potential users, who are going to compare this with the much faster cameras in other phones. As ever, these things are compromises though - for most shots I'd rather take the extra few seconds and have full quality and full flexibility; for other shots, there's Camera and Nokia Smart Cam (see below).

Settings get reset if you exit Nokia Pro Camera. By design, if you fiddle with white balance, exposure, shutter speed, etc. and then switch away from the application, when you come back your settings tweaks will have disappeared and everything will be back on 'auto'. Personally, I'm happy with this, I've messed up quite a few shots by forgetting about previous settings tweaks, but I can see that some shutterbugs will be annoyed that their careful set-up keeps getting forgotten. Maybe this could be made a setting in and of itself?

When 'reframing' an image, there's no way to lock the orientation. Thus, the same two finger gesture used to 'zoom in' is also liable to rotate the image slightly. Thus I ended up with several images which look a little wrong, since they got rotated by a degree or to accidentally. Yes, I can go back and try to reframe/rotate again, but there's no 'reset' option for orientation or any master guide to show the original 'horizon'. This is an easy one for Nokia to fix in an update to the Pro Camera application.

'reframed' images often have an erroneous black border added, left and right. I can only assume that this is a bug and not spotted because you don't notice it on the phone, with its typically black-bezelled screen. Not a showstopping problem, but it would be nice if Nokia fixed it fairly soon.

There's no way to adjust saturation, sharpness, contrast, and no ND filter. Given the emphasis on saturation and sharpening, in particular, it seems a little odd that there's no way to adjust this within Nokia Pro Camera. The imaging team at Nokia would say that they know best and that such parameters shouldn't be fiddled with by end users, but surely the very word 'Pro' in the application name implies that such people actually do know what they're doing? After all, control has been given here to adjust shutter speed and ISO, two very technical factors - I suspect we'll see extra settings arrive in an application update.

For new users, it is going to be somewhat confusing having multiple camera applications pre-loaded. By default, long pressing the shutter key gives you Nokia Pro Camera, which is as it should be, but prominent on the main app menu/list is 'Camera', which is the 'old' Windows Phone stock app and without 95% of the features that make the 1020 special. Almost as confusing is Nokia Smart Cam, effectively the polar opposite of Pro Camera, in that the former just takes rapid 5MP shots in a burst, with various options on how to pick from these or combine them. Which means that the user has to think ahead in terms of which sort of photo they want to take before the 'moment', something which isn't always possible. Yes, you can use the 'lenses' shortcut icons to switch between camera apps conveniently (if not quickly), but what's really needed is a way to grab burst images from Nokia Pro Camera - I'd suggest, within the app, mapping a long press of the capture icon or shutter button to grab a burst of 3MP or 5MP images (as on other competing smartphones) and then seamlessly pass these images over to Smart Cam for processing and choosing what to do with them. If Nokia can somehow streamline all this then it'll be something of a UI miracle - but I'd like to see it try!
In addition to the above, I did start to worry about storage space. As I'll no doubt comment again in the next review part here, 25 'dual capture' images a day is 400MB a day, 2GB a week, 8GB a month. Double that for a few 1080p videos here and there, at 200MB/minute, and you could easily be creating 16GB of content a month. Add in the average user's 10GB of local music, bits and pieces and there's clearly the potential for a management problem here for power users. The omission of a microSD card slot on something as well suited to creating content could prove the Achilles heel of the Lumia 1020. At the very least, you'll have to prune and sort as you go, plus archive videos regularly onto a desktop.
Verdict
Despite the promise of 'zoom reinvented' and the generally very good results, there's clearly still some work to do for Nokia in terms of the Lumia 1020's performance and camera functions. Most of the issues above can be directly addressed though, and perhaps the enforced exclusivity through AT&T in the USA for the first six weeks or so will work out to the 'benefit' of worldwide users, who may get a more optimised, issue-free device from day one?
Even with the issues listed though, I was very impressed by the Lumia 1020 - it's a tantalisingly slick piece of engineering. There's no denying that the 1020 does take the PureView vision behind the Nokia 808 and extend it - a few options and subtleties have been lost in the transition from Symbian to Windows Phone, but the end result is most of the power of the original system on a much more future proof hardware platform, and with some rather clever lateral thinking thrown in as well.
For a smartphone world steeped in 'iPhoneography' and relatively staid shots, the Lumia 1020 will come as something of a major leap forwards. And at long last, Windows Phone 8 has a genuine flagship device with utterly unique technology that is to be found on no other active smartphone platform.
In the next review part I'm going to look in detail at video capture, referencing the lossless zoom, OIS and other functions in a whole new light.

See Also
Review: Nokia Lumia 1020 (focus on 1020 as a smartphone)
The first big PureView battle: Nokia 808 vs Lumia 1020
4 way flagship phone camera shootout: Nokia 808, Lumia 1020 and 925, Galaxy S4 Zoom
Reviewed by Steve Litchfield at