Review:
Wileyfox Pro (part 1: pitch, hardware, performance)
Score:
76%
The latest Windows 10 Mobile smartphone is interesting in many ways. It's ostensibly underpowered compared to some in the Android world at a comparable price point, yet the Wileyfox Pro is aimed at a totally different audience, one for whom Android isn't an option. As only the second new Windows 10 Mobile smartphone launched this year, this occupies quite a rarified space - but can it make this space its own?
Buy Link | Download / Information Link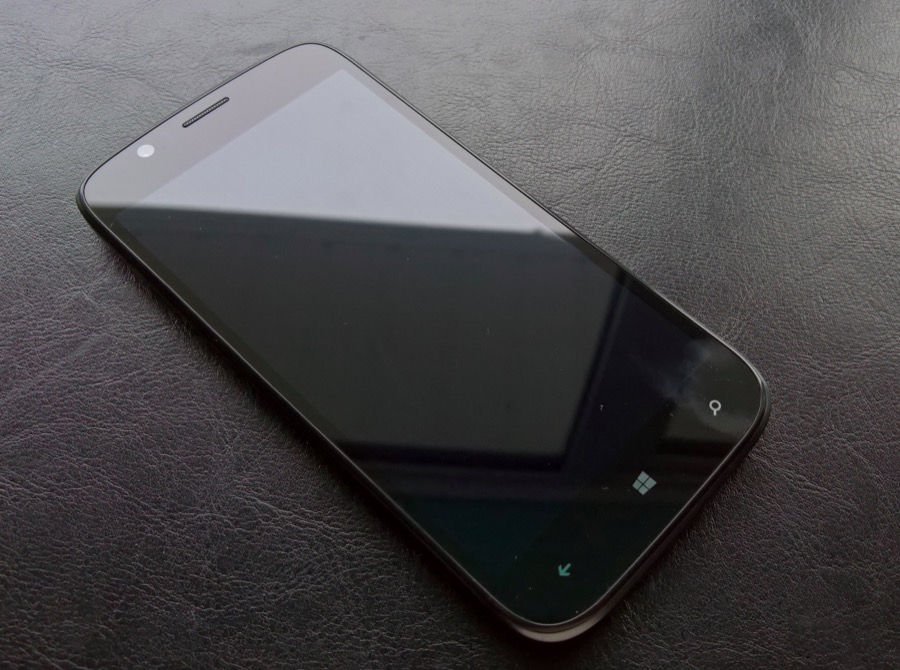 A gap in the business market?
People have talked of the 'Apple tax' for years, paying extra to have the fruity logo, the store support system, and so on, for iPhones. Then, for the Alcatel IDOL 4 Pro this summer, we saw a really rather good phone that was still over-priced by at least £50, thanks to the relatively small numbers it will have been made in, created for an ecosystem that is perceived as shrinking (even if - being pedantic about Windows 10 as a whole - it's actually not). And here we have the Wileyfox Pro, priced for individual purchases at £190 inc VAT in the UK, again ostensibly at least £50 too much for the raw specifications, but again perhaps justifiable because if you want a Windows 10 phone for less than £200 then it's this or nothing - they're not exactly sold in wide variety anymore.
However, the inc-VAT consumer price is probably irrelevant, as we've hinted several times. The typical buyer for the Wileyfox Pro will be a small company who need a company phone that runs Microsoft services, UWP applications (possibly custom in nature), and which deliberately precludes its employees from messing around too much with the hardware or software. So no rooting or jailbreaking. No dodgy sideloading of applications outside the Store. No inadvertent downloads from malicious pop-up ads and windows. No way to install any trojan that does get through. No time-wasting by employees playing the latest games*, browsing Facebook**, or interacting on Snapchat***.
* Most either aren't available yet, or won't be available at all, or run too slowly on this relatively low end hardware.
** Although there's a Facebook UWP app, it's an absolute dog in terms of resources, users will hopefully learn to avoid it.
*** Not available at all on Windows 10 Mobile. Ditto Tindr, Pokemon GO, and a dozen other consumer time wasters(!)
This is all backed up by Wileyfox's own marketing for the 'Pro', aimed at "Automotive, Education, Government, Healthcare, Logistics, Retail, Telecommunications, Transportation". Wileyfox quotes four main attractions: productivity (boiling down to Office 365, OneDrive, etc.), security (Device Guard, Store-only apps, Bitlocker), Cortana, and support (Wileyfox's blurb has a typo here on the Amazon listing, but we're indeed talking about the usual deadline for the Fall Creators Update of Spring 2020).

In other words, there's a gap in the market, which is why Wileyfox has worked to make the 'Pro' happen. Much of the above can be accomplished by iPhones or Android flagships, especially now Microsoft has released much of its software and services for other platforms. But still security remains an issue, plus these other phones are likely to be expensive. At (say) £130 each, ex-VAT, when bought in packs, the Wileyfox Pro is cheap enough to over-buy and then replace/restock as needed.
Add in that the battery can be swapped out - an extreme rarity in the phone world of 2017, that storage can be expanded, and so on, and the Wileyfox Pro could be a perfect small business employee handset. Never mind that said employee will probably have their own iPhone or Android phone as well, with their own personal SIM/number - at least they're not going to be endangering data or services on their company handset.
How will businesses actually find out about the Wileyfox Pro and what it stands for? After all, they're hardly likely to be browsing Amazon or (heh!) reading All About Windows Phone. Wileyfox has distribution partners and resellers across Europe and it's these companies that will be introducing this new high-security, low-cost option to businesses. In fact, it's this network of partners which is partly responsible for the Wileyfox Pro not shipping with the Fall Creators Update (the '1709, feature2_rs3svc' branch) in the first place. It starts up with the Creators Update (the '1703' branch) and the FCU is currently being evaluated by Wileyfox's partners, with a formal provisioning on Microsoft's servers 'early in 2018'.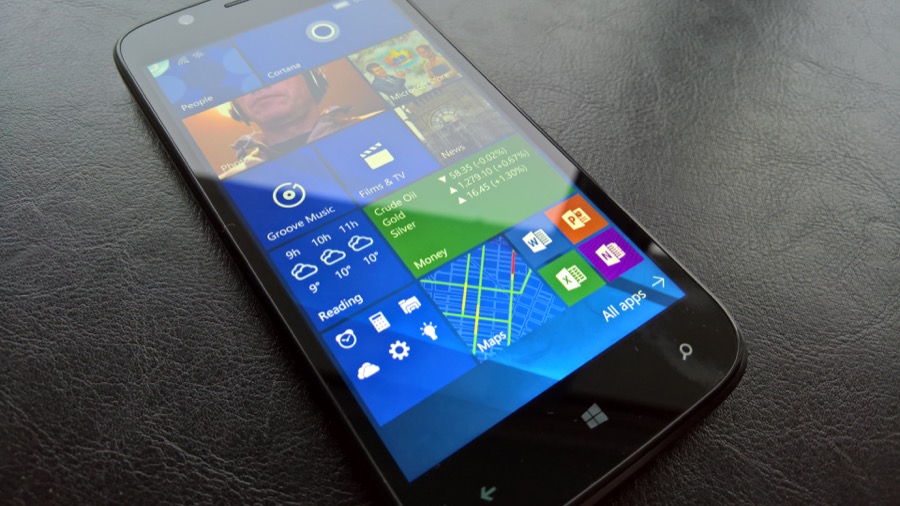 Performance
Which brings us to the phone itself. Here are its vital stats:
5" IPS LCD 720p (oleophobic, RGB stripe) display
Snapdragon 210 chipset
2GB RAM
16GB internal storage
LTE cat 4
2100mAh battery
8MP main camera*, LED flash
2MP front camera

UK and EU adapters in box with USA pin to microUSB cable
* oddly, this is true only in 4:3 capture mode - in 16:9 mode, this reduces to 4MP (rather than the expected 6MP) - go figure! A bug?
Although its good to see the 2GB of RAM, in use it's hard to shake the low end Snapdragon 210 chipset. Yes, I know I'm used to 8xx series chips and flagships, but even leaving this aside, the Wileyfox Pro seems 'slow'. In fairness, I never spent significant time with the Lumia 550 and 650 almost two years ago, but this has the 550's chipset and expectations are similar, RAM or no RAM (the 550/650 both had 1GB).
To give you an idea, here's a quick comparison with the other 'Pro' device from 2017, the Alcatel IDOL 4 Pro. Over twice the price, a Snapdragon 820 chipset and 4GB RAM. But how do the two compare for speed?
(all times in seconds where appropriate)

Wileyfox Pro
on Creators Update

Alcatel IDOL 4 Pro
on Fall Creators Update
Booting up to fully populated Start screen
49
42
Starting the Store to see all
front screen content
7
4
Opening up Outlook Calendar
4
2
Launching MSN News to fully populated
opening graphics
11
8
Opening up Cortana
to the 'look at the day' vertical panorama,
after boot
8
5
Planning a route
from Reading
to Aberdeen in Maps
14
9
Starting up Weather to the
full opening summary
6
4
Starting a new Excel sheet
with a template
7
6
Total time
106
80
Benchmark: PeaceKeeper universal browser test
(higher score better, of course)
167
776
Purely objectively, the real world timing results surprised me, with the low end Wileyfox Pro coming in roughly 30% slower than the IDOL 4 Pro - I'd have expected a much bigger margin. Subjectively, the eye and hand perceive the higher end device as much faster because of the larger and higher resolution screen - there's often more information coming at you, at greater detail. The PeaceKeeper browser benchmark gives a truer performance delta, with an over 4x speed difference - you just don't see this most of the time in daily use.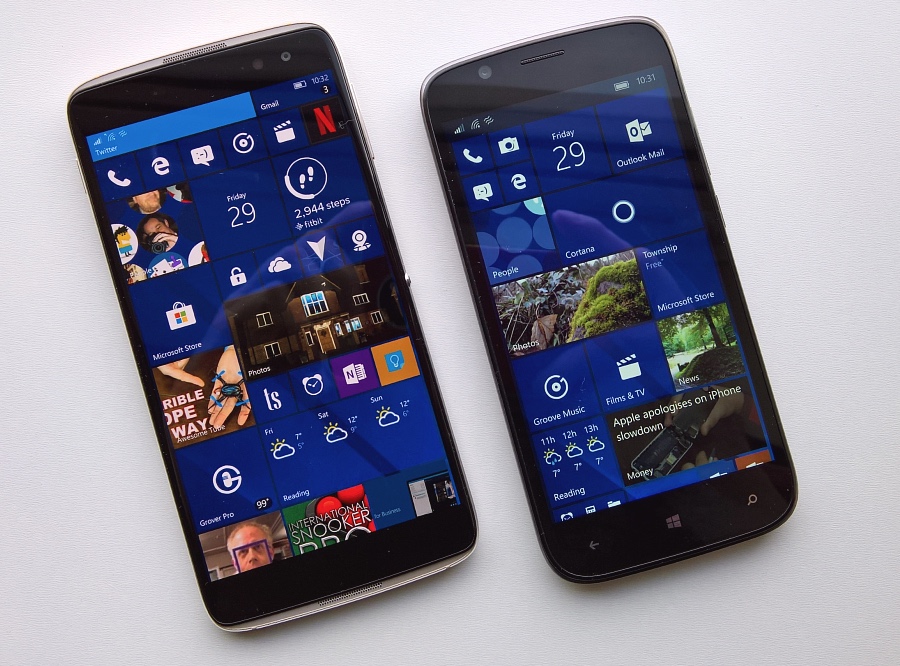 I reference the higher end IDOL 4 Pro because almost all Wileyfox Pro end users will have the handsets issued for them by a company and they'll also have their own personal phone, liable to be much faster, running Android or iOS. If this new 'high security' company handset is just too slow then there will be significant ill-will.
In practice though, unless you're going for the heaviest web page or doing lots of Store downloading, the Wileyfox Pro is fast enough. I.e. given that most users will have been given this by a business and won't have had to pay for it themselves then the odd bit of UI lag here and there isn't a problem. The converse, when you've paid £500 of your own hard-earned money and then you see less than perfect performance, that's when irritation sets in.
Hardware
It's tempting to refer to the Wileyfox Pro design as 'delightfully retro', when I suspect that in fact it's based on a generic reference design from a couple of years ago. But ironically, some of the benefits of designs from 2014/2015 have been lost in today's flagships - so a replaceable battery, microSD slot and headphone jack all appeal in a 'company phone' context more than a super-sealed iPhone-esque design.
Wileyfox has out some effort into styling though. Yes, the top and bottom bezels are largish, but these come with the territory for relatively low end smartphones and in any case the bottom bezel has large and easy to hit capacitive controls, making the 5" display seem more capacious than it might otherwise be. The controls are 'silvered', so that you can see them in all but pitch black conditions. Not having these backlit saves money and in any case a 'work' phone of this type is unlikely to ever be used late at night, in clubs and pubs etc.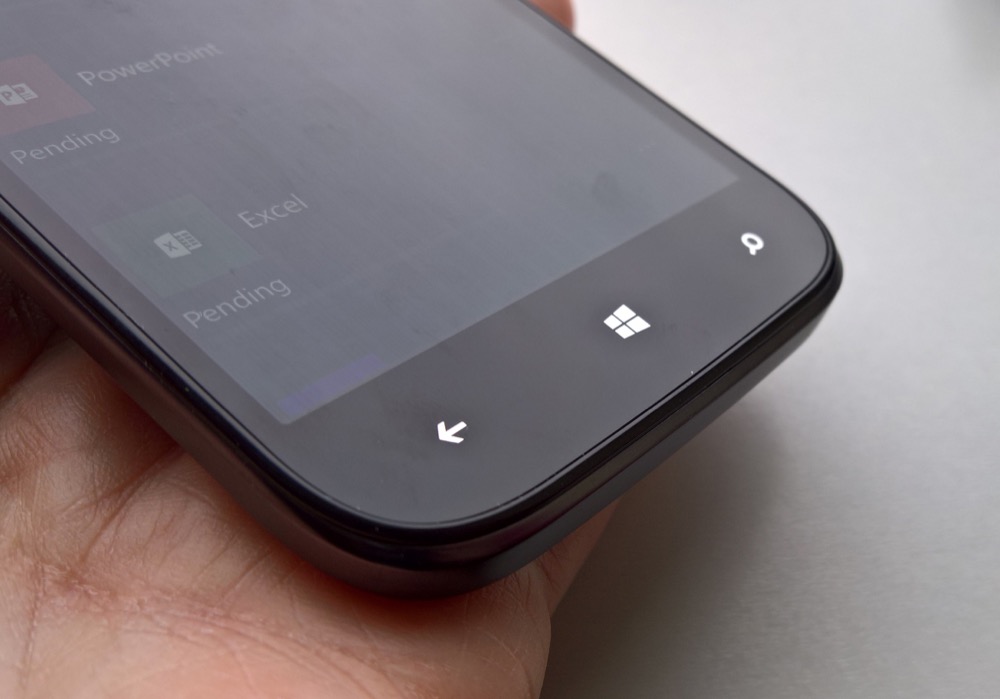 The display has an oleophobic coating that's not always a given at the low end and so 'word flow' typing is easy and pleasant, especially so on this optimum phone size in the hand. It's not clear whether branded Gorilla Glass is used or whether this uses an alternative toughened glass - I'll update this review if I find out.
The display is protected by an outer rim of hard plastic and then you're onto the faux-metal plastic outer chassis. The feel in the hand is excellent and all the rounded corners help a lot in making sure it fits the average hand nigh on perfectly.
The rear (replaceable) cover is beautifully rubberised - it's one of my favourite smartphone exteriors ever. Which is surprising, again at the price. The cover snaps into place (Samsung-style, circa 2014) and is styled to overhang the curving-in chassis by a millimetre or so on the sides of the phone, giving extra grip in the hand. In short, we're talking security in the hand as well as in the software.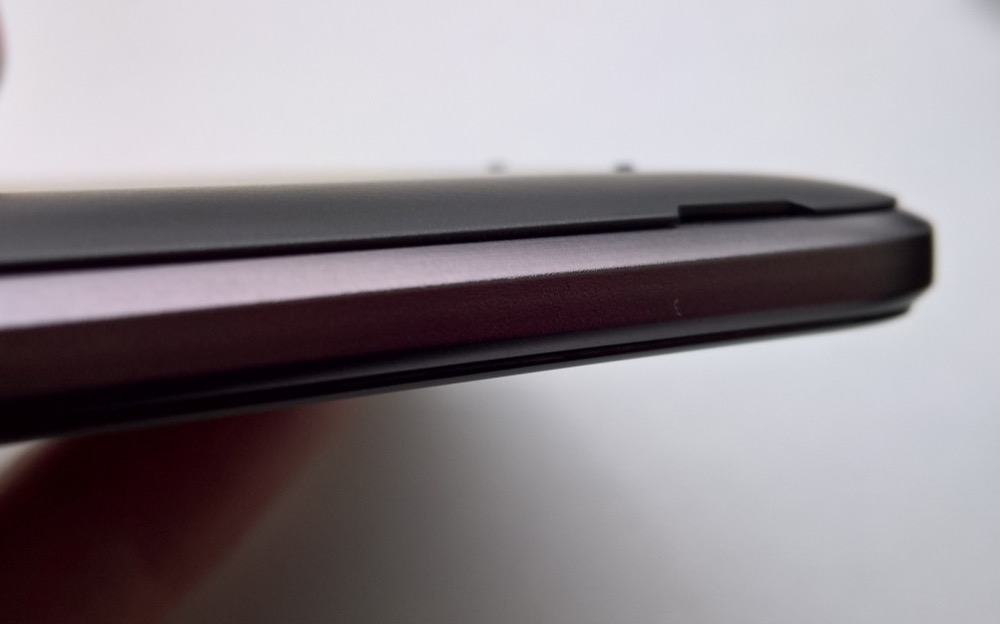 The top of the Wileyfox Pro houses the microUSB data and charging port, with the rear cover slightly moulded around it. USB Type C is supported by the chipset and would have been nice in late 2017, but the licensing and manufacturing costs associated with this run into the $10 per unit range so wasn't practical at this price point. Besides, being a business phone means being compatible with as much legacy hardware as possible and USB Type C is only making its first inroads into the enterprise even now - microUSB is much, much more widely used still.
Also up top is a 3.5mm headphone jack. Businesses need reliability and compatibility, and Bluetooth wireless solutions just aren't 'there' yet. Not across the board, anyway. Bluetooth is here too if needed, but when you need rock solid audio for an important call, or for plugging into a meeting room audio feed, then a standard 3.5mm jack is a must.
On the back, centred, we have a main camera (of which more in part 2 of this review) and LED flash/torch, plus (offset at the bottom) we have the mono speaker (again, see part 2!) The front camera is positioned under the display glass, with a metal-grilled earpiece beside it.
Under the replaceable rear cover - and yes, that's a phrase we haven't used in the phone world for a couple of years(!), there's a physically large battery - 2100mAh sounds low in late 2017, but remember the chipset's low requirements and remember that we're only talking about a 720p display and a workload that most definitely isn't supposed to include lengthy gaming or media watching sessions. The Wileyfox Pro should easily last a typical user for a couple of days of work-related use before needing a microUSB top-up or a battery swap.
The microSD card slides in without a spring mechanism, but it's secure enough as it's held in place by the battery, ditto the SIM slot and this is large enough to take a microSIM, again either pointing to maximum compatibility with business SIM cards or just to the age of the underlying reference design, depending on how cynical you are(!) I used my nanoSIM in the slot with a simple adapter with no issues.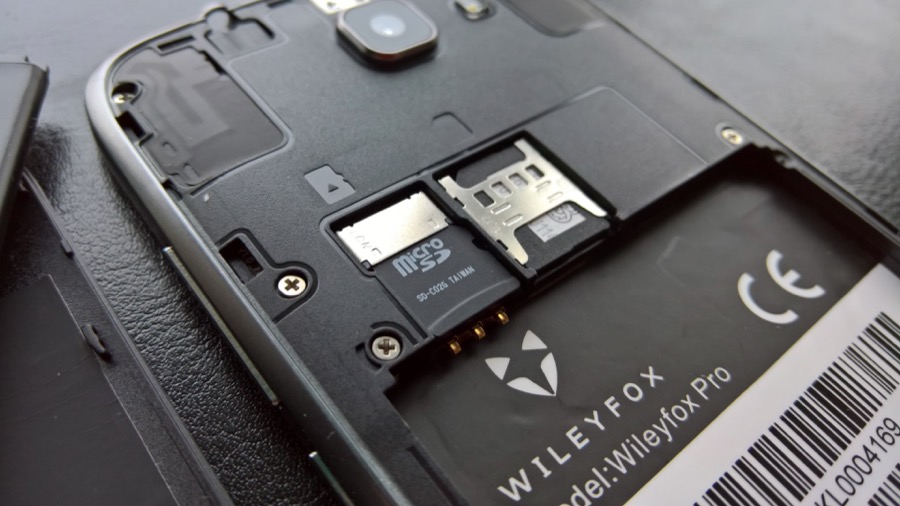 Adding to the workhorse impression is an incredibly repairable design - just seven small cross-head screws hold the phone together. Remove these and the back plane comes away, giving access to every component other than the display - and even this is only a few minutes more disassembly away. Of course, a phone that's in this budget realm might also be in the 'not worth repair time' category, but hey, there's the option of repair in an emergency if necessary - again something you can't say of almost all modern 'glued down' designs.
Pitch, Performance and Hardware verdict
As only the second mainstream (and I use that term advisedly) production Windows 10 Mobile smartphone of 2017, I realise that there's a heelthy degree of optimism and anticipation here - I most definitely want the Wileyfox Pro to see enough take up to justify its initial production run and beyond. So I'm just a tiny bit biased.
But even so, this is a fun little handset to pick up, at least as a Windows 10 Mobile enthusiast. It's new, it's fully supported by the regular monthly Microsoft OS updates, it has all the UWP applications and their updates, it's repairable and flexible. The display is surprisingly good for a 720p affair (in fact, the larger fonts used are easy on older eyes like mine!), the 2GB of RAM means that even the heaviest games work well, and the chipset rarely gets too bogged down. You won't get flagship performance, but again I should emphasise that it's fast enough for its mission statement.
_________________
In part 2 of this AAWP exclusive review, I'll look at the (somewhat token) multimedia and imaging features, along with comments on OS, core software and compatibility, before delivering a final overall verdict. At least until the FCU arrives in January or February!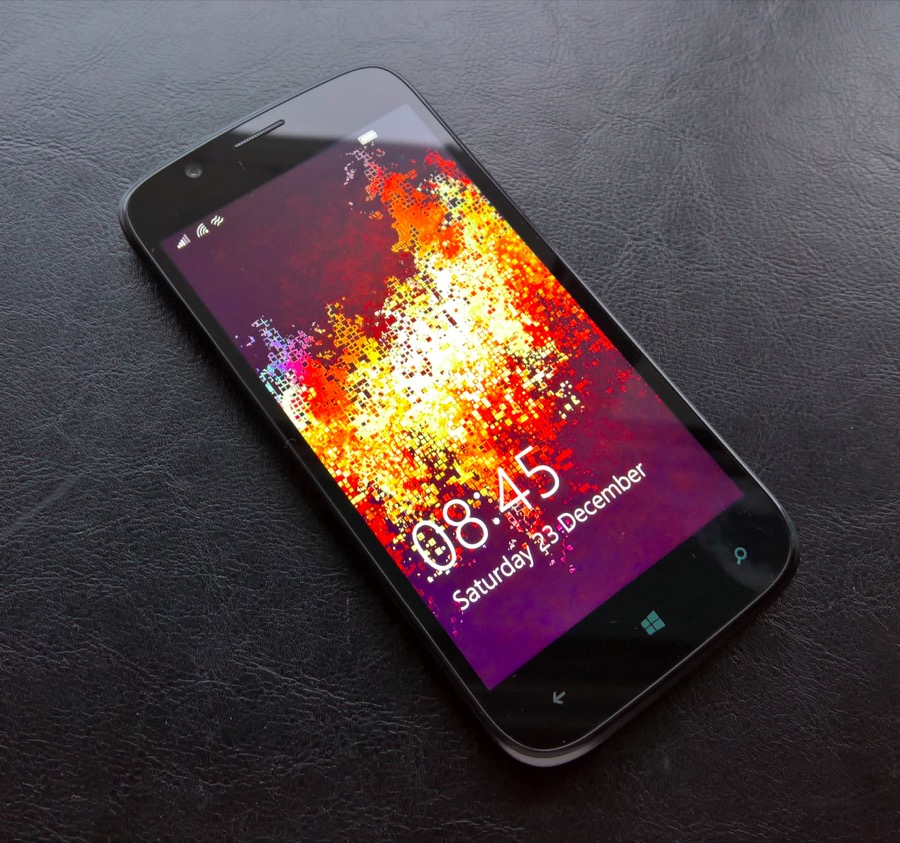 Reviewed by Rafe Blandford, Steve Litchfield at