Review:
Perfect Shift
Score:
76%
It would be slightly unfair to lambast Perfect Shift as a cynical money making opportunity for the developers - this is actually what it is, of course, but it's lovingly and glossily done, and with a fair jolt of adrenaline for the player along the way. Would I prefer to see a Riptide-style commercial/freemium hybrid? Absolutely, but don't dismiss Perfect Shift completely because it's completely free up front...
Buy Link | Download / Information Link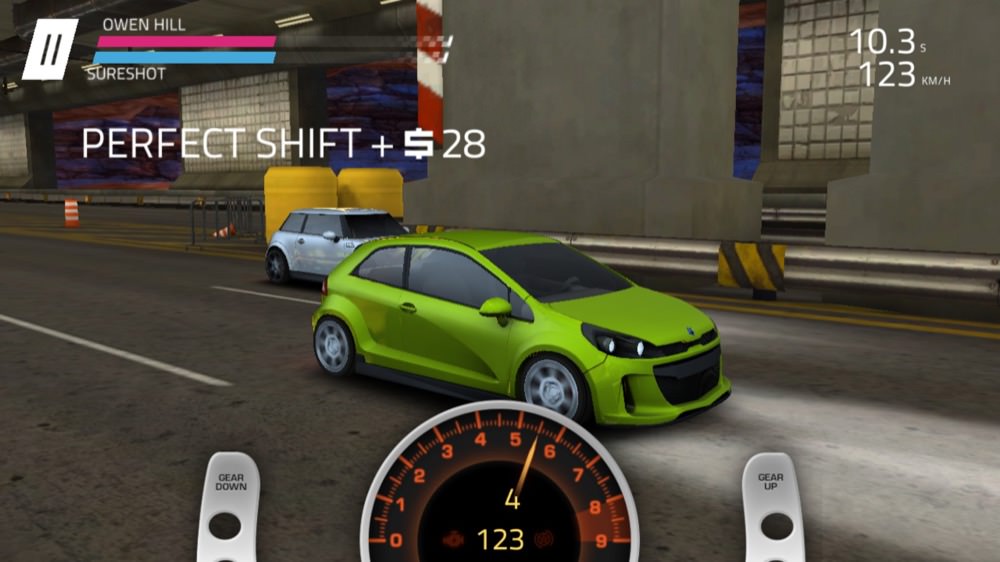 Anyone who's played Real Racing 3 on another platform will recognise the gameplay mechanic here (in fact, there are freemium similarities to Real Racing 3, which we'll come to later) - this is a drag racing game, similar to the occasional mini game in RR3 - you try to time your gear shifts while travelling a straight line, to make best use of your gearbox and engine. Which sounds too simple for a full game release here, which is why it's dressed up to the nth degree with high resolution, high quality graphics, 3D views, deafening sounds and extra variables, not least nitro packs, pre-race engine revving, varying 'optimum change points', and so on.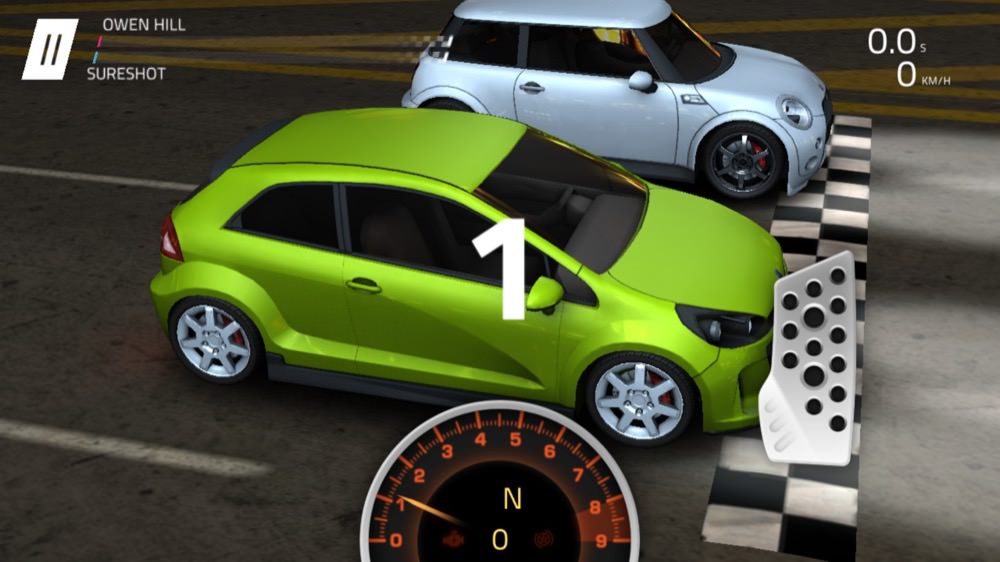 Add it all up and there's an addictive casual game in here - each race only takes about 15 seconds, so if you mess it up then you can be back in again very quickly. Loading screens are kept to a minimum (just a couple of seconds) and you can re-try races that you lose, so it's a case of try, try, try again and enjoy the sights, sounds and thrills along the way.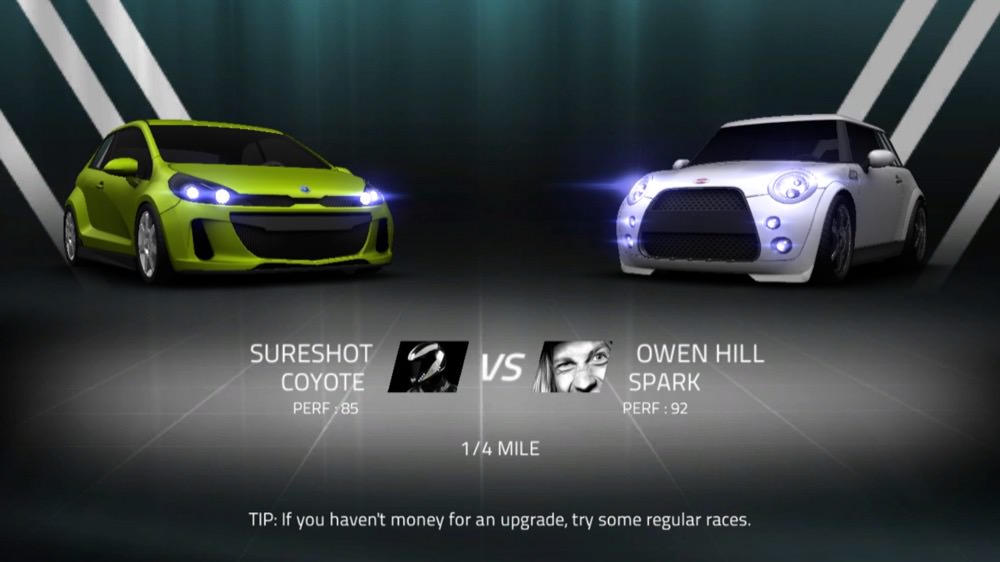 In terms of how to play, there's obviously no steering or even throttle control, it's just a question of tapping 'gear up' at just the right points as your car gathers speed. To help you, there's the main tachometer, plus little flag icons that pop up, going green when the revs are just right for the next change. That's essentially it, barring a few minor twists and car performance not withstanding...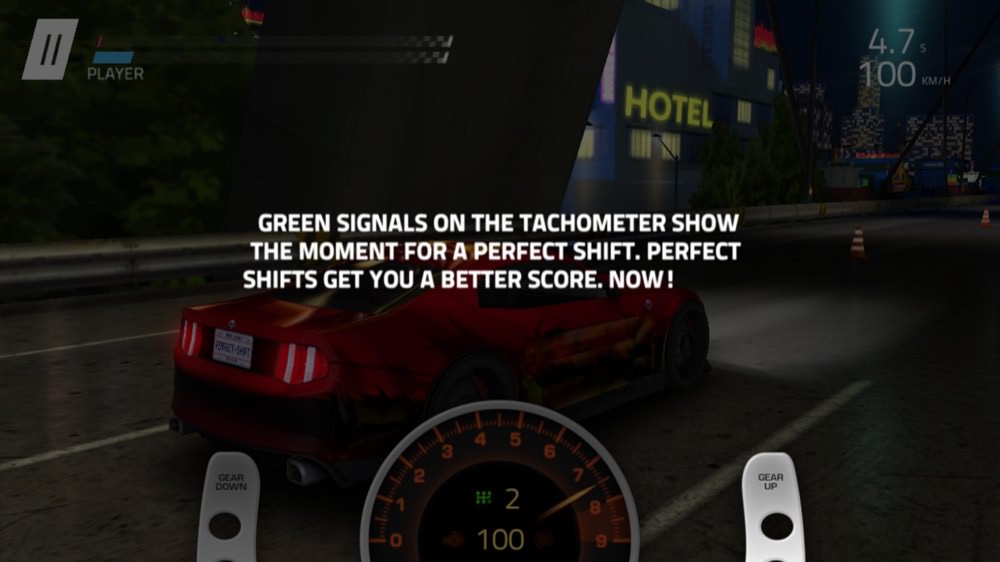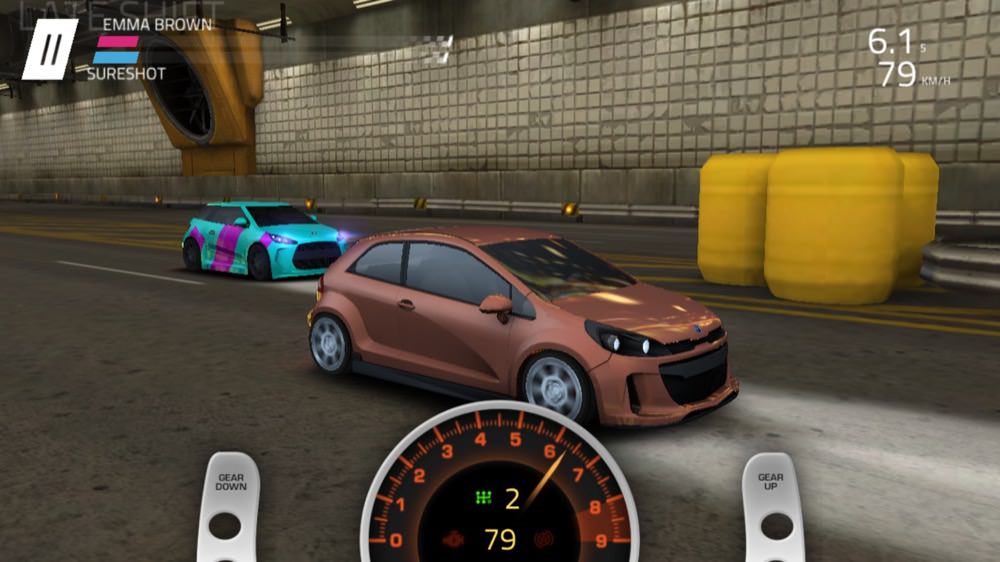 In fact, two extra factors which are under your control - there's pumping the engine before the 'off', i.e. making sure that revs aren't at zero as you launch off the line - for this you're given a throttle control, briefly. Plus 'nitro', which you can inject into the engine at one point in each race, if you have any. When injected, it has the effect of speeding up time for your car, accelerating it quickly and bringing the next gear change up much more quickly, so you have to be quick on the latter!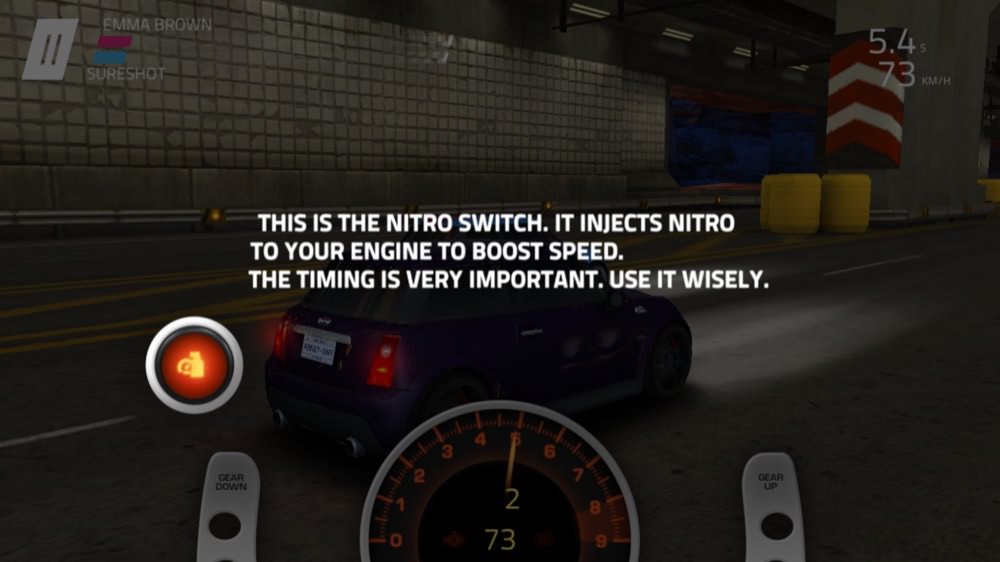 Are these extra factors enough to maintain the excitement? Well, just about. The developers do a lot to try and keep the atmosphere dark and urban, with races occurring at night, with dramatic lighting and a cast of incidental characters and their cars.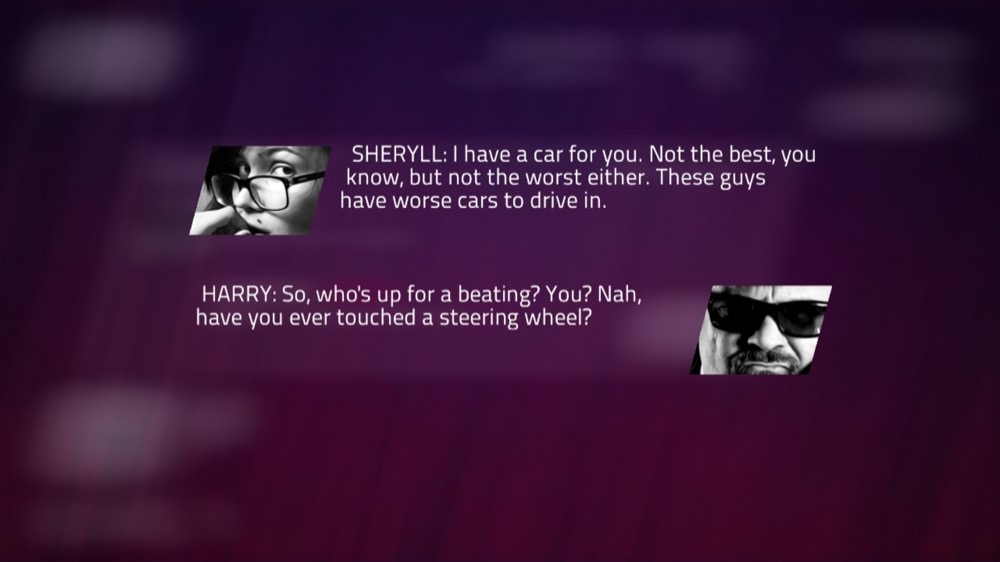 As you'd expect, the biggest factor in winning a drag race is actually thr raw performance of the vehicle and, this being a freemium epic, you start with a basic car and then traverse up to 28 upgrade levels (seven categories at four levels each), rinse and repeat for dozens more cars, each with different visuals and base specs. That's quite a bit of admin work and as usual it pays to upgrade as much as you can in the early stages, in order to gain more success, win more money and (ahem) jewels, both of which you'll be needing sooner rather than later.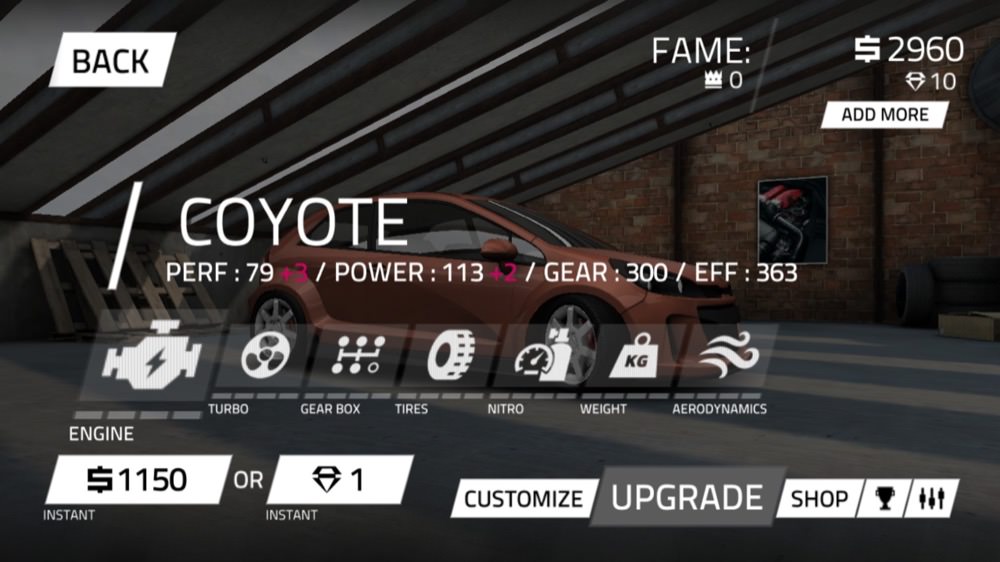 In addition to performance upgrades, there are the usual cosmetic customisations, with the more exotic ones requiring in-game payment: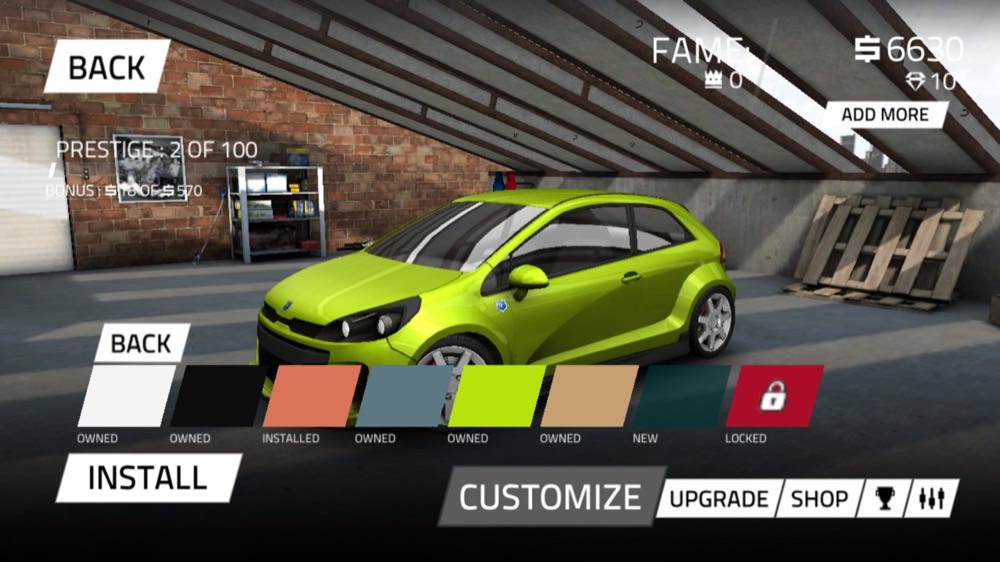 And it's at this point that I should mention the other similarity to Real Racing 3 (on Android), which was the first game to use this mechanic (sic) that I'd come across - after the first trivial upgrades, each further upgrade not only needs currency to pay for it, but it needs real world time to be delivered. Never mind that this is software, presumably some virtual courier is tearing around some virtual town picking up the virtual spare parts. And, after the appropriate number of minutes, the upgrade is 'delivered', and in the meantime this car is unavailable for racing. At all.
Or you can pay in jewels to have the upgrade delivered 'instantly'. Or use a special £8 (or so) in-app purchase to remove wait times on all future upgrades. You can absolutely see how all this works, can't you? If you go down the jewel route then you'll need to start buying these with real world money. And you'll need the in-game dollars too, which you'll almost certainly need to top up after the first 15 minutes of gameplay. Jewels and dollars IAPs max out at just under £20 each, by the way.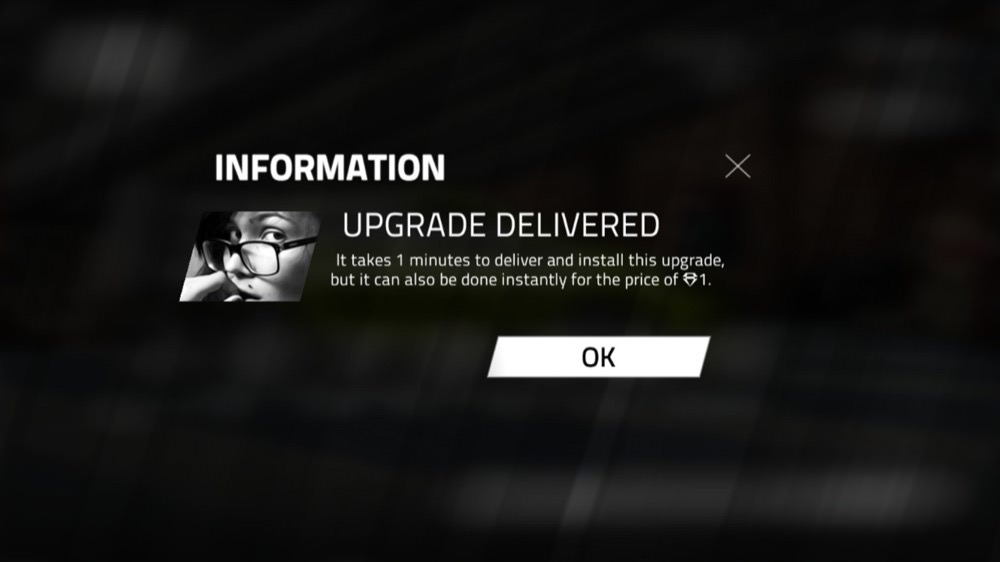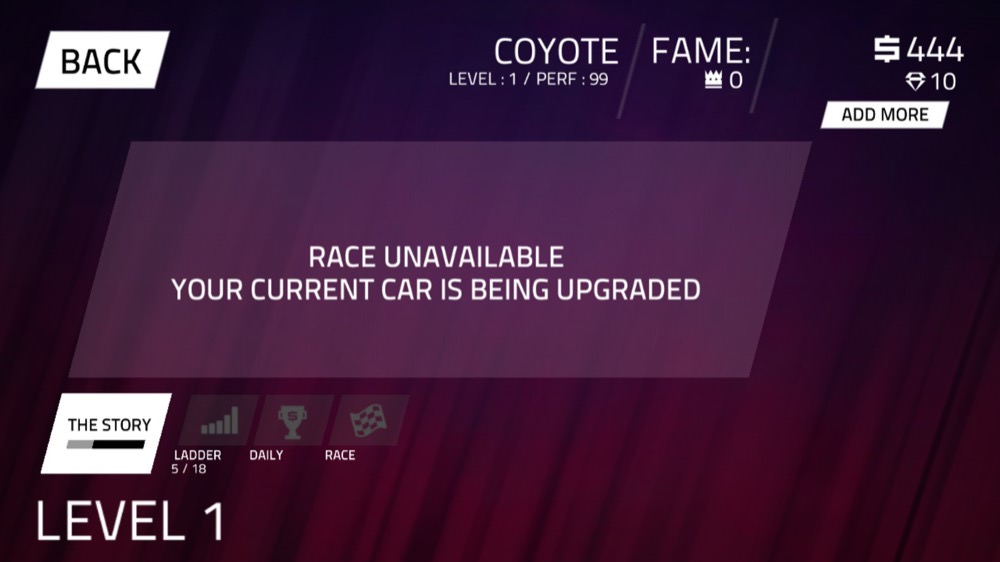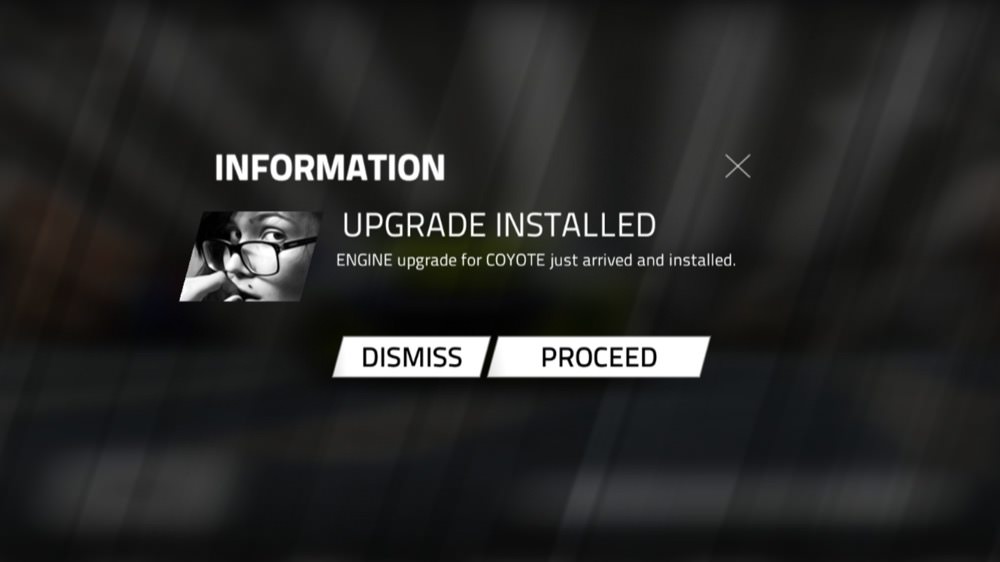 I mentioned Riptide: GP2 earlier. In my humble opinion, that game got the balance just right. A small initial purchase, so that the developers get some guaranteed payback, and then some more relaxed in-game purchases, which are optional for the casual player but more recommended for anyone getting seriously into the game. Which is as it should be.
Here, in Perfect Shift, the inital game is free, but within 15 minutes you're at the point where you can't progress very fast unless you start dipping into the Windows Phone Store purchases. Speaking of which, Perfect Shift is VERY naughty here, in not labelling ANY of the in-app-purchases with a real world value - for each one you have to tap through to pretend to buy it before a real world value is shown (and then 'cancel' back, usually).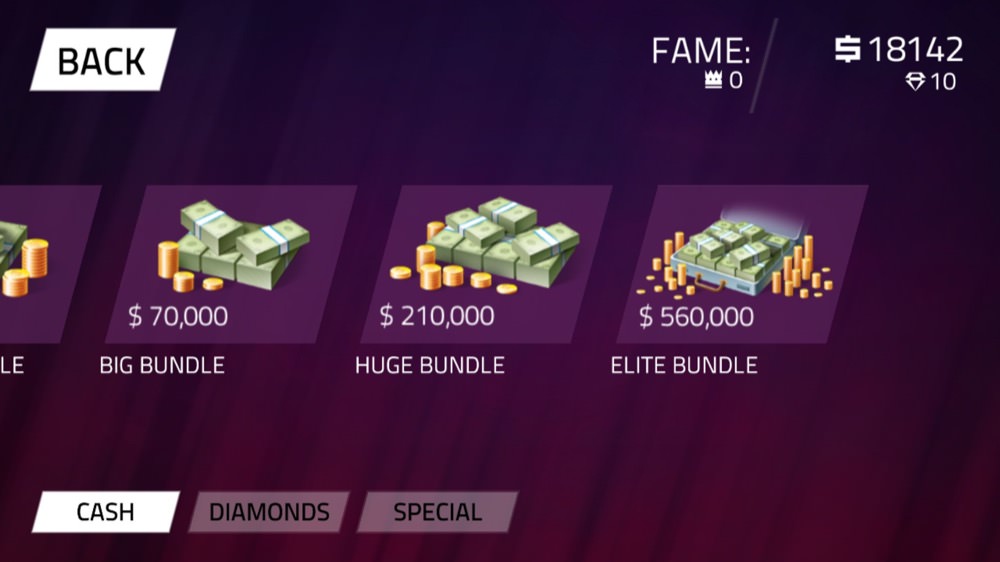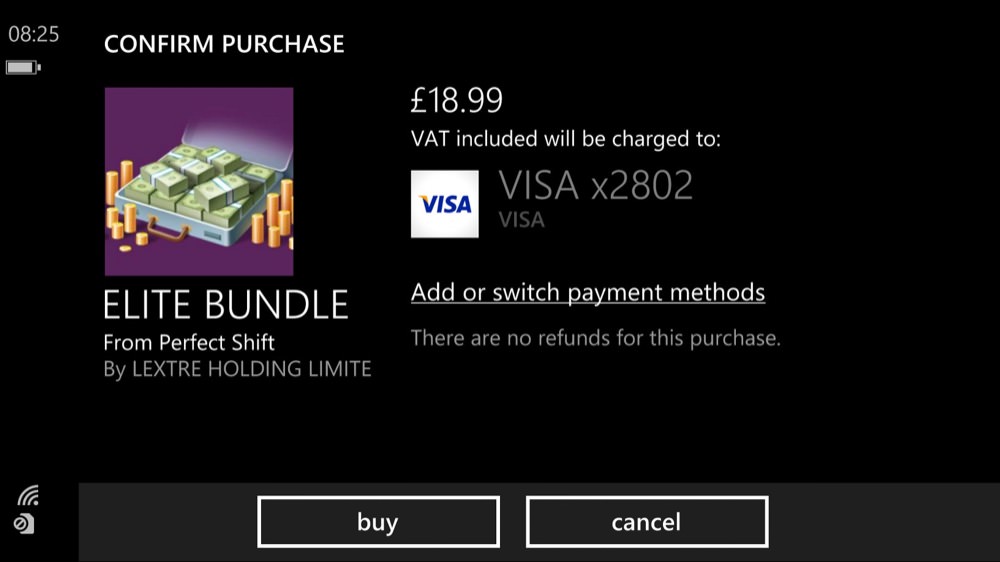 The maximum you can spend in Perfect Shift, at least at first, is about £43 in the UK. Which is still too high, even though I recognise that smaller purchases are available. And yes, I realise that the higher IAPs are there to trap the unwary (or rich) and to fund the developers better than people trying to play the game for as little as possible, but the balance is still wrong.
There's a game with terrific production values here, in terms of set-up, graphics, sound and atmosphere, even if the gameplay mechanic is a little trivial. With a $2/£2 initial price and just IAPs for hard core players and customisers, this could have been a cult classic. Instead, I suspect that Perfect Shift will disappoint both players and - crucially - the developers.
Reviewed by Rafe Blandford at