Many of the new features to Windows Phone 8 were announced in June this year, and so today's press event naturally had few surprises. However, the story that was told by Microsoft and Nokia was one of the user experience we can expect with Windows Phone 8, and specifically Lumia devices.

Applications
As has been written about already, Windows Phone 8 is a complete break from Windows Phone 7, as it now shares a common core with Windows 8. It was reiterated, though, that Windows Phone 8 will be backwards compatible with the legacy applications.
Furthermore, as part of the 'new start screen experience' which will be running on higher resolution displays – Microsoft's Joe Belfiore demonstrated that live tiles from legacy apps will scale flawlessly to the new tiles' pixel sizes.
Speaking of the new start screen, the small, medium, and large tile sizes were demonstrated and it was revealed that CNN will have one of the first applications that will support new 'platform extensions' of Windows Phone 8, such as large (full-width) tiles.
Internet Explorer 10 was demonstrated too, also with an ability to scale pages to the high definition resolutions that will be found on Windows Phone 8 devices. The refresh button that current Windows Phone users will be familiar with was shown to be re-assignable to other browser functions to suit users' preferences.
One feature that had not been mentioned in Microsoft's press event in June was disclosed in New York today – and that was natively capturing screenshots. Journalists and bloggers have been crying out for this feature, largely since the Chevron project ended. Screen Capture was probably one of the most popular homebrew applications so far. It's good to know that Microsoft are listening to and catering for the people who are telling the rest of the world about its products.
Location Services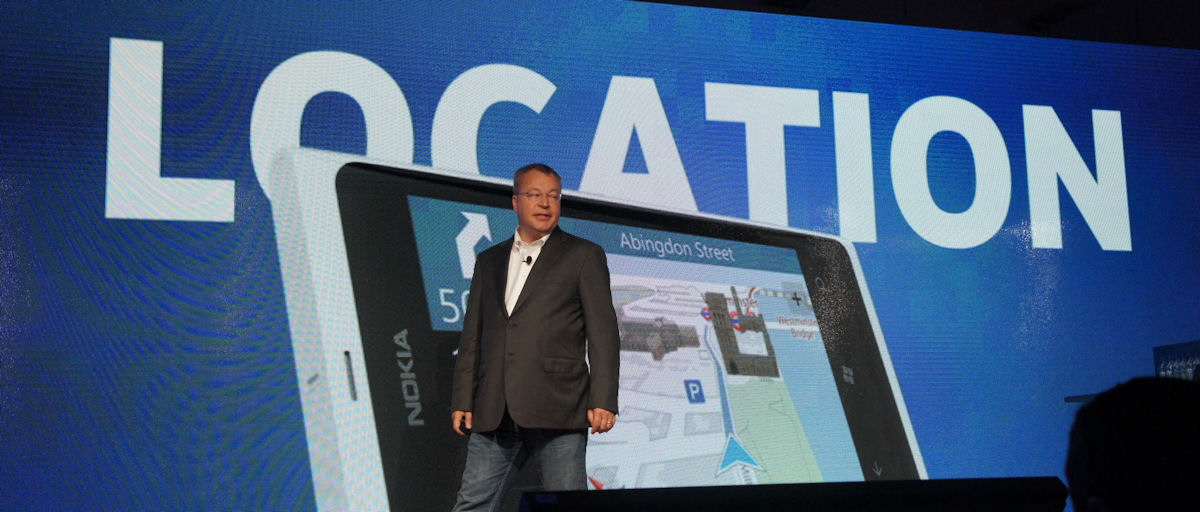 Nokia mapping technology will be added as a core application of Windows Phone 8 and no-longer exclusive to Nokia Lumia devices. Understandably, very little emphasis was placed on this during today's press event. Nevertheless, Nokia mapping is one of Nokia's key strengths, and so it still needs to work on differentiating itself from other Windows Phone OEMs – which it appears to be doing via the Nokia City Lens application.
The Nokia City Lens app was mentioned repeatedly during the event, which was quite telling seeing as the application was taken out of beta this week. So we can see that Nokia is hoping to stay at the cutting edge of location services, not just by providing offline navigation, but also by layering its location knowledge onto augmented reality.
Photography
Throughout the event, representatives from both Nokia and Microsoft, including Jo Harlow and Joe Belfiore, placed a heavy emphasis on the imaging capability, not just of Lumia devices, but for Windows Phone 8 in general. While Nokia is still differentiating itself from other Windows Phone brands via its imaging hardware; it's clear that Microsoft has, by aligning itself with Nokia, inherited a strong photography heritage.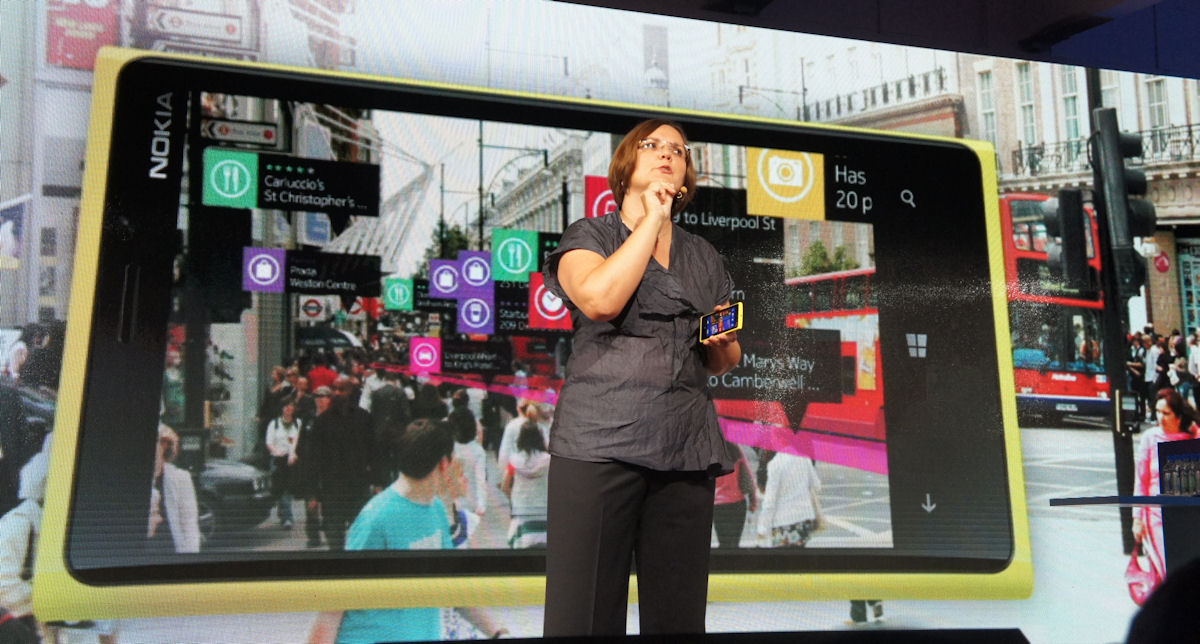 Joe Belfiore demonstrated that the standard camera application now supports pinch to zoom, and as such the overlaid zoom bar has now been removed. Also a flash control has been added to the camera app toolbar.
Most significant of all is the 'lenses' feature. This is Microsoft's terminology for camera plugins. Windows Phone 7 already supports applications that can hook into the camera application, but Windows Phone 8 allows for much deeper integration.
Belfiore demonstrated that 'lenses' are presented as tiles in the camera interface, any of which can either take over image capture, or be used for post-processing.
For example, one of the first third party applications to support the lenses API is CNN iReport, where citizen journalists can capture images and upload them complete with a story attached for CNN editors to assess.
When viewing an image in the Windows Phone 8 photo gallery, the name of the application it was captured with will also be shown. In turn, this will link to reopening the image in that same application to allow for future editing. For example, two dimensional stills from Microsoft's Photosynth application will be shown in the gallery, but tapping on the application link will take you straight into Photosynth were you can zoom and pan around in three dimensions.
Joe Belfiore also confirmed that when photos are uploaded to SkyDrive, their full resolution will be preserved. This is in contrast to Windows Phone 7 which scales photos down to a width of 719 pixels before uploading.
Nokia's Additions
In a platform as heavily prescribed as Windows Phone every OEM, including Nokia, has to work hard to differentiate itself from the competition. Nokia are working to do that with both hardware and software.
Hardware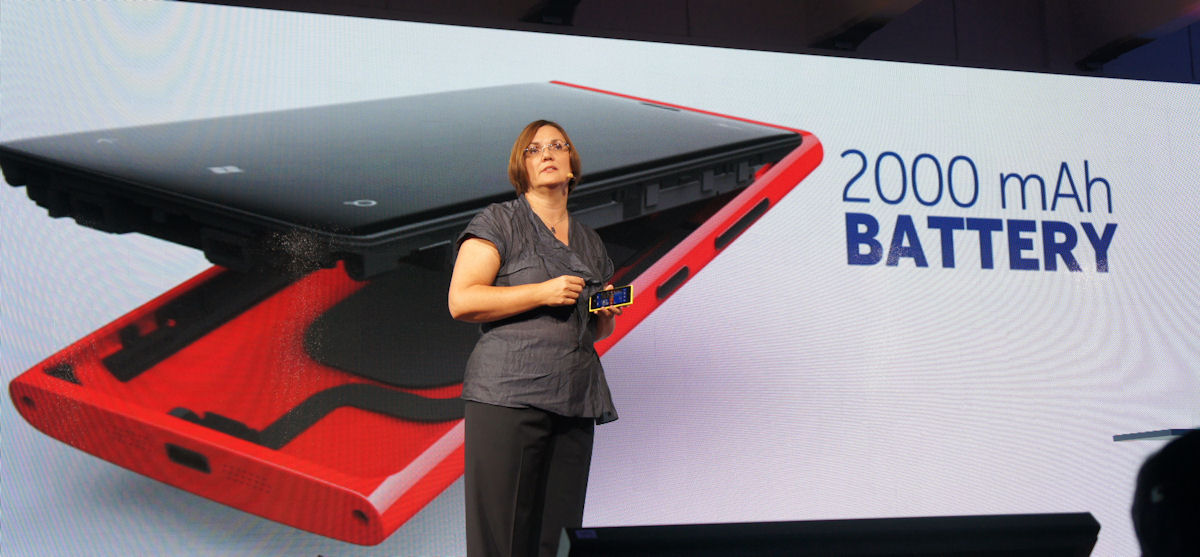 With the Lumia 920 and Lumia 820, Nokia is continuing with the materials and design language established with the Lumia 800. Nokia's Kevin Shields noted that the same slim design has been maintained by not adding a 'camera bump' – which explains the lack of a high-resolution PureView module, as found on the Symbian powered Nokia 808.
As for materials, there are benefits for Nokia to keep on with the polycarbonate body as it provides less of an obstruction to radio frequencies than a metal casing would.
Nokia has also upped its game with its display technology. The panels used in the new Lumia devices are, according to Shields, 2.5 times faster and 25% brighter than the next nearest competing hardware (which was not specified!).
Further to the output of the screen, the input of the touch panel has also been improved. In one of the few demonstrations that went smoothly in today's event, Kevin Shields demonstrated that he could still use the Lumia 920 while wearing skiing mittens thanks to what was only called "Super Sensitive Touch" technology.
In a world where mobile users have had to buy styluses or capacitive tipped gloves to use touchscreen devices, Super Sensitive Touch could be a killer feature.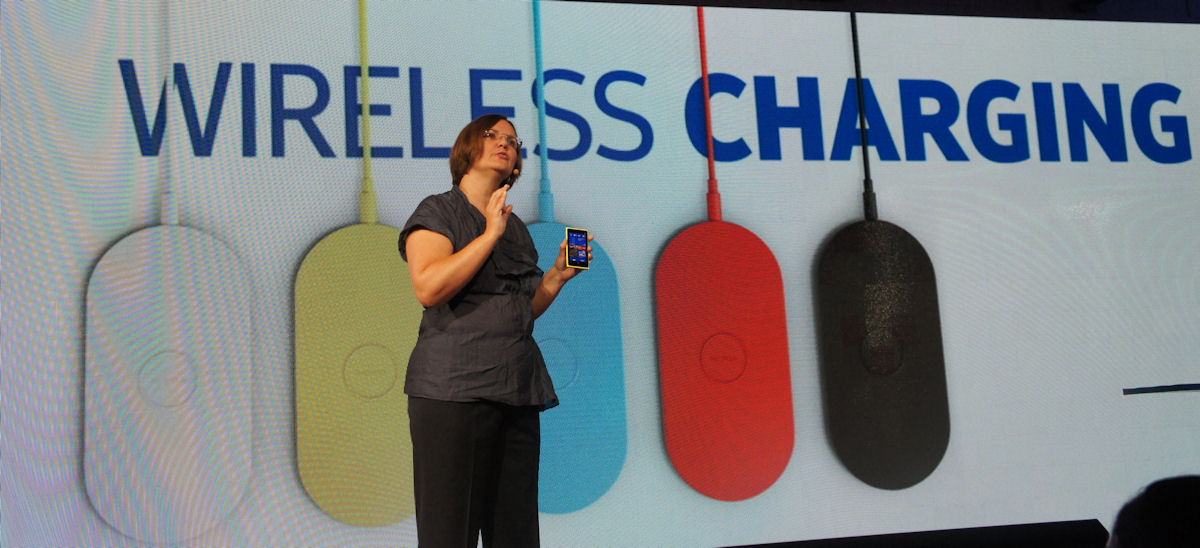 In what will probably be the most headline-catching addition to Nokia's hardware line-up, support for the Qi wireless charging standard has been included in Nokia's new pair of devices. The Lumia 920 has it built-in, and the Lumia 820 will require a specialised back-shell. Furthermore, Nokia's Jo Harlow announced that the company was entering into partnership with companies (including Virgin Atlantic and Coffee Bean) to provide Qi charging plates embedded in tables at public places.
Nokia has clearly taken feedback from users in the design of the Lumia 920. This is shown by the return of the curved glass screen (which was lost in the Lumia 900), and the easily-scratched chrome camera bezel has been changed to a piece of glossy black plastic which is far less likely to show signs of wear and tear.
Nokia has also maintained its innovation in imaging technology thanks to the F2.0 aperture and new optical image stabilisation found in the Lumia 920, which we have written more about here.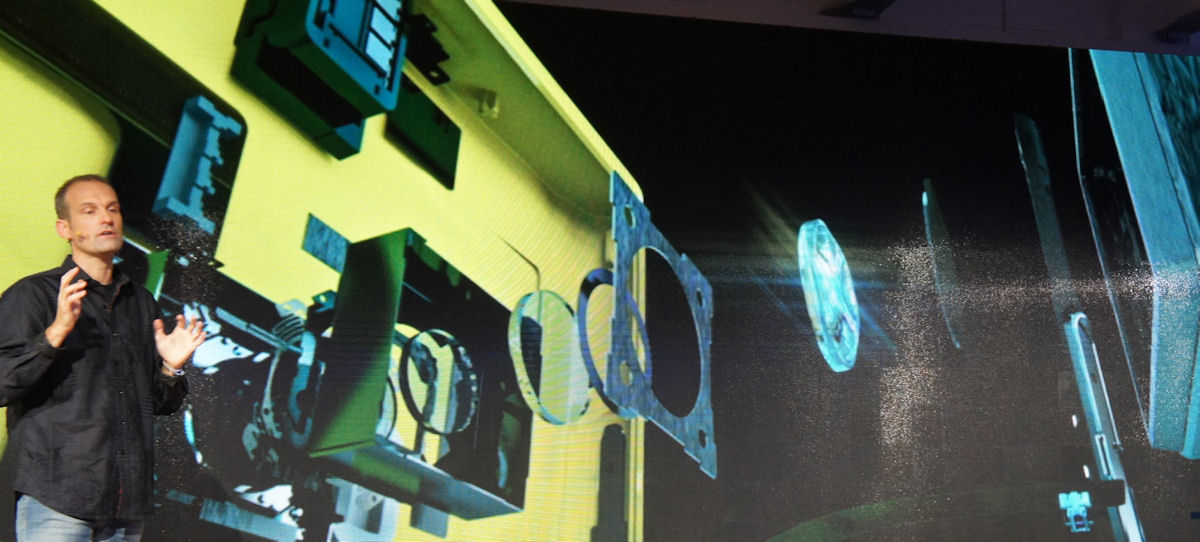 Software
Nokia's software offerings to enhance the Windows Phone 8 experience were modest compared to the hardware innovations. It is expanding the software assets it has already worked on by making Nokia Music available to US users, see our report here, and the augmented reality app, Nokia City Lens, graduated from its beta status earlier this week.
To complement the imaging capabilities of the Lumia 920, Nokia announced two camera 'lenses': Smart Shoot and Cinema Graph.
Smart Shoot's purpose is to grab multiple shots of a scene, thus allowing it to determine transient objects which it then highlights for you, offering you the chance to remove them completely from the resulting photograph.
Meanwhile, Cinema Graph allows you to create seemingly still images with moving elements. It does this by capturing a short video clip, and allowing you to select the areas that you still want to have moving. Additionally you may select computer generated animations (e.g. a flag waving in the breeze) to your shot.