I'd still summarise the 1020's recommended software state for general/casual users as 'keep it on 8.1' because the user experience is so much smoother and faster. But as a AAWP reader you're not a 'general/casual user' and you'll be prepared to endure the odd wait in the name of greater functionality overall.
However, things are not quite that clear-cut - the upgrade does remove a few features, so it's a case of 10 steps forwards and 3 steps back. What's needed, rather than links to old articles stretching back 18 months, is an up to date list showing the pros and cons of each state, i.e. '8.1' or '10 Threshold Release Preview'.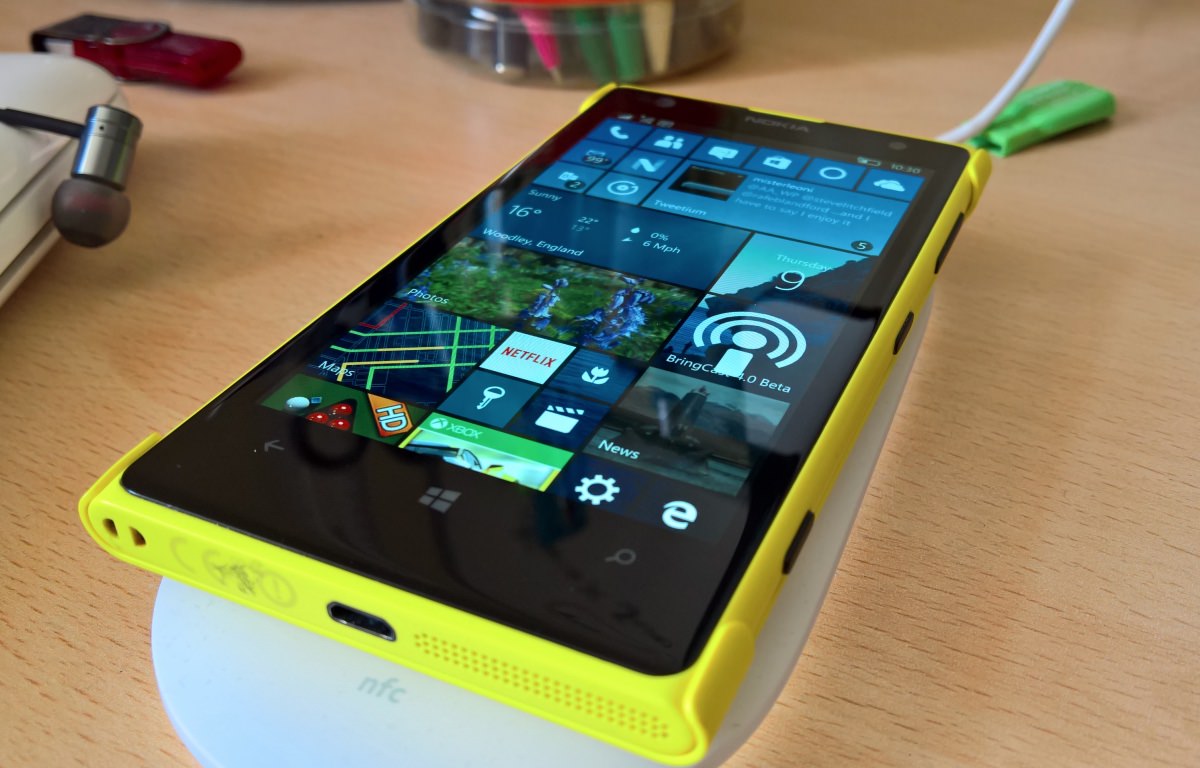 Which is where this feature steps in. After much testing of the classic Lumia 1020 over the last few weeks and with the new Threshold build 10586.338 on board (via the Insiders programme and the Release Preview ring):
__________________
PROS:
runs UWPs, Universal Windows Programs, which are becoming more and more common across the full Windows 10 ecosystem - in theory, dramatically wider choice of serious apps

ability to use Windows 10 Camera for videos with up to 5x zoom and digital stabilisation, on top of the existing OIS (see also the PS. below)

Photos brings in images from all your signed-in Windows 10 devices, access to all from anywhere

Windows 10 Maps has far better traffic data and more of a future than HERE Drive+

Full Office apps rather than the cutdown versions under 8.1

Bluetooth keyboard support

Edge browser is much more compatible and future-proof than the old IE

The cursor 'nudge' control in the keyboard is jolly useful for fine cursor positioning

Better, fuller backups to Microsoft's servers

More applications, more of the UI works in landscape mode as well as portrait

Outlook Mail and Calendar more fully featured than the 8.1 Mail and Calendar apps, and better synced across devices and services

more toggles in the UI for commonly adjusted Settings

better Settings arrangement (i.e. a hierarchy) overall

'more tiles' on the Start screen and adjustable UI and text sizes throughout the phone - really very impressive and something for every eyesight level?
_________________
CONS:

Overall UI is slower, especially swiping away the lockscreen - so much of Windows 10 Mobile is optimised for quad core chipsets and the dual core S4 chipset in the Lumia 1020 struggles

Loss of stereo audio capture support in all applications (Camera, Audio Recorder Pro, etc.) - everything's mono

Glance screen is slightly less capable, in that you can't (at least, not yet) tie in Weather as your 'peek' display

Battery life will be less - when used as a main device, expect to top-up by tea time (or use the CC-3066 Qi charging shell for frequent on-desk top-ups, as I do!)

If you relied on a specific feature in HERE Maps/Drive/Transit, then note that these apps have an uncertain future on 8.1 and Windows 10 Mobile Threshold. They'll probably keep working, but updates may stop, etc.
_______________
Regular readers may notice that some of the 'cons' which applied in the past are no longer there. This is because all the Windows 10 core applications have seen multiple updates since the last time I wrote about all this. For example:
you can now reframe a photo from Photos using "Lumia Camera' and the reframed version is now shown afterwards without having to step back to the Photos thumbnails and then forwards again after a refresh.
also, the Wordflow keyboard is now much smoother - there's still a very slight delay after swiping around before the word appears in the text field, but it's not a showstopper anymore.
Maps now has a next-gen navigation interface that takes lots of cues from HERE Drive - which is a good thing.
You may spot that the 'pros' list is now a lot longer than the 'cons' one, even for the Lumia 1020. Of course, a slower user experience, poorer battery life and loss of stereo audio capture are all big factors and each might be a showstopper to some people. So don't take the size of the lists as the main criteria in deciding where your own Lumia 1020 ends up.
For me, the loss of stereo was a biggie - I do like to shoot small gigs and events, but in fairness only a couple of times a year and I do have other devices which can capture stereo audio. So, with a slightly heavy heart (and with the aforementioned sense of urgency in mind) I bit the bullet and have been living with the latest Windows 10 Mobile OS (Threshold) build and latest application updates - and, so far at least, I haven't gone back.
As to why we should bother with the 1020 still? Well, I still can't get past its Xenon flash, huge sensor and genuine lossless zoom - each of these are arguably equalled in various ways by other flagships using other techniques, but the 1020 is still the grand-daddy that has it all built-in and physical, rather than using processing or multi-shot techniques.
Your continued comments welcome - I know that many of you have been on the same journey as me - do you agree that the tipping point for the 1020 may now be 'just' in favour of 'Windows 10' or are the cons just too big to ignore for you?
PS. The possibility of using digital stabilisation when shooting video with the Lumia 1020 (i.e. on top of OIS) was too tempting for me not to check out, so I shot a quick video test, embedded below. Comments welcome - do the extra zoom factors and stabilisation impress you at all?
PPS. I'm sure there are other factors, not least the 1020's screen and battery now being a bit old and worn out. Ahem.