There's an element of time sensitivity too, since (one by one) the old Silverlight-based Windows Phone 8.1 applications and services are being pulled or support is ceasing. Which is fair enough, given that many of them date from three or four years ago and that most haven't been updated since 2015.
I commented in a recent tutorial:
The time has come, it really has. If you've been putting off that upgrade from Windows Phone 8.1 to Windows 10 Mobile then perhaps the imminent cessation of Skype support (it still works as I write this, but is in its last days on WP8.1) and the also imminent demise of the BBC iPlayer application and Facebook Messenger (on 8.1) will prompt you to leap into action. It may be that your phone is now so old (2012/2013) that it's not supported for the upgrade, but for anything newer then now is the time.
Which is fine for AAWP readers, technologically-aware users, and so forth, and I stand by my advice. Much as it pains me to admit it though, not all Windows Phone users read AAWP (I know, it's a shock!) When Microsoft released the official Windows 10 Mobile upgrade a year ago, it was the softest of launches possible, with just the availability of an Upgrade Advisor in the Store and a few sites like AAWP spreading the news. Clearly Microsoft knew at the time that Windows 10 Mobile was still not 'baked'.
However, with the Creators Update arriving imminently (it's about to arrive in 'Release Preview' form for Insiders, so we're only weeks away), along with significantly better performance, there is absolutely no reason why Microsoft shouldn't tell people about the new OS version and UWP app and service possibilities.
Interestingly, Windows Central had an editorial recently suggesting that Microsoft should just put the upgrade in the update channel and 'push' Windows 10 Mobile on all compatible hardware, but this is surely going a step too far. Even though all data and most apps will be retained, and even though overall functionality will be enhanced, there's simply far too much different to upgrade someone without quite a bit of explanation and some checks that all will go well.
Which is why Microsoft should go down the email route, leverage its database of user accounts, apply a little filtering and AI, targetting people who may well still be on Windows Phone 8.1. We're talking up to a hundred million people*, so it's not a trivial mailshot, but it's definitely worth doing, even if the result is perhaps just 10 million extra people bumped from the old (and less supported every day) Windows Phone 8.1 to W10M and all the modern UWP apps from Microsoft and third parties.
* from my own analysis here, mind you, the real pool of compatible/upgradeable handsets is nearer 30 million.
Suggested wording might be:
___________________________________________
Dear valued Windows Phone user
Thanks for bearing with us while we re-imagine Windows on phones over the last two years. After eighteen months of public testing in the Insiders programme and with feedback from users of new devices, we're now happy with Windows 10 Mobile, our new interface and 'Universal' apps platform. This is not only the same OS as on your Windows desktop or laptop, but runs exactly the same Store applications. We're calling it the Creators Update and it's available today for everyone as a free upgrade.
To upgrade your compatible Windows Phone*, just download the Upgrade Advisor utility from the Store here and follow the suggested screen taps.
All your data and most of your applications are safe during this upgrade, don't worry. There are a small handful of Windows Phone 8.1 applications which don't work at all under Windows 10 Mobile**, but there are far more new UWP apps for the latter which take the functionality of your phone far beyond what it could do originally, especially in terms of compatibility with 2017 online services.
* see the footnote for the full compatible model list - phones which are not on this list are (sadly) not powerful enough to be upgraded to the new OS.
** see the footnote for a list of the more common applications which won't work fully and which need replacing with UWP applications.
Thanks for sticking with Microsoft and Windows - there's lots more to come in the near future, as we explore new ways of keeping you as productive as possible while on the move, but in the meantime just enjoy Windows 10 Mobile and the full Microsoft experience.
___________________________________________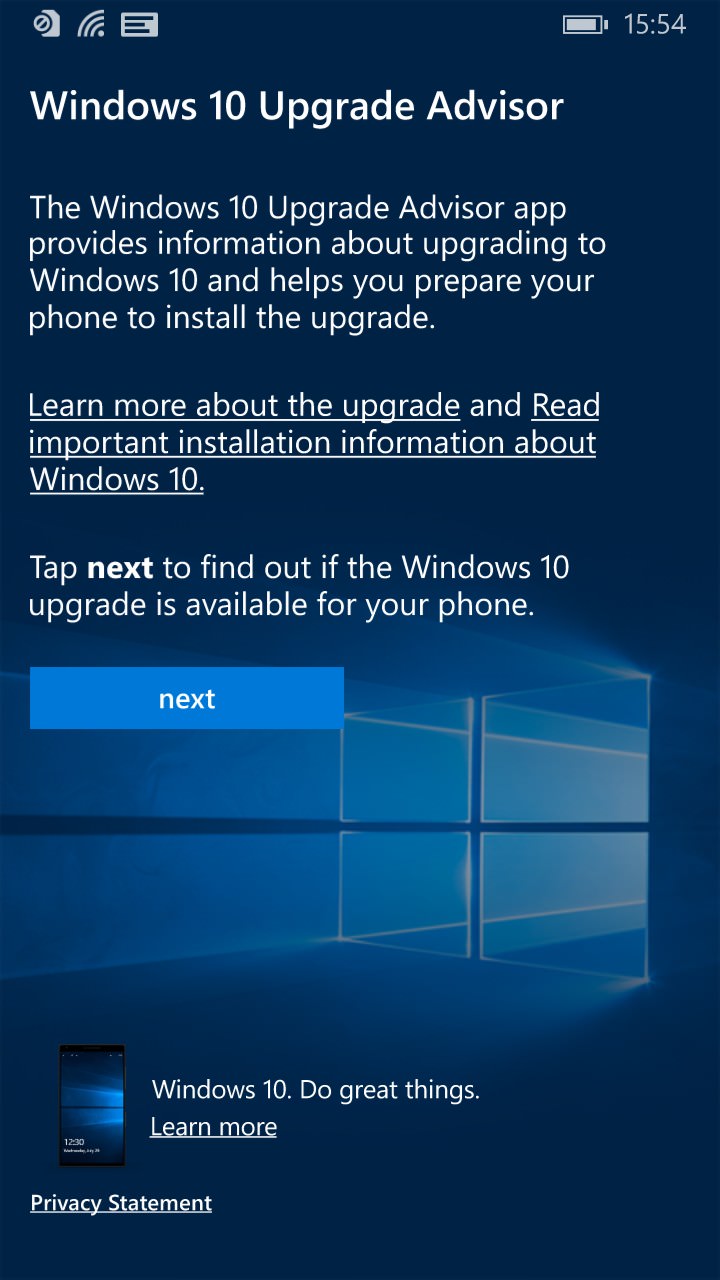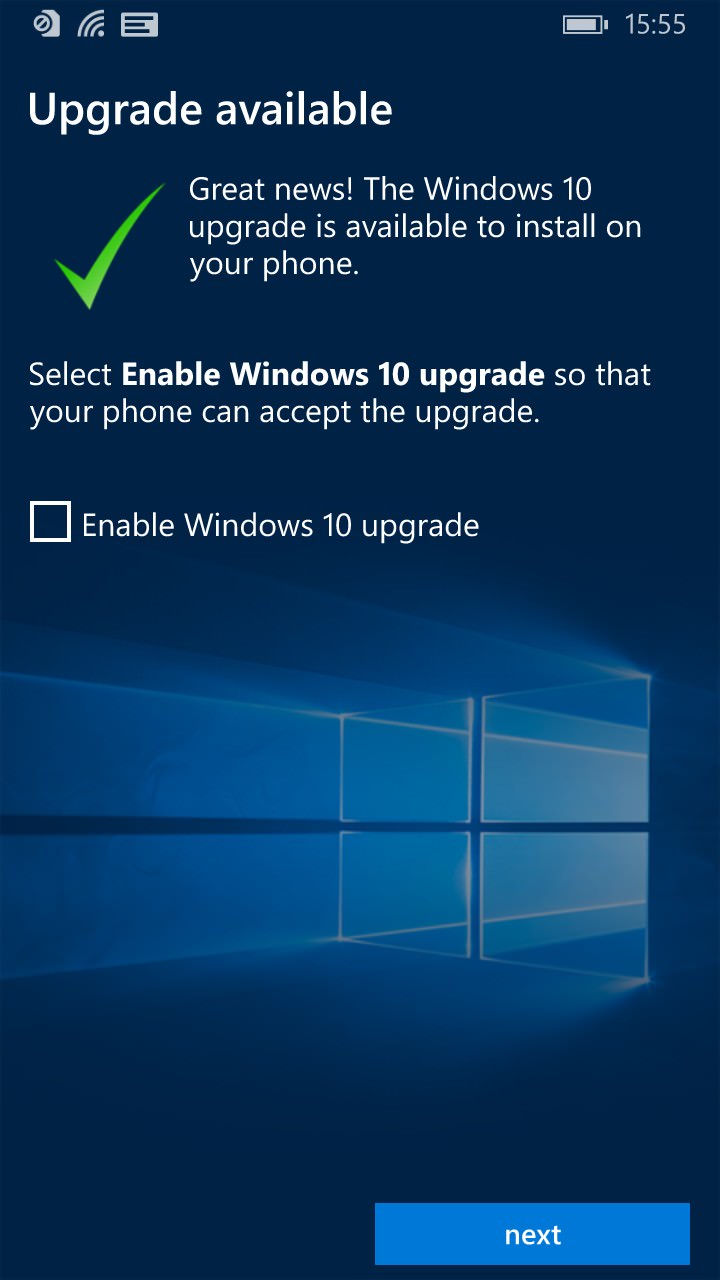 Comments welcome, of course. What would be the downsides of such a targetted email? The big downside is that there would inevitably be some users who would use the utility to upgrade and then find themselves confused by the tweaked interface - by different applications for some core tasks (Outlook/Edge/Groove, etc.), and by finding that some much beloved older application or game doesn't quite work properly under Windows 10 Mobile. I can see how this might generate some support emails and calls.
But then again, there would be a drop in support requests from the larger number of people for whom Windows Phone 8.1 and its applications are starting to let them down - mainly third party services dropping compatibility. I think Microsoft should go for it - and increase the Windows 10 Mobile user base dramatically and usefully in one fell swoop.
In terms of timing, perhaps wait a week or so after the Creators Update (Redstone 2) rolls out to production phones and users that are currently on the Anniversary Update (Redstone) - so that means mid to late April 2017. If this happened, in a month's time we could have 20 million W10M active users and not just seven?
See also my full tutorial on how to upgrade an older, compatible Windows Phone 8.1 device to the new Windows 10 Mobile.
And then there's Microsoft's own video tutorial, which concentrates on the functionality in the upgrade utility: