Nokia and Symbian found the first nuggets in the smartphone goldrush, but insisted on trying to dig it out using a penknife, with Apple and then Google coming along with spades and then bulldozers. Meanwhile, Microsoft somewhat missed the boat, buying up Nokia's latest excavation efforts, but it all got a bit lost in the hustle and bustle. Leaving Google and Android as by far the biggest smartphone OS by installed base and smartphone market share.
Thus Microsoft gains hugely by pitching its apps and services on Android but Google would be investing effort for comparatively little return. It's absolutely true that there are around half a billion people now on Windows 10 and able to run UWP applications, but the vast majority of these people access everything online through the window (pun intended) of their favourite web browser - usually Chrome, Firefox, or (now) Edge. And a web solution proves important to quite a bit of what follows. But it means that a dedicated 'Store app' for something like Google Maps isn't needed, since a user just types maps.google.com and Robert's their father's brother...
Even though quite a bit of your 'stuff' - contacts, email, calendar, photos, locations, and so on, is probably hosted in Microsoft's own ecosystem (OneDrive, Outlook, and so on), there's a strong chance that you have some interest in accessing Google's services at least some of the time - perhaps you have shared content with Android-using friends, perhaps you have a secondary smartphone that runs the OS, or perhaps you simply use Google a lot on your tablet or laptop.
Here then is the best way to accessing all of Google's ecosystem on Windows 10 Mobile:
Gmail
The big one, the moment you start to use Google online you're almost forced into creating a Google account and then you have a Gmail account whether you like it or not. And the thing is that Gmail is actually pretty wonderful, with a superb web interface, unbelievable search speed and useful attachment viewers, plus infinite email archiving, so there's a good chance that you're using Gmail to some degree, whatever smartphone you're currently rocking.
Happily, Google offers complete enough (IMAP) APIs for Gmail that it's trivial for email products and applications to hook in. For Windows 10 Mobile, Outlook Mail happily lets you use Gmail as just another mailbox, complete with folders, with the main discrepancy being that Outlook's 'Set flag' and Gmail's 'star' feature don't seem to equate properly. Not a showstooper though.
Outlook Mail is set up in this way by adding your Google account in the Windows 10 Mobile Settings app, under 'Accounts/Email & App accounts'.
Google Contacts
These are tied into Gmail on the web and you won't be surprised that they're linked here too - once you've added your Google account (see above), all your Google contacts are available in the People application (via the CardDAV standard), along with any other contact sources (e.g. your Microsoft account, Skype, etc.)
Google Calendar
Ditto, it's all part of the Google account integration (via CalDAV), and is accessed through Outlook Calendar as part of the standard apps package.
Google Maps
You don't really need this, arguably, since Windows 10 Maps is excellent these days, but Google does have extra POI in some areas and it's worth having as a reference. Google Maps on other platforms has access to real time traffic data while navigating, and you can get this data on Windows 10 Mobile through various third party Google Maps clients, but not as you drive. Still, the slightly oddly named (but get past this) Maps App Discovery UWP works rather brilliantly on Windows 10, with map, traffic, satellite and many more views, all working with Google's public APIs.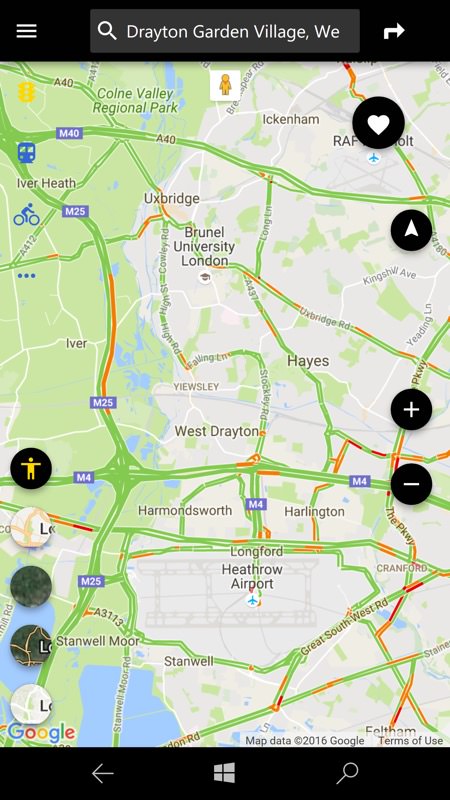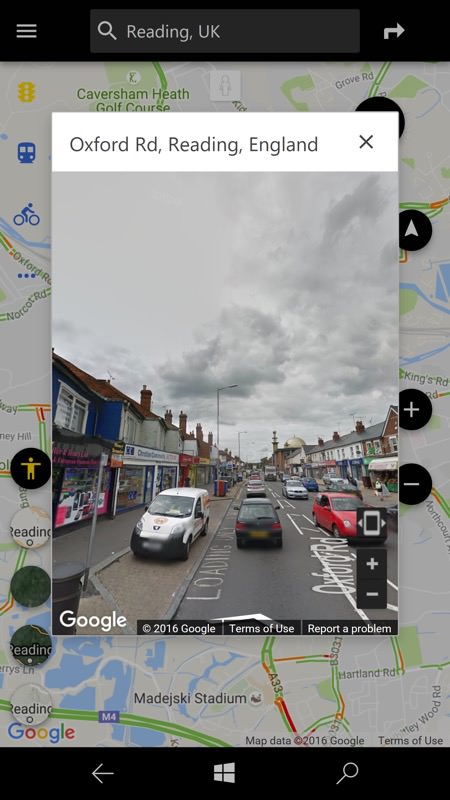 Google Drive
Your best bet is GDrive.NET UWP here, giving more or less a full Drive experience, though in-place editing (as on a desktop class browser) isn't possible - instead, documents are auto-converted to Office formats and edited using the applications on the phone. It works surprisingly well, though you do run the risk of duplicate/local copies of online documents and some confusion. Still, it's Google Drive access and performance is good.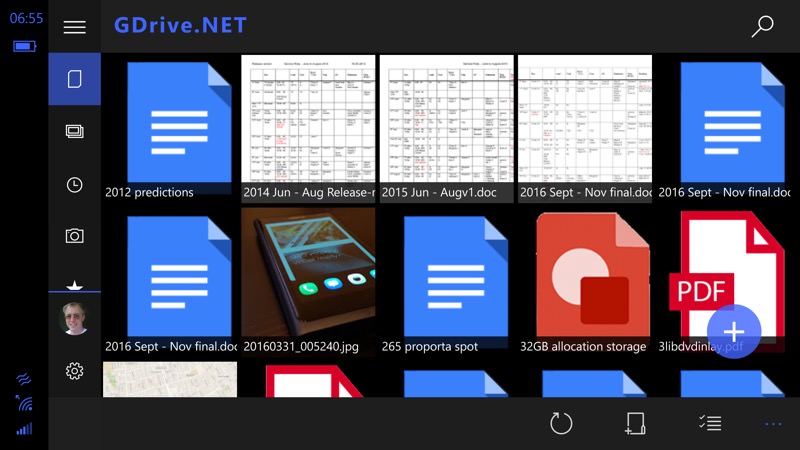 Google Photos
The improvements in HTML5 web capability with the Edge browser under Windows 10 Mobile mean that you can - almost, and especially in landscape mode - use this as you would in a desktop browser on a laptop. But performance is slow and multi-touch zooming is very glitchy, even under the Creators Update. So again your best bet is GDrive.NET UWP here, giving native Windows 10 access to the photos, with (again) local editing and sharing after an initial download from Google's servers. It's not quite Google Photos on (say) Android, but it's not a million miles off, and acceptable given the totally different ecosystem.
Google+
There's no application solution that works, as far as I know, but it doesn't really matter since Google+ is so much based on HTML5, making it a doddle in the Edge browser. Pin plus.google.com to your Start screen and you're off and running. Edge remembers your profile and aside from the presence of the URL bar it looks as though you're in a dedicated application. See my complete walkthrough. Performance is slower than in an app, admittedly, but Google+ is certainly not off limits.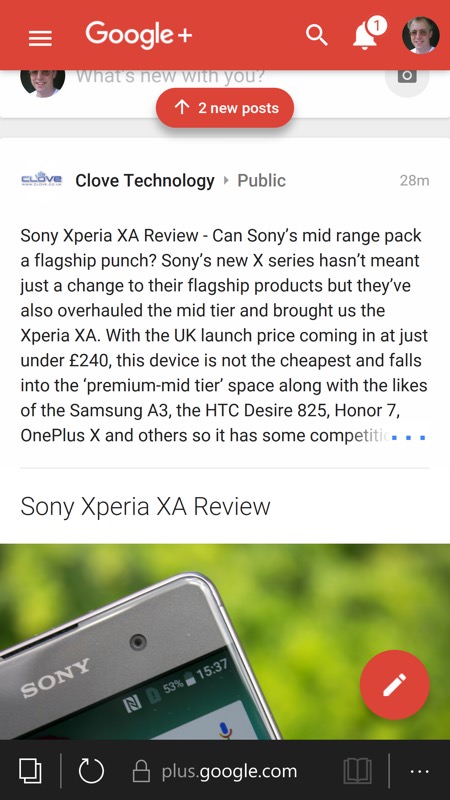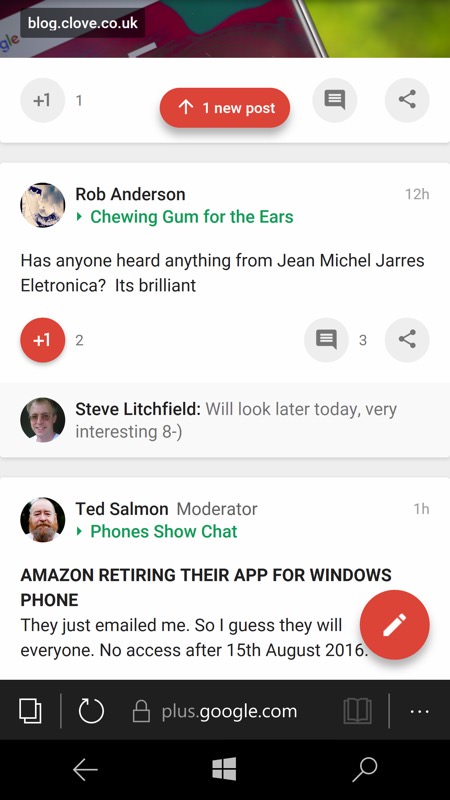 YouTube
The saga of the 'official' Microsoft YouTube client is the stuff of legend, with Google complaining at each stage that Microsoft was giving access without letting the adverts play and forcing Microsoft to back pedal right back to a simple shell for the YouTube mobile site (which, admittedly, still works pretty well).
Happily, there are over half a dozen third party YouTube clients for Windows Phone and Windows 10 Mobile. Perfect Tube is normally my 'go to' UWP application for Windows 10 Mobile, but myTube! is also highly recommended, plus TubeCast Pro if you also want to factor in casting YouTube URLs to various streaming devices like Google Chromecast.
Hangouts
HTML5 comes to our rescue here again, with hangouts.google.com working (partially) under the Edge browser on Windows 10 Mobile. You can partake of all your various Hangouts chat threads, interacting normally (aside from occasional full page reloads), though this stops short of allowing Hangouts voice or video calls. Understandably. Oh, and you won't get Hangouts notifications outside of this page.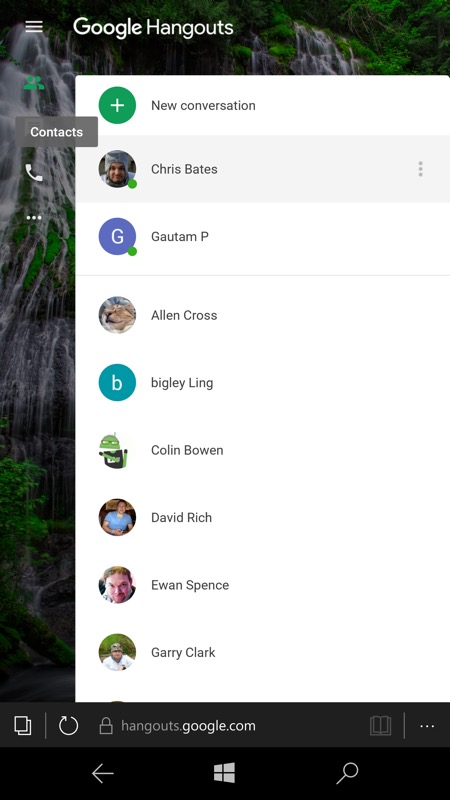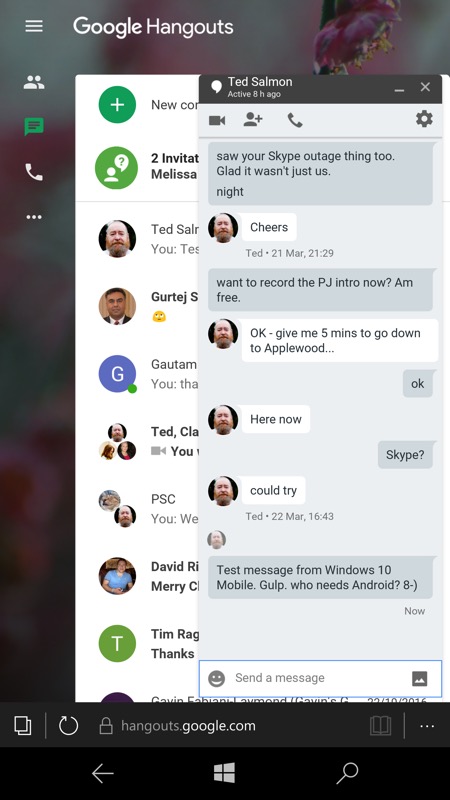 Chrome
Understandably, this isn't available on Windows 10 Mobile, it's resolutely desktop-only under Windows. But then it's just a browser at the end of the day, and Edge is arguably just as standards-compliant (if perhaps not allowed for by all web sites yet). Where you lose out slightly is in keeping in sync with your Chrome set-up on the desktop, i.e. bookmarks, history and saved usernames and passwords.
However, it's trivial to import Chrome bookmarks into Edge as 'Favourites'. Open Edge on your desktop PC, click '…' and then click Settings, and then on 'Import favorites from another browser'. Select 'Chrome' and then click 'Import'. Through the wonders of modern cross-device sync (through your Microsoft account), these favourites will shortly appear in Edge on any smartphones on which you're also signed into this account.
Google Keep
For the third time in this feature, the HTML5 capability of Edge and Google's love of the same tech to power its web properties mean that keep.google.com works very well. The interface is remarkably similar to Keep on Android, i.e. in an application, though understandably quite a bit slower. And yet again, it's convenient to 'Pin this page to Start' for quick access on the phone here.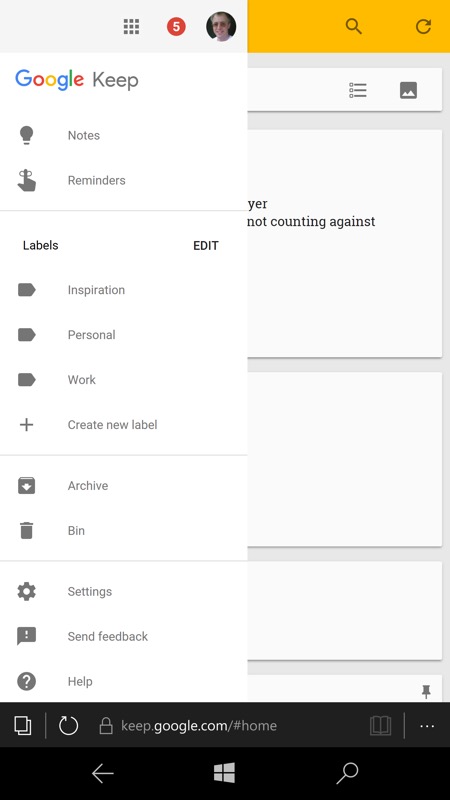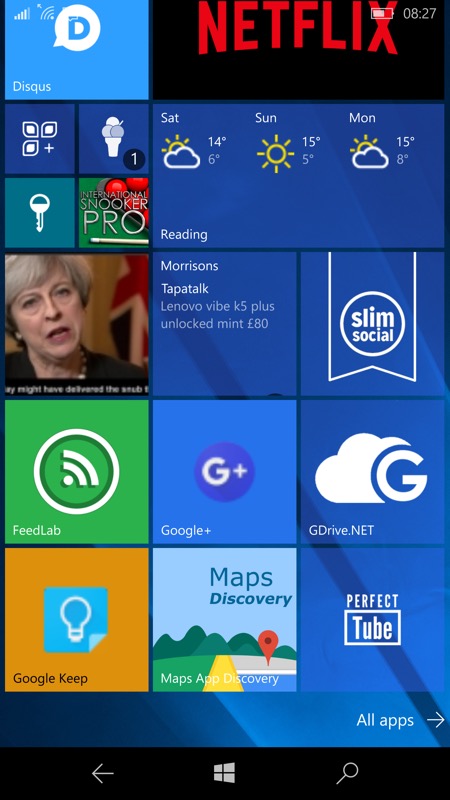 ---
In summary, it's not wholly accurate to say that "you can't get Google services on Windows 10 Mobile". The majority of Google properties are fully usable, sometimes through Windows own APIs, sometimes through the Edge browser and sometimes through third party applications. I'll admit that the patchwork nature of how all this happens is a little inconsistent, but you can minimise any confusion with some well placed Start screen tiles as your way 'in'.
Considering that these are all services from a completely different ecosystem*, I was pleasantly surprised by how much was possible.
*Of course, even more of the Microsoft services are available on Android, but that's a story for another day!