* OK, so the 'third ecosystem' is only in contention numbers-wise if you include Windows 10 on all form factors, but it remains the only real alternative to the big two on mobile: iOS and Android.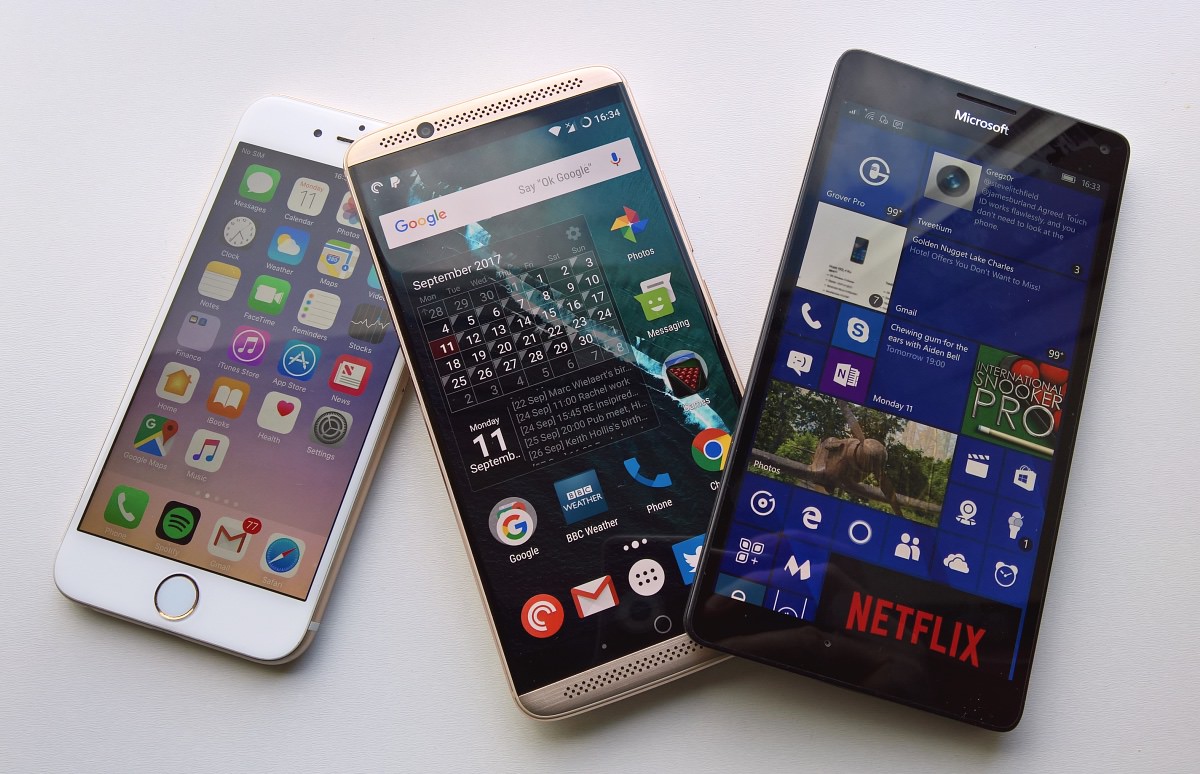 Writer's note: A casual perusal of the table below will show that there are many more positives than negatives for Windows 10 Mobile, with slightly more negatives than positives for the iPhone and iOS. Although I've tried to be objective below, I can't help a little personal subjectivity creeping in - this is AAWP, after all! And comments welcome below, as usual...
iOS
Android
Windows 10 Mobile
Pros/
advantages

Good security, locked down Store and installation
Wide application selection

Network of Apple Stores worldwide for support and repair
Ostensibly simple 'what you see is what you get' UI
Good update prospects, typically 4 years per handset after launch

Wide application selection

Home screen interactive widgets
microSD support (hardware dependent)
Very wide variety of hardware to choose from
MTP file access to desktops (in theory, doesn't always work IME)
Standard USB Type C or microUSB compatibility




Good security, locked down Store and installation
UWP applications across form factors
Plug and play file compatibility with Windows PCs
Start screen and resizeable live tiles
Virtual controls that can be dismissed completely for more visible content
Continuum and external genuine secondary displays
Monthly security and patch updates for two years per OS branch, so typically 3 to 4 years per handset after launch
microSD support
Standard USB Type C compatibility
All phones ever made have 3.5mm audio out(!)

Cons/
disadvantages

No microSD expansion
Proprietary USB port (Lightning)
Many models have no 3.5mm audio out, so dongles needed
No back control in the UI, 'back' function varies according to application [gesture being added for iOS 11]
Locked down file system, access only through very specific mechanisms
Static and inflexible app launcher/home-screen

Security worries if not kept 100% bang up to date or used properly (latest big scare here)
Along similar lines, only flagships tend to get significant updates, and even then only for 18 months at most
Lots of UI variations, all slightly different

Vertical/boutique applications, social apps, all missing or less capable
Very poor games and VR selections
Very limited hardware selection for new handsets
I think I've been pretty fair above. I've not been shy about both praising and criticising the iPhone and iOS in the past, while I use several Android smartphones in my day to day rotation/life. But however much I try and look away from Windows 10 Mobile and - specifically - the Lumia 950 XL, I keep getting sucked back by the pros/advantages above.
They're genuine advantages too, as I've mentioned several times. Yet they're undermined by the three cons/disadvantages, which are - if I'm honest - rather huge. The app selection most people could work around (see our directories of general apps and imaging/reading apps), with third party applications and services accessed though the Edge browser. But the last one - limited new hardware is probably the killer in the wider phone market. Lumias are out of stock almost everywhere by now, the promised third party budget phones are still just IFA demo material and the Alcatel IDOL 4 Pro is effectively the only game in town, at least when wanting to pick up something brand new.
For AAWP old hands, of course, you're wondering whether to stick with your trusty Lumia 830/930/950/whatever - in which case hopefully this table has given you food for thought. The grass isn't always greener on the other side, you see.
PS. Of course, I've admitted that one of my daily phones runs Android and Rafe runs an iPhone as one of his main devices. I don't think that makes us hypocrites, it just means that we have at least one too many SIM cards! It does emphasise the usefulness of buying something running another OS, even mid-range and even second-hand, just to play with it and gain perspective on what you might gain and what you might lose in switching from Windows 10 Mobile!