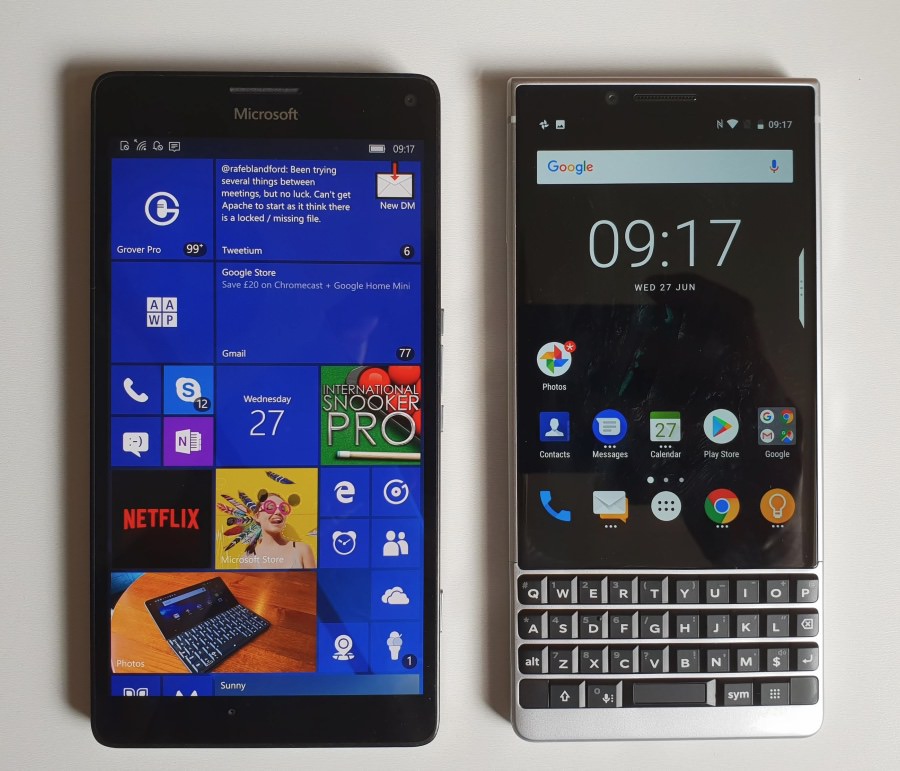 Conveniently, the two handsets are almost identical in size, with the 950 XL being slightly wider because of the larger display. And with Windows 10 Mobile falling further into 'business' territory in terms of its core strengths (so Office, Outlook, To-Do, UWP apps, etc.) the parallels with Blackberry's 'take' on Android are too strong to be ignored.
As usual, I've shaded in green an obvious 'win' for either device. Any row where a winner would be totally subjective is left uncoloured. Or, where all devices are utterly excellent but in different ways, I've given each a 'green'(!)
Microsoft Lumia 950 XL
Blackberry KEY2
Date first available

November 2015

June 2018
Current price, availability
No longer officially for sale, though it's often on clearance prices if you're lucky and at outrageous profiteering prices due to rarity (if you're not!)
From £579 inc VAT
Dimensions, form factor, weight

152 x 78 x 8mm, plastic chassis and replaceable backs (plastic/leather/wood etc, from Mozo, as modelled here!), 165g, bezels are comparatively small

151 x 72 x 8mm, aluminium chassis and rubberised plastic back. Slightly narrower than the Lumia and definitely easier to hold. Similar weight, at 168g.

Includes a 35 key backlit QWERTY keyboard - of course! A unique selling point in today's phone world.

Durability
No specific durability metrics, though the fact that the back comes off will help enormously for water damage, i.e. taking out battery and cards immediately, drying out the internals, and generally taking everything apart. I'm old-school here! Damage to the back or corners is trivial through replacement of the rear, but the screen's exposed, of course.

No specific durability metrics, and the design is sealed, so DIY drying out will be tricky, should the KEY2 take a tumble into liquid. Although you might think that a keyboarded design would be hard to make waterproof, there's clearly a membrane underneath, so why not make this water resistant?

Operating system, interface
Windows 10 Mobile, officially updated to W10 Fall Creators Update (Autumn 2017). Dismissable virtual controls, as needed, for more content on display.
Android 8.1, physical/capacitive controls, so no means of getting more content on the relatively small screen, sadly.
Display

5.7" AMOLED (1440p at 16:9 aspect ratio), Gorilla Glass 4, ClearBlack Display polarisers help with outdoor contrast, excellent viewing angles

Glance screen available (in various colours) for always-on time, day and notification icons, plus some detailed info from a specified app.

Screen area is approximately 90 cm2


4.5" LCD 1080p screen at 3:2 aspect ratio, contrast is less than class-leading and distinctly poor off-axis when outdoors, making it hard to use as a camera viewfinder. Display has to be kept at 100% all the time in order for colours to satisfy.

Screen area is approximately 60cm2

Connectivity
LTE, NFC (all uses),

Wi-Fi b/g/n/ac, integral wifi tethering, Bluetooth 4.2 (all uses). Continuum connectivity to use a wide range of first and third party ecosystem-wide UWP apps on external displays as secondary screen, independent of the phone display. Both direct and (charging) 'dock' connections are supported.




LTE, NFC (all uses), Wi-Fi b/g/n/ac, integral wifi tethering, Bluetooth 5.0 (all uses)

Processor, performance
Snapdragon 810 chipset with 'liquid cooling', 3GB RAM, faster than it's ever been now on the Fall Creators Update. Multi tasking and app resumption is excellent though, at least with all the modern UWP apps.

Snapdragon 660 with 6GB RAM. Pretty fast at most things, though occasional stutters and lag (a fraction of a second). Still faster than the Lumia most of the time, mind you!
Capacity
32GB internal storage,

microSD expansion

64/128GB internal storage, microSD expansion.

Imaging (stills)

20MP PureView f/1.9 1/2.4" BSI sensor, Phase Detection auto-focus, dedicated camera shutter button and launch key, genuine 2x lossless digital zoom (in 8MP oversampled mode), OIS. 'Rich Capture' produces customisable HDR shots and 'dynamic flash', with triple LED illumination. Outstanding shots in most light conditions, with just focussing issues in low light as an Achilles heel.

5MP front camera

Dual 12MP cameras, f/1.8 and f/2.6, the latter a 2x telephoto lens, PDAF, no stabilisation. Dual LED flash. Various camera software modes. Results are generally good, though it can't match the 950 XL - anyone up for a shootout?

8MP front camera

Imaging (video)

Up to 4K,

optically (and optionally digitally) stabilised, with 'Best photo' 8MP grabbing built-in, plus Rich Recording and HAAC microphones for high quality, gig-level stereo capture.

Up to 4K video capture, in theory digitally stabilised, though it doesn't work at all in the current firmware. Audio quality excellent, also in stereo. Haven't tested gig-level audio yet though.
Music and Multimedia
(speakers)

Decent mono speaker, loud but lacking in bass and depth, though you can trade volume for fidelity in a simple tweak.

Decent mono speaker at the bottom, though nothing special. No system EQ adjustments.

Music
(headphones)


Standard 3.5mm headphone jack with good DAC plus system equaliser, Bluetooth A2DP+AptX, so plenty of options.

Standard 3.5mm headphone jack with average DAC, Bluetooth A2DP only, this not being a media-centric device.



Navigation

Windows 10 Maps is now pretty mature and impressive, especially once you've learned the live traffic routine trick! Offline maps save a lot of data bandwidth for those on tight contracts or pay-as-you-go, though we haven't had map updates for over a year - sob!


Google Maps is now the gold standard in phone navigation, tied in with many other Google services and offering true real time navigation around traffic issues. Maps can be cached and maintained offline as needed.



Cortana/Voice
Cortana is now mature and well integrated, and with a surprising degree of 'assistance', though it doesn't seem to be improving at the same rate as Google Assistant.
Google Assistant is baked in and works well.
Battery, life
Removable 3300mAh battery, and the ability to change cells gets the win here in my book, the 950 XL easily gets through a day (on latest firmware), plus USB Type C Power Delivery (up to 3A) and Qi wireless charging built-in helps the win.

Sealed 3500 mAh battery, easily gets through a day. Fast charging compatible with Quick Charge 3.0 via USB Type C port. No Qi wireless charging is a miss though, given the plastic back.
Cloud aids
Windows Photos syncs across all signed-in devices, subject to your OneDrive tariff (stingy, unless you have Office 365), should you have thousands of images in the system. Plus Windows 10 backs all your media, application data and settings to a separate backup folder system, tariff-free on OneDrive. OneNote, Office, and more all use OneDrive seamlessly.
Google Photos, once installed, does a great job of organising photos and syncing them across all signed-in phones and tablets. You lose some quality in the free backup service, but it's not obvious - plus you can pay for full quality uploads if needed. Google Drive and Google office applications work well online.
Biometrics

Iris recognition ('Windows Hello') works well unless you wear varifocals(!), but takes at least a second (including an animation!) in real world use, even with the latest OS update. There's also no official way of paying in shops using this, at least not in most of the world.

Fingerprint sensor (on the front, in the space bar) works well, and very fast. Works well with Android Pay.



Applications and ecosystem
Windows 10 Mobile now has just about every mainstream app covered. Often third party clients are involved, mind you, there are companies who hate Microsoft so much that they simply refuse to write for Windows, it seems. And 'long tail' niche/boutique apps are hard to find for real world companies and shops.

Most things can be done via Edge, though

'not quite' as slickly

as with dedicated applications. Maybe the

new PWA era

will

save the day

?

The might of Google and Android's app ecosystem - everything is available and almost always in first party form.

Upgrades and future
Windows 10 Mobile will be updated monthly through 2018, of course, as part of the global Windows 10 ecosystem, albeit on the 'feature2' mobile SKU for 'Fall Creators Update'. End of updates is scheduled for December 2019.
Blackberry's update record on Android is pretty good, expect two years of updates, possibly into 2020.

Summary
Adding up the green 'wins' (for fun?!) gives the two and a half year old Lumia 950 XL 8 to the new KEY2's 7. Which sounds like a fix, but it rather reflects than the KEY2 isn't class-leading in any area except activities which use the excellent little keyboard. Having a keyboard always available, with no loss of screen content, is very liberating, and a unique selling point in 2018. So having various other components and features compromised is perhaps a price worth paying if you're into communications and productivity.
For those that are interested, I'll have my video review of the KEY2 up by the end of the week, plus I can also do an imaging shootout with the Lumia if there's enough interest here on AAWP.
Comments welcome! Does the KEY2 appeal to you as a jumping off point from Windows 10 Mobile into Android?