But first, a little catch-up:
February 2017: The Planet Computers Gemini is launched on Indiegogo, a crowd-funding site.
Two weeks of stand-by time / 12 hours of talk time
Fully tactile keyboard - recognised as the smallest keyboard for finger touch typing
Measure: 17.1 cm x 8.0 cm x 1.35 cm
5.7" colour hi-res ultra-wide touch screen
Wifi & WiFi+4G mobile options
Weight: 300g
Dual side mounted speakers
Dual USB-C connectors to connect to keyboards, external screens, mice, charging cables as needed and many more.
Integrated Voice Assist button
February 2018: I get my first, exclusive video hands-on and deliver an early verdict:
And here we are, a year on. Quite a few people reading this may already have picked one of these up. The immediate target market that comes to mind is anyone who fixated (as I did) back in the 2000s on the Nokia Communicator series. Or indeed anyone whose idea of working on the move is actually working and not playing games or watching YouTube. Which may well fit into the typical Windows 10 Mobile power user demographic.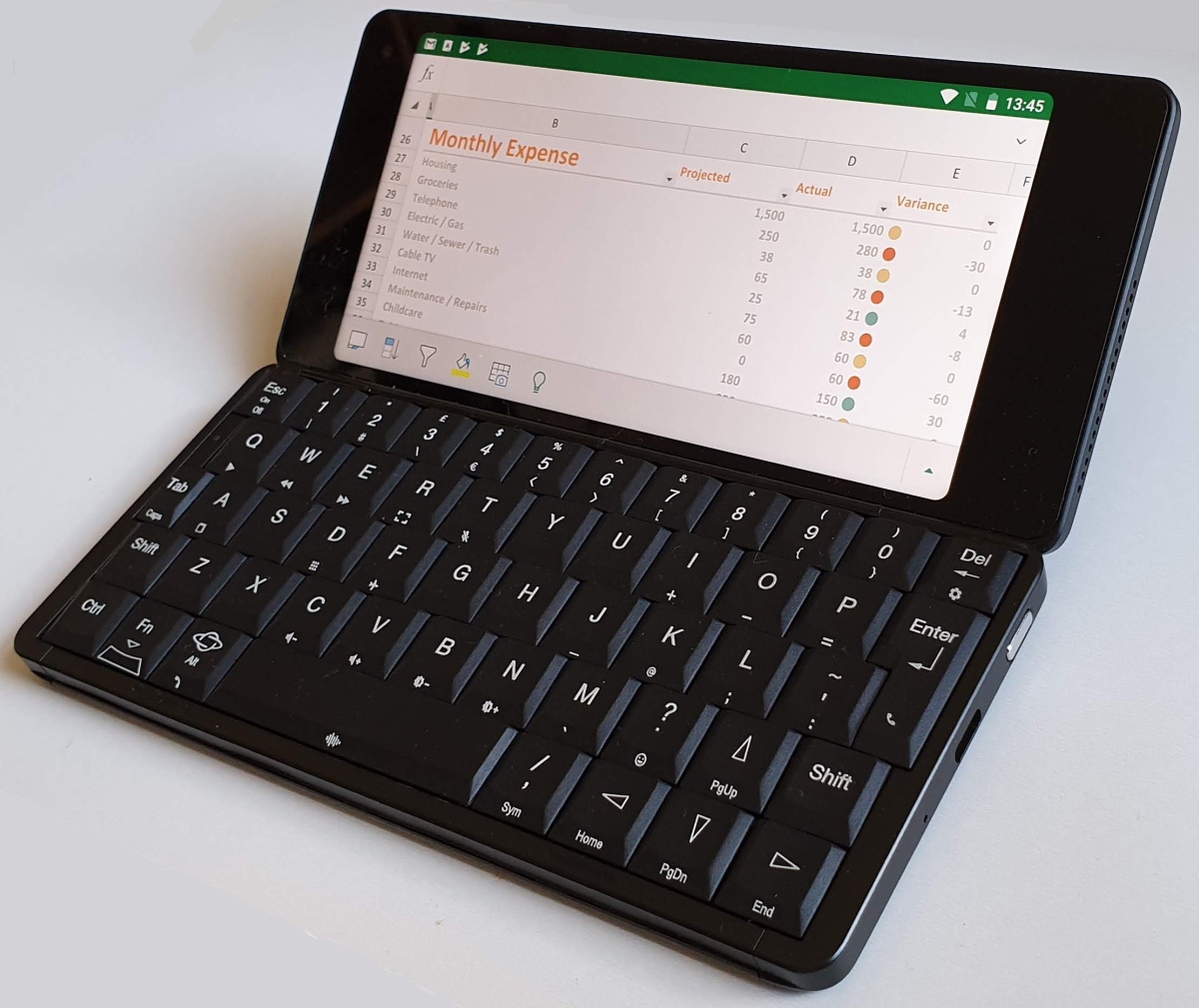 The Gemini started on Android 7, but it has become more mature with Android 8, with the main changes being:
Much more up to date, a year's worth of under the hood Android OS improvements, including security, of course - the Gemini currently has the December 2018 security patches from Google. (Yes, that should be a bit more recent, but don't worry too much, you're not going to be side-installing dodgy Android APK hacks, are you?)


You can now move the Android Navigation bar from the right hand side of the screen to the left hand side or even (as shown in these photos) remove it altogether.

There is a new keyboard shortcut to rotate the screen:Shift + Fn + R will rotate the screen from landscape to portrait and vice versa.

The new (Planet) App Bar is now scrollable. You can scroll left and right and extend the number of app icons in the app bar.

The second in the list is the most significant in how the Gemini feels, I contend. With no space-wasting navigation controls on-screen most of the time, there's more room for content, plus with no 'sideways' phone controls, it feels a lot more as if you're using a miniaturised laptop. How does one get around with no controls, I hear you ask? Well, the 'Esc' key always goes 'back', plus Fn+d always takes you to the 'Desktop' (i.e. home screen). There's also Fn+a to go straight to the apps drawer. Very straightforward and these soon become second nature. So, overall, removing the controls is a huge win.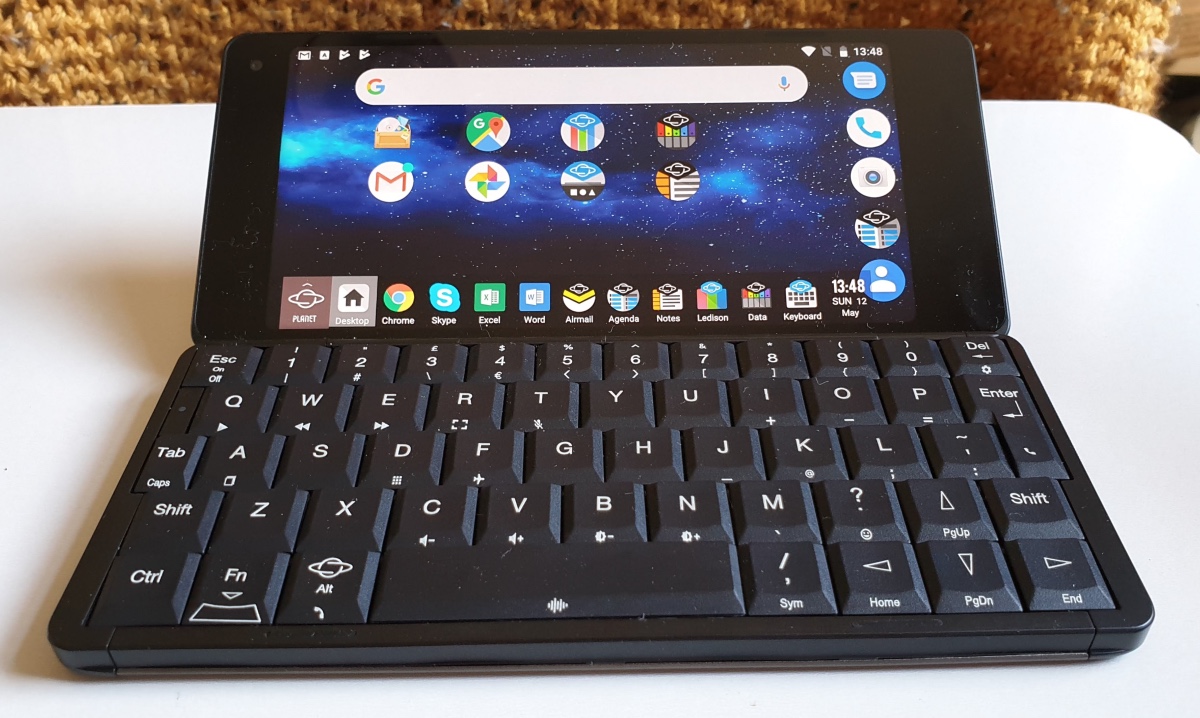 If you're wondering about the keyboard itself. Modelled on the old Psion Series 5 from the 1990s (by the original Psion designer), it's really quite excellent now. Early models had a 'keymat' underneath which was too stiff (if I recall), but my review model had had its keymat replaced and (touch wood) every key is just about perfect now. The force needed to type at speed does make the screen and hinge mechanism flex with the impact, something which didn't happen with the old Psions, but it's fine on the whole here. The benefit of the hinge on the Gemini is that the device is far slimmer than the Psion - and still very clever, handle this and you'll spend the first ten minutes opening and closing it while watching from all angles!

The most controversial part of the Gemini, in a sea of monoblock smartphones in 2019, is the clamshell form factor, of course, meaning that when it's closed, you can't see the display. (Yes, the other way of doing QWERTY is how the Nokia N97/E7 (and N950) did it, with a sliding and tilting display - and that too is coming to Android later this year.)
In most cases though, the only things you really need to do with the clamshell closed are taking phone calls and making them/talking to the Google Assistant. The former is helped by a series of LEDs which you can customise according to caller (so you know when it's your partner, for example) and by twin earpieces/microphones (so you can take the call either way up). The latter is done with a multifunction button on the phone's bottom/right edge (e.g. "Call Steve Litchfield mobile").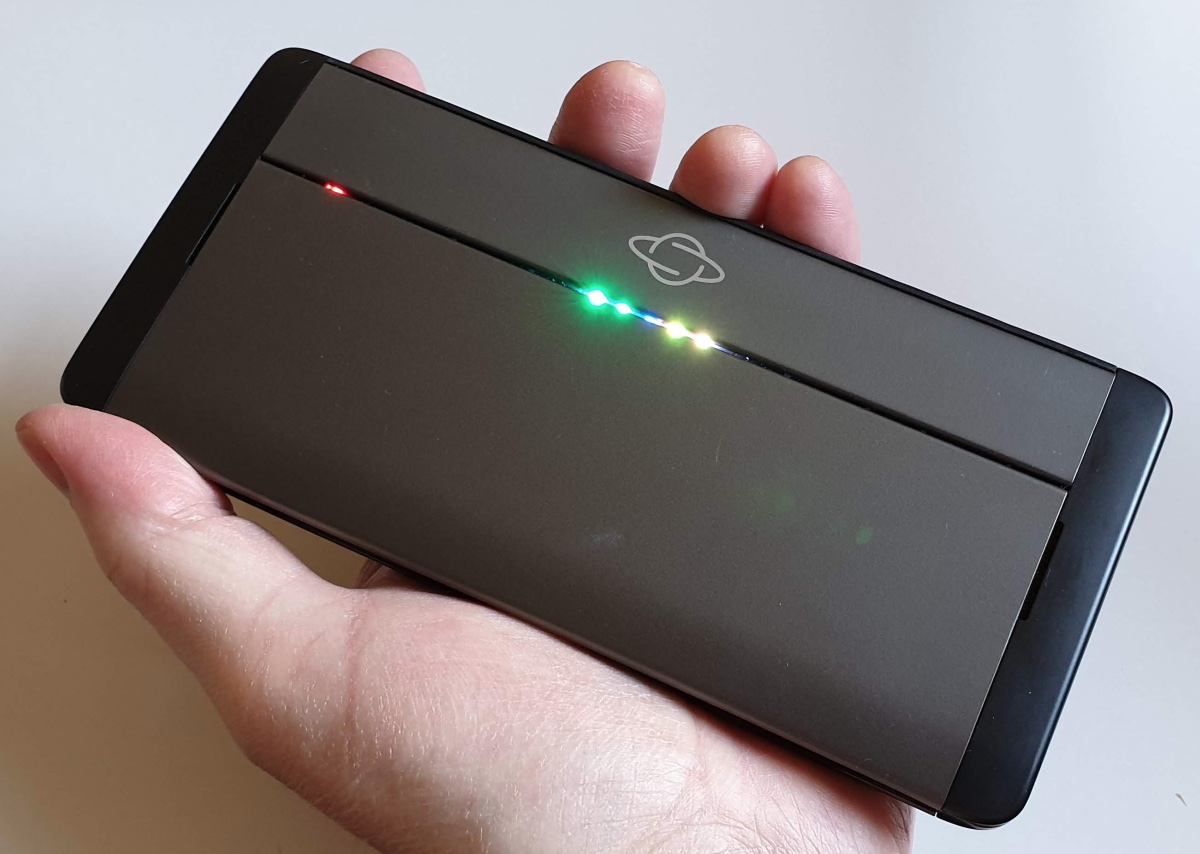 For most actions though - email, Office (Word and Excel both shown in this article), PIM, social status, music control, you'll have the Gemini open and then you have the full touchscreen (now effectively larger because of the lack of navigation controls) and keyboard. Most of these apps work well with the stretched landscape screen, but there are some exceptions. For example Twitter is hard to use because it's optimised for portrait and so you only see one tweet at a time!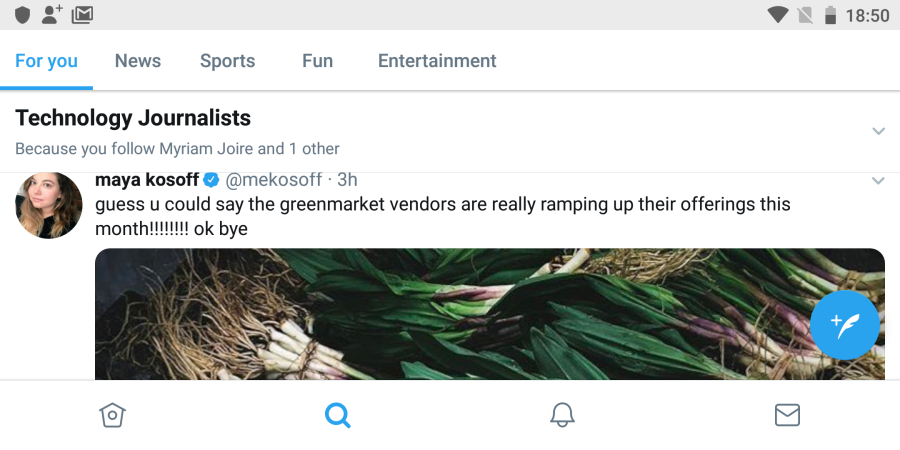 You can also rule out many games and 'leisure' apps. But no matter, the Gemini is all about getting things done and its core app selection (including clones of the old Psion Agenda and Data apps - old timers rejoice!) works really well within the landscape clamshell system.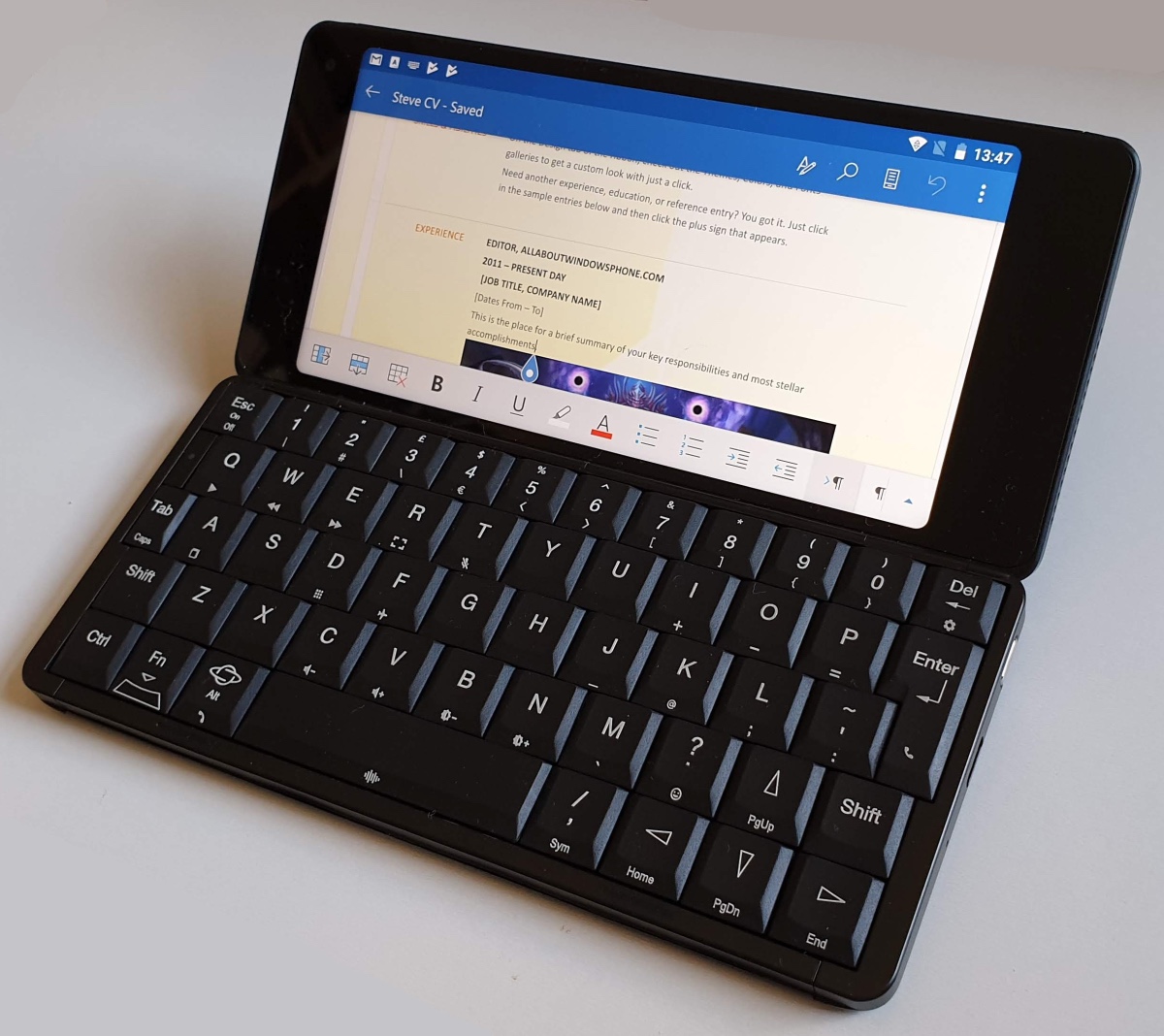 Every device has its compromises, of course, and the Gemini has more than most because of the unusual form factor. The lack of any waterproofing is an obvious one - plus the 1080p LCD display used isn't Samsung/Microsoft/Nokia grade and so requires mainly indoor use (but this is fine). There's no NFC (for Google Pay, etc.) and no biometrics (for one tap access into secure apps, or just to unlock the Gemini without needing a password or PIN). Finally, the keyboard isn't backlit, which makes typing awkward in really dark conditions.
Finally, there's no external camera, though you can retrofit one, as shown here - though don't expect too much in terms of imaging specs. The internal camera works very well for Skype (and similar) use though: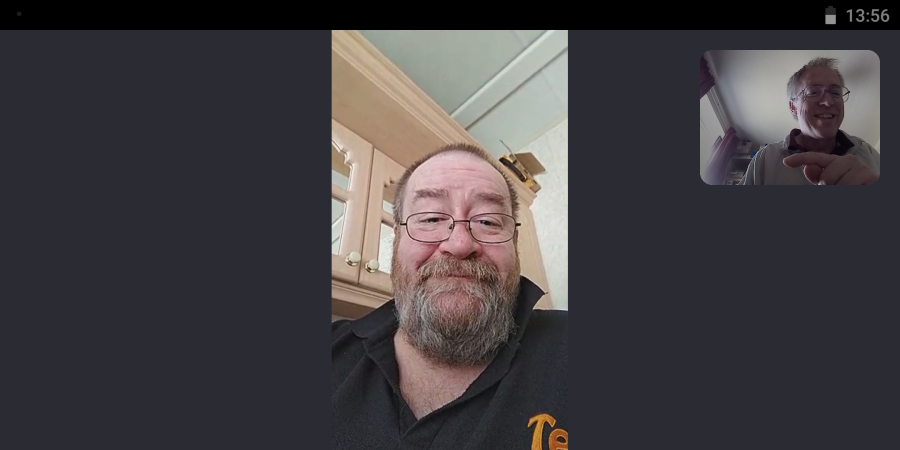 This isn't an attempt at a full review, but rather trying to highlight the Gemini's status in terms of the new interface tweaks, applications and purpose. The initial £250 or so Indiegogo crowd funded price has crept up over the last year to the best part of £600 now in the UK, which is a lot for the specs - you're paying for 'niche' with a capital 'N'. But if I was heading out on a three hour train journey then I'd love to use this to take notes and get thoughts down, catch up with emails, and so on. My personal phone use revolves a little too much around media - capturing and consuming it - to make the Gemini my personal day to day phone, but it's certainly an attractive and unusual option in today's world and the Gemini has plenty of fans.
Although I'm not sure I could recommend buying at the full price for readers here, if you can pick a Gemini up second hand for under £300 then it's definitely worth a play. You get a genuinely usable micro-laptop (hey, you can even boot it into Linux!), with twin USB Type C and flash disk support, a fully open file system, and a lot more. Most of that will appeal to AAS readers, while full compatibility with all of Microsoft's services and applications will appeal to AAWP folk.
Well done to Planet for (eventually) getting the Android 8 update out for their current communicator - the tweaks raise the device's possibilities, in my opinion, and I really enjoyed (and will continue enjoying, until Rafe wants it back!) my last few days with the newly updated (and reset) Gemini.
Comments welcome. Does a QWERTY clamshell still appeal in 2019? Have you tried the Gemini and what did you think? Does this OS update to give full screen use change its standing in your opinion?
PS. Bonus link: back in November 2018, Planet Computers also launched the Cosmo, effectively the Gemini mark II - this is scheduled to appear in production form later in 2019.