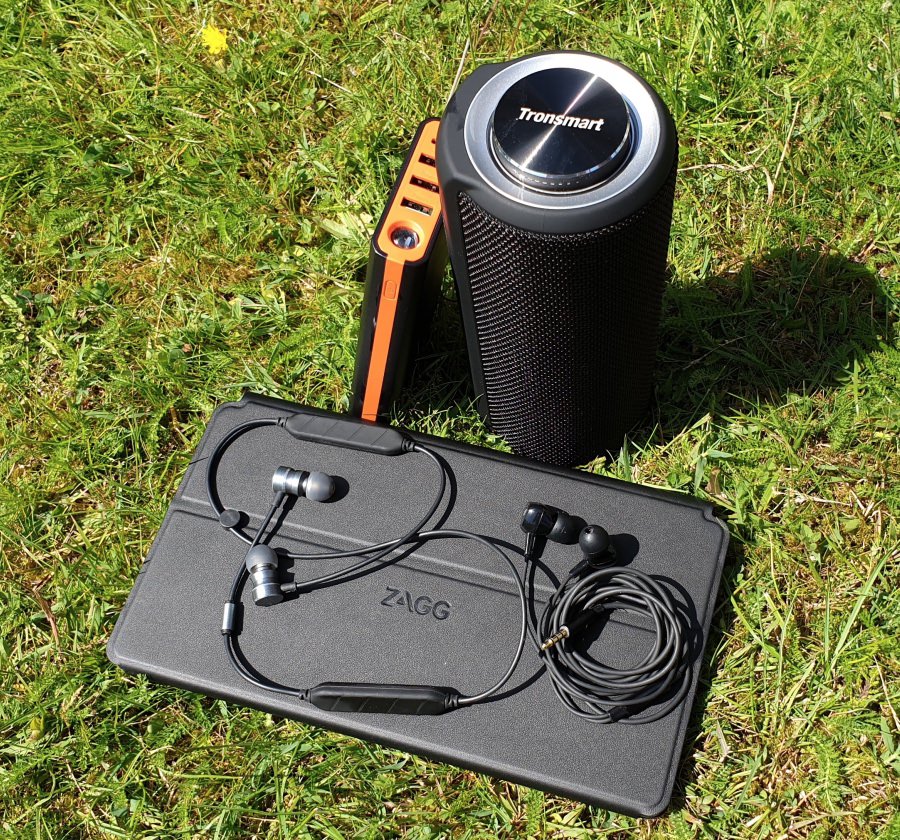 1. Power Bank
Power banks have improved steadily over the last five years, but my pick is still one from early 2018 - it's my work horse and the most flexible on the market. EasyAcc's Megacharge D20 has four outputs, two inputs, quick charging facilities for both, plus a really bright LED torch/floodlight. It's the gadget that does everything! From my review:



Power banks, despite what you might think, each have their own quirks and USPs, along with a balance of size and capacity over design and weight - and this MegaCharge D20 is just about perfect. Its capacity is high enough to recharge even the hungriest smartphone well over four times (even allowing for transfer inefficiencies), or you can charge up to four family gadgets at once and keep everyone going on a busy day out (cables permitting - even iPhones!)

Then, when there's a power cut or when you're hiking or camping and phone LED flashes just aren't enough, you've got the power LED floodlight here to rely on. The exact duration of this when the D20 is fully charged is quoted as 'over 100 hours', implying that it's so long that even the manufacturers haven't bothered to count or time it. Impressive.

It's not the cheapest 20000 mAh power bank out there, but I believe it's the best.
Read on in my full AAWP review.
2. Keyboard
Using a Bluetooth keyboard with your smartphone as a makeshift laptop may seem a bit of a cobbled together solution - but when it's done right and well then the experience is surprisingly good. And jaw-droppingly portable. Under half the size of a Surface Go and around a tenth the price, the ZAGG Flex Universal is my pick and has pride of place in my briefcase. Caught needing to write 500 words on something on the train home? This comes out and works very well indeed. From my review:
The ZAGG Flex is also 'lappable' in that the magnet-strengthened structure and rigid panels make it rock solid on the lap, i.e. you don't need a table, which is normally the case with many other (side) folding designs.

This being a full six row keyboard, there's room for loads of extra control keys, not least of which are two Bluetooth controls (so that you can keep two devices regularly paired and switch between them as needed), a 'Home' key (which doesn't work under W10M), a 'Recent apps' key (which does work, though it's somewhat pot luck as to what you select since the animated cycling through applications is lightning fast!), 'Lock' and 'Keyboard' keys (not really used in this context) and then media control and volume keys, which all work perfectly on both Windows 10 Mobile and Android.

Key travel is excellent, at around 3mm, and each key has its own microswitch. So, although the keys aren't quite full size (I estimate about 90%), they're easily close enough that you'll type at full speed. I estimate that they're close to the keyboard on the Surface Go...
Read on in my full AAWP review.
3. Wired audio
Most, though not now all, smartphone and gadgets in my life, have a 3.5mm audio jack. But you've got to have great headphones to plug into it. Small, discreet and yet superb sound. Pretty much describing the mid-priced but not mid-perfoming Monoprice Triple XXX. From my review:
The biggest complaint I have with lesser headphones in this £20-£100 price range is that the low end isn't low enough and the high end isn't high enough (proving my hearing isn't totally destroyed after a lifetime of rock music!) So, typically, you get kick drums which sound like someone hitting a piece of cardboard and bass guitar which is enough inaudible or which sounds too punchy. And cymbals which have precisely zero shimmer.

This isn't the case with the Triple XXX headset - bass guitar notes are velvety and you can imagine the player's fingers caressing the strings and bringing out nuances. The kick drum is low and meaty and sounds like it's right next to you. And the highs are decent (though not perfect), with plenty of crispness where needed.

The biggest compliment I can pay these headphones is that they sound like they cost £100, when in fact they cost half that. Highly recommended if you have decently high quality music files and want wired music from any decent music-toting smartphone (i.e. those with a 3.5mm audio jack!) - I tested against the IDOL 4 Pro, Lumia 950 XL and Samsung Galaxy S9+.

Part of the value for money must come from the no-frills packaging and presentation and I'm all for this. Who needs a fancy box, set of leaflets, etc? Although this wouldn't necessarily stand out on the shelf in a High Street shop, word of mouth online (like this!) should be enough for this - as with other Monoprice products, the brand is certainly now on my radar.
Read on in my full AAWP review.
4. Wireless audio
Bluetooth headphones have been a thing since about 2010, of course, but they've taken on extra impetus since Apple started dropping the 3.5mm audio jack in 2016. Since then, we've had a bazillion designs, including individual 'buds', but I have high standards in terms of reliability, battery life and audio quality. My pick is the ROCKJAW T5 Ultra Connect 'conjoined' headphones. From my review:
Overall, it's hard to fault the T5 Ultra Connect: the audio quality, the number of tip/fit options, the Type C charging, the excellent battery life. It's a modern and all-encompassing audio-on-the-move solution and it's been my go-to wireless headphones for three months.
Read on in my full AAWP review.
5. Wireless speaker
Music doesn't always have to be private. Or perhaps you're alone in your house or hotel room? Bluetooth speakers have been coming on for half a decade now, with the volume, quality and battery life increasing year on year. And with my most recent review/pick here, the Tronsmart T6 Plus, the best Bluetooth speaker also includes analogue master control, Type C charging and USB-A power bank output. Amazing. From my review:



I realise that I've reviewed numerous power banks and Bluetooth speakers over the years, but I genuinely believe that each new arrival raises the bar. Here in terms of interface and flexibility. Comparing the T6 Plus to a Bluetooth speaker from even 2015 is like comparing a Ferrari to a Fiesta! And, as with each new leap forward, the new model replaces the old in my briefcase that goes everywhere with me. The T6 Plus is my new 'go to' mobile sound station. Highly recommended.