Review:
T5 Ultra Connect Bluetooth heaphones
Score:
85%
Buy Link | Download / Information Link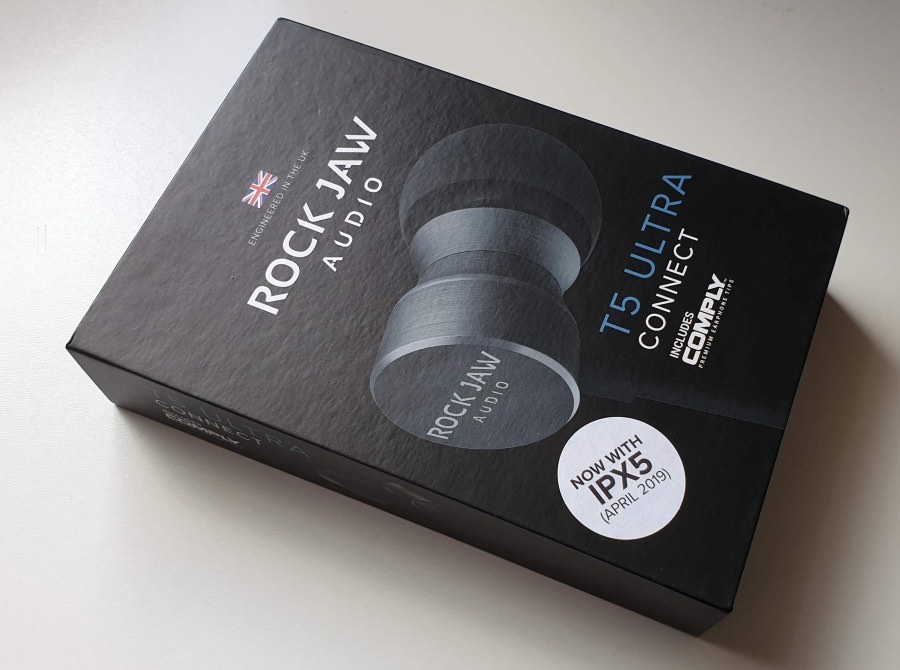 One thing you do get at this price point is attention to detail in the packaging. You'll get an idea from the shots here - premium materials, with gatefold marketing shots...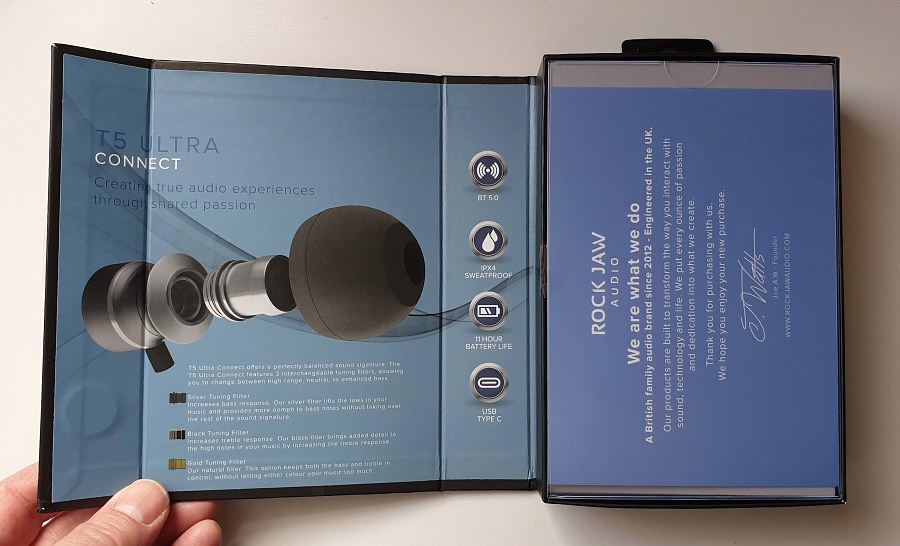 ...and then a foam insert presentation of the T5 kit. And you do get options, as shown below, with three sizes of silicone sleeves, three pairs of COMPLY memory foam sleeves (one preinstalled, two others in a plastic bag hidden away underneath), and three sets of what ROCKJAW calls 'tuning filters':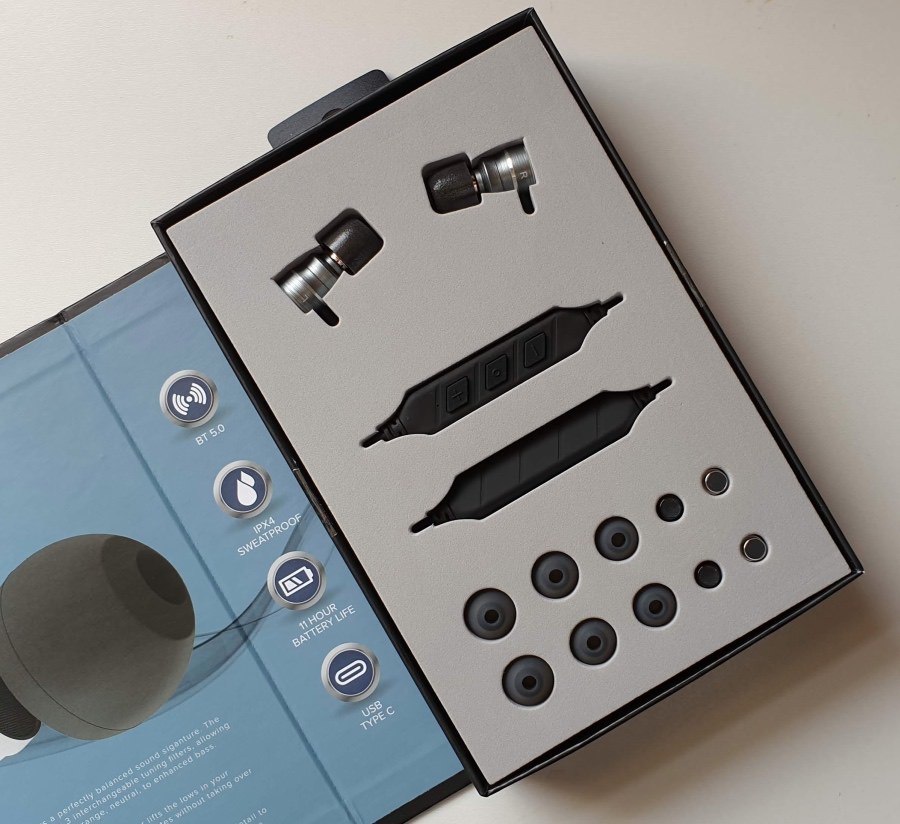 As I commented on ROCKJAW's Alfa Genus v2 headphones several years ago, the tuning filters are:
...different barrels with different acoustic properties. The silver set that are supplied fitted are just that - cylinders, and pass the raw sound through unimpeded, but the gold set have a 'ported' (i.e. baffled) design plus foam, designed to reduce bass and provide an even EQ. While the black set have a more complex set of obstacles to the sound, in theory reducing bass more and let the ear pick up more 'details'.
I wanted unimpeded access to the sound from the T5's drivers, so I went with the silver 'filters' for the purposes of this review - though I guess it's nice to have the choice of audio baffling. And again shows how the T5 is more of a 'kit', a 'system', than simply a pair of Bluetooth headphones.
I left on the COMPLY sleeves for obvious reasons - they provide a perfect acoustic seal in any shaped ear canal. You rotate them through your fingers to compress the foam, then insert the thinner 'tube' into each ear, then hold the earphones in place for a few seconds while the memory foam expands again.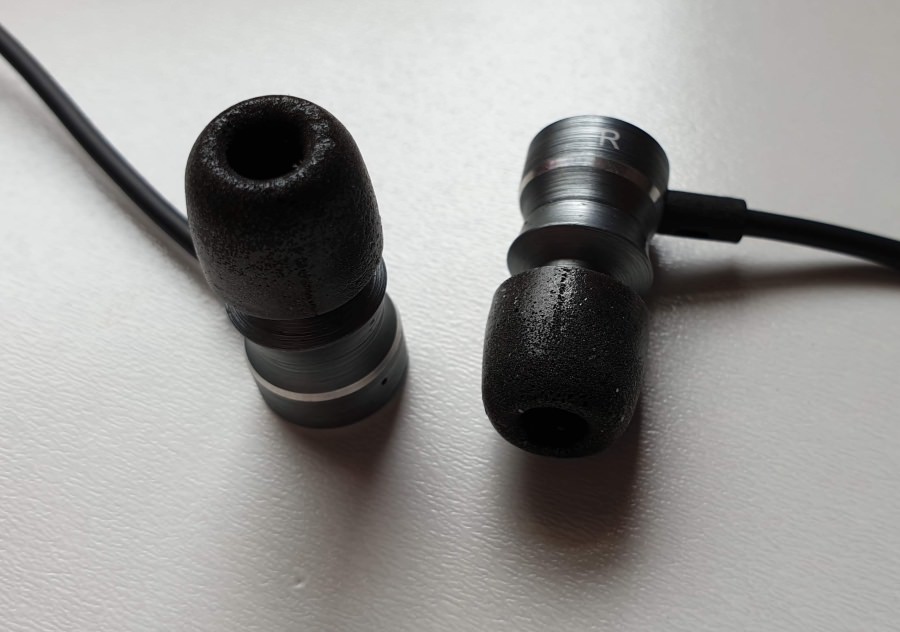 The downside of the COMPLY tips (also available for some other headphone brands) is that they do degrade over time, in my experience a month or two. Which is why you get three sets here, and can order more. Or you can switch to the still-good silicone tips. [Three month review update: I went through my first pair of COMPLY and am now happy with the largest of the silicone buds.]
Each fit onto the tuning filters, which in turn screw into machined aluminium - they feel premium and cold to the touch and - not shown here - they include beefy enough magnets that the two buds snap together back to back when your T5 set isn't actually being used, always a nice touch.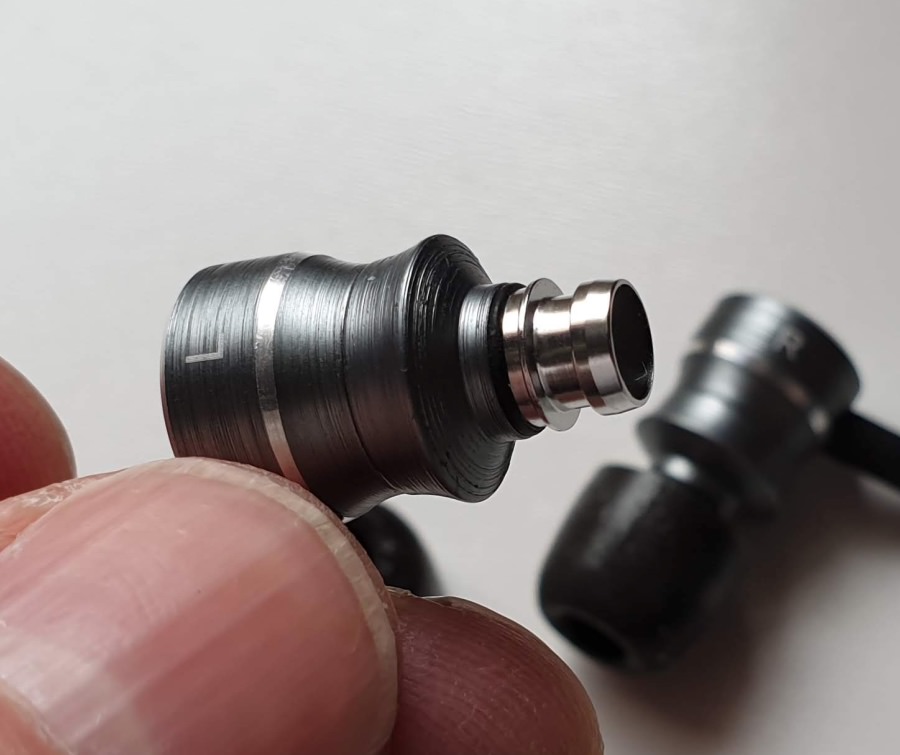 One statistic that should please everyone about the T5 Ultra Connect is that it's rated for "11+" hours of playback on a charge, i.e. twice what the average Bluetooth conjoined set delivers. This is mainly achieved by having a separate battery 'pod' in the left hand wire, with significantly more physical volume than if the designer tried to squeeze battery mAh into spare space in the main control pod: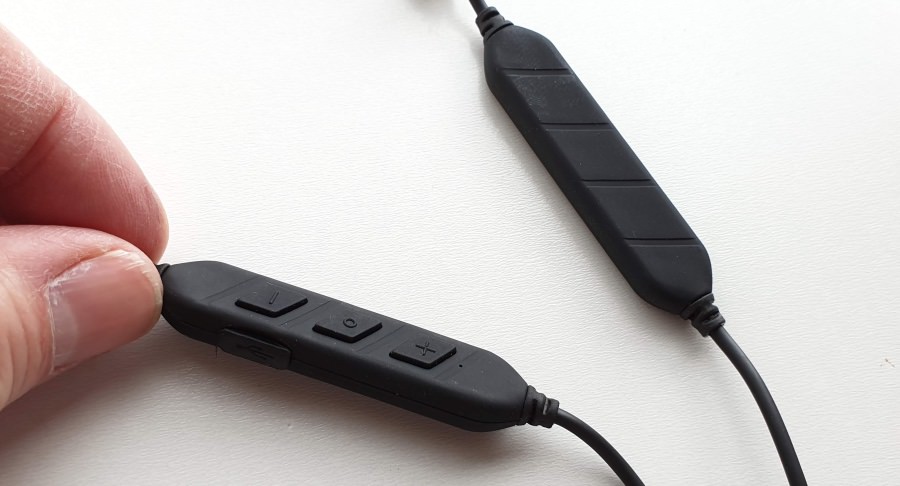 The controls are for volume up and down, and for skipping or going back a track via long presses, plus a centre button for play/pause/answer/hangup, as you'd expect. And it all worked as advertised.
The control pod also has a flap (not shown), under which is a Type C port, for charging with your modern(ish) USB Type C charger or data cable. Plus a LED which glows red during charging. (The LED also flashes while the T5 is in use and this can be distracting at night, in bed, so I put some black 'gaffer' tape over it, to save complaints from the wife!)
Now to the core of any headphone review - the audio quality, in this case in-ear with the COMPLY tips. The ROCKJAW site gives:
Impedance: 24 ohms (+/-15%) @1KHz
MIC. Yes. MEMS professional microphone
Sensitivity: 102dB (+/-2dB) @1KHz, 1mW
Frequency response: 15 – 25,000Hz

Which seem a little far reaching - in my tests anything over about 12kHz 'rolled off', so that would be the highest harmonics on percussion (e.g. cymbals) - not a showstopper, but noticeable in comparison to reference (audiophile) headphones. Now, in fairness, part of this will be the limitations of using the Bluetooth encoding, especially using AAC and even at aptX (also tested), which have their own frequency limitations. So perhaps the raw drivers can render the quoted frequency range, but that's not what reaches the ears.
My previous conjoined champion was the Tribit Xfree Color, and this seems to apply some boosting of both bass and treble to compensate for Bluetooth and physical driver limitations, while the T5 here presents a more neutral 'flat' frequency response from about 30Hz to about 12kHz. Which sound you prefer will come down to what you're listening to and what you prefer - rock fans might prefer the 'enhanced'/boosted frequency profile from the Tribit, but most people will be happy with the flatter response here.
(It's also worth noting that a lot depends, for any headphones, on the quality of the acoustic seal in your ear canal. Fail to insert the buds right, or choose the wrong size, and you'll let outside noise in and your own precious bass frequencies out. I've done a fair amount of experimenting with these and competitor headsets and would encourage you to do the same, whatever the shape and size of your own lug-holes!)
Overall, it's hard to fault the T5 Ultra Connect: the audio quality, the number of tip/fit options, the Type C charging, the excellent battery life. It's a modern and all-encompassing audio-on-the-move solution and it's been my go-to wireless headphones for three months.
PS. These are here on the ROCKJAW site (though out of stock as I update this review in late July 2019) but also now on Amazon UK as well, at the same price of £75.
* Re: 'wireless'. Pedants will note the wires above. By 'wireless' I mean that there are no trailing wires to the phone, nothing to feed through your clothing, nothing to catch on door handles! While you can get separate wireless buds (I tested some here), I don't recommend them, since they're so easy to lose when one falls out of an ear on the move. Just ask any Apple fan with Airpods - superb usability but most are on their second or third set of £150 Airpods after losing buds from the previous ones! An expensive option then! Instead, 'conjoined' Bluetooth headphones such as the T5 here offer far longer battery life and that all important protection against loss, since if one earbud falls out then it's still held around the back of your neck with a wire to its partner bud.
Reviewed by Steve Litchfield at