Review:
Adventures in Bluetooth: Tribit XFree Color
Score:
79%
Bluetooth headphones have existed for years, of course, though anyone who really cared about audio quality usually stuck to the traditional wired headphones and a phone's 3.5mm jack (this being AAWP, the DAC and output in the Alcatel IDOL 4 Pro is exceptional). But over the years, with new codecs (e.g. aptX HD at the high end) and faster and more capable chipsets in both phone and accessory, quality has been rising, prompting me to experiment with the mass market 'state of the art', exemplified here in the Tribit XFree Color.
Buy Link | Download / Information Link
Again, for AAWP readers, none of this is enforced, since all Windows phones have 3.5mm jacks. But Bluetooth output also works well, for that (largely) cable free experience, plus establishing a decent Bluetooth headset in your pocket or kit bag will stand you well if you move to a 2018/2019 Android or iOS handset with no 3.5mm port and no adapter handy. So many options.
So this review is part of an experiment - can I, as a staunch 3.5mm jack supporter, live with a wholly Bluetooth solution? I tested this accessory with my Alcatel IDOL 4 Pro on Windows 10 Mobile and also with the latest Google Pixel 3 XL, on Android.
I suppose I should clarify my requirements, in the light of quite a diverse Bluetooth accessory marketplace:
High audio quality, by which I mean gentle but firm bass (e.g. bass guitar), low frequencies handled solidly (so bass drums, etc,), plus the highest frequencies crisp and clear (hi-hats, vocals)
Earbuds that are joined (so no risk of one falling out or getting lost), plus a cable would also enable...
...a control pod, so play/pause/call pickup, volume up and down, next track, previous track, and so on.
In-ear seals - I can't stand outer ear options, where you hear everything from the outside world and they hear the tsk-tsk-tsk of my beats.
Not too expensive (less than £50, ideally)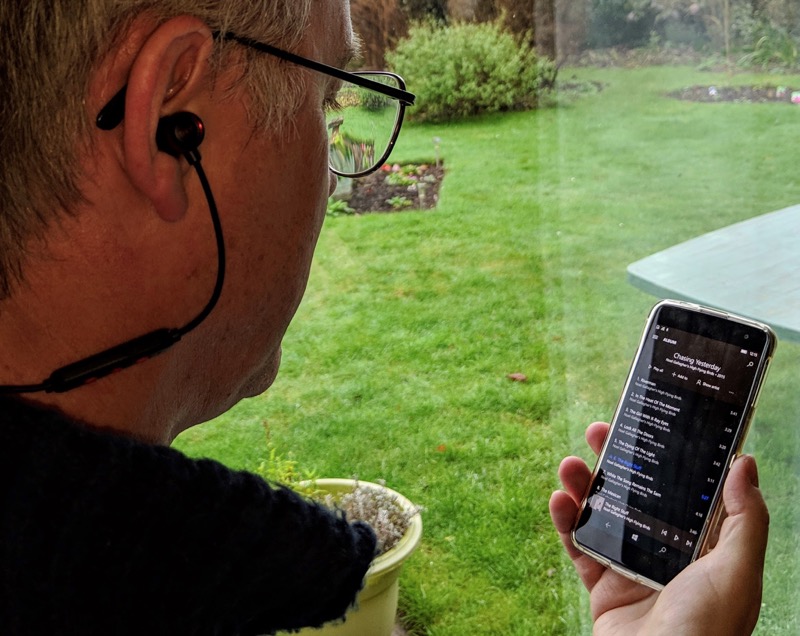 I've found candidates over the years but they've always let me down on one of the above criteria, usually the first one. 2018 has seen the design featured here appear - some have assured me that the same OEM is making similar headphones for different Chinese brands, but Tribit Audio has a good name in my household, since I reviewed their super speaker here earlier this year. I might be naive, but it feels (and sounds) like Tribit Audio adds a little tuning of its own.
Regardless, the 'XFree Color' have proved something of a success over the last week or two here. And they come in at a rather impressive £25 or so, half my guide price (to myself).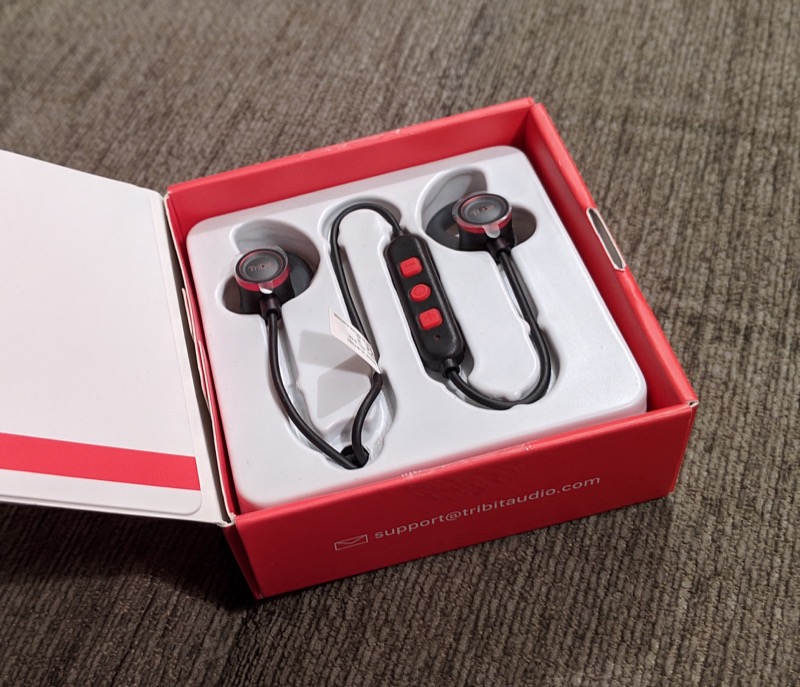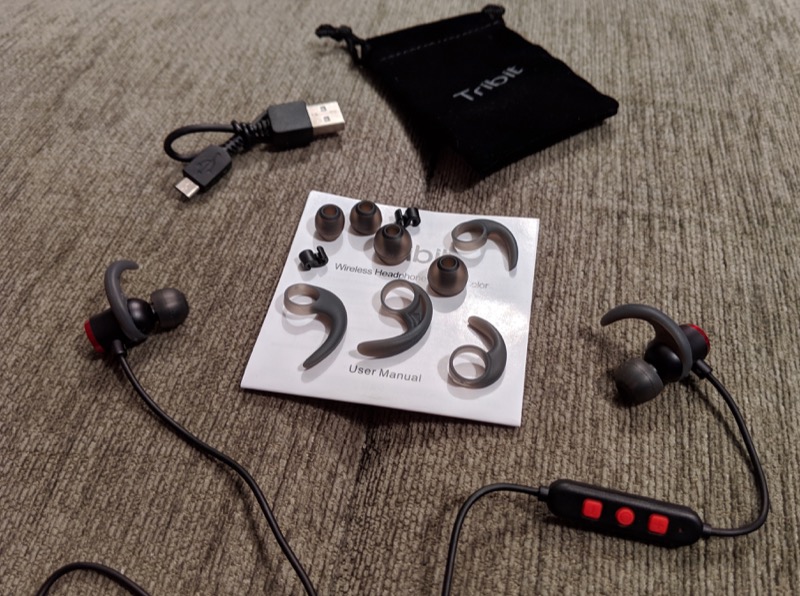 The earhook design is somewhat flawed in that the fit on the earphones is loose (it's just a push fit) and also depends hugely on the exact geometry of your ears. I've shown them fitted below (the hook bit fits into the top of the outer ear), but after some experimentation I found I was happier with the hooks removed. Still, good to have the option.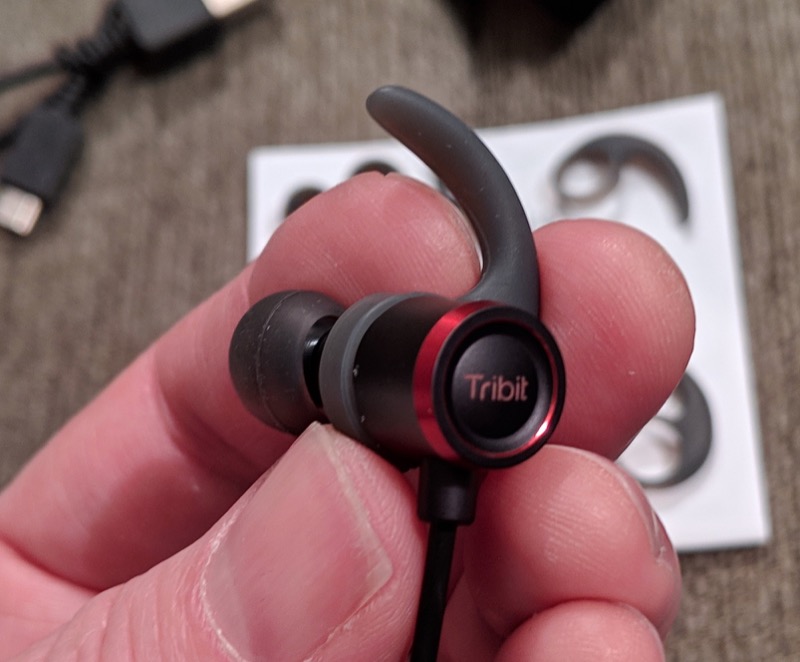 The drivers themselves are all aluminium and definitely premium in feel, while the back ends have magnets that keep the two buds together when the headphones aren't in use: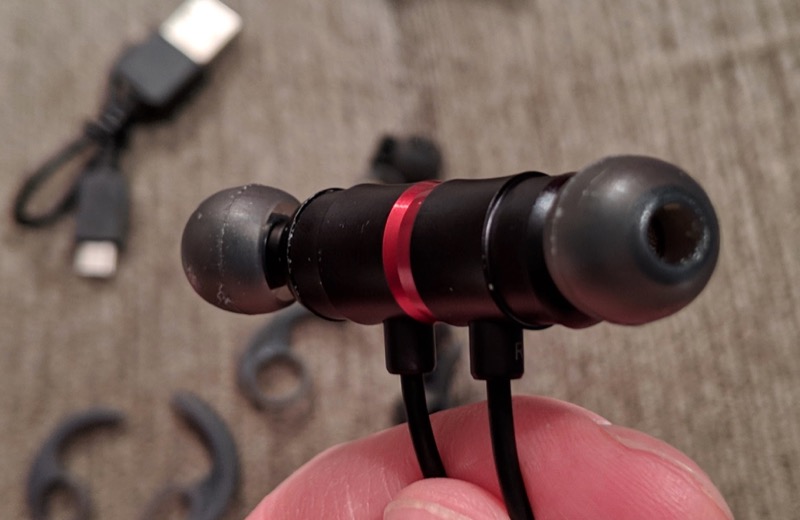 One of my requirements is to have a control pod, i.e. some means of controlling playback without having to rely on fiddly gestures on a touch sensor on the buds. And the XFree Color design includes such a pod, though the waterproofing here does mean that the controls are sealed perhaps a bit too stiffly in rubber. As a result you have to press quite firmly, or even pinch a button with a thumb and fingernail, for maximum leverage. Not a showstopper, but I'd have preferred softer touch controls: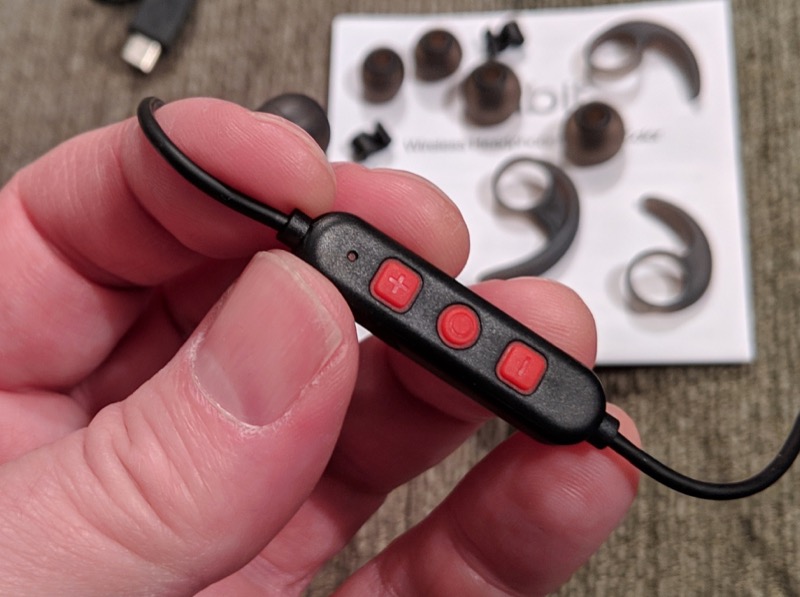 Skipping (or jumping back) a track is done via a long press on the relevant + or - control, different to other pods in the past (a double press is more usual), but the system does work here.
And so to performance. Regardless of niggles over earhooks and control rubberisation, the Tribit XFree Color's sound is... amazing. Perhaps not totally 'flat', as in capable of being used as 'reference' headphones, but the way the DAC is tuned and the 8mm physical drivers deliver quite superb bass, a perfect sound in which I feel every bass drum thud, while still hearing all the crisp top end that I like. It's possible to catch these out with classical music, but for rock and pop these are outstanding considering the price tag. I've seen other reviews online quote these as sounding 'like £80 or £100' headphones and I fully agree.
They're not perfect, but they're an order of magnitude better than I was expecting for £25.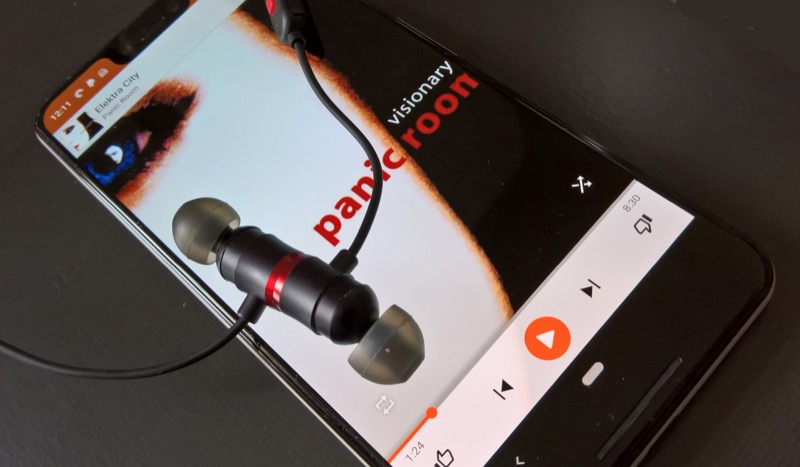 I tested these with Windows 10 Mobile and Android 9 and had no issues in terms of control. Battery life is quoted at between 8 and 10 hours, depending on where you look - in real life, I got to 6 hours, but then I do like my music quite loud, so....
In daily life then, with a couple of hours use, I was recharging every few days. A little rubber flap pops up on the control pod to reveal a microUSB socket and the headphones charge very quickly, 15 minutes or so. But you do have to remember to charge them, otherwise you'll be left - as with any Bluetooth solution - out of luck!
Of note is the 'CVC noise cancelling' listed on the product page. This is a chipset thing for when you're on a voice call and it tries to isolate voice frequencies and remove ambient noise. It works OK, but don't confuse this for active noise cancelling for general listening. Not that you really need it because the silicone in-ear buds block out the world very effectively in my experience.
The XFree Color Bluetooth Headphones are on Amazon UK for £26, but also for the same $ amount on the Tribit web site Internationally. PS. Oh yes, on Amazon Germany as well, for 29 Euros.
---
I think this is cracking value and all things being equal could in theory make this my main set of headphones for all daily use. There are a few drawbacks to going on in on Bluetooth, mind you, and I'm including listing these after the break because they're not a reflection on this particular accessory but are generic and common to all Bluetooth solutions:
They need charging at all. This is a biggie, not because they're hard to charge, but because you need to remember to do so. If they charged wirelessly (i.e. from a Qi plate) then sticking them on this (e.g. by the bedside) once a day would be perfect. As it is, you have to remember to charge every couple of days, an odd schedule, and then it takes a few moments to uncover the charging port and find a suitable microUSB charging source. I'm exaggerating slightly, it's all a bit trivial, but it's a chore you can't forget. Ironically it's less of an issue when travelling as you'll then have a power bank and cable (or two) to hand in your bag, I'm sure.

There is some loss in fidelity. Although it's hard to tell with most of my rock music, simple physics tells us that taking an already heavily compressed MP3 or M4A music track and then recompressing it with different algorithms, sending it by radio to another DAC, where it's decompressed and played, will degrade the intended waveforms. So there's always a nagging feeling that "this would sound even better if I was hearing the decompressed original without the Bluetooth compression cycle in the way". Oh well. Maybe it's just me worrying over this?

There is confusion over what's connected. This might be a first world problem for me, with more than one phone, but more than once I was trying to work out why nothing was happening in terms of 'connecting' when in fact the headphones had auto-connected to the last thing I had them hooked up to, which still had its Bluetooth on! So if you do have more than one phone or computer/tablet that you use with Bluetooth headphones then in practice you have to micro-manage which ones are enabled/disabled at any given moment. Which is a bit of a pain.
Comments are welcomed on all this. Am I being too grumpy in listing objections when balanced against the main Bluetooth headphone pro - the lack of a cable needing plugging into the music source?
What do you think? (And what do you think of the Tribit XFree?)
Reviewed by Steve Litchfield at