As per my previous intro, it's always good to plan ahead. I should also say that I'm a in privileged position in that I own (or have been loaned) quite a number of smartphones across all OS over the last few years, as part of my reviewing jobs - but this does put me in a good place to assess what's good and bad in terms of recommending a replacement for, say, a classic and much-loved Lumia.
It's not just a question of degree, either, i.e. whether getting something expensive running Android will be faster or larger or have better battery life - there are genuine step change aspects which mean that one might be forced to another platform whether one likes it or not:
Biometric support for logins. Good examples of this are being able to log into banking applications with one tap of a fingerprint on a sensor or a glance at the front camera, or being able to tap-to-pay at a terminal in a shop. Yes, Lumias have iris recognition and yes, the IDOL 4 Pro has a fingerprint sensor, but in both cases there's simply not the same degree of integration with applications and services, and by a huge margin.

Specific applications that can't be accessed at all, even via a browser. Snapchat comes to mind, but I'll bet there are many others, for more serious uses. When you need a particular application (or, hey, a game) and it simply doesn't exist in any form under Windows 10 Mobile then your hand is forced.

At which point, the question becomes, what to move to? A cynic might say 'Almost anything else', but I argue here that anyone steeped in Lumias, in particular, will have certain expectations of a replacement device, over and above the biometrics and ecosystem factors just mentioned:
Excellent camera, not too much artificial enhancement
High amplitude stereo microphones, for recording music, for example
High contrast screen that works well in daylight
Qi wireless charging
microSD expansion, for keeping hundreds of GB of media on hand and instantly swappable
3.5mm audio jack, ideally, for plugging in headphones and auxiliary systems (cars/hi-fi, etc.)
plugging it into a Windows computer (or Mac) should let you drag and drop content in either direction - typically bulky media (movies, music). All Windows phones do this as a matter of course (at least to a Windows PC), most Android phones do too (with a permissions dialog to accept in the UI), while iPhones show their photo/video content at least and iTunes/Music/etc. can be used to sync media and more with a mouse click.
Not all of these are givens, mind you, in 2019's phone landscape. For example, Google Pixels (running Android) and Apple iPhones (running iOS):
aren't expandable in terms of storage - you buy the capacity you need and that's your limit
haven't had a 3.5mm audio jack for years - so Type C or Lightning DAC/dongles are needed (they're not expensive, but are easy to lose!)
In terms of interface, Android is the way to go, not least because it's utterly trivial to change the 'launcher', your primary interface with the phone, right down to using the first party 'Microsoft Launcher' and effectively getting quite a bit of the Microsoft feel and the Microsoft services. (See also, from 2017, my detailed look at using Microsoft applications and services on Android.) There are even launchers like Launcher10, which actually emulates Windows 10 Mobile.
But which phones should you look out for? Which ones satisfy most of the expectations above and will be the best fit for you?
I'll try to pick devices at different budget points and I'll even include some older alternatives that can now be picked up at bargain prices second hand or via clearance channels, though you've held off buying a replacement phone this long that you'll probably have built up some savings or at least the momentum of trying to come in at or near the flagship level. Anyway, options aplenty below!
Note that I haven't recommended any of the new breed of cheap Chinese phones (Xiaomi, Oppo, etc.) as, while they're often cracking value for money, the position in terms of support and updates isn't up to what a Lumia owner might require. We've been used to monthly OS updates for even three or four year old phones, so let's stick to the 'Western' (non-Chinese) big boys here, in the justified hope of decent support and thus longevity. I've also temporarily withdrawn my recommendation for the Huawei P30 Pro due to uncertainty as to this phone's future in terms of updates, amidst the whole 'Donald Trump vs China' trade/entity war.
In no particular order, I'd suggest:
Samsung Galaxy S10e £669
(or S9+ second hand for £400?)
This year's Galaxy S flagships were marred a little by the use of in-screen fingerprint sensors, which are still unreliable in my testing and which have now been found to be flawed in terms of authentication accuracy, with some banks not allowing the S10, S10+ and Note 10 ranges to even install their applications. Happily, the cheapest (hooray) of the S10 phones retained a traditional capacitive fingerprint scanner, integrating it into the power button, and this works superbly. The 5.8" screen sounds large, but it's 18:9, so the phone is actually very pocketable. There's no telephoto camera on the 'e', but the camera's still pretty darned good.
In terms of the requirements, the Galaxy S series meets them all, of course, including a 3.5mm audio jack. If you're OK with Samsung's UI tweaks and occasional service nudges, then I still maintain that the S series flagships are a good fit for ex-Symbian, ex-Windows phone users.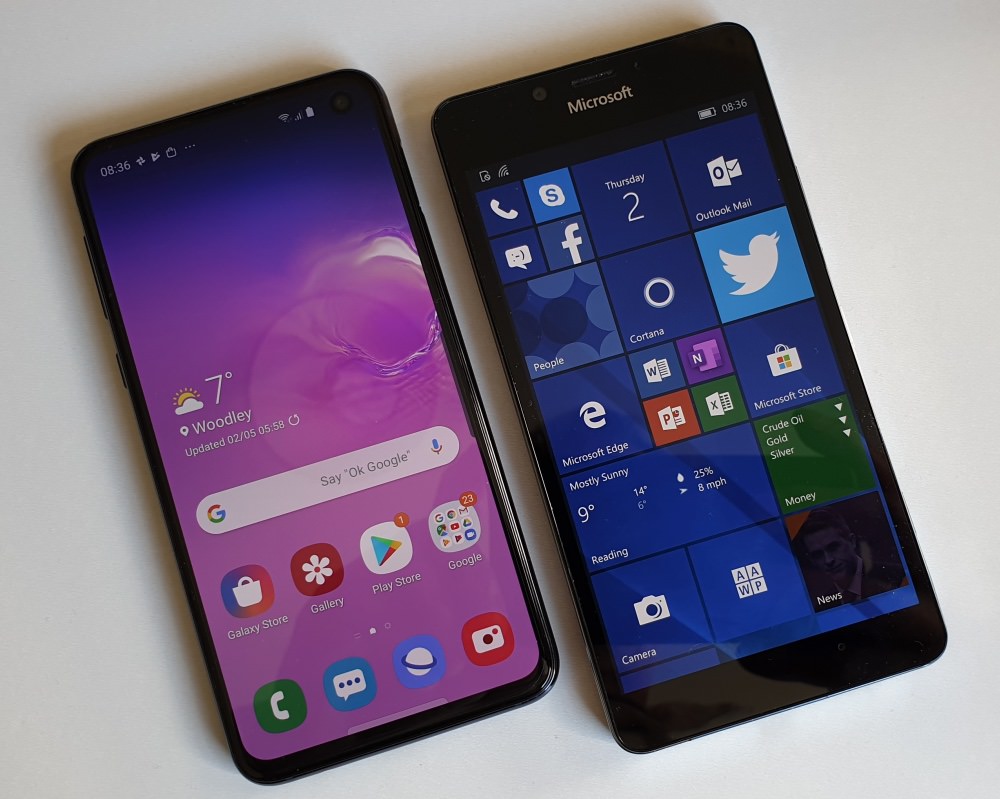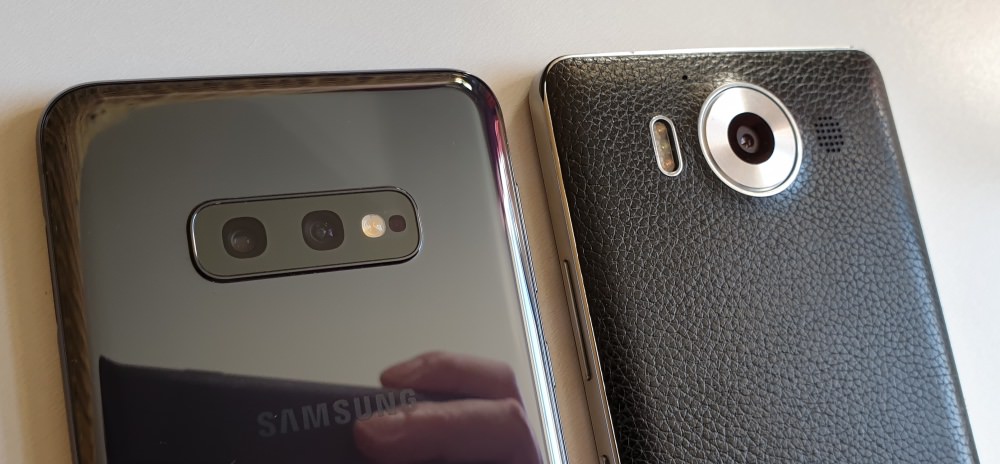 Apple iPhone 11 Pro, from £1049
Yes, it's the first time I've recommended an iPhone as a Lumia replacement and for good reason - the camera system in this year's iPhone 'Pro' is that good. With plenty of input from ex-PureView man Ari Partinen (who's now ex-Apple, but that's another story) and a team of - literally - thousands at Apple, the iPhone 11 Pro's photos, from all three lenses, aren't massively ruined by over-sharpening (as is common on many modern camera phones) and have admirable IQ (Image Quality) all round. With a big camera update ('Deep Fusion') imminent as I write this, its photos are only going to get even better, with pro-level handling of light and texture. Watch this space.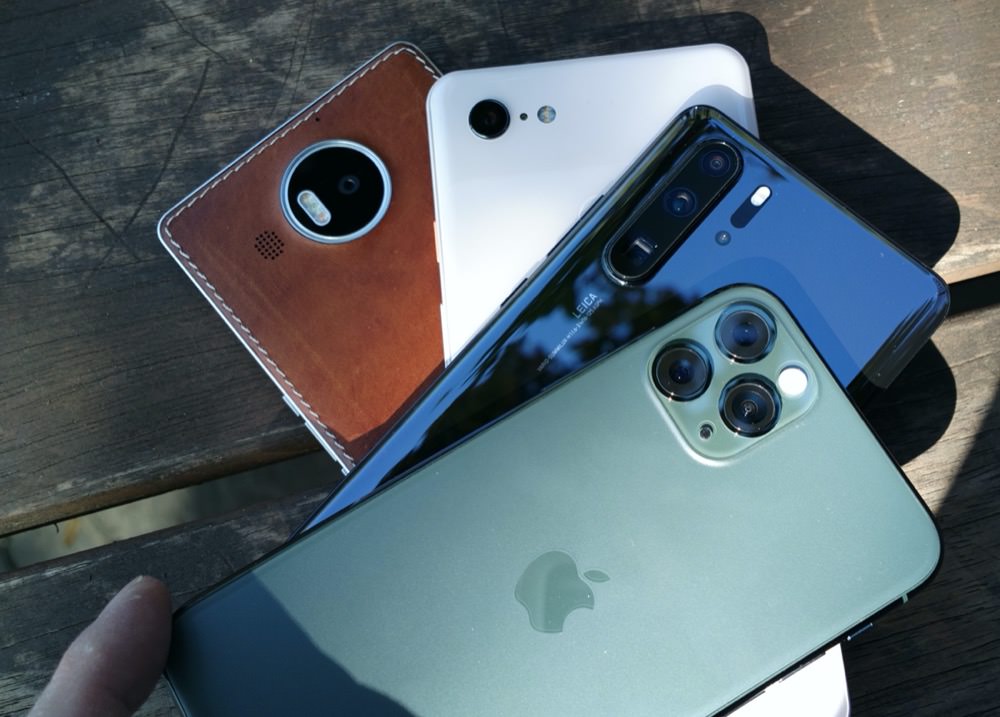 On the biometrics front, the iPhone X range introduced the world to genuinely useful face unlocking - foolproof and fast, and this is still in place on the 11 series. I've used every authentication system since the start and Apple's Face ID (now aped by Google, below) is the most convenient. No worries about finding the fingerprint sensor, if you're looking at the phone then you're in. And also into a great many applications, I've been impressed by how many third party iOS applications tie into Face ID to make sure you're allowed into their contents.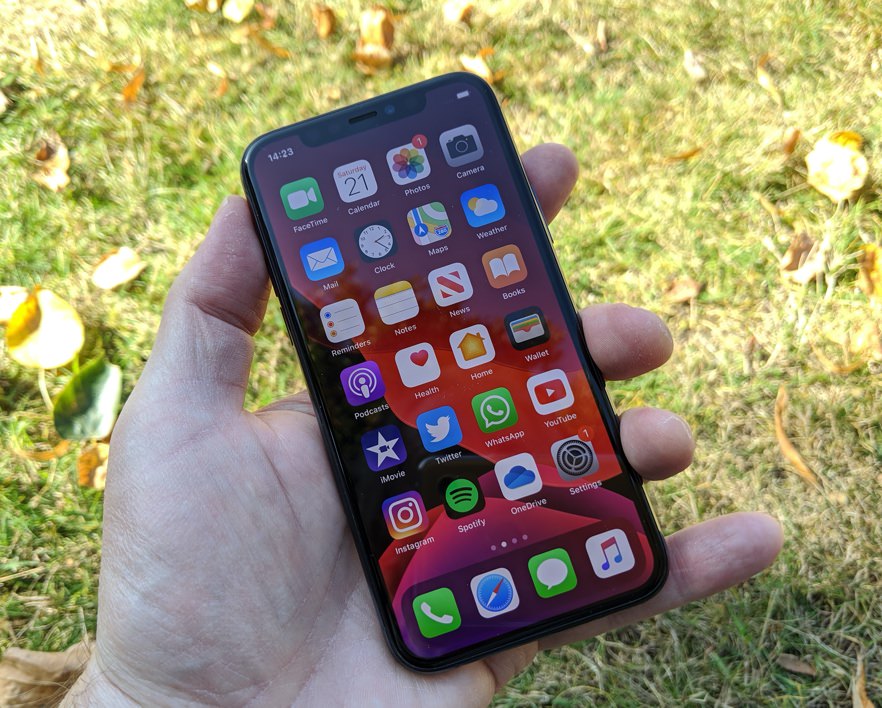 Add in the best stereo speakers (with true Dolby Atmos surround sound - really, the width of the sound stage has to be believed) on a mainstream phone and also the longest battery life (verified by me) and it's only iOS itself, plus the price, that add doubt. See above for my comments on operating system, but if you're OK with the sand-boxed nature of iOS (more so than Windows Phone, anyway) then the iPhone 11 Pro, as a long term phone investment, is worth every penny. You'll get warranty and support and updates for at least four years, so yes, this is an expensive, but very safe option. Remember the old Stella Artois slogan? "Reassuringly Expensive"!
Google Pixel 4 XL, £929
Due here shortly for review, though many reviews from US-based journalists are now online, the Pixel 4 range from Google is brand new and has received both plaudits and brickbats. The XL is the one to get, for the larger battery, with the smaller one being very challenged in the charge department. The Pixel 4 XL is expensive, mind you, almost up in iPhone land, yet with more compromises, arguably. Where the iPhone 11 range does everything it can to extend battery life (successfully), the Pixel 4 XL uses its Snapdragon 855 chipset, 90Hz refresh rate display and Soli radar system (for hand gestures) with gay abandon, resulting in the battery life issues that have been widely publicised. Still, it should get through a day if you're careful, and you just know that Google will optimise and fix things in their monthly updates - Pixels always get better and better performance and battery life as they age. Perhaps paradoxically!
As usual, you're getting updates straight from Google on day one, to the OS, to its first party exclusive applications (e.g. the on-device Assistant, the Pixel 4 Camera, etc.) and support for - like the iPhone - a good four years. So buying a Pixel is also an investment.
For the last year or so I've recommended the Pixel range to Lumia owners wanting to keep a great camera in their phone and the '4' is no different, adding genuinely lossless zoom (part software, part hardware) to at least 5x.
In switching to an infrared face unlock system for the Pixel 4 range, Google joined Apple in using what is probably the most foolproof and quickest way to authenticate with a phone and with applications, but do note that Google implemented it in such a way that not all third party apps (including banking) are compatible, at least not yet. So if you're tempted to head to a Pixel 4 for 2020 then you are advised to wait - or at least check with your preferred banking and password applications!
Pixel 3a XL £469
(or Pixel 3 XL second hand for same amount)
Google's budget range of Pixels is immediately appealing for two reasons (other than the halved prices!) - the same excellent camera system as the flagships (see my Lumia 950 head to head), plus the inclusion of a 3.5mm audio jack, something you often lose by paying more... Build quality is excellent, though all in plastic, and there's the usual huge benefit of Google's guaranteed three years of updates, including at least two major new Android OS versions.
From the requirements list, the main misses are Qi charging (perhaps price-driven) and lack of card expansion. But then Pixels (like iPhones) have always preferred to just have integrated storage, for simplicity.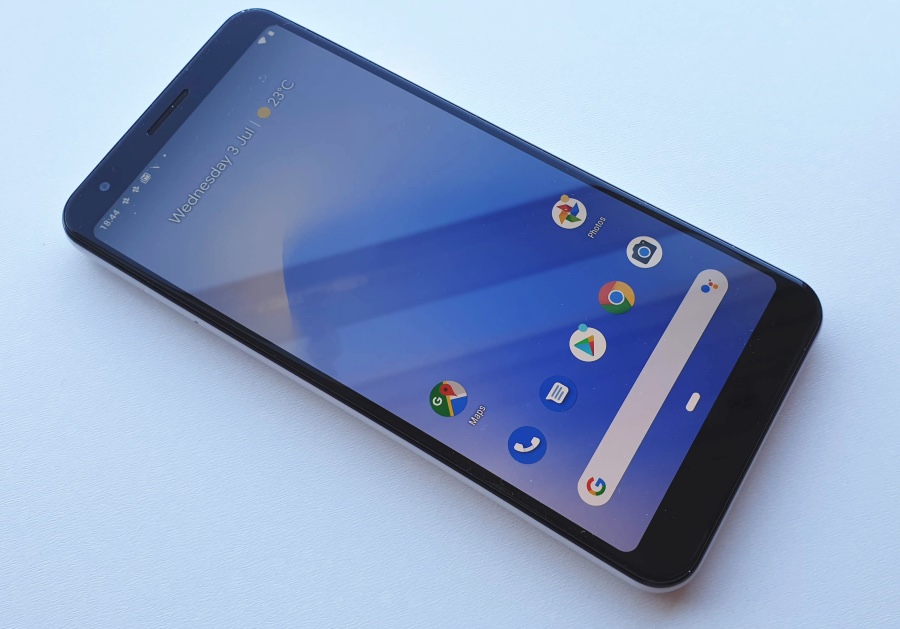 Authentication, for access, online banking, passwords, etc. are via a back of device fingerprint scanner and this works very well, helped by a suitable TPU case that guides your fingertip, in my experience. But all fast and convenient.
Nokia 7.2, £250
I've reviewed a fair number of the 'new' Nokia handsets (produced by OEMs in China under the guidance of Finland's HMD Global), though this '7.2' is brand new and I haven't handled it yet. But Nokia has built up a similar reputuation for quality as it did in the old Symbian and Windows days - good materials and solid construction. Moreover, this new 7.2 has an awful lot going for it in terms of specs and value for money, as the cheapest pick here. You can't really go wrong!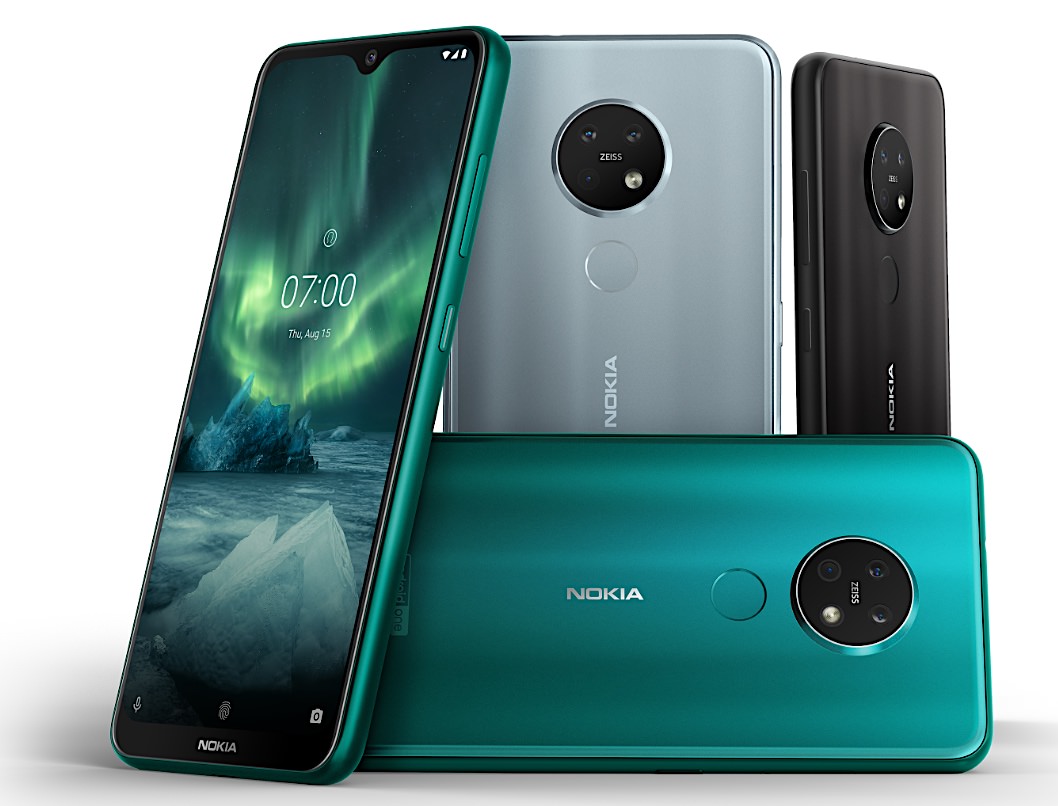 A mid-range chipset, the Snapdragon 660, will be easily fast enough, while keeping battery life good, 4GB RAM is fine for a low impact Android OS build, and you can add storage via microSD in the way in which you've done in the past. The 6.3" display is 1080p and 19.9:9, with the only slight downside that it's LCD and not AMOLED. But then that's what you'd expect at this price.
Everything's modern and future proof (there's also a 6GB RAM 128GB storage variant, note), with USB Type C, NFC and there's even a 3.5mm audio jack, something you don't get with the iPhone and Pixel flagships. If you've been a Lumia imaging lover then note the main camera has ZEISS optics and a large 1/2" 48MP sensor, so we're potentially in PureView-esque photo realms (I'll report back if this arrives for review). Plus there's a trendy ultra-wide lens as well.
As with the Pixels above (and also the Samsung), the Nokia phones should get years of security updates, so this is another good long term bet.
_____________________________
PS. Having mentioned 'second hand' several times, you may wonder where's the best place to look/buy? eBay is obvious but also full of pitfalls, with scammers and locked/blocked phones not uncommon. In terms of curated sellers, sign up to MeWe (a replacement for Google+, effectively) and then into the 'PSC Classifieds' group (when challenged for admittance, quote my name and the URL of this article as your way in). Then there are second hand shops which offer guarantees, such as CeX in the UK.