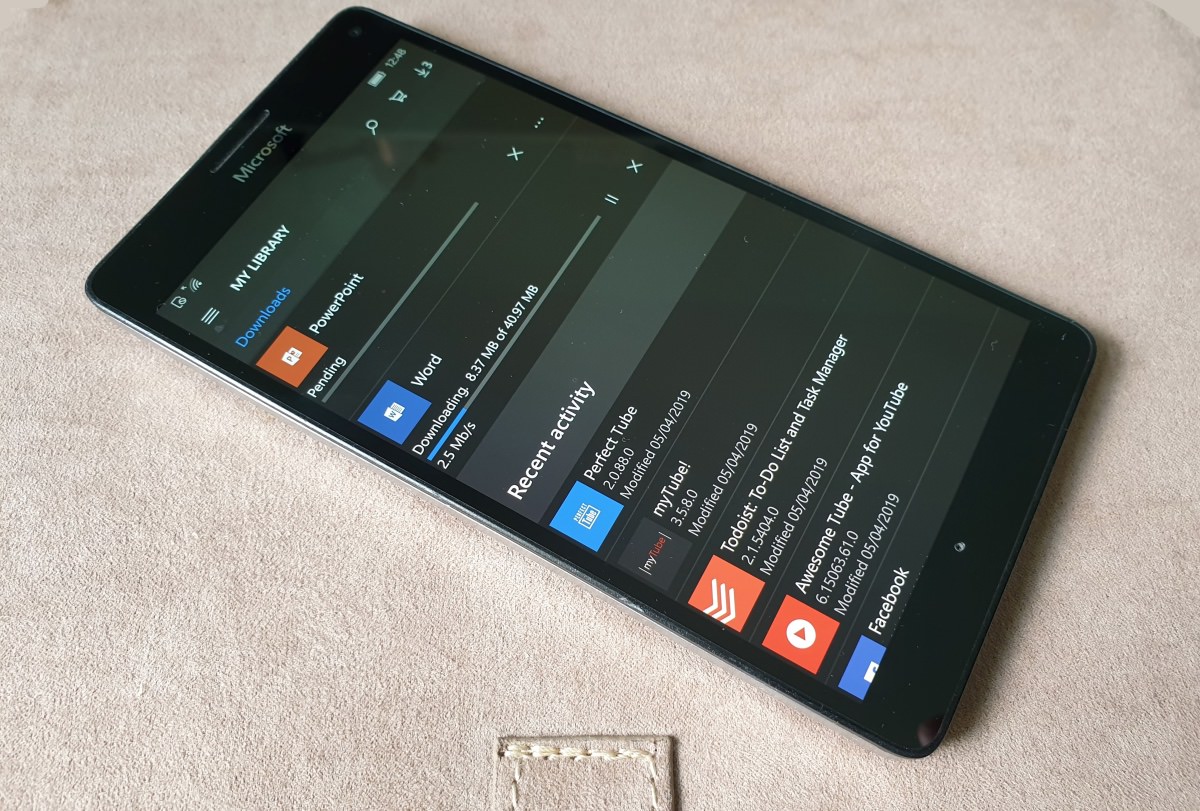 Yes, we're in an odd phase of the OS, where most of it still works (and is supported), but things are falling off the edges, as it were. Which means that it's hard to keep track of it all - hence the table below, which I'll keep updated every so often.
Note that some dates are approximate, since even we at AAWP can't see into the future with certainty!

Microsoft services
Security updates
Until December 2019 (for newest 1709 branch). Theoretically, vulnerable after this, though in practice Windows 10 Mobile will be battle hardened by then and also a miniscule target for attackers, so the lack of update isn't actually an issue
Web browsing (Edge)
Edge remains a competent browser for most sites, plus it syncs your history and favourites in the usual way. But its development stopped as of Windows 10 branch 1703, effectively, since the 1709 branch's Edge wasn't fully rounded out (in terms of service worker and other background operation). Which makes it something of a dead end if you're looking for more. Third party browsers like Monument Browser do more, though ultimately have the same underlying restrictions for PWAs and some other HTML5-reliant sites.
Auto-backups
Until March 2020 - it's not clear whether manual backups will be possible after this
Restoring from auto-backups
Until March 2021
Store apps
Application updates and installs will be fine until well into 2020 and possibly 2021.
Store client
Ignore scare stories about the Store client itself not being updated anymore - updates with bug fixes and security tweaks will continue for years (2021+), albeit with new features and UI fanciments only for Redstone 3 and above (i.e. on Desktop/Hololens, etc.)
Auto-Photos upload to OneDrive
Until December 2020 - after that you'd have to upload images manually
OneDrive music streaming
Stopped from May 2019 onwards, at least from within Groove Music app. You can still stream or download from third party applications.
OneDrive
No cessation date announced, likely 2022 or beyond
Outlook Mail, Calendar

No cessation date announced, likely 2022 or beyond
Office UWP applications
No cessation date announced, likely 2022 or beyond
Maps/Navigation
No cessation date announced, likely 2022 or beyond
News, Weather
No cessation date announced, likely 2022 or beyond
Films & TV
(aka 'Movies & TV') No cessation date announced, but several rumours. Clever money has new purchases stopping some time in 2019 and no access to past purchases stopping in 2020. Just a guess.
Skype
No cessation date announced, but it's 100% online and requires server integration, obviously, so I wouldn't be surprised if a date was announced later in 2019. Maybe March 2020?
Social applications
Twitter
Official client is a PWA (link is to latest update), but works very well apart from lack of push notifications. API limitations at Twitter's end mean that there's no fully working third party alternative (i.e. that also has access to DMs).
Facebook
Official (Osmeta-based, derived from iOS codebase) client is - technically - being withdrawn at the end of June 2019, though on all my test phones it already crashes and burns, so something's clearly broken under the hood. There are numerous Facebook 'scraping' applications and options though, and these run faster and more efficiently than the Facebook original client (go figure!)
Facebook Messenger
Official (Osmeta-based, derived from iOS codebase) client is also being withdrawn at the end of June 2019. The solutions linked in the row above also include basic Messenger support, though. Apparently. Never used the system in my life!
Instagram
Official (Osmeta-based, derived from iOS codebase) client has now been withdrawn. There are several third party alternatives though, my favourite of which is Winsta UWP.

Whatsapp
The official WP8.1 client continues to work really well, though it has been announced that it will stop working after December 2019, as per Windows 10 Mobile official support timescale.
Telegram
Plenty of options here, with an official 8.1 application that is gradually falling into disrepair, but also an official PWA that works well (though with no push notifications) and an actively developed third party app, Unigram UWP.
Viber
This messaging app has a first party UWP application, but reviews have been patchy - it's not actively updated. Ping me if you have more information - I've never used it!
Snapchat
This has never been on Windows phones and never will be. Apparently the founder hated Microsoft and Windows....
Pinterest
There's no official client for this, but pinterest.com in Edge seems to be a PWA and acts like an application. Plus, if you still want a native UWP application experience, there's 'Piny - Pinterest with love' UWP
Media consumption
Spotify
The official WP8.1 application still technically runs, but has now lost search functions. I'd recommend the quirky but rather wonderful Spoticast Music UWP, though it cheats in terms of its music sources, which can be confusing. Still, it's gloriously bonkers and very pretty! Or try the Spotify Web Wrapper UWP, which presents a front end to the Desktop Spotify web experience and which seems to work very well, though the developer is somewhat at the mercy of what Spotify might do in the future. Still, options!
Netflix
The official WP8.1 application still works well, albeit slow to load video streams. It hasn't been updated for years though and (again) I wouldn't be surprised to see Netflix stop supporting it after Dec 2019.
Amazon Prime Video
Amazon has never had an official application for Windows phones, but if you're happy to fiddle a little in Edge then you can watch this on the go. It's not trivial though and a complete pain in the proverbial compared to the slick experience in a dedicated app on other platforms.
Deezer
There's a rather good official UWP client for this, so no need to look further. I'd expect this to work well into 2020, and possibly beyond.
YouTube
One of the more famous spats between Google and Microsoft, this hasn't had an official application for years, though of course it works fine in the Edge browser. I'd recommend myTube!, Perfect Tube or Awesome Tube though, all UWP applications with slick interfaces and all kept bang up to date.
BBC iPlayer
This has been browser-only for years under Windows phone and Windows 10 Mobile, but it's fine. The usual log into the BBC servers and you're in and watching. There's no downloading of programmes for watching later though, for DRM reasons.
Do please let me know, by email or in the comments, if there are any inaccuracies in the above table or if you have information to update it. Thanks.
Delivering a 'report card' for the status above is tricky. I'd say that the OS is completely viable still, with the obvious omissions (tap to pay, IoT support, online banking apps) that have been there for a while now. There are certainly enough workarounds and alternative applications for most people.
But your comments and updates welcome!
PS. Another valid question might be what will happen to AAWP itself in 2020 and beyond? Rafe and I will chat about resources, of course, but a) do please join the occasional guest writers if you have something to say/review/discuss, email me at slitchfield@gmail.com, and b) well, you know where my tip jar is...(!)