Update (15/12/19): Microsoft appears to have had a last minute change of mind and extended support by an extra month. I'll report on this in due course!
To help you visualise where we are in terms of the window for these monthly OS updates, here's a helpful chart, note that we're almost at the very end of the support bars!: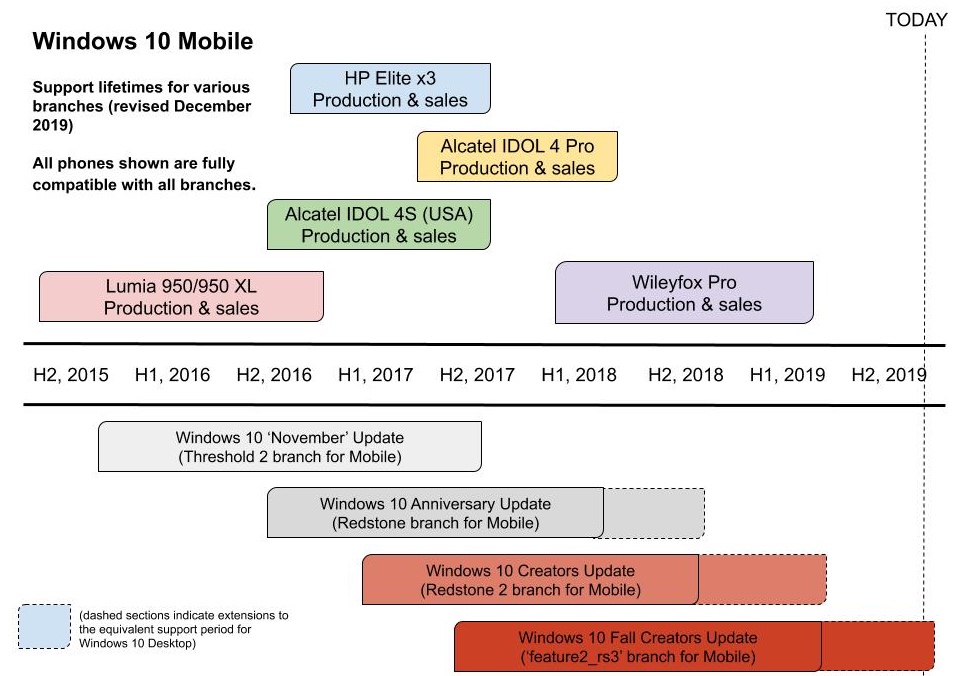 The Fall Creators Update ("FCU", 'rs3', i.e. 'Redstone 3', at least in name) is the 'production' branch of Windows 10 Mobile, and this is the last regular 'Patch Tuesday' fix round-up for it, with the official list for 15254.600 (from .597), the '2019-12B' update (no, I don't know what the B stands for, either!) is mainly composed of minor fixes and security patches, at least in terms of mobile relevance.
From the minimal official release notes:
Security updates to Microsoft Edge, Windows apps, Windows graphics, and Windows kernel
This FCU update applies officially (see below for how to add your phone) to the:
HP Elite x3, HP Elite x3 (Verizon), HP Elite x3 (Telstra)
Wileyfox Pro
Microsoft Lumia 550, Lumia 650, Lumia 950/950 XL
Alcatel IDOL 4S, Alcatel IDOL 4S Pro, Alcatel IDOL 4 Pro, Alcatel OneTouch Fierce XL
Softbank 503LV
VAIO Phone Biz
MouseComputer MADOSMA Q601
Trinity NuAns Neo
All of which are fully supported at this exact second, but from now on there will be no more monthly updates. Which means that - technically - Windows 10 Mobile is 'End Of Life' (EOL) and is unsupported going forwards. Now, obviously - and especially with this shiny new security patch onboard - phones aren't going to suddenly stop working, but the EOL status and also the hammer blow of Whatsapp (in theory) ceasing to work in 2020 (see how to export your chats) do add an extra urgency to the search for alternative phones and platforms, all of which are likely to be better supported.
---
Update tips
1: Given the issues some are having with the OS not booting properly after the update, now would be a good time to do a manual backup in 'Settings/Update & Security/Backup/More options/Back up now' - just in case!!
2: If your phone hangs on its manufacturer 'splash' screen after the main 'spinning gears' section of the process, for more than 10 minutes, it's safe to long press (10 secs) on the power button to do a full emergency shutdown and then power up as normal, whereupon the 'optimisation' section will hopefully resume. It's not clear why or when this all happens, but it's happened twice to me and this usually always got it going again!
3: As a last resort, if the 'long press power down' action doesn't work then try holding down power and 'volume down' together for 12 seconds. This is a harder reboot and worked for me when the step above didn't. Please comment if you have other advice!!
---
Given the nominal 'unsupported' status of Windows 10 Mobile going forwards, I have less reluctance at linking to ways of bringing older devices at least up to date with branch 1709. After all, there's no official support, you're possibly looking around at other OS, and perhaps Windows 10 Mobile is approaching 'enthusiast' status for you? In which case, if a procedure goes belly up then it's not as critical as it might have been previously. Regardless, I do try to make my walkthroughs and tutorials as clear as possible.
Device name spoofing is the key to bringing any device up to the last branch, 1709. See the most recent tutorial here, which takes the most lowly (practical) Windows Phone 8.1 device right up to date - if you have a more recent device then you don't have to start at the very beginning of that tutorial, just jump in at the most appropriate point! Or, from July 2019, my specific tutorial taking the popular Lumia 735 and 830. Only proceed if you fancy a challenge, though - these hacks DO require some tech knowledge in terms of files, folders, and ZIP archives.
However, looking to the future, don't worry too much if your phone still runs AU (Windows 10 branch 1607) or CU (Windows 10 branch 1703). Although you'll not get any more OS updates, Windows 10 Mobile is a very, very small malware target in the grand scheme of things, so you'll be fine as you are. And you'll still get application updates, of course, though increasingly some of the more ambitious Windows 10 UWP titles are being compiled for 1709 or later. I've already noticed a slowdown in third party app updates in the Store. Your mileage will therefore vary!
Store app updates should continue for at least another year, so the OS isn't falling off a cliff in terms of compatibility (Whatsapp excepted).
As ever, with all phones on branch 1709, head into Settings/Update & Security/Phone update in order to (try to) get the update immediately.
One good question is what will happen to all of these phones after December 2019, when the last Windows 10 Mobile branch leaves support? See my Windows 10 Mobile Service and App ready reference table for the constantly updated state-of-play. 'Death of a thousand cuts' seems appropriate in terms of hanging on for too long though, since we seem to lose a major service's compatibility every few months (Facebook, Whatsapp, etc.) Especially when other platforms are gaining compatibility and functionality.
Another valid question might be what will happen to AAWP itself in 2020 and beyond? Rafe and I are still mulling things over, wondering about more of a blog format and a wider spread of mobile topics, but a) do please join the occasional guest writers if you have something to say/review/discuss, b) do click on some of the ads on the site, as that helps the bottom line, and c) well, you know where my tip jar is...(!)