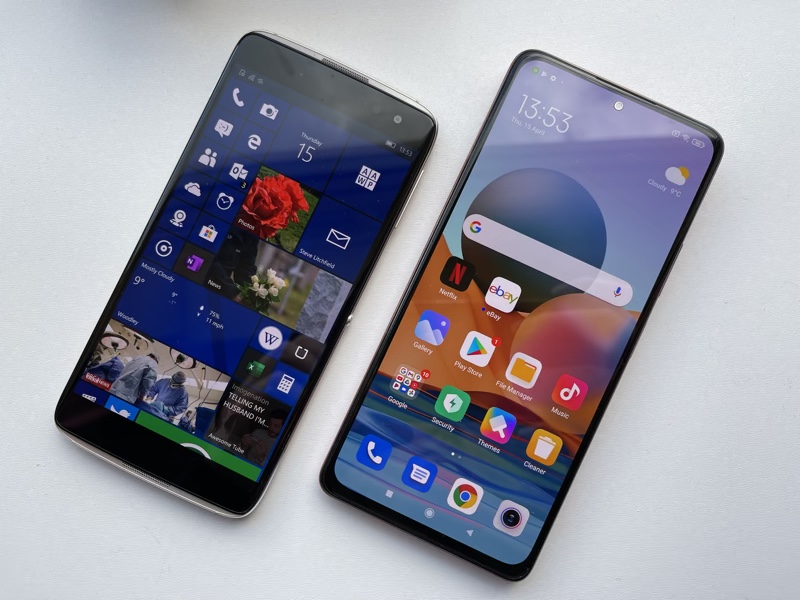 As usual, I've shaded in green an obvious 'win' for either device, I honestly have no idea which way this one's going to go (as I start to compile the feature)... Any row where a winner would be totally subjective is left uncoloured. Or, where both devices are utterly excellent but in different ways, I've given both a 'green'(!)
Alcatel IDOL 4 Pro
(Xiaomi) Redmi Note 10 Pro
Date first available
August 2017
March 2021
Current price, availability
No longer available officially, see clearance bins around the world, or second hand. Suggested price £150 or local equivalent?
£220, SIM-free, inc VAT, for the 64GB/6GB version here (a 128GB/8GB RAM version is also available), though do watch for flash sales, it has been seen at under £200.
Dimensions, form factor, weight, design

154 x 75 x 7mm, aluminium frame with toughened glass front and back, 152g

164 x 76 x 8mm, plastic chassis, Gorilla Glass 5 front and back, 193g, thicker and heavier (good, because it allows more battery)

Durability
No specific durability metrics, plus the dual sided glass design means a case is a must. If water gets in then you're pretty much out of luck. Sadly.


IP53 splash resistant, better than nothing, plus there's a lovely clear case is included in the box, a nice touch

Operating system, interface
Windows 10 Mobile (now running Fall Creators Update), (dismissable) virtual controls.


Android 11, MIUI 12, swipe controls, full screen all the time, optionally (default is 'three buttons', as per usual)

Display
Samsung-made 5.5" AMOLED 1080p panel, Dragontrail Glass, excellent colour balance, contrast and viewing angles. Screen area is approximately 84 cm2

6.7" AMOLED 1080p screen, 120Hz, HDR10-rated, very similar contrast and colours to the IDOL 4 Pro in practice, though scrolling content is obviously smoother. Screen area is larger, at approximately 107cm2, thanks to smaller bezels, so gets a win here for having more room for content in the same form factor, all other things being equal.

Connectivity

LTE, Wi-Fi b/g/n/ac, integral wifi tethering, Bluetooth 4.1, Continuum connectivity to use external displays as secondary screen [see photo below], independent of the phone display. Note that - perhaps significantly - there's no NFC!

LTE, NFC (all uses),

Wi-Fi b/g/n/ac, integral wifi tethering, Bluetooth 5.1 (all uses). [Can't pick a winner here, since NFC and Continuum cancel each out at one 'Pro' each!]



Processor, performance
Snapdragon 820 chipset, 4GB RAM (of which only 3.5GB are used for architectural reasons), the fastest Windows phone ever, despite the lack of TLC from Microsoft or Alcatel in terms of tuning.

Snapdragon 732G with 6GB RAM (on the variant here). Very fast at everything compared to the Windows 10 phone.



Capacity

64GB, expandable via microSD

64GB internal storage (in the variant being considered),

expandable via microSD



Imaging (stills)

21MP f/2.2 1/2.4" BSI sensor, dual LED flash, HDR shots, PDAF, very decent shots in most light conditions, but capture is relatively slow and it all falls down in really low light, as you'd expect (with no OIS). See my review part 2.

8MP front camera

Cameras: 108 MP, f/1.9, 1/1.52", dual pixel PDAF
8 MP, f/2.2, 118˚ (ultrawide), 1/4.0"
5 MP, f/2.4, (macro), AF


Decent results, though see my upcoming pitch on AAWP against (probably) the Lumia 950 XL, where it will struggle slightly, I predict! An easy winner over the underwhelming Alcatel camera.

16MP front camera, f/2.5

Imaging (video)
4K, optionally digitally stabilised (EIS), with 'Best photo' 8MP grabbing built-in, plus high amplitude stereo audio recording. See my review part 3.

Up to 4K video capture, with excellent stabilisation at all resolutions and with good stereo audio capture



Music (headphones)
3.5mm headphone jack, driven by a power amp and pro-quality DAC. Absolutely stunning volume and fidelity.

3.5mm headphone jack, but the DAC (probably the one in the main chipset) is not in the same league as the dedicated power amp in the IDOL 4 Pro here, and I had to have volume at maximum to get close to full enjoyment.



Music (speakers)
Terrific front-facing 3.6W stereo speakers, not quite the best in the world in 2021 (some of the gaming flagships, plus iPhone 12 Pro range have this honour), but right up there with the best in terms of volume.

Stereo speakers, surprisingly right up with the IDOL 4 Pro. Perhaps even a tiny bit louder, decent quality, no complaints. Especially considering the phone's price.

Navigation
Windows 10 Maps is comprehensive, has a degree of live traffic awareness (see the latest workaround), Includes full offline maps with automatic updates.

Google Maps is now the gold standard in phone navigation, tied in with many other Google services and offering true real time navigation around traffic issues.


Cortana/Voice
Cortana is now dead (on mobile), sadly, along with the platform itself.

Google Assistant is baked in and works well (activated from the lockscreen or via voice).

Battery, life
Sealed 3000mAh battery, just about gets through a day even with Windows 10 Mobile(!), plus USB Type C charging (up to 2A, i.e. 10W) and compatibility with Qualcomm's Quickcharge 3.0 (up to 18W).

Sealed 5020mAh battery, easily gets through a day. Charging is fast, up to 33W through the USB Type C port



Cloud aids
Windows Photos runs at full resolution and quality, and syncs across all signed-in devices, subject to your OneDrive tariff, should you have thousands of images in the system. Plus Windows 10 backs all your media, application data and settings to a separate backup folder system, tariff-free on OneDrive.

Google Photos does a great job of organising photos and syncing them across all signed-in phones and tablets, albeit at 'reduced' quality (re-compression server-side).

File compatibility
As with all Windows phones, plugging into a Windows PC gives full drag and drop to the phone's user file system. Plugging into a Mac sadly isn't possible anymore.

Plugging into a PC gives immediate MTP file access, plus this works well on a Mac with Google's Android File Transfer utility, for drag and drop of all user files.

Biometrics
The capacitive fingerprint sensor is slower than most in the industry, and it's not clear why! Plus the 'Hello' animation takes a second. On the positive side, it's a lot faster than PIN entry or iris recognition. On the (other) negative side, there's no Microsoft Wallet/Pay. Or NFC. So that side of things is a no go.

The fingerprint sensor is capacitive and on the phone's side, which works far better than more expensive phones with optical or ultrasonic 'under screen' systems. It's also better than the half-assed capacitive implementation on the Alcatel. Works well with Google Pay.

Applications and ecosystem
Windows 10 Mobile's application scene has been dwindling in the last 12 months as major applications have stopped support. Still just about viable, but one has to go in with one's eyes open!

The might of Google and Android's app ecosystem - everything is available and almost always in first party form.

Upgrades and future

Windows 10 Mobile stopped getting OS and security updates at the start of 2020.

Xiaomi's update record is a little patchier than most, but I'd still expect (at least) quarterly security updates through 2022.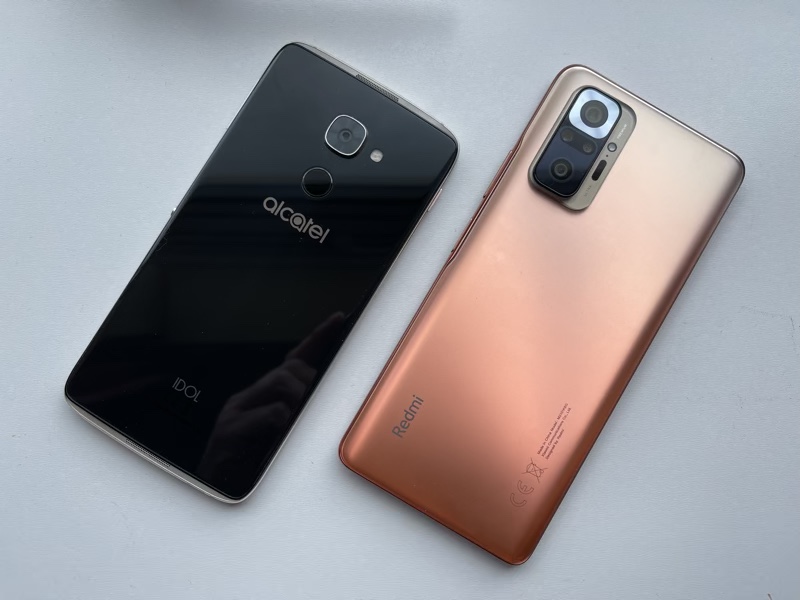 Verdict
Adding up the green 'wins' gives an overwhelming 13-2 score in favour of the much newer device, of course, though the IDOL 4 Pro still holds up well overall, certainly for playing back music and media, for a phone which started life in 2016 (in the USA). The big question is, of course, whether I'd recommend the Xiaomi Redmi Note 10 Pro as an upgrade from an Alcatel or top end Lumia? Yes, absolutely, the price is certainly right, the computing power undisputable, there's a lot to like - screen, speakers, etc. As often is the case (especially for AAWP readers), it will probably all come down to how good the camera system is - and that means another feature, comparing the Redmi Note 10 Pro to a Lumia 950 XL. Watch this space!