The main focus of the Bing Fiance app is keeping track of share price movements. On the opening page there's a list of indexes (customised to your region), which acts as jumping of point to dive into more detailed information (see below). The second page of the panorama will be the most useful for regular users, providing easy access to the indexes and stocks that you are most interested in. The watch list page is made up of a series of tiles that show recent index / share price movements, but again acts as a jumping off point for more detailed information (again, see below).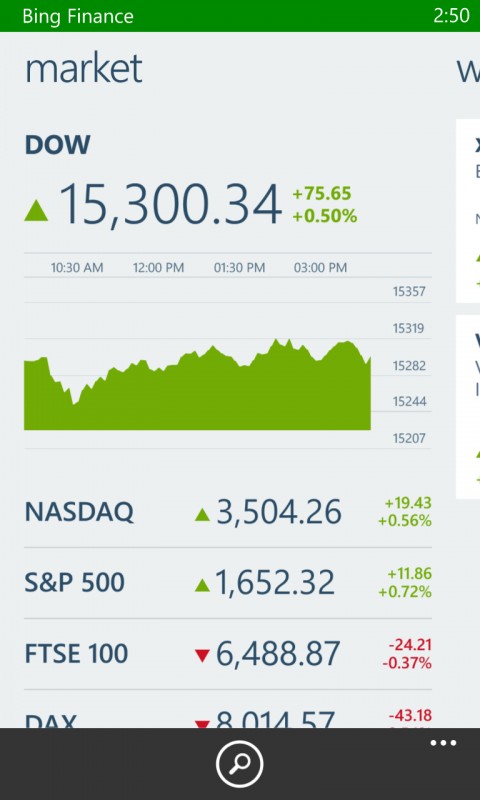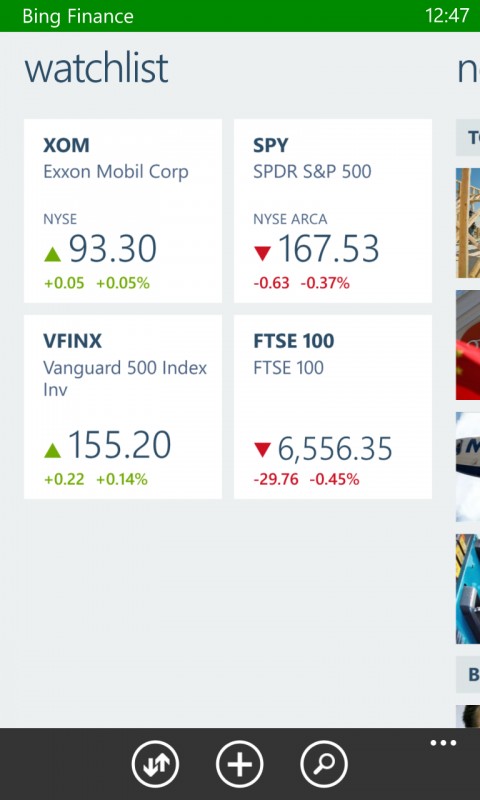 Tapping on an index open up a dedicated panorama with pages for overview (chart, open, close, range, return), movers (notable share movements for the last 24 hours), and components (stocks making up the index). Indexes can be added be pinned to the Start screen or added to the watch list.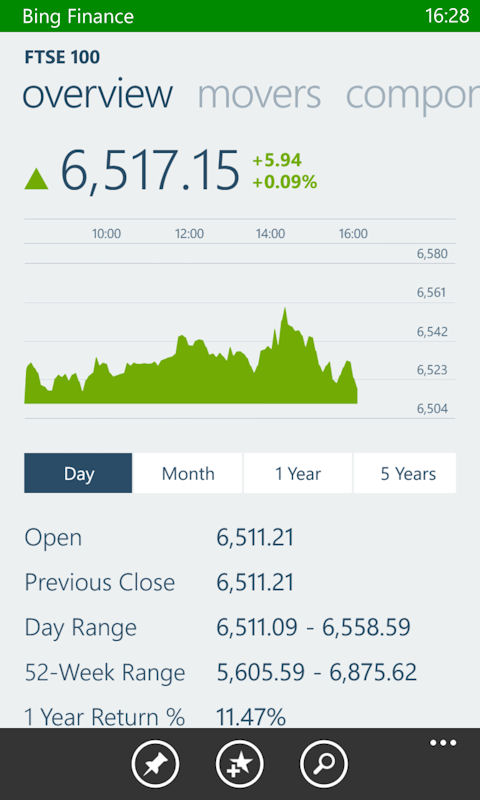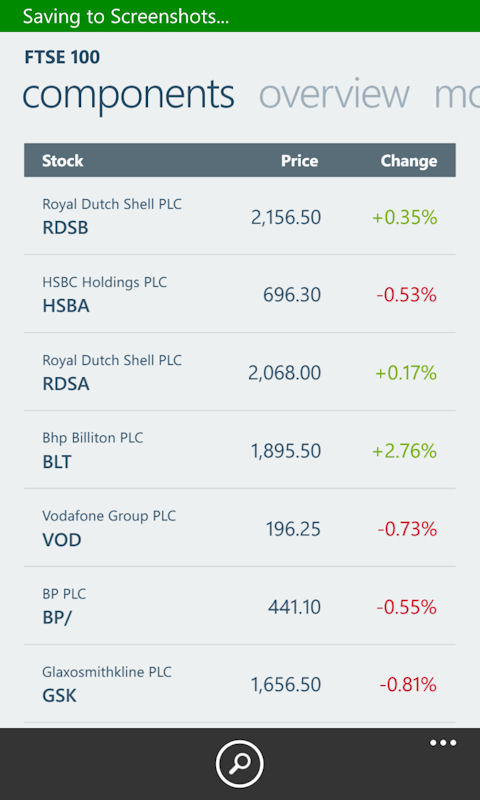 Tapping on stock on the watch list page, on an index panorama page, or in a search result will open up a panorama for that stock with an overview page (price, chart, open, close, range, and volume), news page (news stories related to the stock), statistics page (market capitalisation, yield, net margin &, and more), and profile page (stock description and industry categorisation). Like indexes stocks can be pinned to the Start screen or added to the watch list.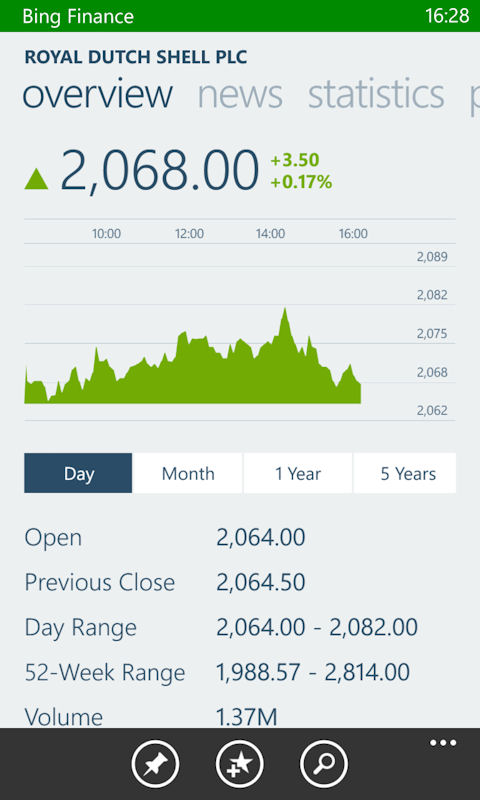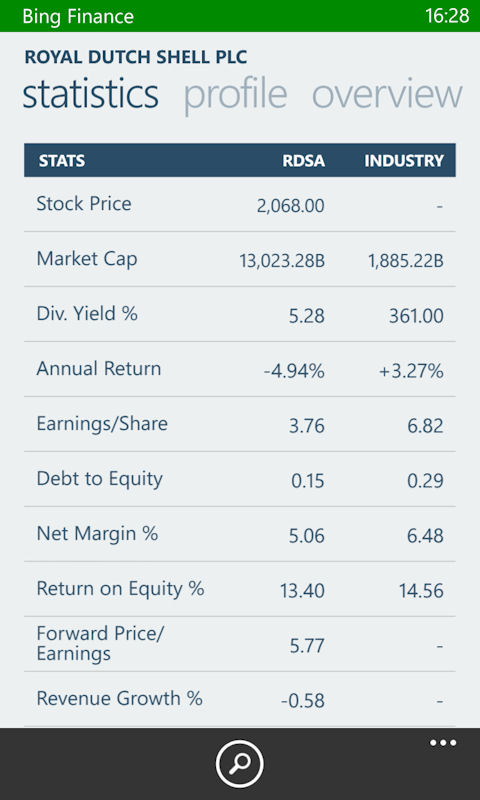 The third and fourth page of the main Bing Finance panorama are made up of the news and sources pages, which provide access to finanical related news. They have a similar styling and mode of operation to the Bing News app, albeit without the source customisation provided in the pure news app. That's something of a shame since the available sources are more limited in some regions (e.g. the UK only has Reuters, it would be helpful of having the option of adding in Bloomberg, CNBC, and others, even if they do have a US slant).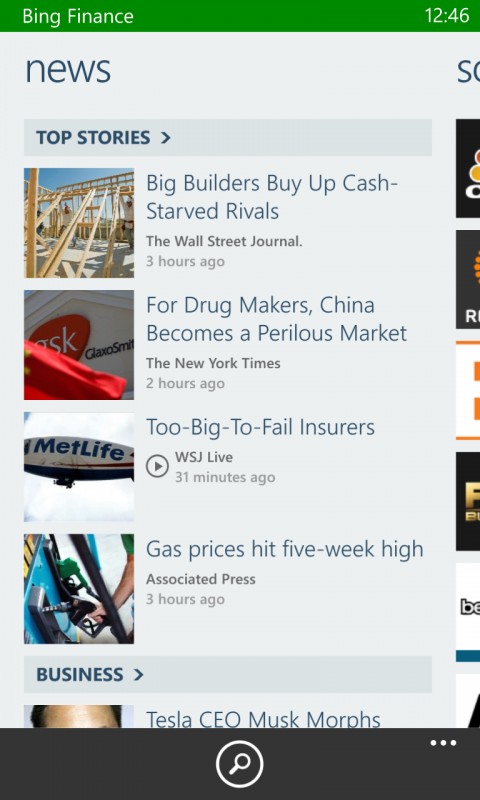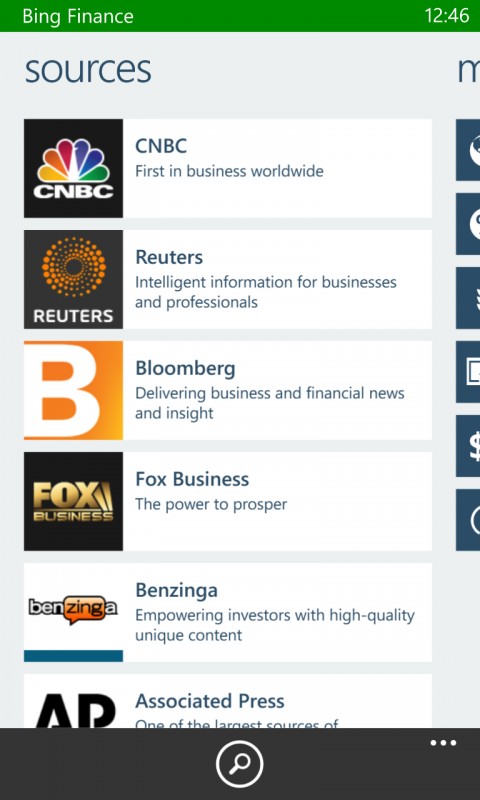 The final page of the opening panorama, more, offers a menu to access a number of additional content types and tools. Some menu items are only availabel in select markets (e.g. bonds and rates), but all users should have access to world markets (at-a-glance view of current market performance from around the world), commodities *information on various goods, such as precious metails, foodstuffs, and oil), and currencies (current exchange rates).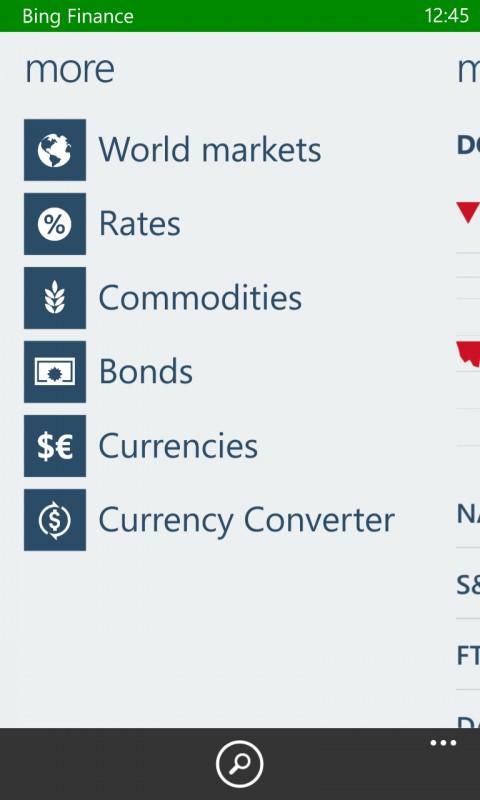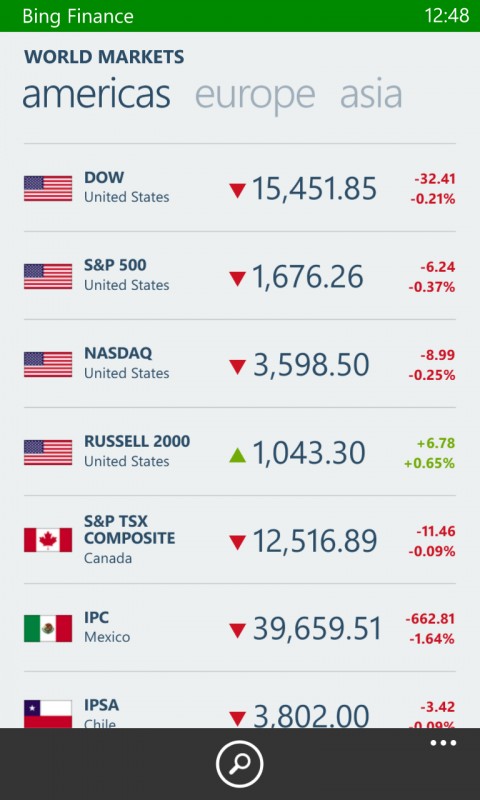 Bing Finance provides an alternative to apps such as Bloomberg, MarketWatch, Fidelity Investments, and more. It's less feature rich that some of the other financial news app available on Windows Phone, but it has some of the best news content, thanks to its use of multiple sources.
It also has a look and feel that is consistent with both the other Bing branded apps, but also Windows Phone in general, more so than some of the apps it is competing against. Another highlight is the way it automatically customises its content dependent on what region your device is set to. With most financial apps having a US or UK focus, the more global nature of Bing Finance makes it stand out from the crowd.
Windows Phone Store description:
The Bing Finance app helps you stay on top of fast-changing market conditions so you can make the most informed financial decisions. Designed for Windows Phone, the Finance app puts your portfolio at your fingertips. Swipe through colorful charts for a quick read on the day's events. Personalize your watch list to track your portfolio.
Bing Finance is a free download from the Windows Phone Store. It is only available for Windows Phone 8.