On the screen of the device there are three columns of Live Tiles, which points toward the device having a 1080p resolution screen, support for which is expected to added in the Windows Phone 8 GDR3 software update. Also noteworthy is the 20MP camera module on the back of the device, which is accompanied by a dual LED flash, a contrast to the Xenon flash that is included with the Lumia 929.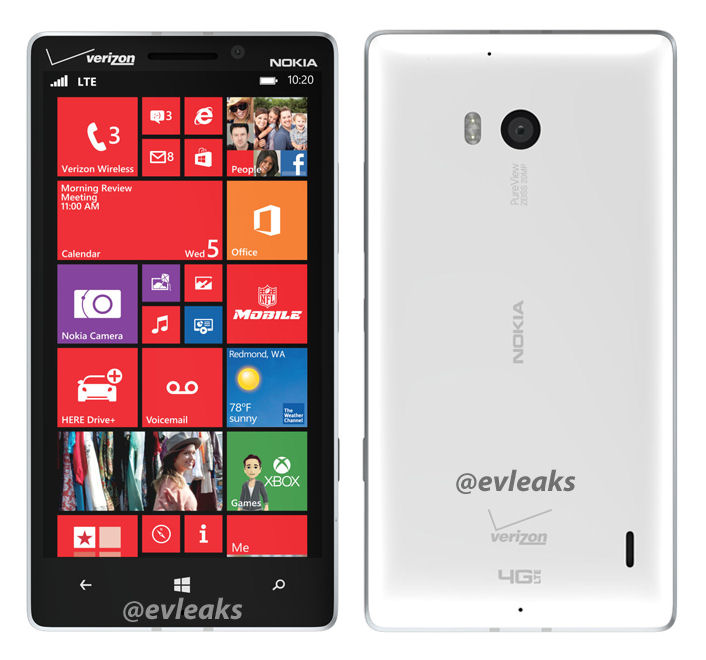 As we previously noted the design and Verizon branding would fit with the Nokia RM-927 device that was recently certified by US regulatory authority the FCC:
The RM-927 is still a relatively large device and is likely to have a screen in the 4.5 to 5 inch range (it's similar in size to the Lumia 625 and Lumia 925).

Also notable is the presence of WiFi 802.11ac in one of the test reports for the device. This would suggest that the phone will run on the Snapdragon 600 or 800 SoC (quad-core processor), almost certainly making it a member of Nokia's new Windows Phone hardware family (i.e. a step on from the current hardware family used in the Lumia 820 / 920 / 925 / 928 / 1020).
The Lumia 929 can be seen as Verizon's version of the Nokia Lumia 925, but it is important to note, as noted above, that it appears that it will be based on a more recent Snapdragon SoC. In technical terms this would make the Lumia 929 superior to the Lumia 925, although the real world impact this will have on consumers is unclear. One potential area where this could have an impact is the delivery of future software updates, the Lumia 929 could potentially get updates for a longer period of time that the Lumia 925.
The Nokia Lumia 929 will be exclusive to Verizon and will be positioned as an update to the Nokia Lumia 928, which it will almost certainly replace in Verizon's Windows Phone portfolio. The smartphone is expected to go on sale in November in order to catch the seasonal Thanksgiving and Christmas markets (peaking sales period for smartphones in the US).
While the leaked image are, in our judgement, genuine they should be treated as unconfirmed until the formal launch announcement is made by Verizon and Nokia.