Once the software has been approved by operator it also has to go into Microsoft's Windows Phone update system. This can also sometimes take a little time, especially during busy periods (e.g. when lots of software updates are being delivered). Thankfully, Microsoft appears to no long be scheduling updates only for certain times of the month, as was previously the case.
Over the last fives week more and more devices have been getting the Lumia Amber update (status changing from "Waiting for approval" to "Available"). Nokia previously stated that most devices would get the update by the end of September. That deadline has largely been met, although some variants, such as the Lumia 820 and 920 on AT&T in the US, have only recently received operator approval in the past few days, and a handful of variants are still awaiting operator approval. In almost all cases this is down to the operator. For example, WIND, an Italian operator, has yet to approve any Lumia Amber updates for devices running on its network.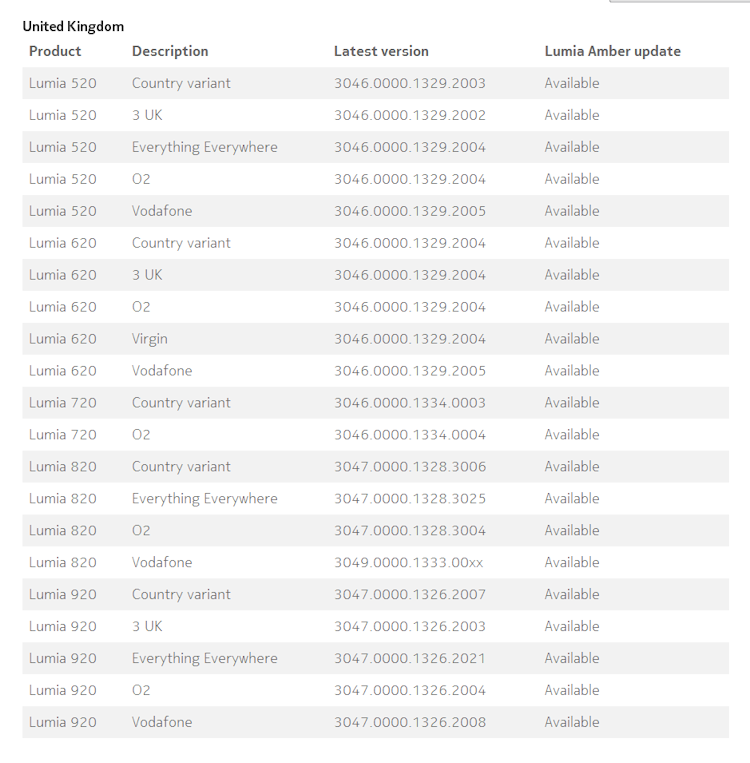 As we previously noted:
The Lumia Amber update, which ships on top of the Windows Phone 8 GDR 2 update, brings a variety of improvements to Nokia's Windows Phone 8 devices, including improved image processing (better camera ouput), the availability of Nokia Smart Camera to all devices and Nokia Pro Camera for select devices, improved lockscreen and display settings features (including the addition of "Glance" and "double tap to wake"), the return of flip to silence functionality, in place update for HERE maps data, support for call and SMS blocking, and more.

Microsoft's GDR2 update also provides a number of enhancements, including the return of FM Radio (all devices except the Lumia 620), wider (but not complete) availability for Data Sense, support for CalDAV and CardDAV for Google Sync, improvements for XBox Music (pinning of songs and better metadata), greater stability for VoIP functionality, improved HTML5 compliance and performance in Internet Explorer, and numerous minor bug fixes.
Nokia is provides a full availability list for Lumia Amber here (see region links on left hand side of the page), which is updated as the software becomes available for more devices. The list is divided into countries and sub divided into device and operator variants. The country variant is the generic (SIM-free) product for the country in question (i.e. devices without operator lock and/or branding).
The list shows three possible status messages: "Waiting for approval", "Coming soon", and "Available". The first means the update is still in testing, the second means the update has been approved and will shortly be available, and the third means the update is ready to download. Once a device is marked as available you should, within a few days, be prompted to download the update, but you can manually check for an update by going to the phone update module of the Settings app.