As we've previously noted, the Lumia 1320 is Nokia's entry into the mid tier large screen smartphone (phablet) segment, complementing the company's existing Lumia 625 and Lumia 1520 smartphones:
The Lumia 1320, which is available in white, red, black, and yellow, has a 6 inch LCD IPS 720p screen, 1.7GHz Dual-Core Qualcomm Snapdragon 400 with 1GB RAM, 8GB of internal storage with microSD card support, and a 5 megapixel camera. The latest addition to the Lumia range is essentially a low cost version of the Lumia 1520; a similar comparison could be drawn between the Nokia Lumia 920 and Nokia Lumia 720.

The Lumia 1320 is the first Nokia Windows Phone device to be built around the 1.7GHz Dual-Core Qualcomm Snapdragon 400 SoC. It is likely to be representative of the "new" low end specification for the Lumia range, in the same way that the Lumia 1520 is the first of the "new" high end specification devices. Both of these new hardware platforms, representing the third generation of hardware since Nokia adopted Windows Phone, are likely to be used in multiple devices throughout 2014. This gives the Lumia 1320 a certain appeal beyond its mid-range pricing and large screen.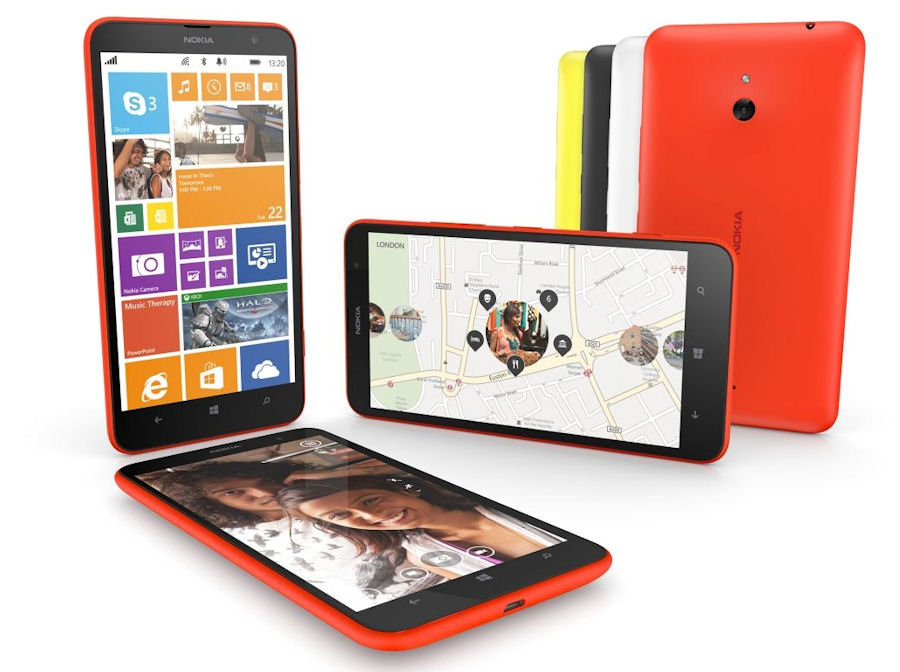 In order to reach a lower price point, compared to Lumia 1520, a number of cuts have been made to the handset's specifications. These include the process, RAM, camera, and screen, with the internal memory and use of a single HAAC microphone also being worth noting. However, the cuts may be less obvious to consumers that in Nokia's previous generation of lower cost handsets (e.g. Lumia 520 and 720). That's partly a result of the uprated processor and RAM, but the presence of Gorilla Glass 3 and a compass sensor also stand out as somewhat unexpected. The former is usually only found in higher end devices, while the latter allows for full use of the HERE software suite, including augmented reality based apps.
Speaking about the UK launch of the Lumia 1320 Conor Pierce, VP of Nokia in the UK & Ireland, said:

We are building on the continued success of the Lumia range by looking to offer the latest Windows Phone in a large-screen smartphone format at a highly competitive price. Consumers and particularly businesses will love its large screen, warm industrial design and the richer imaging experience it is able to deliver. The Nokia Lumia 1320 brings a cost effective addition to our large screen Windows Phone portfolio.
UK pricing is not yet available for the handset, but its thought that the handset will be available from free on the middle tier of contract pricing. It is also likely to have limited availability in the SIM-free and PAYG markets, with a price point between £260 and £320 (based on Nokia SIM free price of $339 before taxes and subsidies).