Some of the key data points from this month's AdDuplex global report include:
Windows Phone 8 devices represent more than four out of five (80.4%) of devices detected by AdDuplex, up from 49.4% in June 2013.

The Nokia Lumia 520 and 521 collectively represent more than a third 36.6% of active Windows Phone devices. An estimate based on these numbers suggest between 17 and 19 million Nokia Lumia 520/521 devices have been sold.

The Nokia Lumia 625 is now the fifth most popular active Windows Phone device (5.3%), having entered the charts just four months ago. By contrast neither the Lumia 925 or Lumia 1020 are in the global top ten. While lower end devices naturally sell in greater numbers, it is also indicative of Windows Phone's weakness in the high end.

Older Windows Phone devices, such as the Lumia 710, continue to slip down the device rankings. The top 5 spots are all taken by Windows Phone 8 devices.
Globally the Nokia Lumia 520 remains the most popular Windows Phone device by a big margin (33.3% of active Windows Phone device), it is followed by the Nokia Lumia 920 (7.4%), Nokia Lumia 620 (7%), Nokia Lumia 720 (5.6%), Nokia Lumia 625 (5.3%), Nokia Lumia 710 (5.2%), Nokia Lumia 820 (4.4%), Nokia Lumia 800 (4.0%), Nokia Lumia 521 (3.6%), and the Nokia Lumia 610 (3%). Other Windows Phone devices make up 21.5% of the active Windows Phone device base.
The AdDuplex data allows us to make a rough estimate of the number of active Windows Phone devices. Adding up known shipping totals, while allowing for the fact that some devices are no longer being actively used, we can estimate that there are around 52 million active Windows Phone devices. This would suggest Nokia has sold around 17 million Nokia Lumia 520 handsets in total, with around 5 million of these sold in the last 3 months.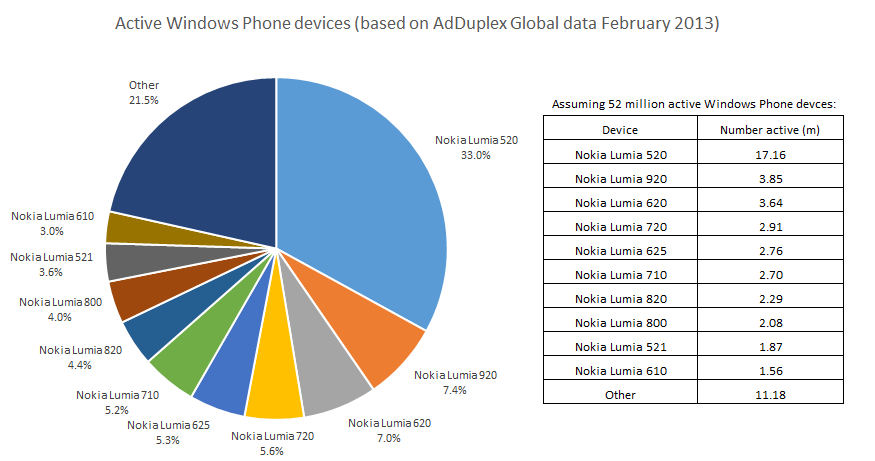 In terms of month to month changes, the most notable is the older Windows Phone 7 devices declining in the rankings, as is to be expected given that these devices are now only sold in a handful of markets and, in some cases, are coming to end of a two year ownership period. As noted above the Lumia 625 is also rapidly establishing itself as one of the more popular Windows Phone devices, providing some evidence that there is significant demand for larger screen devices.
The chart below, which shows a summary of the AdDuplex global device data from the last fifteen months, reinforces this idea and shows how the lower specification Windows Phone devices are making up an ever increasing proportion of Windows Phone devices. It is most clearly seen in the rise of the Lumia 520, but a similar pattern can also be seen for the Lumia 625.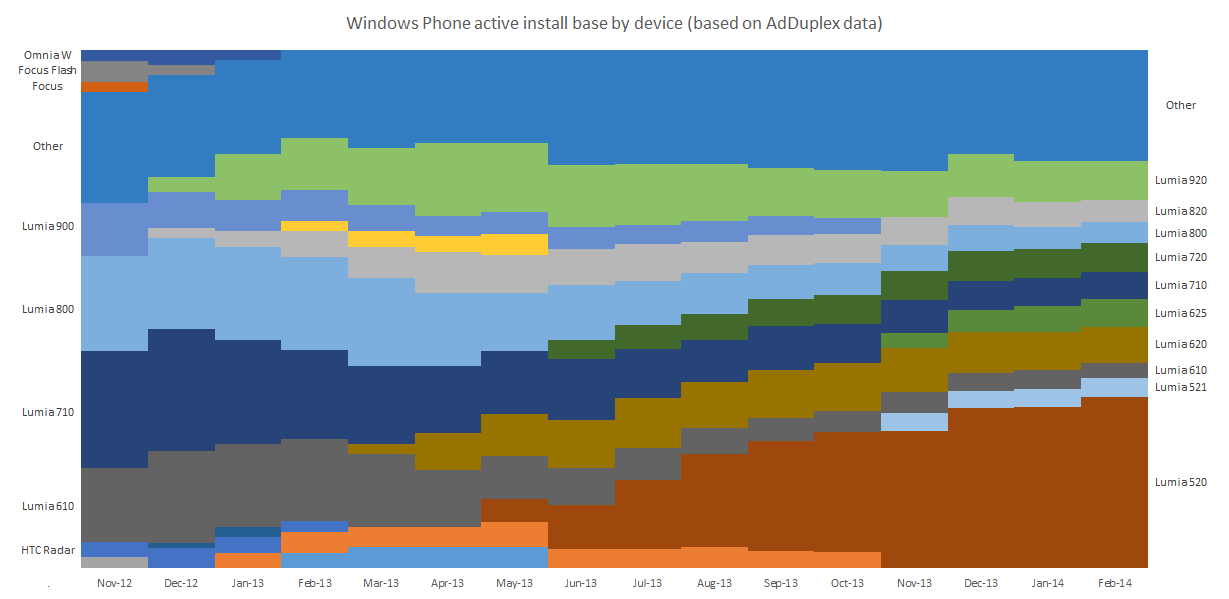 The global figures hide considerable regional variations. For example, in China the Lumia 920 is the post popular device (21.7%), followed by the Lumia 520 (11.6%), the reverse pattern to most markets. In part this reflects lower sales of Windows Phone devices in China in the second half of 2013.
In the UK, the Lumia 520 is the most popular device (40.4%), with the Lumia 625 (7.3%) in second place. It's notable that both these devices received a significant promotional push from multiple operator in the run up to Christmas, with a strong message of vale-for-money.
Nokia remains the leading device manufacturer for Windows Phone devices, and 92.0% of active Windows Phone 8 devices are made by the Finnish manufacturer. HTC remains in second place on 5.0%, Samsung in third with 1.4%, followed by Huawei in fourth place with 0.8%.
Windows Phone 8 devices now represent 80.4% of all active Windows Phones. This number is likely to increase as more users reach the end of a two year phone life cycle pattern.

Previous reports: July 2013, August 2013, September 2013, October 2013 and November 2013.