Some of the key data points from this month's AdDuplex global report include:
Windows Phone 8 devices represent more than three quarters (75.3%) of devices detected by AdDuplex, up from 49.4% in June.
The Nokia Lumia 520 and 521 collectively represent just under 30% of active Windows Phone devices.
The Nokia Lumia 625 enters the charts as the 10th most popular active Windows Phone device (2.9%).
For the first time, the top ten active Windows Phone devices are all Lumia (Nokia) models.
Older Windows Phone devices, such as the Lumia 800, have slipped down the device ranking, as consumers upgrade to newer phones.
Globally the Nokia Lumia 520 remains the most popular Windows Phone device by a considerable margin (26.5% of active Windows Phone device), it is followed by the Nokia Lumia 920 (8.8%), Nokia Lumia 620 (8.6%), Nokia Lumia 710 (6.2%), Nokia Lumia 720 (5.6%), Nokia Lumia 820 (5.5%), Nokia Lumia 800 (5.1%), Nokia Lumia 610 (4.0%), Nokia Lumia 521 (3.4%), and the Nokia Lumia 625 (2.9%). Other Windows Phone devices make up 23.4% of the active Windows Phone device base.
The AdDuplex data allows us to make a rough estimate of the number of active Windows Phone devices. Adding up known shipping totals, while allowing for the fact that some devices are no longer being actively used, we can estimate that there are around 43 million active Windows Phone devices. This would suggest Nokia has sold around 11.4 million Nokia Lumia 520 handsets in total, with around 1.5 million Lumia 520s sold in the last 30 days.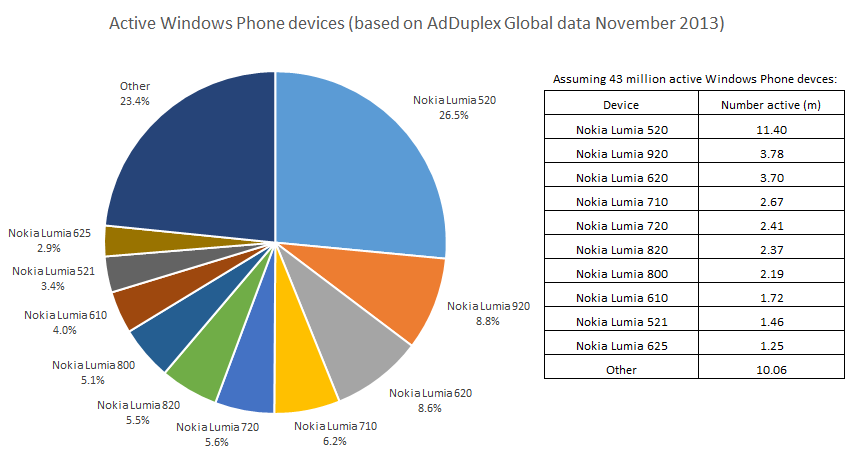 In terms of month to month changes, the most notable is the older Windows Phone 7 devices declining in the rankings, something to be expected given they are now on sale in only a small number of markets. Also noteworthy is the Lumia 720 moving from to 7th to 5th in the rankings, suggesting the mid-range device may have longer sales legs than previously anticipated.
What's also apparent from the chart below, which shows a summary of the AdDuplex global device data from the last year, is that lower specification Windows Phone devices are making up an ever increasing proportion of Windows Phone devices. This is not unexpected given that both Nokia and Microsoft have made a concerted effort to lower the cost of Windows Phone devices in order to increase the size of the platform's addressable market.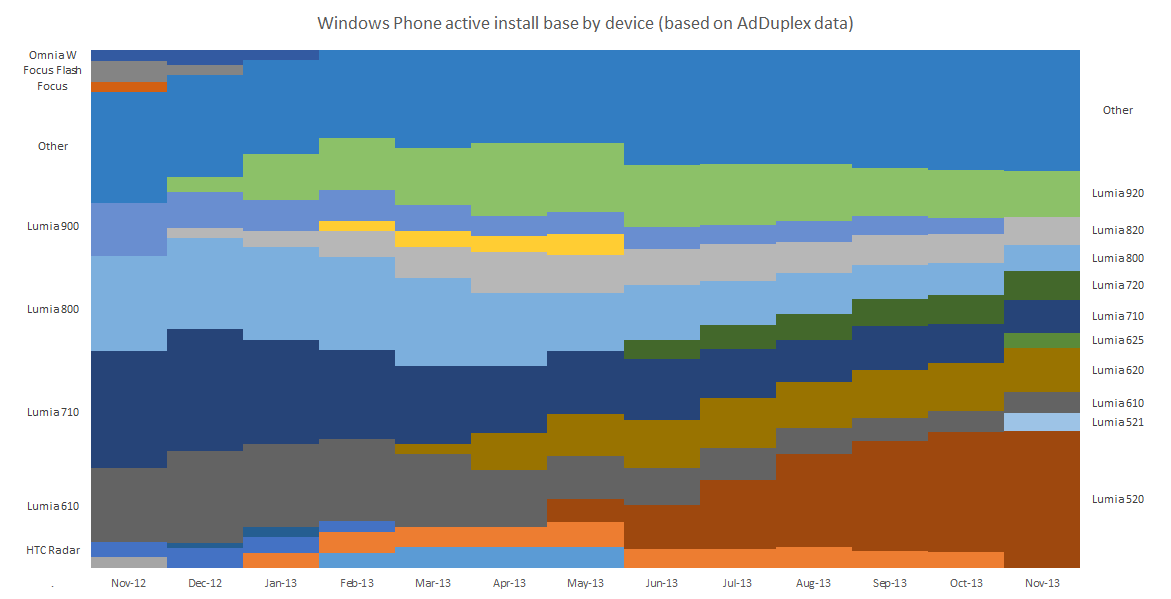 The global figures hide considerable regional variations. For example, in Germany the Lumia 920 is the post popular device (17.4%), followed by the Lumia 520 (9.5%), the reverse pattern to most markets.
In Italy, the Lumia 520 is the most popular device (43.4%), indicating Nokia has converted one of its strongest Windows Phone 7 (2012) markets into a strong Windows Phone 8 (2013) market. In both cases, the sales volume was achieved with lower cost devices (Lumia 610 / 710 and Lumia 520 / 720 respectively).
Nokia remains the leading device manufacturer for Windows Phone devices, and 90.0% of active Windows Phone 8 devices are made by the Finnish manufacturer. HTC remains in second place on 7.0%, Samsung in third with 1.8%, followed by Huawei in fourth place with 1.3%. As in the last few months, there have been only minor changes from the preceding months, although Nokia has, as we predicted, broken through the 90% barrier.
Windows Phone 8 devices now represent 75.3% of all active Windows Phones, notably up from last month (70.9%). This trend should continue as more users reach the end of a two year phone life cycle pattern.

Previous reports: July 2013, August 2013, September 2013, and October 2013.