Review:
Indulged (Flickr Client)
Score:
71%
While Yahoo's photo service Flickr has been revitalised in the last year with new membership and storage options, a modern layout, and an improved application for the iPhone, other platforms have not picked up the same love and affection, at least not from Flickr. That's where Indulged takes over for Windows Phone.
Version Reviewed: 1.0.0.0
Buy Link | Download / Information Link
Developer Powerytg has put together an impressive looking application to browse through your Flickr pictures, those of your friends, discover more images, and upload new pictures to Flickr.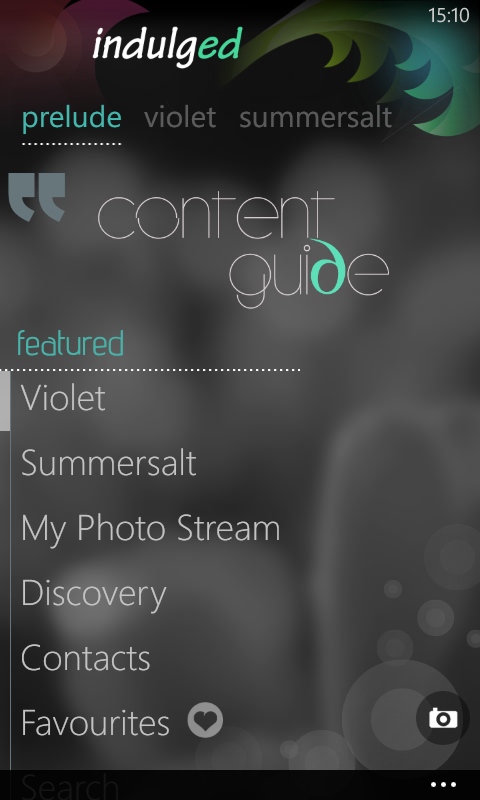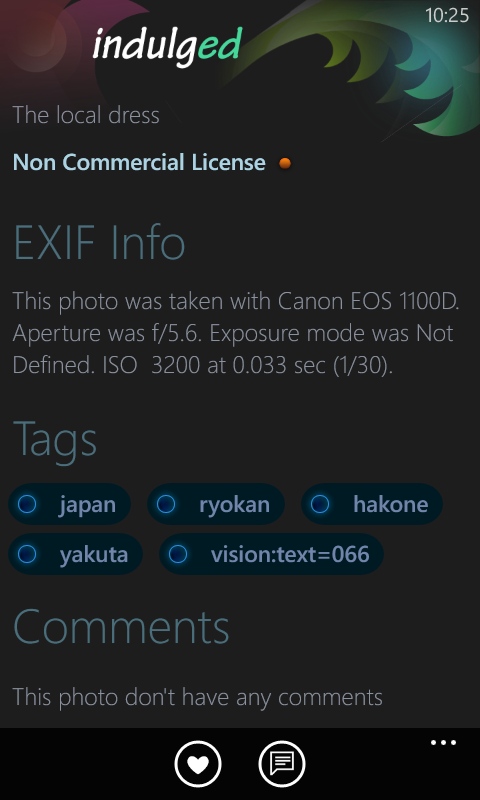 Actually let's start at the upload point. There's an expectation with a photo uploading application, that's independent of your mobile platform, that you can upload your own photos. That's only partially true with Indulged, and I suspect the problem lies in the Windows Phone security model. You can only upload pictures that are taken within the application, which seriously limits the usefulness of Indulged as a photo upload tool for Flickr.
That's partially offset by the inclusion of a 'pro' camera mode inside the application. No matter the name, this is not an instance of Nokia's advanced software on the Lumia 1020 and in the latest release, but part of Indulged's own suite. It opens up a camera viewfinder on the screen, and gives you direct control of the flash, ISO, and white balance (oh and you can switch to the forward camera as well).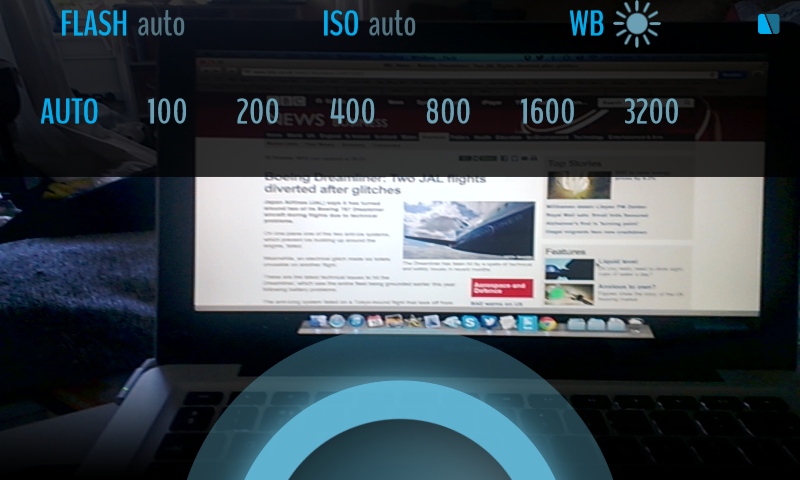 It's a nice touch, but on the Lumia 820 I was testing the app with, it was far too slow to open, save pictures, and then bring them back into the application for adding tags and descriptions before uploading the single images to Flickr. It's far, faster to not use the Pro Camera setting and rely on the built in camera app, which has an in-app instance opened up by Indulged to take a picture.
Again, this seems half-hearted. If you want to upload pics, then multiple uploads, and being able to select pictures that are already taken is a must. This curious omission aside, the rest of Indulged is a lovely mix of Windows Phone design language and the smart and stylish layout of the 'new and improved' Flickr.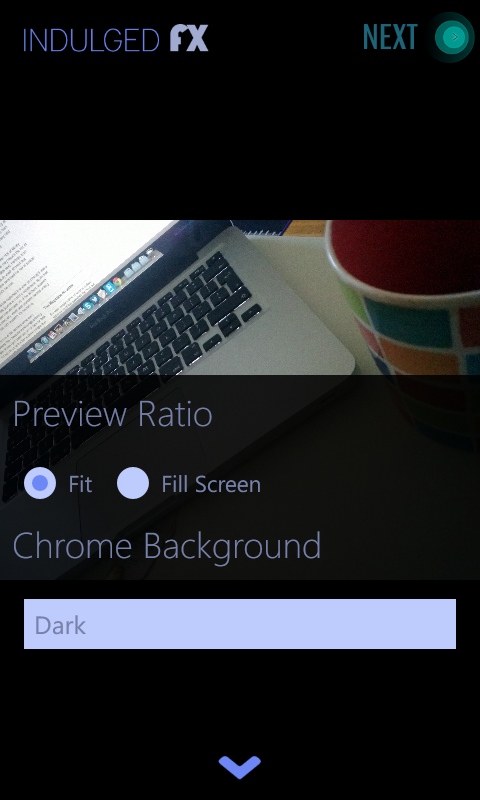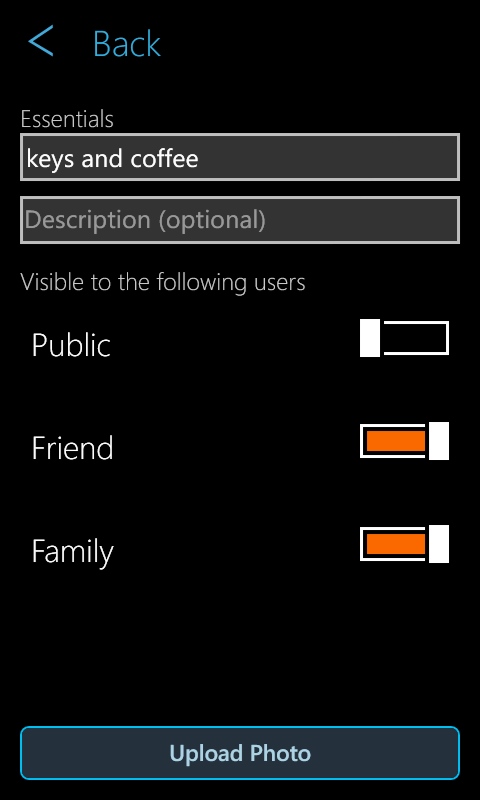 Open the app and you have a panorama view with three screens. Curiously named 'Prelude', 'Violet' and 'Summersalt', these views will let you jump to your photo sets or community views that are already set up in your Flickr account, browse the recent photos from your friends in a stream of images, check out your profile, and look at one of three subscribed streams (your own photos, your favourites, or the 'discovery stream' generated by Flickr for yourself).
It's not, strictly, the Windows Phone design language as the typography is all wrong, there is a rather confusing background and header image, and it looks one step removed from the UI in the rest of your handset. But it does feel rather classy, in a San Fran hipster way (which, ultimately, is exactly what drove Flickr in the early days).
You also have a small camera icon in the bottom left to take you to the aforementioned ability to take and upload pictures.
Moving into the streams, there are two styles of layout, The first is a straight ahead endless ribbon with the pictures underneath the headlines and descriptions. Tapping on a picture opens it up, and all the associated metadata. These are all clickable so you can go down the rabbit warren of following tags, or exploring the photos of an individual user.
This uses the second view, which montages the photos together in different sizes to give a twisted mosaic look to the ribbon of images. It still runs vertically, but the variance makes for a really nice browsing experience. Again tapping on a picture opens it up on the screen so you can find more details, like (or unlike) a picture, and leave your own comments.
Navigating around Flickr is really easy to do, it feels organic and smooth, and it's actually quite a fun process. Indulged is well named for this main function.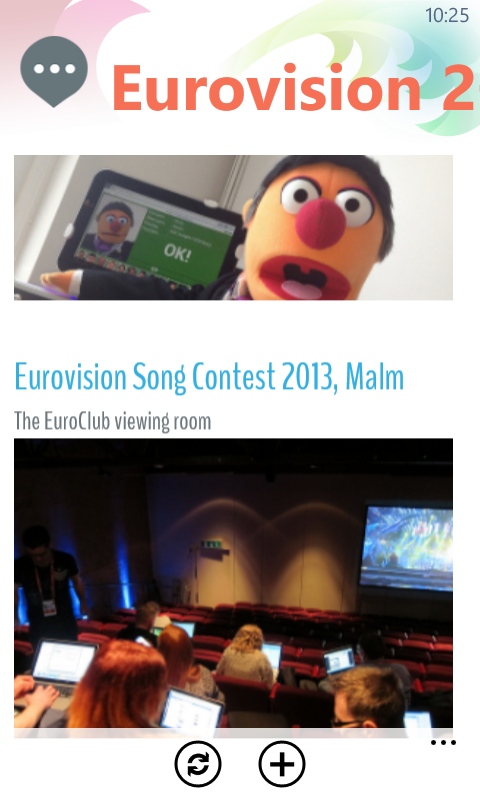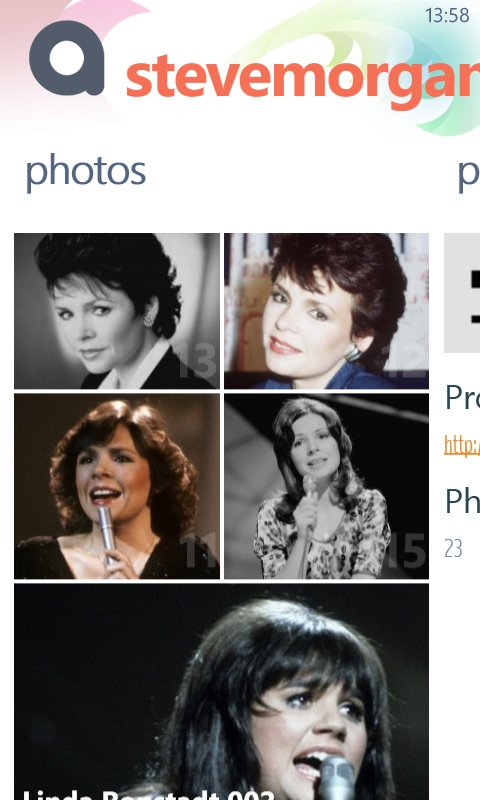 The final main function for a Flickr app (after uploading and browsing), is managing your images. I have to say that I feel let down here as well. Indulged gives me no extra tweaks to my own images beyond the same global like/dislike. The ability to edit text descriptions or headlines would be welcome, especially if it's an image I've just uploaded from my handset. Placing pictures into groups or sets would also be the sort of basic functionality I would like to see in the app.
Indulged is tricky to rate. On one hand, the discovery process and browsing around Flickr is gorgeous, looks wonderful, and is a delight to use (and to show off Windows Phone). Really this should be Flickr's goal in their own Windows Phone app, but only an old WP7 version is available in the store, so Indulged has an almost open goal to shoot against.
But on the other hand its upload facility is poor at best, and I would have expected more ability to edit your pictures.
Indulged is a free application, and while that doesn't give the developer any slack, it does mean that I'm relatively happy to ignore the other functions and treat Indulged as a Flickr browser. There's a strong argument that the developer should focus solely on that area, and drop the disappointing sections of the app. Nevertheless I'm going to recommend Indulged for Flickr fans, but with the obvious and previously stated caveats.
Reviewed by Ewan Spence at