Review:
Microsoft Lumia 535
It comes to something when the worst things I can say about the brand new Microsoft Lumia 535 are that the colour and finish on the case plastic are not to my taste. Glossy orange would not be high up my personal wish list. However, away from that factor, it's hard to argue against the balance of budget components and features in the 535 - it's finely pitched to impress as much as possible for as low a price as possible and, in that regard, succeeds.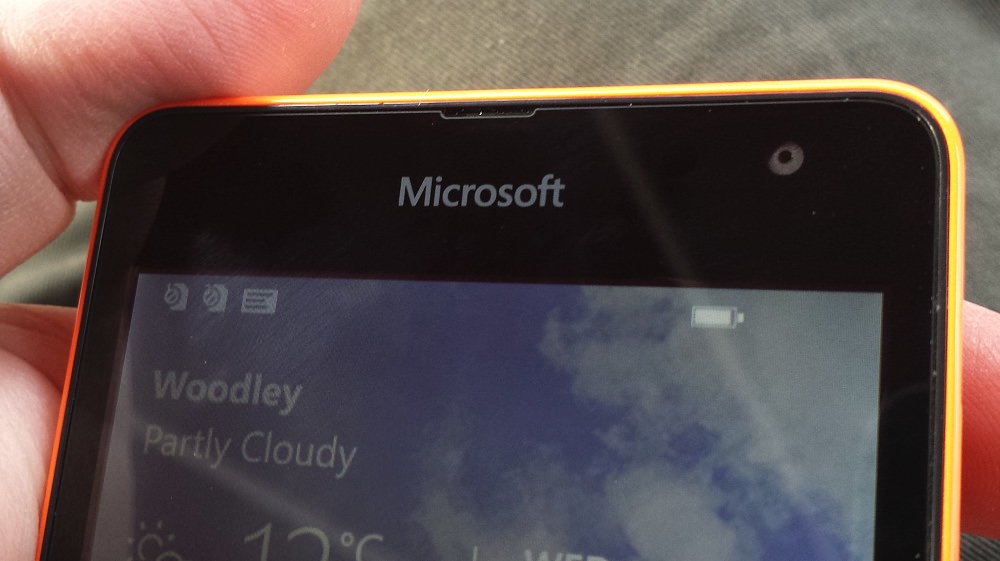 Before getting under way with the review text for this first-ever Microsoft-branded Windows Phone though, you're probably getting a bit confused as to where the 535 fits into the ever-growing Lumia stable in terms of positioning and specifications. Think of it as a cheaper sister device to the acclaimed Lumia 830. If the latter is the 'affordable flagship' then the Lumia 535 is the 'budget flagship'. And yes, I'm aware that this phrase makes little sense - what I'm trying to get over is that the size of the display and the device overall is comparable on shop shelves to the mid range and high end flagships. A general user will see the 535 on the phone shop shelf next to 5"-screened phones running Android and will be somewhat amazed by the price here on Windows Phone.
Yes, digging down into the internals reveals a number of compromises, but none are showstoppers. The 630/635 was somewhat crippled by only 512MB of RAM (that'll come back to bite when Windows 10 hits) and by no flash in the camera (or LED torch, of course). The 530 is simply too low end, with not enough internal storage or RAM and a very limited camera. But the 535 is perfectly poised, much like the proverbial 'perfect' in the Goldilocks fairy tale.
Here's the range, laid out in terms of specifications:
| | | | | |
| --- | --- | --- | --- | --- |
| Devices: | Lumia 530 | Lumia 535 | Lumia 630/635 | Lumia 735 |
| Announced | July 2014 | November 2014 | April 2014 | September 2014 |
| Guide price (UK or India) | £49 (RS5300) | £100 SIM-free, probably £79 on pay-as-you-go, while RS9000 in India is common right now | £79 | £149 |
| Dimensions, weight | 120 x 62 x 12mm, 129g | 140 x 72 x 9mm, 146g | 130 x 67 x 9mm, 134g | 135 x 69 x 9mm, 134g |
| Screen size, tech | 4" LCD, 480p RGB | 5" LCD, 540p RGB | 4.5" LCD, 480p RGB, ClearBlack Display 'Lite' | 4.7" AMOLED, 720p pentile, ClearBlack Display |
| Glance screen | No | No | No | No (oddly, since this would be perfect for AMOLED!) |
| Materials | All plastic, moderate matt effect | All plastic, glossy | All plastic, nice matt effect | All plastic, beautiful finish and styling |
| Processor, speed, RAM | Snapdragon 200, 1.2GHz, 512MB RAM | Snapdragon 200, 1.2GHz, 1GB RAM | Snapdragon 400, 1.2GHz, 512MB RAM | Snapdragon 400, 1.2GHz, 1GB RAM |
| Storage | 4GB plus microSD | 8GB plus microSD | 8GB plus microSD | 8GB plus microSD |
| Stills camera | 5MP, fixed focus, no flash | 5MP, LED flash, plus decent secondary, front facing camera | 5MP, no flash | 6.7MP, LED flash, plus decent secondary, front facing camera |
| Video camera | 480p | 480p | 720p | 1080p, stereo recording |
| Charging options (any Qi?) | microUSB | microUSB | microUSB | microUSB plus Qi |
| Battery capacity, life | BL-5J 1430 mAh, removeable | 1905mAh, replaceable | 1830 mAh, removeable | 2200 mAh, removeable |
| Speaker | Back, moderate volume | Back, moderate volume | Back, quite loud | Back, quite loud |
| Advanced comms (depending on variant) | Up to quad band 3G | Up to dual band 3G | Up to hexaband 4G (on the 635) | Up to tri-band 4G, NFC |
Before heaping further praise on the Lumia 535, I have to comment more on the choice of colours and materials. Here we're talking high gloss plastic in a shocking orange, at least in the review unit. The colour's a moot point, of course, since buyers usually have a choice, depending on market (i.e. country) and network - black, white, greem and blue have also been spotted. Any of which would be preferable to shocking orange!
The use of glossy plastic (in the orange and green options) is curious - it's certainly going to be hard wearing and feels smooth (yet grippy/clammy) in the hand, but it's also going to attract fingerprints - just imagine a gloss plastic phone in the hand midway through a fish and chip takeaway. Still, buyers will get a chance to feel the finish for themselves and it's admittedly a subjective factor.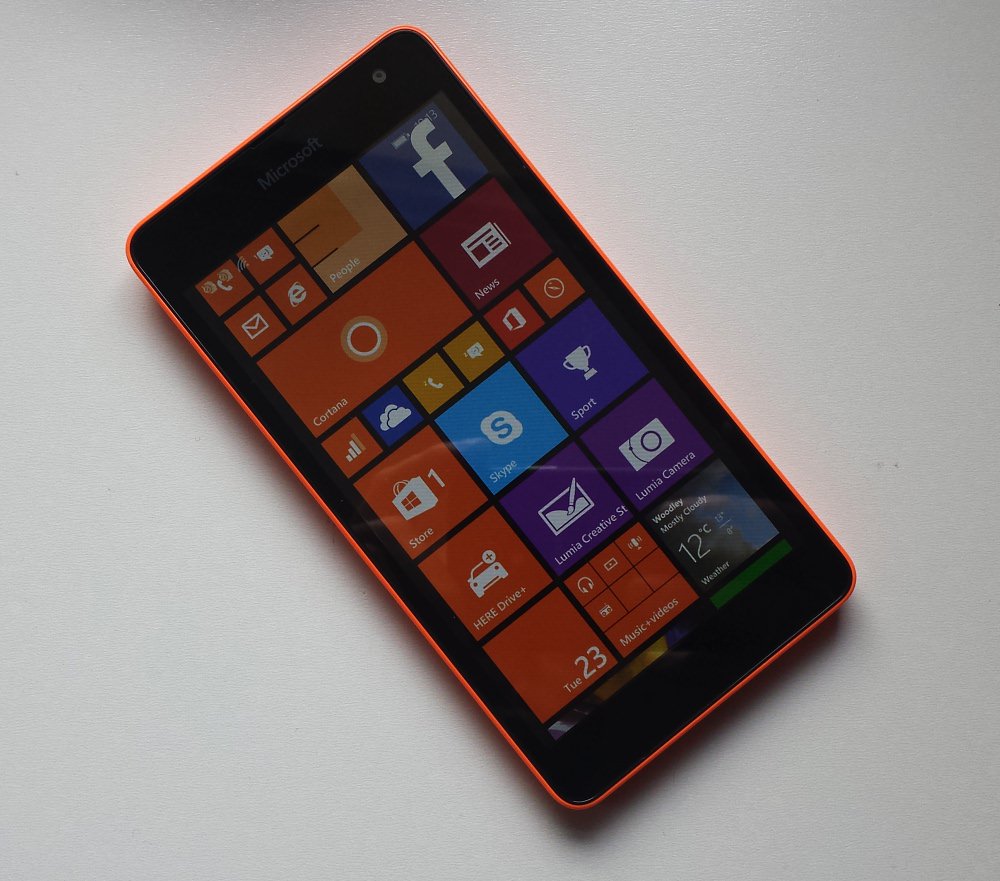 Hardware
As with previous budget Lumias, the entire rear shell detaches with a little prying and bending, leaving the guts of the phone in one piece and accessible - battery, microSD, twin SIM slots (this is a 3G-only dual SIM device for the world). Since the shell has no extra components (aerials, Qi coils, that sort of thing), replacement coloured shells should be available from accessory outlets online very cheaply and if I were to use this review unit day to day for any longer then a replacement matt black shell would be the first order of business.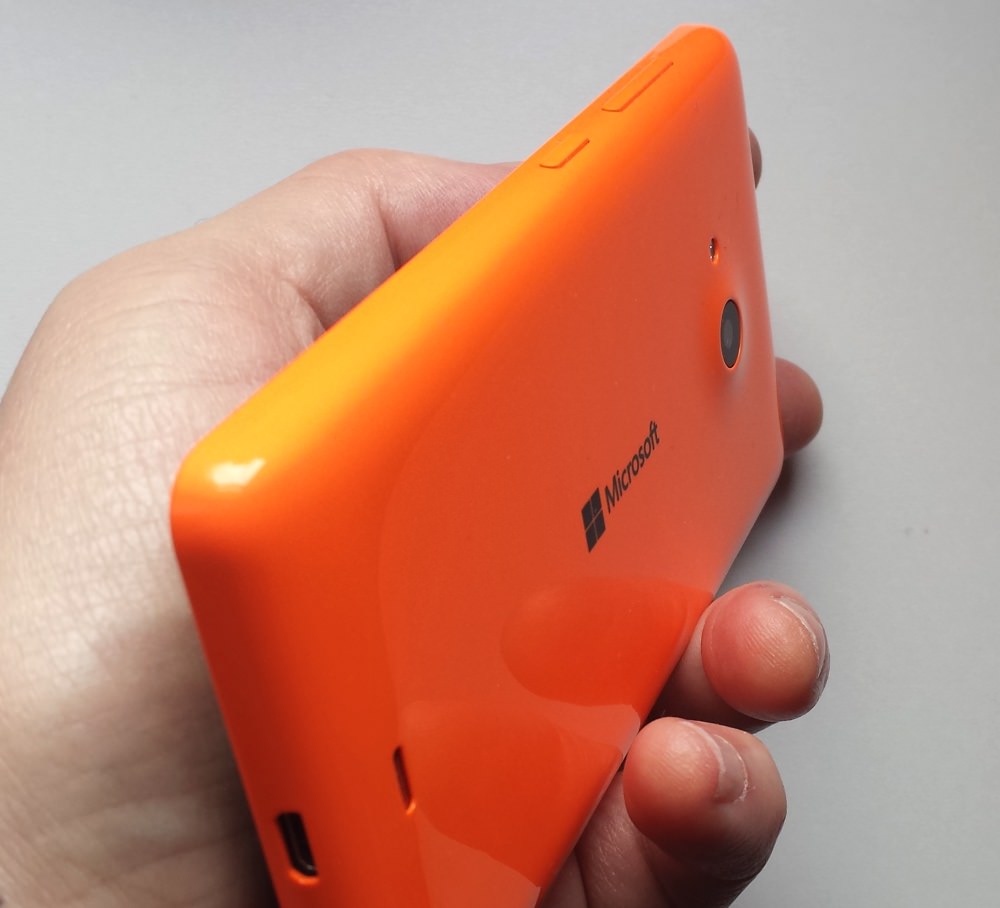 Of note in the design is that the speaker aperture is covered internally with a waterproof membrane - though don't get too excited about taking the Lumia 535 out swimming - the microUSB and 3.5mm ports are still open and the speaker membrane does nothing more than improve the 'splash resistance' of the Lumia 535 design. Especially putting the phone face-up on a wet kitchen or pub surface, in which case the speaker would have been vulnerable.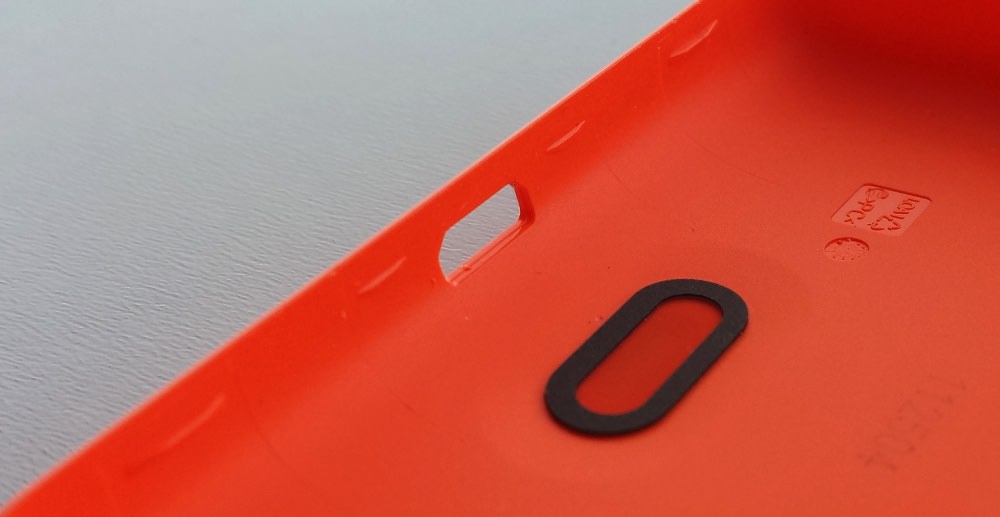 The camera involves a slight bump in the internal frame and a corresponding bump in the shell plastic - which is promising, since budget phones often have such small cameras that no hump is needed. But more on the imaging later.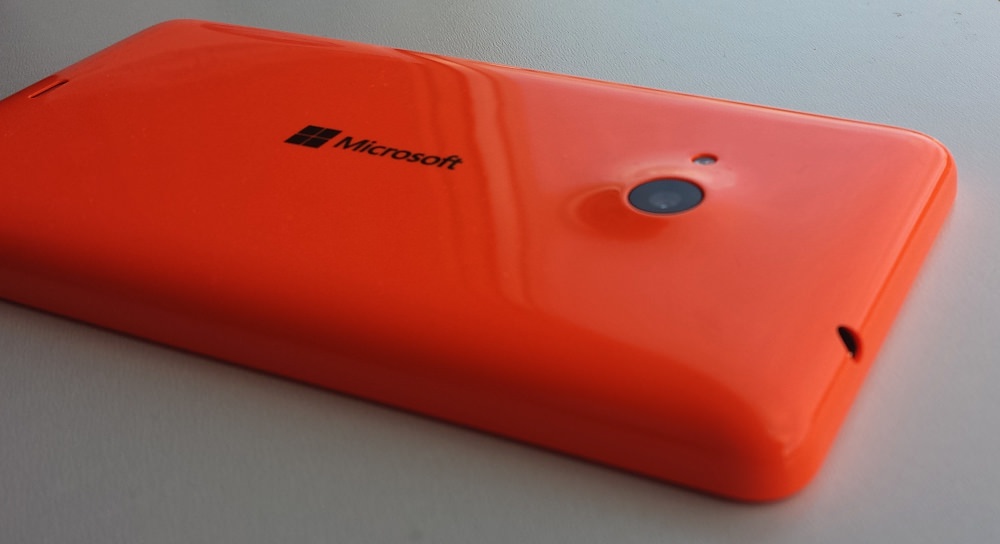 Perhaps the most critical element of any smartphone in terms of the price/performance compromise is the display, of course. qHD resolution (540 x 960) is widely considered too low by smartphone geeks at this 5" screen size, but it won't matter a jot to the target market. Even with new glasses (recently), my eyes struggle to tell the difference between qHD and 720p (e.g. on the Lumia 830). The biggest downside to the display turns out not to be resolution but lack of ClearBlack Display polarisers, even the 'lite' version, the simple 'window lamination' in the Lumia 630/635.
Heading outside to use the Lumia 535 day to day and to take test photos for this review, the display was often hard to see clearly when the sun was out. I've seen worse screens outdoors in the phone world, but I've also seen a lot better, usually from the Nokia stable with its CBD efforts. Clarity was never lost completely, but suffice it to say that contrast in the sun is consistent with the Lumia 535's price point.
Happily, the front face of the Lumia 535 has the full complement of extras that we're used to seeing on smartphones in 2014 - proximity and ambient light sensors (meaning automatic screen brightness adjustment, among other things), plus a front facing camera, again of which more later. There's no slick oleophobic coating, so the experience isn't as premium as on the likes of the 735 and 830, but you do get a Gorilla Glass variant for protection.
OS, interface and applications
In the main full screen photo above, you'll have spotted that I maxed out the screen contents by swiping tiles up to live behind the top status bar, but I also hid the navigation bar. As with the Lumia 735, this can be 'flicked up' from the bottom of the display when needed, and dismissed the same way. It's a decent system for budget phones and does mean that you can have as much on screen as possible, with the downside that some management of the bar is needed. In fact, it's an improvement for media consumption (videos of various kinds) over the higher end models, since you don't have to have the physical, backlit Windows Phone control keys lit up all the time and glaring away.
Here are the controls 'restored' - they can be toggled as needed: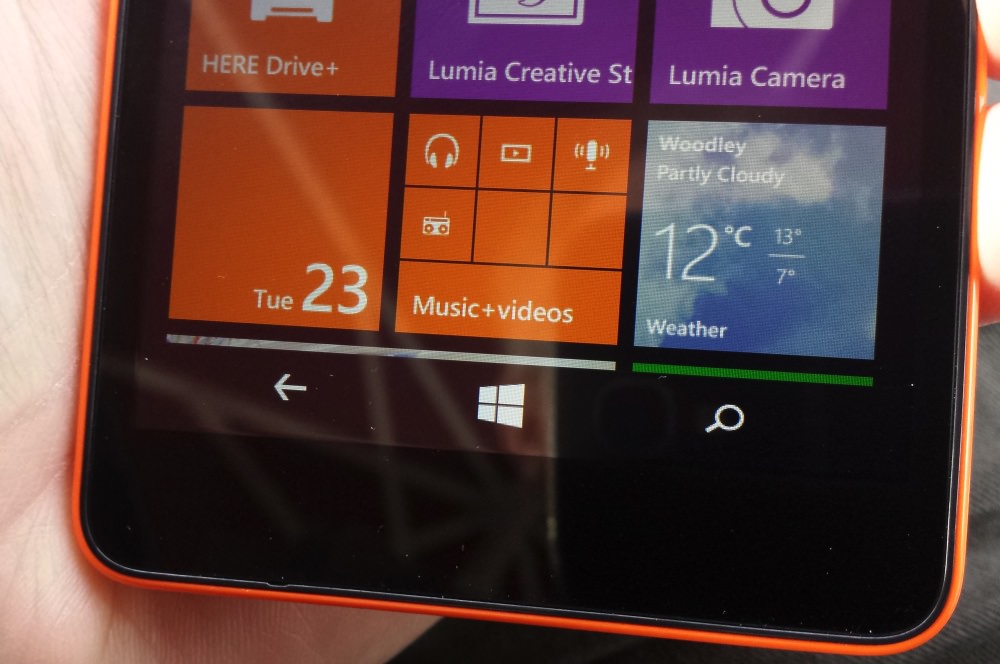 The bar 'flicking' is also a little temperamental - but then so is touch generally on the Lumia 535, most frustratingly when trying to use the camera and timing is sometimes absolutely critical. It's clear that some taps and swipes are getting 'lost' by the OS. Apparently, this is fixed in a firmware update which is imminent as I write this. And, in this case, 'imminent' means exactly that, since the touch issues are serious enough for Microsoft to pull out a few update server stops in getting it issued.
The OS in question is listed by 'extras+info' as 'Lumia Denim', but then this often lies, it seems. OS 8.10.14192 was on board the review device, but the firmware expected very soon will bring this to OS 8.10.14219, including the aforementioned touch event fixes.
Windows Phone 8.1 runs smoothly on the 535, despite the use of the low end Snapdragon 200, possibly helped by the full 1GB of RAM, something which we haven't seen at this price point before in a Windows Phone. That the OS makes good use of low end hardware to still keep the UI fluid has bcome something of a cliche, but it's true. I've been using the Lumia 830 (with Snapdragon 400) for weeks as a main device, without a single 'that's slow' moment, and from a few days of using the 535 the same is true here.
The supplied application set is without any surprises, though I strongly suspect that buyers in other parts of the world will get slightly different social networks and news applications - there's a lengthy wait after the first few selection screens here (Wi-fi network, language, etc.) while the UK bits and pieces (Facebook, Explore with Yahoo, Gameloft Hub) were put into place.
Of particular note:
The 'old' Windows Phone Camera app is no more - there's just Lumia Camera (Classic), which works fast and well, with samples shown below
Cortana is front and centre (and on the search control key), at least for the UK, which is one of the supported markets
As befits a dual SIM phone, there are two 'Phone' entries and two 'Messaging' entries in the application list, differentiated by small numbers and by network names - I haven't explored dual SIM operation in this review because that really deserves a separate feature/tutorial - one for the New Year
All the MSN (ex-Bing) applications are here and, as I've mentioned before, provided a top notch suite of extras for new users, especially combined with the likes of Maps, Office and Cortana
There's little point in rehashing the applications and user interface for AAWP readers, you'll have seen all of this before, though it's good to see the likes of Cortana and Start screen folders out of the box on a Windows Phone. Rumour has it that all current Windows Phone 8.x smartphones will get Windows (Phone) 10 in 2015, but I have my doubts as to how well this will work - certainly those with 1GB of RAM will be much better placed and so the 535 is looking like the best budget bet.
Imaging, media, battery
With imaging being my speciality, as well as (ex-)Nokia's, and eyeing up that slight camera bump, I was keen to see how good the 5MP photos from the Lumia 535 were. Having full auto-focus and LED flash (/torch when needed!) was at least a step up from the disappointing 530 and 630/635.
On with the Lumia 535 camera samples then - click any thumbnail to download or enlarge to the full 5MP image (and thanks to CJ for the first two)
The front facing camera (not included in the 530 and 630/635, somewhat criminally) is better than you'd expect at this price point, though didn't match the 735's in my tests.
Video capture is unspectacular and at just WVGA - this is due to limitations in the Snapdragon 200 processor/chipset - there just isn't the throughput for anything better. It's somewhat unusual at the tail end of 2014 to have video captured on any device that's at lower resolution than the screen itself, but the mismatch isn't terrible and video captured on a sub-£100 device is unlikely to be paired with any great expectations - after all there are no fancy optics or OIS here.
Rounding out media capabilities is a decent speaker - it's not fantastically loud and the bass is almost non-existent, but the rest of the frequencies are reproduced pleasantly, even high end on cymbals, etc. It's not clear whether it's the same component as on the likes of the 630/635 and 735, but I wouldn't bet against it. Aside from the aperture being easy to block if you put the 535 down on a soft surface, the speaker here is perfectly usable for output, speakerphone use and sat-nav instructions.
The 1905 mAh battery is in the 'L4A' series and also fits the likes of the Lumia 830 (which uses the higher voltage (3.8V) BV variant) and both phones work with both batteries, giving users extra options when looking for drop in emergency replacements. With typical 535 use, the battery is more than up to the task and will probably last a user a full two days on a charge - the 830 is typically used for more battery-intensive functions, so just one day there, interestingly.
With hindsight, it's probably not surprising that the 535 and the 830 share a battery form factor - the dimensions of the two phones are very close indeed. That I consider each to be the standout in each smartphone price category too is perhaps down to my personal preferences....
Verdict
Assessing the Lumia 535 is dependent on quite a few factors that haven't finalised yet - the price (in the UK, at least), the new firmware that fixes the touchscreen issues, availability of the matt finish units (black, white, blue). Assuming that all of these balls drop into place, we have a really competent 5"-screened Windows Phone for around 1/8th the price of an iPhone 6, which is about the same size - insert the usual slightly facetious comments from yours truly about being able to buy 535s for all your family and relatives for the cost of one iPhone(!) Of course, market pretensions and specifications are very different - the Lumia 535 is aiming to clean up down at the low end, for the sub-£100 devices, and it stands a decent chance. Of the well known brands, the Motorola Moto E is perhaps the biggest competitor, and I think most people would rather have the 535 if there wasn't an OS/ecosystem bias.
Yes, the display could be better optimised for use outside, yes, the processor could have been a 400 series unit, but aside from those niggles, there's little that could be done to the Lumia 535 to improve it while staying well under the £100 price point. The 520 was Nokia's best seller and the 535 is a natural successor - faster, bigger and higher resolution screen, more RAM, etc.
Just don't expect the glossy orange variant to be the biggest sales success.
PS. Update, my teenage daughter (15) loved the orange colour and feel. Proving that I'm out of touch with the target market - I think I'll stick to camera comparisons!!
Reviewed by Steve Litchfield at